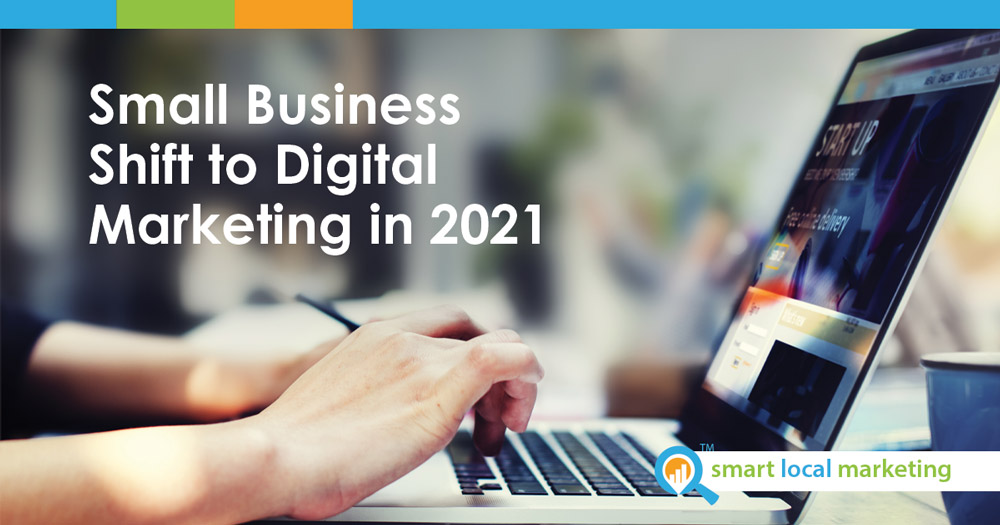 Businesses of all sizes need to have a creative marketing plan in place to stay competitive. If you own or run a small business, it's likely that you're responsible for developing a marketing strategy. Getting up to date with current digital marketing trends helps your business stand out from the pack. As you work to grow your business in 2021, implement these five effective digital marketing trends into your plan to ensure a successful year.
1. Improve Your SEO
The days of flipping through the Yellow Pages are virtually over – Google is what people use most often to find small and local businesses to solve their problems and needs. When you optimize your site for the search engine crawlers, it makes it that much easier for potential customers to come across your business website.
The best way to improve your search engine ranking is by publishing great content on your site. You need to put out content that provides value. Each piece of content should answer people's questions, needs or problems. Remember that grammar plays a role in creating great content. Double-check each piece you publish to keep the search engines happy and improve your ranking.
2. Send Personalized Emails
Yes, social media use is widespread, but it doesn't mean that email communication is obsolete. Personalized emails get results. Studies show that emails that are personalized are opened more often and have better click through rates than a standard mass email. Make your emails more personal by building customer personas and making use of demographic data to create a targeted experience for each customer.
Remember, too, that timing is important. Use customer data to find the optimum times to send out your personalized emails. By sending your emails at the right time for each group of users, they're much more likely to open your message and engage with your content.
3. Get Filming
In 2021, video marketing is no longer a choice. You need to include it in your overall marketing strategy. Video sells products and services much better than text and static images. If your competitors are already using video to market their brand, you're going to be left behind.
There are many ways to harness the power of film to market your products. You can take a simple video that provides your customers with a close-up view of the detail of your products and how you can use them in daily life. Many successful brands also use a storytelling strategy to arouse the emotions of customers – it's a great way to create brand imagery that sticks. Split up your story into a series of videos to keep your customers coming back to see what's next.
As always, use the demographics of your target audience to guide the video content you create.
4. Use Social Media
Billions of people use social media platforms every day. If you're not using social media marketing to increase brand awareness for your business, you're missing out on an opportunity to directly engage with both current and potential customers.
While it's ideal to use several platforms for your social media strategy, including the big names like Facebook, Instagram, LinkedIn and more, you need to customize your content for each platform. While posting attractive photos is a great marketing strategy for Facebook or Instagram, a platform like LinkedIn has a business-oriented base that's looking for news or product information. Post engaging content frequently to encourage customer interaction with your brand.
5. Prioritize User Experience
Small, local businesses often forget to include user experience (UX) as an integral part of their marketing plan. The user experience journey encompasses every aspect of a customer's interaction with your brand, from the moment of awareness to the closing of a sale. Not only does user experience affect a customer's interaction with your brand, but it also plays a huge role in your site's search engine ranking.
Search engines detect whether a website is user-friendly. They use a combination of load time, site content and interactivity to determine if a site is pleasant to use. As a general rule, your principal content needs to load within 2.5 seconds or less. Timing is also important when it comes to interactivity. If your site lags when a user clicks on a button or initiates any other action, the search engine crawlers take this into account when they rank your site.
It's helpful to use tools like UserTesting or UsabilityTools to give you a clear indication of the user-friendliness of your site. If you can't make technical changes yourself, consult a trusted web developer to help you optimize your site. Don't skip this step in your marketing efforts, because you please both your customers and search engines at the same time.
Always Capitalize on Trends
Developing a solid marketing plan for 2021 is key for success throughout the year and beyond. By adapting to marketing best practices and current technology, you give your business the best chance at crushing the competition. Give these techniques a try in 2021 to improve your brand awareness, connect with customers and improve your overall bottom line.