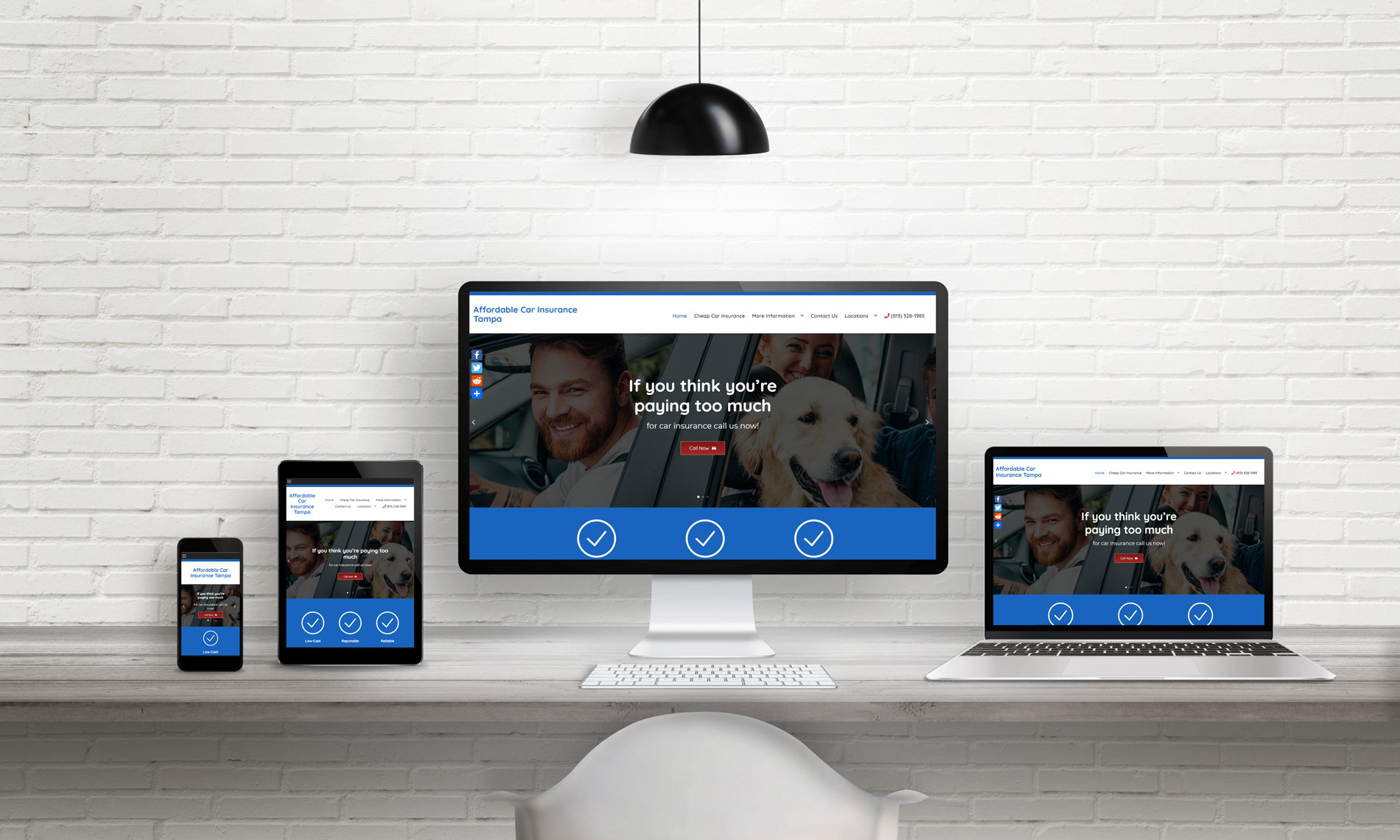 Digital Marketing for Dealerships & Automotive Companies
Automotive businesses are continuously looking for ways to remain profitable and increase their market share. One of the best ways to do this is by executing and managing a successful digital marketing campaign.
Today, thanks to advances in technology, digital marketing is a relatively low-cost way to reach a broad base of customers and build lasting relationships. Here is what you need to know about our digital marketing services for automotive businesses, and how we can help you thrive in an oversaturated digital market.

Why market my automotive business online?
There are a few reasons why you should consider making digital marketing a part of your larger advertising strategy:
Convenience
Digital marketing offers convenience to both business owners and their customers — the more accessible you make yourself and your product, the higher your revenue and profitability. Unlike traditional marketing techniques that are limited by physical boundaries and geographical limitations, digital marketing presents new opportunities for growth anytime, anywhere. Automotive businesses do not have to keep their image outreach confined within their standard operating hours, and can instead pursue branding 24/7 by giving customers the chance to engage with them whenever they so choose online, whether it be through shopping, chat interaction, or beyond.
Wider reach
The objective of any given marketing campaign is to reach as wide a target market as possible. Digital marketing makes it easier for automotive businesses to overcome barriers of distance, and companies can have a national (or even global) reach and transact internationally without the need to set up local outlets or have a network of distributors in different countries. However, if you are to sell internationally, you have to ensure that your products are suitable for these other local markets, be compliant with their individual business regulations, and include translations and product modifications to address the needs of these other, unique markets.
Low cost
Every business strives to maximize revenue while minimizing cost. Compared to physical outlet branding and traditional marketing techniques (billboards, paper ads, television spots), online campaigns allow businesses to cut back on their budget while still reaching the largest audience possible. Such cuts are possible because you get to do away with the costs associated with renting and maintaining property, buying ad space, and purchasing stock for display. With digital marketing, you will be able to order stock depending on demand and broadcast your services and products digitally: factors that will help lower inventory costs and go a long way in ensuring you get more out of the comparatively small investment you make.
Personalized offers
The modern customer is more informed and more discerning than ever before. To appeal to such customers, you need to create customized offers and marketing messages that target them directly, which you can do by looking at their purchasing history and preferences to determine what will resonate with them. Digital marketing allows you to track web pages and product information, then use that data to better tailor the efforts of your campaign. Automotive businesses in particular will also be in a great position to plan cross-selling campaigns that enhance the value of sales on a customer-by-customer basis. In the end, personalized offers will help to attract new clients while retaining existing ones.
Lasting relationships with customers
One of the best ways of retaining customers is to build and maintain strong relationships with them. By using the Internet, automotive businesses can establish that bond by sending follow-up emails to customers after they purchase a product from their online store. A simple message to confirm the transaction, thank the customer, or provide a personalized offer and open an ongoing line of communication gets the ball rolling, and follow-up emails will keep it going. Product reviews on your website and ratings of your service on Google and other search engines will both boost your visibility and foster a sense of community among your clientele.
Take advantage of social media
Social media platforms play a crucial role in digital marketing. Today, consumers use these outlets to engage with companies beyond the initial sale and stay informed. Automotive businesses that want to realize the benefits of digital marketing should see social media as an avenue through which they can reach their target audience and spread their brand while maintaining a personable, friendly, and relatable presence. By incorporating social media into the wider digital marketing campaign, businesses can take advantage of the influence associated with these platforms and see additional growth in engagement and revenue alike.
What are my options for digital marketing?
Automotive businesses that wish to take advantage of these opportunities and perks have a variety of options to mix, match, and explore. What works best for you will ultimately depend on the specific nature of your company and your short- and long-term business goals. Options can include:
Website design and development
Since most customers search for information online before purchasing anything, your company needs to have a professional-looking, engaging, and helpful website. A good URL is the backbone of any Internet campaign, allowing you to speak further with customers, provide more details on what you can do for them, and generate additional revenue through online sales. With a solid website as your foundation, building online credibility and improving accessibility are the natural results so long as you follow through with the potential. If you want to make a good first impression, your website should feature simple navigation, an attractive design, helpful content, fast site load times, and easy conversions — all things that you'll likely want professional help in designing.
Search Engine Optimization
Most people know that SEO is designed to increase your online visibility. A lot of work has to be done to ensure that this happens, however, and the benefits of good SEO are not always easy to gauge. By increasing your brand visibility, SEO becomes the primary reason for better website traffic, but will also over time help you build trust and credibility so long as you're using go-to tools like quality backlink profiles. SEO done well also leads to increased engagement and conversion: factors that contribute to increased sales. The good news is that SEO is comparatively cheap and is quantifiable, but it is important to be proactive if you want to enjoy the benefits of effective SEO, as it needs to be consistently updated to keep you abreast of the constantly evolving Internet landscape. Let us do that dirty work! Ask about Organic and Local-based SEO services.
PPC
Integrating pay-per-click, more commonly known as PPC, with SEO will go a long way in helping automotive businesses like yours reach their marketing objectives. However, there are several PPC basics that you need to master: first, it is important to have a clear keyword strategy that is guided by what your target audience might search for. Second, you should have a conversion tracking mechanism that lets you know whether your paid search methods are working. Third, make sure that all of your keywords, ad copy, and landing pages work together to produce the desired results. You may also need to add other elements such as ad extensions and the Google Display Network. That's a lot of different things to manage that you likely don't have time for, and that's where BizIQ can come in to help. Ask about Google Ads, Facebook Ads, and Microsoft (Bing) Advertising.
Social media
Social media has changed digital marketing in remarkable ways. We can help automotive businesses that want to use these new and developing platforms as part of their digital campaigns, since social media not only helps deliver better customer service but also provides a great way to improve brand awareness and build brand identity. Through sites like Twitter and Facebook, businesses can manage their reputation and strengthen the trust that customers have in the brand by tapping into real customer insights and promote themselves in a space that many are accessing on a daily basis.
Brand management
Today, customers are more likely to do business with brands that they can identify easily and have had positive experiences with. Creating (and maintaining) a good brand requires consistency and thoroughness across the web and comes in many, many different forms, from videos and personal web pages to blog posts and keyword management. Wrangling all of that together and keeping it in line takes time and a lot of effort — something that you probably don't want to handle yourself!
Reputation
We help automotive businesses manage their reputation by keeping a vigilant eye on what customers are saying. We collect and respond to both positive and negative feedback from customers, help you stay in the loop with reputation alerts, and craft responses that address customer concerns and negative reviews to minimize damage to your name.
Citations
If you have changed the location, name, or phone number of your business, you will have to update your business information online to reflect those new details. The problem? Your information gets saved to a great many spaces around the Internet, and most of them you will likely never see. Nevertheless, these buried sources act as an important contributing factor to your ranking in search results, and as such need to be handled and monitored. Our local citation management service includes profile management, monthly submissions and updates to directories and data providers, continuous optimization, and duplicate clean up. All of this fussing helps to ensure your business comes across as credible to the larger search engines like Google and maintains its rankings and visibility.
Types of automotive businesses we help
We have the expertise and experience necessary to help a wide range of businesses take advantage of the numerous opportunities that digital marketing presents. Some of the areas we work within include:
Mechanics
Every car owner needs to have their vehicle serviced and repaired from time to time. And because drivers are constantly buying new models or maintaining old ones, you have frequent opportunities to attract new customers or get old ones through your door again. After all, a new car is always going to come with new (and familiar) challenges and issues, and it's only a matter of time before a driver will want you to take care of something that they don't have the patience or knowledge to tackle themselves.
Tire stores
As with maintenance and repairs, car tires have to be changed regularly, and new designs are routinely being released with every new make and model of vehicle that gets put into the market. Tire companies have a chance to not only sell the latest and most reliable brands, but also offer related services like rotations and flat replacement. Sales also offer a big opportunity in the form of online ordering — never underestimate the importance of convenience to a customer!
Auto-body shops
So long as we're putting rubber to the road, people will be getting into accidents. And so long as people are scraping their fenders or crumpling their hoods, they'll have need of reliable auto-body repair. Because of the price tag that often gets attached to such repairs, shops always have a chance to grab new clients by offering the best in convenient scheduling and deals on work done.
Tow truck services
When drivers are left stranded and need a tow, time is often of the essence. The quicker they can find a decent-looking company, the better, which means they'll be focusing on those businesses that come up first in a quick phone search as they wait by the side of the road. It's a crowded market, so you'll need to pull out all the stops if you want to be at the top of the list!
Auto parts and vehicle accessories
These companies are more about products than service, which means they can get a great deal of mileage out of offering online shopping. Finding the right part at a decent part can be a huge undertaking for less-than-savvy drivers, however, so streamlining and simplifying the process can be a worthwhile (though involved) undertaking for those hoping to grab new business.
Car dealerships
A new car is a big purchase, so customers want to do a lot of research beforehand to make sure they're getting the best model at the best price. And with the reputation of dealerships often being associated with shady men in suits and untrustworthy contracts, earning a client's trust can be an uphill battle that you won't want to tackle alone.
How do I get started?
Even with the information here, it can be difficult to know how to get started with digital marketing. Automotive business owners can take the following steps as they seek to grow their business and customer base:
Get a complimentary website analysis and digital strategy inquiry
Clearly, a good website is at the center of any serious digital marketing campaign. If you want to get started in the Internet game, we can get the process going with a complimentary evaluation that will give you an idea of what your company needs in the short and long term to thrive. Whether it's adding new features or refining and updating what you've already got, we'll help you chart out your personal roadmap to success.
Review findings and opportunities
Of course, a website — even a great one — will only get you so far. SEO, PPC, social media ads: there are a lot of different opportunities for growth out there, and you'll likely need at least some of them if you want to thrive. We'll explore your particular market and see what your competitors are doing, and use those findings to determine exactly what you'll want to pursue if you want to jump to the top.
Sit back and relax — the pros are at work
By working with digital marketing experts like BizIQ, you'll be able to get a successful campaign going without adding much to your already full plate, leaving you ample time to focus on running your business. After you've discussed your needs and goals with us, you can sit back and relax; we'll handle the heavy lifting, but you'll be kept in the loop every step of the way so that you know precisely what your investment is getting you. Transparency and results: what more could you ask for?