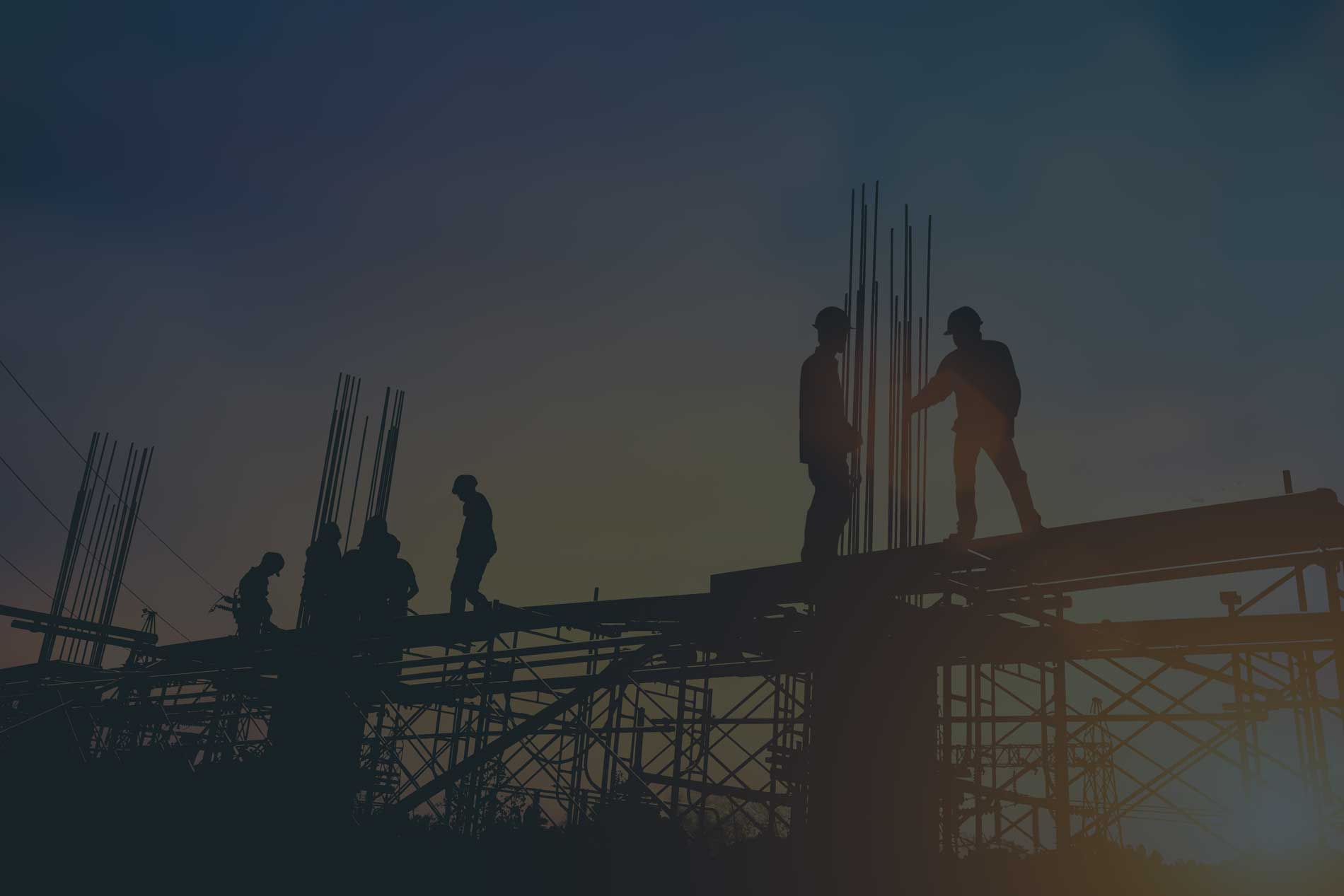 Digital Marketing for Remodeling & Home Construction Companies
There are many reasons why a business needs to do marketing. Marketing allows businesses to inform their target customer base of their products and services. It is also a great way for businesses to create and manage healthy relationships with customers. But marketing without problem solving, that isn't solution-based, can often lead to undesired frustrations.
While in the past, businesses relied on print, direct mail, telephone, radio, and television to spread their marketing messages, a lot has since changed. Today, online mediums that include search engine optimization, pay per click, social media, and email present amazing opportunities.
At BizIQ, we help builders and construction companies to build and maintain an online presence that is built around results-driven digital marketing. Our experts will work with you to identify your needs and understand your goals before coming up with digital marketing strategies that will give your construction business a solid marketing foundation at the best price.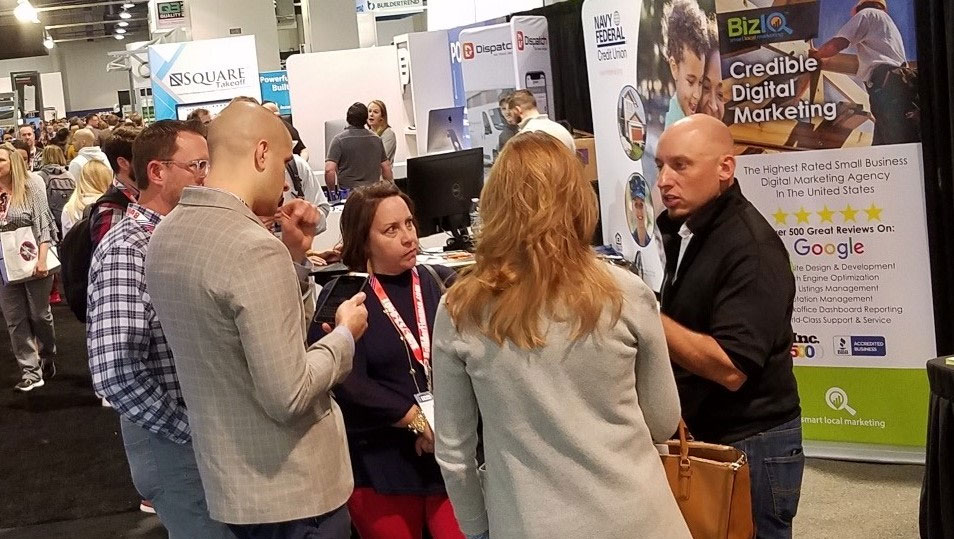 Watch Video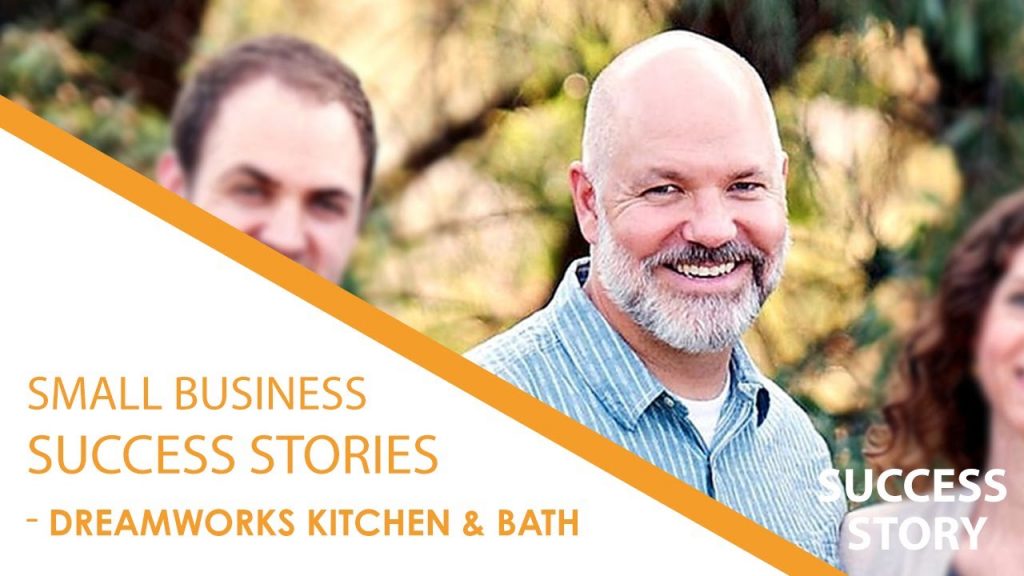 Hear why Michael Park has trusted BizIQ with the online presence of Dreamworks Kitchen & Bath for the past seven years.
We Don't Presume to "Know" What Builders Want. We Went to the 2020 NAHB International Builders Show & Asked!
Here's what we learned. And here's our promise to you.
#1 Though you've done marketing in the past and understand its value, you've also been let down by other companies.
BizIQ strive's to exceed expectations. But don't take our word for it. Research us and see what other SMBs are saying!
#2 Your current marketing solutions simply aren't working.
Digital marketing sleeps for no one. We understand the ever-changing landscape and adjust accordingly. We prove results with comprehensive reporting.
#3 Your entire marketing presence fails to work together. Instead, it's in pieces; leading to why you're not getting results.
A true digital footprint involves many mediums and when each channel works in concert with one another, results are immediately noticeable.
#4 You want more leads, but you want qualified leads.
There's more than one way to qualify a lead and we'll test them all until we find the one that works best for identifying your customer. We understand that time is money and the wrong leads waste time.
#5 You build and/or remodel homes and you're good at it. You need a partner that knows digital marketing and one that's exceptional at it!
When you work with BizIQ, you gain a partner. A partner that provides a team of experts in their respective fields to formulate, execute, and oversee the success of your campaign.
#6 You need to stand out in an over-saturated market but struggle to prove your value over the next builder's.
Sometimes we see ourselves as professional relationship builders and we know that every relationship begins with trust; which is exactly how we target your customers.
#7 You know you should have an online presence, but you have too much on your plate to deal with it and don't see the point.
In the digital era, an online presence is a necessity. You might believe that there's no use, but without having your ear to the ground, making your services more readily available, and connecting on a more personal level with your customers, you'll lose out to someone who does.
Why market my construction business online?
6 compelling reasons
With the right strategies, digital marketing can help to take your business to the next level in terms of growth and profitability. It is important to understand how digital marketing strategies can put you ahead of the competition. Here are some of the benefits we help construction businesses to enjoy.
#1 Global reach
Digital marketing makes it possible for businesses to sell their products and services to a wide base of customers. It allows businesses of all sizes to access customers in your precise local area, or even to reach millions of prospective customers around the world.

Through the different tools and strategies, builders' services can be seen by more targeted customers than ever before. Even more powerful than thousands of people seeing your website every month are thousands of the right people seeing your website and online ads. What do we mean by the right people? Simple. People searching specifically for the products and services you provide, in the area you provide them.
We work with construction companies to identify the best ways through which they can advertise and sell their products and services to more customers.
#2 Round-the-clock marketing
One of the main benefits of digital marketing is that it allows construction companies to advertise the business 24 hours every day. Unlike traditional marketing methods that limit the campaign to store hours or short 15 second soundbites on the radio and come with high price tags, digital marketing campaigns are not limited by time. In fact, the ability to customize the time of day potential customers are able to see your Google ads, for example, is a powerful campaign optimization strategy that helps you to save money and increase conversions.
In general, provided customers can access your website and get in touch with you to request a quote or more information, they will be able to transact with you conveniently at any time of the day or night. In fact, BizIQ makes this even more convenient for both you and your customers by including BizIQ ChatBot with every local marketing package. Powered by artificial intelligence (AI), BizIQ ChatBot can collect and answer questions and inquiries placed on your website around the clock.
#3 Low cost
Since marketing affects any company's budget, the cost is an important factor to keep in mind when launching any marketing campaign. If you are looking for a cost-effective way to reach your target audience, you should consider digital marketing. Compared to traditional forms of advertising such as television, radio ads, and mounting billboards, digital marketing will save you a significant amount of money because they are highly targeted.
In short, instead of paying for eyeballs on a billboard or similar, you're paying for targeted advertising designed to be seen by the right customer, not just anyone.
#4 Builds lasting relationships
Today, customers are more likely to do business with companies with which they enjoy a healthy relationship. That means being accessible, visible, and responsive to your customer's needs. The internet allows you to easily keep in touch with your prospects and customers through a variety of channels. You can then use these details to inform your target audience of special discounts, new products and thank them for their business via email, or share photos of your latest project on social media. You can also get your special offers and advertising in front of people you'd be unlikely to reach otherwise through search engine optimization or paid media advertising. The options are unlimited, but this kind of consistent interaction will help you to build healthy relationships that increase customer retention levels and bring in new customers each month.
#5 Targeted marketing made easy
For any marketing campaign to be successful, it must be based upon a message that is specifically and intentionally designed for a target audience. For you, that target audience may consist of a previously untapped demographic of new customers, existing customers that you're hoping to bring back, or a mixture of the two. And to reach anyone, you need data: what kind of people are these users? What are they looking to buy? Who do they usually buy from? Knowing the answers to these questions will help you create engaging ads, and a good business website is one invaluable tool for becoming (and staying) well-informed on your customers' habits. A savvy marketer will use a campaign to track customer purchasing history via online stores and monitor the popularity of individual pages, then use that information to determine what most grabs a user's attention and make changes to your brand accordingly.
#6 Use social media to your advantage
Social media has become the sensation of the online world. Apart from using the sites to communicate with loved ones, consumers use social media platforms to find out more about the products they are interested in. They also see them as channels through which they can engage with their preferred brands. By incorporating social network tools in your larger marketing campaigns, you will be in a position to go through real comments and reviews posted by customers.
What are my options for digital marketing?
What a winning strategy includes
There are different strategies that construction companies can use to ensure successful digital marketing. Below are some of the strategies we can help you with.
Website design and development
Websites are the first point of contact for your business. It provides information about the products and services you offer, a factor that helps customers to make smart purchase decisions. Your website is critical when it comes to marketing as it is at the center of your online presence.
With a professional website, customers can easily access and engage with your business. We've worked with thousands of builders and construction companies of all sizes, and we can help you to create a website that ensures you make the right first impression.
Search Engine Optimization
With so much competition from less-than-reputable companies, construction companies absolutely need SEO to increase their online visibility and make it easy for customers to find them. SEO best practices will help you rank highly in organic search results, a factor that will direct more traffic to your website. By ensuring your website is properly optimized for search engines like Google, those same search engines will be more likely display your business at the top of the search results pages when prospects are searching for the services you provide.
Through different strategies, we will help you to create a professional image that projects your business as credible and trustworthy to not only your customers, but also to Google. SEO is a cost-effective and quantifiable strategy that requires you to use the latest best practices for great results constantly.
PPC
Another approach to digital marketing is pay-per-click services, commonly known as PPC. With PPC, there are a number of basics you will need to understand in order to use it well and at the right time. As much as we will work with you to ensure you make the most of this option, there are a few things you should familiarize yourself with. First, we will help you to create a good strategy in terms of keyword selection and use. We also work closely with you to track conversions in order to identify what is working and what is not. In this way, we can make the necessary adjustments for the desired marketing results. Our expertise also comes in when getting keywords, ad copy, and landing copy to work together in concert. Ask about Google Ads, Facebook Ads, and Microsoft (Bing) Advertising.
Social media
Today, no construction company can afford to ignore the impact of social media in digital marketing campaigns. When you choose to work with us, we will help you devise ways of using social media platforms to deliver better customer care, improve brand awareness, and build a brand identity as well as manage your reputation. We also come up with social media strategies that will increase trust in your brand, obtain real customer insights, and promote your content. The good news is that social media presents an opportunity for businesses to keep customers engaged and drive website traffic, two factors that can improve sales.
Brand management
Brand consistency plays an important role in any digital marketing campaign. Here are two ways through which we help construction companies to maintain a positive brand image.
Reputation management
In a world where customers can post reviews online for the world to see, businesses have to stay on top of their online reputation. We provide construction companies with the tools they need to know what customers are saying. In this way, the companies can earn reviews from satisfied customers and respond appropriately to negative feedback.
Citations
These services are important for businesses that have moved to a new location and want to update business information online. Since a good number of local searches are done online, businesses have to ensure that information is consistent across all platforms. This is important for credibility as well as search engine rankings.
Types of construction businesses we help
We work with different construction companies to help them take advantage of the opportunities that digital marketing presents. Below are some types of construction businesses we help.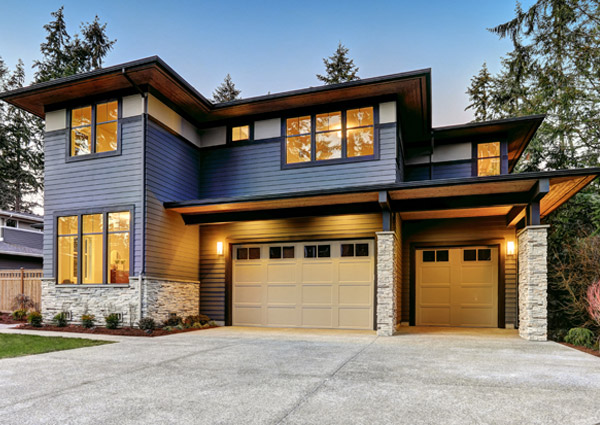 Homebuilder (new construction)
Demand for decent and affordable housing has increased over the past few years. This has led to the establishment of construction companies that offer quality services in terms of the construction of new residential units. With the increased demand, we help such companies to market themselves online, so they can reach a wider customer base. In a world where the companies can offer their services in different countries, digital marketing helps to take advantage of the opportunities available around the world.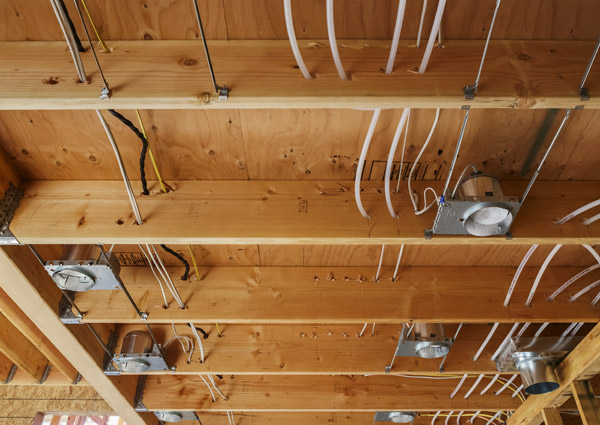 Residential (remodeling)
After one has lived in their house for some time, they may want to remodel the space in order to make it more functional and improve its appearance. However, remodeling is an expensive exercise, making it important for homeowners to work with a reliable remodeling company. There are many companies that offer quality services but find it difficult to advertise their products to potential customers. Our expertise in digital marketing allows us to help these construction businesses to ensure that their marketing message reaches the target audience.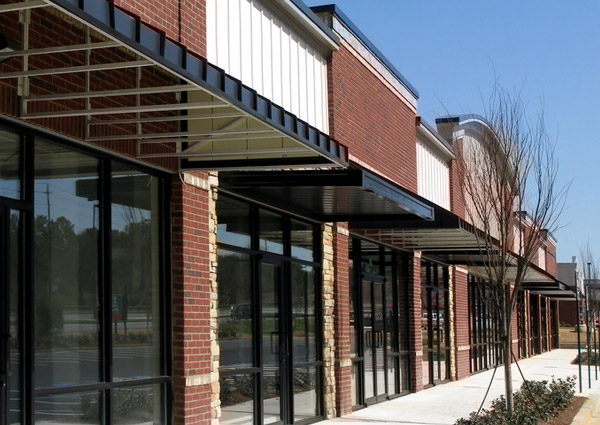 Commercial
We also work with construction companies that build commercial spaces. Today, thanks to globalization and advances in technology, businesses can easily overcome geographical barriers. This has brought increased competition among businesses and presented amazing opportunities. One of the ways of staying ahead of the competition is through aggressive marketing strategies. We help businesses in the commercial segment to create strategies that are in line with their business operations and will help them meet their goals. We also advise on how to design and develop a professional website that will project the business as credible and trustworthy.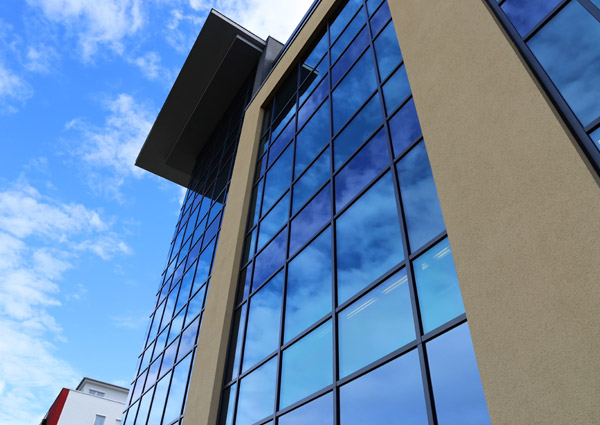 High-rise buildings
The construction of high rise buildings is big business. However, the area is majorly controlled by big companies and multinationals. Digital marketing makes it possible for smaller companies to advertise their services to many customers in a cost-effective manner. In this way, the smaller companies can compete favorably and expand their operations. We come in to help the businesses to identify the most suitable marketing strategies and techniques. We also monitor the progress of the marketing campaign and offer advice on areas that need adjustments.
How do I get started?
Getting started with digital marketing can seem daunting. The good news is that construction companies can work with professionals in this area to ensure they enjoy maximum benefits. Here are some steps to follow.
Get a complimentary website and digital strategy analysis
The first step would be to find out how digital marketing works for your business. This will involve getting a complimentary website. In this way, you can identify beneficial features and strategies without spending a lot of money. It would also be necessary to get digital strategy analysis from experts since the information will help to inform your digital strategies in the future.
Review findings and opportunities
Based on the digital strategy review, we will help you to review the findings and opportunities available. With the different digital marketing options that you can explore, we will work closely with you to find out which one is better suited to help your business achieve the set goals. In addition to assisting in launching an digital marketing campaign, we will also measure progress periodically to find out if we are on the right track.
Sit back and relax knowing the pros are at work
Managing a construction business and running an digital marketing campaign at the same time can be difficult. This is why you should consider working with digital marketing experts who have the necessary industry experience. When you choose to work with us, you will not only increase the chances of your campaign bearing the desired results but will also have enough time to focus on running your business.