Complete Web Design & Development for Small Business
Imagine turning 85% of your current customers away. If you don't have a website, that could be what you're doing.
85% of local consumers are searching for businesses like yours online every single day. 78% of those potential customers will research a business online before deciding to purchase. If your business is missing a great website, you are missing out.
At BizIQ, our website design services make your business the first choice for local customers searching online for the products and services you offer. Whether you're just opening your doors, or you've been in business for 50 years, our small business website design and development services can help you reach new customers, build your brand, and generate positive growth.
"Monica Bolt is my Account Manager. She is great, so very helpful. Also, I like the website that BizIQ designed. Monica gave me many tips about how to increase my business. So a big "THUMBS UP!"
– Julie M.
Websites Designed for the Growth of Your Business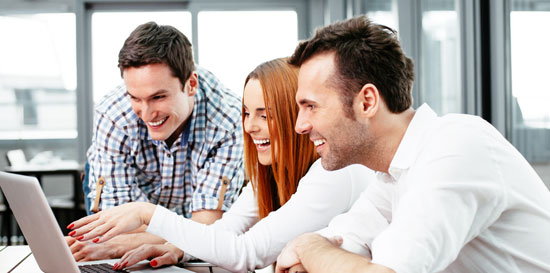 Our websites are built on the rock solid foundation of years of research in conversion optimization, user experience, and design theory. They are beautiful, easy-to-navigate, and flexible while also being powerful, lead generating machines designed to drive and sustain the growth of your business.
Mobile Responsive for a Mobile World
By 2019, mobile traffic will increase by 480% over desktop traffic. Responsive web design means that your customers will experience a fully-functional, intuitive, and impressive website no matter what kind of device they're using.
Optimized to Stand Out and Get Found
Before your customers can find your website online, search engines like Google need to find it and rank it. That's why every website we design comes with a solid search engine optimization (SEO) strategy built in. The end result? Better rankings, increased visibility, and more customers to your door.
Part of a Comprehensive Solution
Your website is the cornerstone of your online presence, but it won't be working alone. The results you will see each month are driven by a multi-faceted approach to small business online marketing. Our comprehensive solutions combine the best in search engine optimization, local search marketing, reputation management, copywriting & content marketing, and more.
Everything BizIQ does is geared towards making your small business the first option for local customers seeking the products & services you provide.
From the Blog: Website Development

The dreaded slow season: when sales slump, thumbs are twiddled, and businesses close early. The temptation to rest on your laurels can be overwhelming. As soon as November hits, wrapping yourself in a blanket and testing the limits of your Netflix consumption starts to sound like a really good idea. On... View Article

As of Jan 2018, new federal regulations will go into effect regarding the accessibility of websites for people with disabilities.* But did you know that even if you're a small business owner, you could still be sued by advocacy groups or "professional plaintiffs" if your website isn't ADA compliant under... View Article