Digital Marketing Services for Entertainment and Recreation Brands
Entertainment and recreation businesses rely on continued patronage to keep their doors open. In the digital age, turning your venue into a local hotspot takes a strong commitment to online marketing. Whether you operate a bowling alley, movie theater, water park or something else altogether, digital marketing needs to be your top priority. Give them a reason to put down the electronics and come have fun!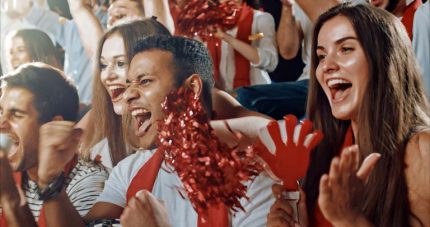 Why Should Entertainment and Recreation Brands Market Online?
Entertainment and recreation brands offer experiential fun. Whether it's roller skating or a walk through the wilderness, the purpose is to give people an experience that's tangible and real. Despite this, the search for a great time starts online.
People will visit your website to learn more about the activities you offer, or they'll visit your Facebook page to see what other people are saying about your business. They want to make sure they're getting the most for their money, and that their experience will be as-advertised.
Marketing yourself effectively online helps attract more local customers and sets the tone for the fun they can expect to have. No matter what type of experience you offer your customers, effective marketing is the key to making sure they have a great time when they show up and expect one.
---
5 Reasons to Market Your Entertainment and Recreation Brand Online
Every small business needs to market itself to attract customers—especially experience-based businesses. The online interaction you have with potential customers is part of that experience!
It's your opportunity to show them exactly what they're getting when they visit your establishment and pay for the fun and exciting services you offer. And the benefits of online marketing don't end there.
Large local audience.
Online marketing gives you the power to market to your local area in a cost-effective way. Through digital mediums, you're able to meet customers at the point of search and present your venue as an option when people are looking for something fun to do. You're not limited to people who pass your venue in their car or word of mouth within the community. Digital marketing offers daily opportunities to attract new business.
Convenience for customers.
You might hold standard business hours, but your customers want the ability to book services any time the mood strikes them. Whether it's 2am or the middle of the night on a Sunday, a digital presence gives people a chance to make a reservation, download information or submit a request that you can address when you open up for the day.
Personalization capabilities.
The data available through digital marketing allows you to market more effectively, creating personalized appeals and situational offers that make your business even more accessible to local customers. Instead of waiting for them to come to you, you can deliver the promise of a great time to a customer who's eager to discover what your business has to offer.
Create incentives to visit.
Is your venue great for birthdays? Outdoor enthusiasts? Sporty athletes? Digital marketing makes it easy to narrow down your audiences and give them reasons to visit you. Show them the benefits of booking with you and let them know exactly what they'll get when they do. Digital marketing lets you highlight opportunities for fun!
Build community relationships.
You're not just a local destination for fun and good times—you're also part of the community. Marketing your business online gives you the opportunity to distinguish yourself as a local community business and to cement your status as a hotspot. Whether you're appealing to locals or tourists, give them a reason to see beyond a single interaction with you.
There's tremendous potential for entertainment and recreation brands to market themselves effectively online. Increased exposure online helps you appeal to a wider audience of people in the local community who are looking for fun and excitement—the kind of opportunities you offer!
Whether you operate a bowling alley, lead nature tours, rent kayaks or host paintball tournaments, people are looking for venues like yours online. Make sure they're finding you—and becoming satisfied customers once they do.
Entertainment and Recreation Brands Need to Get the Word Out
Ready to become the local hot spot for fun? Want to develop a reputation as the place to go with a group of friends on the weekend or a must-visit destination for tourists? It starts with digital marketing and ends with a strong brand that people know, love and patronize.
We're Entertainment and Recreation Marketing Experts
It doesn't matter if you're a fishing charter or a skydiving business—the BizIQ team knows what it takes to generate interest in your brand online. We've helped entertainment and recreation businesses big and small develop a strong local reputation and a following that keeps customers coming back—or encourages them to recommend you to friends and family.
Make Your Business a Must-Visit
You're not just competing with other businesses like yours—you're competing against every entertainment business in the area! To stand out and win over customers, you need to provide an experience that's above and beyond. We help you market effectively to attract customers, so you can do what you do best: give them an experience that exceeds expectations.
Appeal to the Right Audience
Are you a hotspot for teenagers? The best place in town to host a birthday party? A tourist-focused business? No matter who your audience is, we identify them so you can market effectively online. Let us tailor the messaging and content you produce to speak directly to the types of people you're hoping to attract to your business.
Set Customer Expectations
Experience is rooted in expectation. Our team helps you market your services and experiences accurately, so people know exactly what they're getting when they book with you. Effective marketing helps ensure a positive experience, which leads to powerful word of mouth, recommendations and, of course, repeat business. Trust us to promote your services in a way that's value-driven, to attract serious customers who are willing to spend their dollars with you.
Optimize Your Online Efforts with BizIQ
How Do I Get Started?
When it comes to online promotion, knowing how to get started can seem challenging if you're not familiar with the different online marketing options that exist. We help you find your footing, putting your brand on the path to local marketing dominance. Contact us directly to learn more about the steps below and how they can take your entertainment or recreation brand to the next level.
#1

Get a Complimentary Website and Digital Strategy Analysis

Your website is the backbone of your online campaign. It needs to be professionally designed, feature great content and promote easy navigation. We'll work with you to evaluate your site's strengths and opportunities for improvement, then roll those into broader strategies. We give you a complete rundown of your web presence so you know where you're starting from, what your goals are and how to achieve them. With a site breakdown and digital strategy analysis in-hand, you'll know what it takes to establish and grow your restaurant online.
#2

Review Findings and Opportunities

Before officially launching any online marketing campaigns, take time to review the findings and opportunities from your complimentary website analysis. This information will help you to establish where you currently are as a company and where you want to go. This involves setting actual benchmarks and making decisions about where to invest time and money online. We work with you to establish everything from your target keywords to marketing budget allocation, so you can be sure you're getting the most out of your decision to market online.
#3

Sit Back and Relax While the Pros Get to Work

Hiring experts to handle your digital marketing campaign affords you the time and mental space to focus on running your business. You can put your trust in our entire team, knowing we have the marketing savvy and food service background necessary to help your business win online. From targeting the right keywords for SEO, to smart PPC budgeting, to web design, content writing and reputation management, our team covers the complete scope of your efforts. While you're creating a thrilling experience for patrons, we're making sure customers are finding your business online. They won't be able to wait to visit you again!