Digital Marketing for Plumbers: How to Get Leads in 2023
There are approximately 673,000 Google searches for "Plumbers Near Me" every month in the United States alone. There are about 1,000 Google searches for "Phoenix Plumbers." The combined search volume for broad searches and local searches amounts to an extraordinary opportunity for plumbers to win new business. But without air-tight digital marketing, those leads may end up going right down the… drain.
In this complete guide to digital marketing for plumbers, we provide tips for mastering all core aspects of digital marketing – along with real-life examples and some impressive results.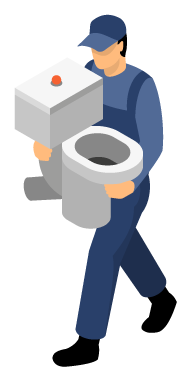 To learn more about how plumbers like you can grow their business with digital marketing, keep reading! If you want to learn more or speak with one of our representatives, give us a call at (888) 416-9800 or contact us online!
Why Online Marketing for Plumbers is Absolutely Essential
"I'm not getting enough phone calls." "I need more leads." "I need more traffic to my website."
If you've found yourself saying the same things, we hear you. And you're not alone. These are common frustrations for small business owners, including plumbers, and without a solid digital marketing strategy, you could be leaving a large chunk of potential customers on the table.
Digital marketing provides you a way to meet your customers where they already are—online.
Whether on Google or their Facebook feeds, digital marketing can put your plumbing business in front of people already searching for your services.
But there are three things that above all else digital marketing can do to drive business and aid your bottom line:
Reach New Customers
Probably the most obvious of benefits, digital marketing puts you in front of new customers. Clients who have probably never even heard of you before are online and digital marketing gives you the power to reach them. Whether it's an SEO or PPC campaign to drive new leads, a social media campaign to grow followers, or a new website that new customers can engage with, Digital marketing is the best and most cost-effective way to find new customers (and keep them!).
Establish Trust
As a plumber, you want customers to know that they can trust your business before giving you a call and brand reputation both on your website or through reviews and testimonials is crucial. No matter if it's through customer reviews, engagement on social media, or your website, everything you do (or don't do) online builds trust with your customers.
Expand Your Messaging
Plumbing is more than unclogging pipes.
Digital marketing allows you to share with customers the stories that will help them choose you next time they need plumbing services. But perhaps the customer had a poor experience the last time they hired a plumber. The last time their system was backed up, the plumbing company they hired tore up their perfectly-manicured lawn.
Do you provide trenchless sewer repair? Do your customers understand how trenchless sewer repair works?
Without information on your website about trenchless sewer repair (which receives about 5,400 US-based Google searches a month) customers will never know it's the perfect solution to their problem. And that's a missed opportunity to delight a new customer.
Websites for Plumbers
What does a good website for your plumbing business look like? Whatever best serves your customers!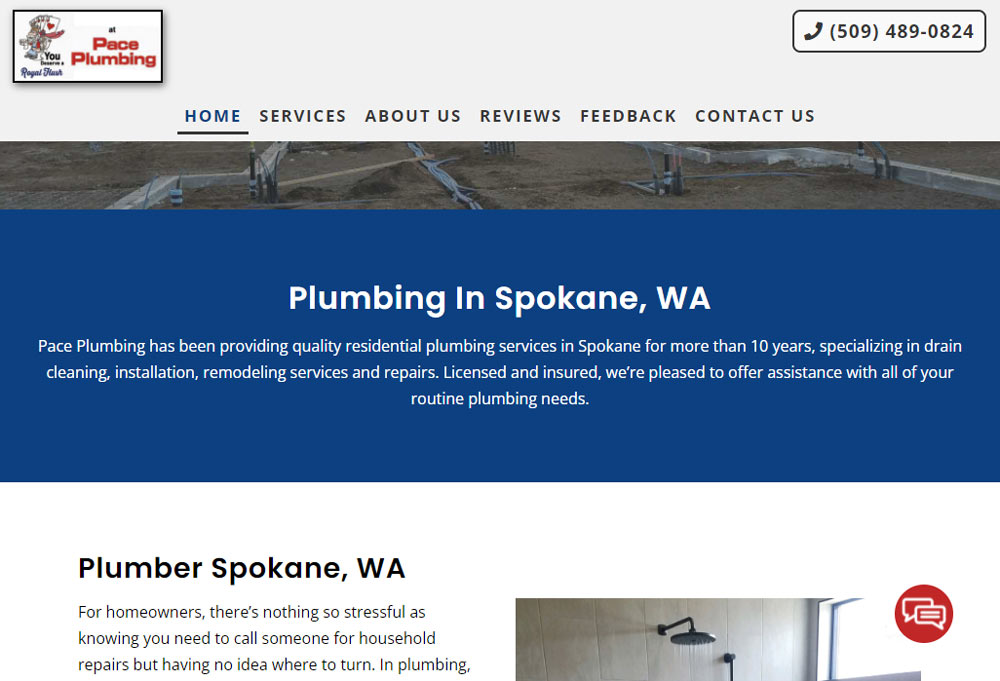 A website that reads well on a mobile device is a must, but making sure that your site is informative and easy to navigate is the MOST important thing.
It's hard for potential customers to convert on a site they can't navigate on. It's hard for potential customers to convert on a site they can't navigate on.
Need a website for your plumbing business? Check out these real-life examples…
Websites Design Services for Plumbers
As mentioned above, having the right website for your plumbing business is everything.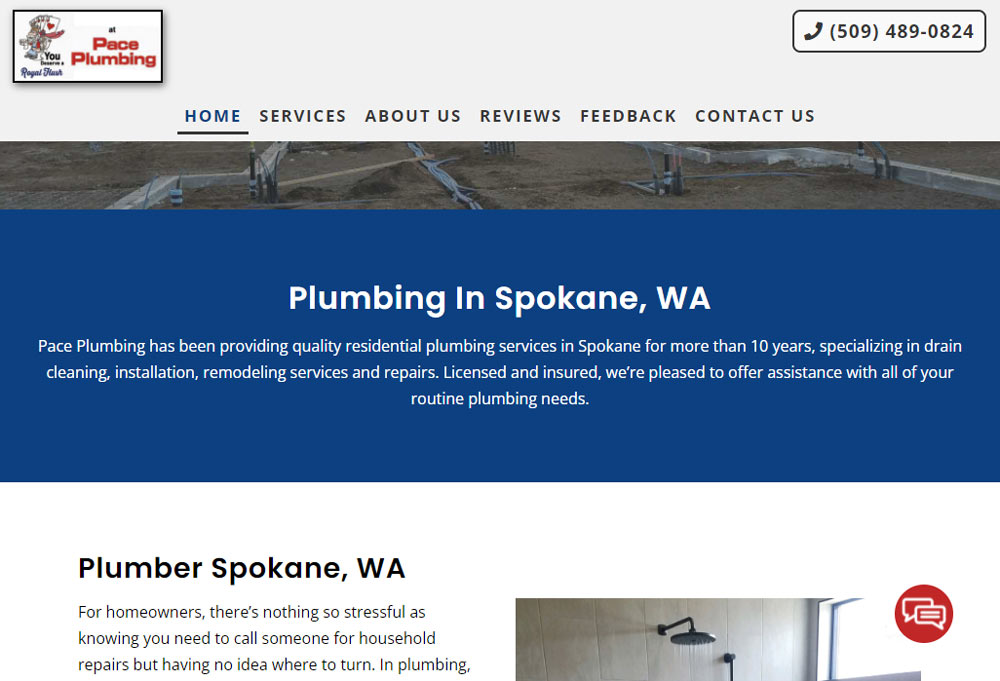 If plumbers don't have a website that is appealing both in design and performance, then converting traffic may never make it past your first page. BizIQ creates websites that fit all the right criteria for Google to rank them and bring clients to your business.
Mobile Usability
Having a website that is easy to read and navigate on mobile is extremely important

In the last few years, Google has started to view sites based off of their mobile versions instead of desktop. What does this mean for your plumbing website? If you don't have a mobile friendly website, you're taking big hits to your ranking potential. BizIQ-designed websites are mobile-friendly by nature, meaning you can expect a site ready to rank and bring in more plumbing business.
Site Speed
Along with mobile usability, site speed can determine quite a bit. Not only does it make your site easier to use (because we all like when sites load quickly), but fast sites also tend to rank better on Google.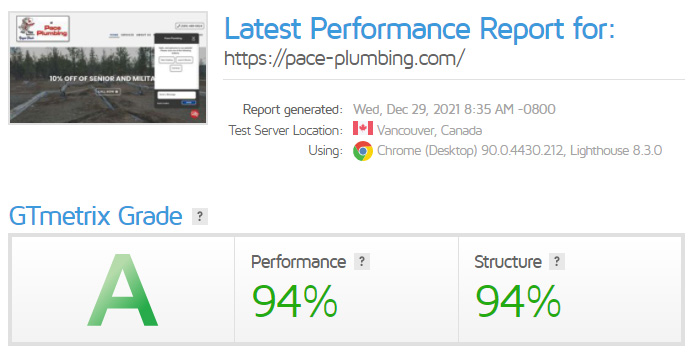 BizIQ's web development team has worked for years to create websites that not only look great, but run blazing fast
What are Plumbers Saying About BizIQ?

"Our account rep is extremely knowledgeable and attentive to our requests for changes and really goes the extra mile in making sure all of our needs are met and offering great insights and advice in everything from increasing our website traffic and generating more leads to blog topics and social media. I can easily offer my highest recommendation and endorsement of all the products BizIQ offers and the quality customer service they provide."
– David Larson, PlumbSmart Heating Plumbing & Air
Mesa, AZ

"One of the smartest business decisions I have ever made was trusting BizIQ with all my marketing needs. They have my business where it needs to be and still stay on top of things to better it every day."
– Eddie Fallin, Affordable Plumbing
Raleigh, NC
Search Engine Optimization for Plumbing Websites
<
Because the easiest way to find businesses online is through a search engine like Google. And it's important that you position yourself in front of people searching for your plumbing services. Every month, hundreds of thousands of potential plumbing customers are searching for plumbing services on Google.
Here are just a small handful of the search terms plumbers might want to show up for: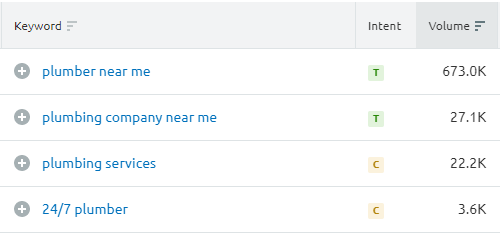 That's right–673,000 searches a MONTH for "plumber near me".
SEO strategies improve your site's content and technical aspects in order to rank as highly as possible for terms like this in your area.
Search Engine Optimization for Plumbers
After PlumbSmart, a BizIQ SEO client and plumbing/HVAC business based out of the Phoenix valley, began investing heavily in SEO, they started to see some fantastic results. PlumbSmart saw massive growth due to strategies that focused around building new service page content, service area pages and answering specific plumbing and HVAC questions. With a new strategy and additional content created by BizIQ, PlumbSmart's newly optimized content resulted in significant traffic growth.


Organic Traffic Key Performance Indicators
Users 2021 vs 2020
7,865 vs 6,232
+26.2%
Sessions 2021 vs 2020
10,075 vs 8,005
+25.8%
Blog Visits 2021 vs 2020
1,659 vs 868
+91.1%
Looking for more SEO tips? Check out our ultimate guide to SEO for plumbers.
PPC Advertising for Plumbing Leads NOW
But for plumbers that need leads RIGHT NOW, what can they do?
With PPC (Pay-Per-Click) advertising, plumbers can land on the first page of Google immediately and get quick access to new leads.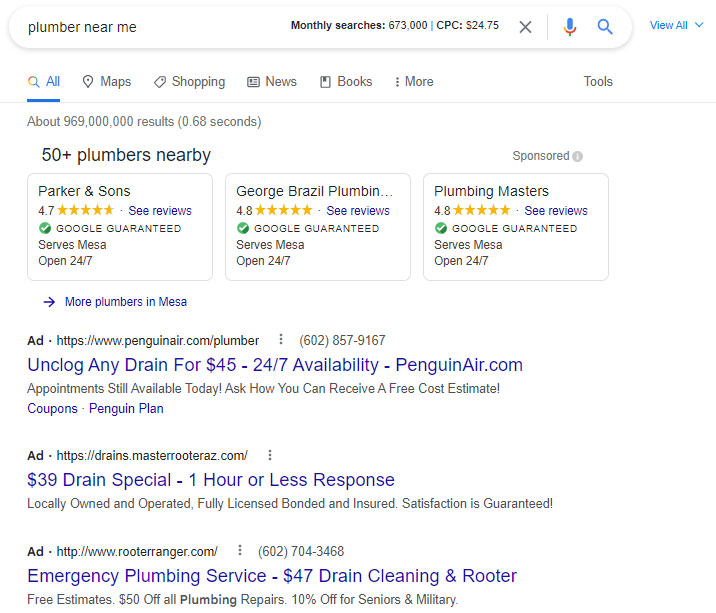 With these ads, you only pay for the clicks that you get to your site, meaning you only pay for the leads that you get.
Benefits of PPC for Plumbers
PPC advertising on platforms like Google and Bing can have huge benefits for your plumbing business.
Here are some ways PPC can help plumbers:
Because you only pay per click, you only pay when someone clicks to your site through an ad.
Google Ads positions are based on bidding. So you can more easily control your ad placement — depending on your budget.
Pay per click ads like Google Ads are incredibly customizable. You control who can see your ads and when.
Because you only pay for each click, your Return on Investment is clear and easy to calculate, letting you know easily how effective your campaign is.
You control what searches you show up for. Target the plumbing services you want calls for and ignore the ones you don't.
The average cost of lead clicks for plumbers at BizIQ is between $10-$15 per click.
PPC Services for Plumbers
BizIQ currently handles PPC campaigns for a number of plumbing clients.
See what David Larson of PlumbSmart Plumbing Heating and Air had to say about BizIQ's PPC services for plumbers:
"Our account rep is outstanding and a delight to work with, not only for her respectful and professional manner, she truly cares about giving you the best product possible and will always put our company's needs first. She is a dream account rep."
– David Larson, PlumbSmart Plumbing Heating & Air
Mesa, AZ
Social Media Marketing for Plumbers
Social media marketing is just one more way that you can place yourself in front of customers' eyes.
In fact, social media marketing can be crucial to reaching your customers.
74%
of consumers rely on social media to guide purchasing decisions
81%
of shoppers research online before purchasing
74%
of consumers rely on social media to guide purchasing decisions
That's a lot of opportunity for you and your plumbing business to take advantage of.
So how can social media marketing help your business grow?
Social Media Ideas for Plumbers
One way to help customers connect with your business is to show how you're helping people with your services. Storytelling is becoming increasingly vital for modern marketing, and social media allows you to share more stories. Here are some ways that social media can help potential customers connect with your business through storytelling:
Share a story of a time you helped a family in a plumbing emergency. Include a testimonial.
Record a video of you teaching a plumbing hack OR debunking popular plumbing "hack"
Share how your company got started, what your core values are, why you do what you do.
Have a repeat customer that feels like family? Share a photo of you both and tell how you their loyalty as a customer turned into a friendship.
Sharing these stories helps new customers engage with your brand and see you as more than just "a plumber", but a part of the community and someone that can be trusted with their home.
Social Media Platforms Plumbers Can Use
Facebook
Facebook is probably the most popular social platform for plumbers to market on. Facebook allows plumbers like yourself to advertise using low cost campaigns or boost and pay to put them in front of potential customers that fit into a certain criteria. Sharing photos of happy clients (with permission, of course) and successful jobs can help build your reputation and give a look into the work that you do. Facebook is also a great place to share special offers or updates on services and service areas, or even plumbing tips for customers to try on their own.
Instagram and TikTok
TikTok and Instagram are both social media platforms that deliver a feed of short video clips across a wide range of topics. Find ways to build your brand by creating shareable content like short videos of DIY plumbing hacks that can easily be implemented at home. Even something as simple as a post teaching the best way to unclog a shower drain can earn tons of engagement while boosting awareness of your brand.
Social Media for Plumbers
While PlumbSmart Plumbing, Heating and Air was investing in Pay-Per-Click, they also were investing in social media marketing.
Over the course of their first 6 months, we created and published up to 12 social media posts monthly.
Generally, our posts fell into some of the following categories:
Marketing Posts
These posts used the opportunity to share special offers and market services in a more general sense, often with links to the content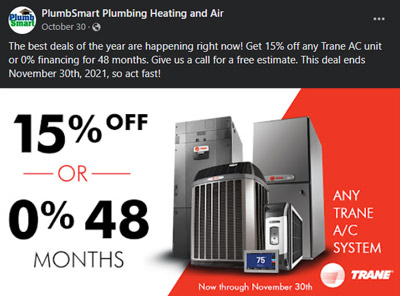 Review Posts
These posts highlight great reviews that your plumbing business gets, showcasing your work.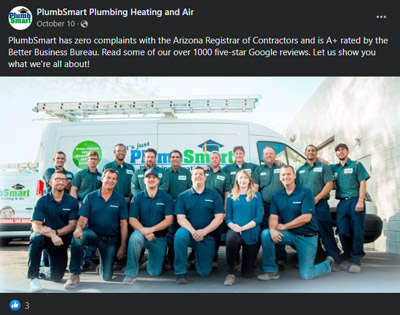 Video Posts
Posts like this showcases your video content, whether it's produced by you or someone else. Social media platforms love video and this content performs consistently well.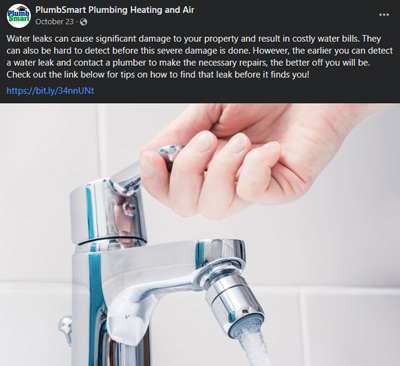 Curated Content
These posts share content about your industry that your followers and customers might find useful. Things like "How to Take Care of Pipes in the Winter" and other relevant content.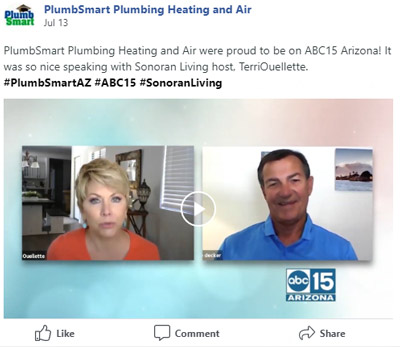 With the types of posts seen above, PlumbSmart Plumbing Heating and Air has seen excellent results.
Take a look at some of the growth our social media marketing campaign delivered over just 6 months:


Social Media Key Performance Indicators
Impressions
1,128,216
+9.3%
Post Link Clicks
959
+15.7%
Local Brand Management & Citations
You've heard it before:
Reputation is everything.
With local brand management, you can make sure that your plumbing business is putting its best foot forward at all times.
So how do you take control of your local brand and dominate your area for plumbing searches?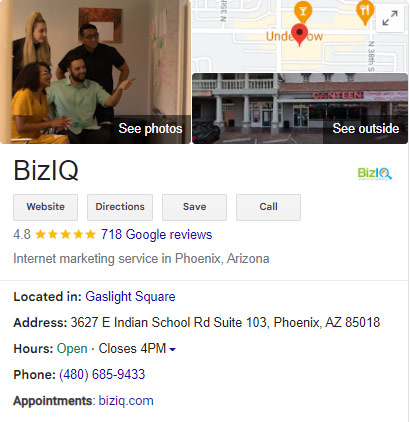 Google Business Profile
For plumbing businesses, managing your local brand means claiming and optimizing a Google Business profile for improved Google Maps results.
With a Google Business profile, potential customers can preview your plumbing business, learn about your services, read reviews and call or click to make appointments.
According to Ipsos Research, an up-to-date Google Business Profile:
Is 2.7x more likely to be considered "more reputable"
Gets 7x more clicks
Is 70% more likely to attract location visits
Is 50% more likely to lead to a purchase
It's a full-service listing for your business and crucial to any plumber's digital marketing strategy.
Google Business profile optimization
Once you have your Google Business profile, you need to optimize it properly.
Make sure that your business name, address, and phone number are in your profile, matching EXACTLY how they are on your website.
Choose "Plumber" as your business category and make sure that you clarify your business's service area.
Other options for optimizing your Google Business Profile include listing your services, adding photos of your business and interacting with Google reviews.
See our checklist below for a guide on how to optimize your Google Business Profile:
How Plumbers Should Optimize a Google Business Profile for Leads
Claim your Google Business profile
Update your business name, address, phone number, and website
Choose "Plumber" as your business category
Designate your service area
Add your list of plumbing services along with prices
Add a photo of your business location
Ask for/respond to reviews from plumbing clients
Local Citations
So much of online marketing is making yourself visible. Not just to potential customers, but to the internet in general.
Local citations are online directories, like white pages on the internet. They contain your business name, address, phone number, and additional information.
These citations not only help customers find your business, but also signify to Google that you are a real business serving a specific area.
In fact, according to Brightlocal, local businesses in the 1-3 positions on Google have an average of 85 citation listings. So it's more important than ever to get your business listed.
These citations get you listed across a number of platforms. Places like:
Focusing your SEO on your geographic location
If you're wanting plumbing leads in Spokane, WA, then you need to make sure that you're making your online marketing clear what regions you serve.
Whether it's your website or your Google Business Profile, being clear in your titles and headings on your site's content where you are located.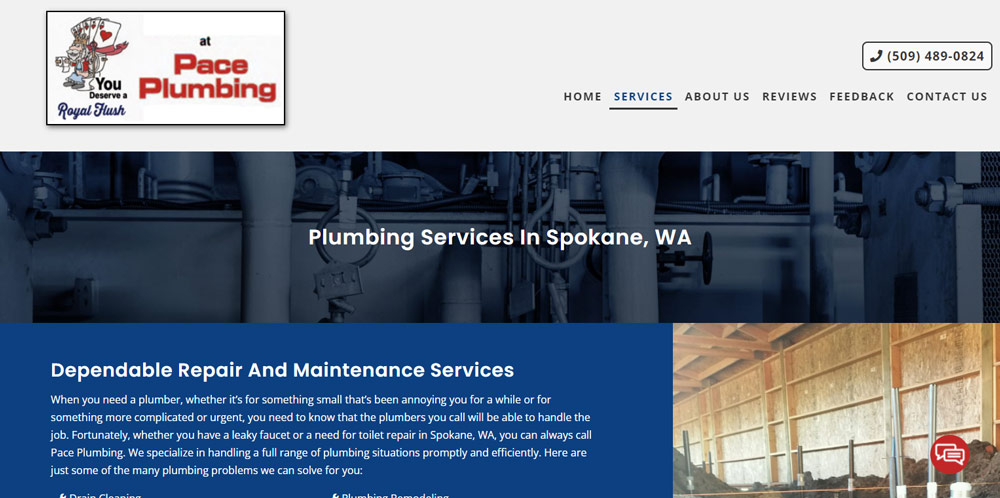 Solicit online reviews
Every day you are providing plumbing services to happy customers.
So make sure that they are able to share with others how happy your service makes them feel!
Reviews in your Google Business profile are helpful in improving your rankings against your competition, but also in improving your reputation within your local plumbing industry.
Local Brand Management for Plumbers
For local businesses, managing your brand in your local area is key to driving business growth.
We hear from businesses a lot that "word-of-mouth is where I get a lot of my business."
But here's the thing: Word-of-mouth helps a lot, but it only gets you so far.
For PlumbSmart, we knew that word-of-mouth doesn't work for Google, so we set hard at work building local business citations.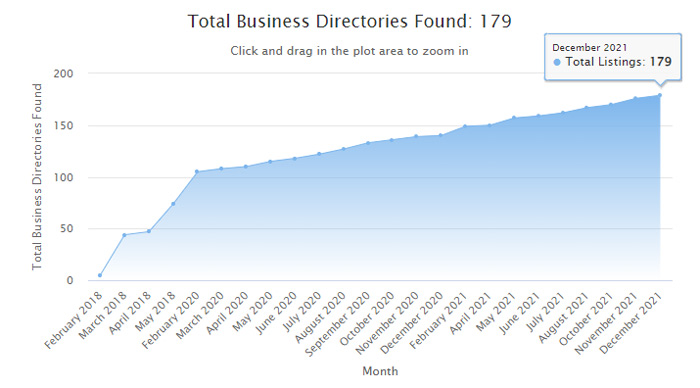 As previously mentioned, these citations convey your business name, address, and phone number to potential customers (and search engines).
They look very similar to this citation below: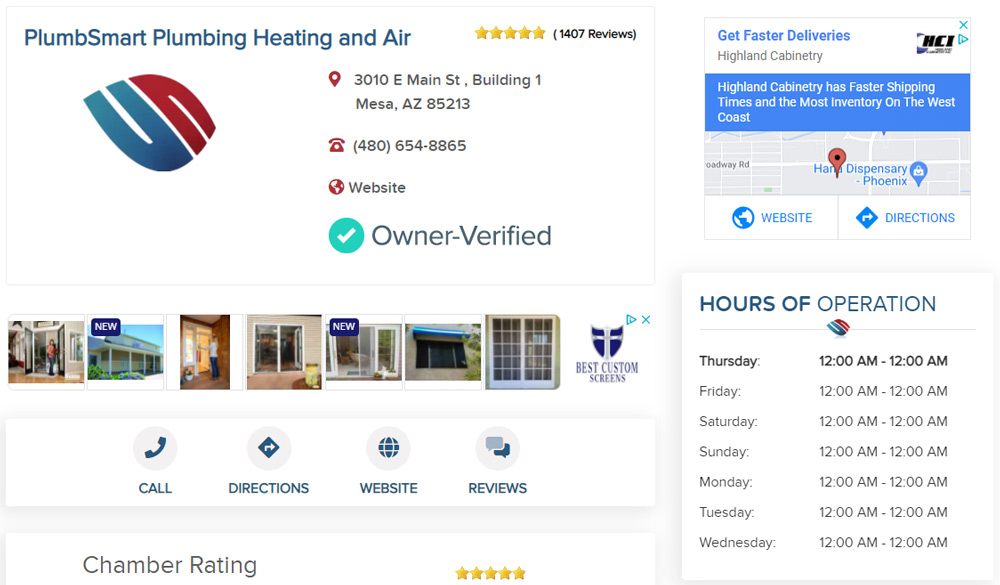 BizIQ makes sure that citations are built accurately and consistently so that the information is uniform across all citations that we build.
With our attention and care, you can expect your local citations to be built with care on sites most advantageous to growth.
Contact BizIQ Today
Like all great local businesses, plumbers see benefits from digital marketing, but we've built our company turning out great results for plumbers and other small businesses.
If you need help with your digital marketing or even if you're just wanting to learn more, we can help!
Contact us today to speak with one of our representatives and start getting the leads and traffic you've been looking for!
Experience the BizIQ Difference
Our unique approach to digital marketing has helped over 26,000+ business owners save time, increase traffic to their website and ultimately increase revenue.
Our clients are thrilled with the results they get and our 4.8 star rating and 650+ Google verified reviews proves that.
Join the other businesses that know we don't just promise results… We Deliver them.
472,748 Real Leads Created
478,028 Reviews Generated
1,309,202 Customer Listings Created
Fill out the form for a FREE 30 minute marketing evaluation OR if you want to get started right now give us a call at (888) 416-9800