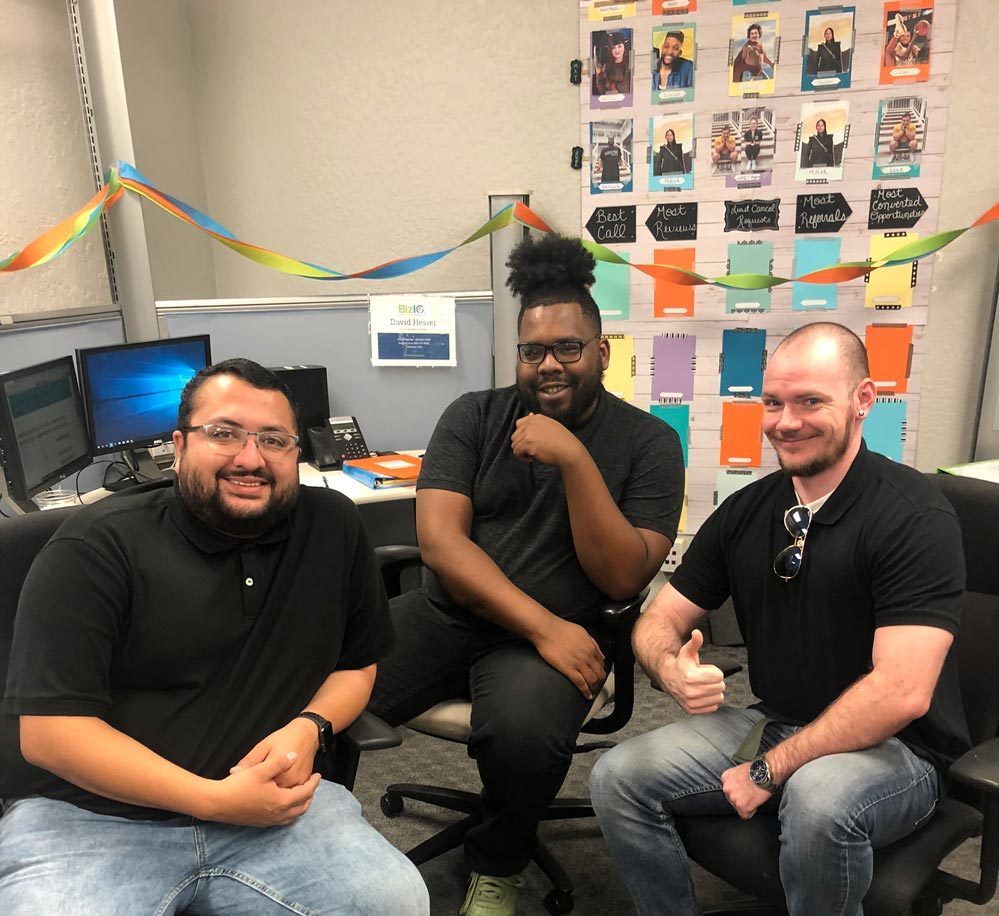 Citation & Business Listing Services for Small Businesses
If your business has ever moved to a new location, or changed phone numbers, you know that keeping your business information updated online can be a never ending battle. It's time to take control.
50% of local searches don't occur on search engines, but on the countless directories and apps that seem to pop up every other day like Yelp, Google My Business, Facebook, Yellow Pages, and more. Making sure that you are in control of your business' information on these important directories, or "citations", has never been more important.
BizIQ's local search optimization services help local businesses claim their pin on the worldwide map. We provide the tools and resources small businesses need to make sure that potential customers can find you and reach you, no matter where they're searching. Our team of local search experts work with you to create a profile that places your business' most important information front and center, and ensures that search engines view your business as credible so you can continue to gain important search engine rankings and visibility.
"I am so blessed to have a company set up my Google page, and do it right! And working with Eric has been a very pleasant experience. Great job! Thanks for understanding our company needs."
– Marvin Coblentz
Coblentz Custom Cabinets
What are Local Search Citations?
There's a reason the internet is often called "the web." A small business' online presence is made up of a complex network of mentions of a business' name, address, and phone number ("NAP") known as citations. These citations include business directories, local maps, and many other listings that can be generated either manually or automatically. Google uses this information to determine whether the information on a business is consistent across the web – an indication that your business is valid, trustworthy, and open for business.
Unfortunately, something as simple as an old phone number or change in address, if not handled correctly, can spawn a host of duplicate listings and perpetuate errors that can do serious damage to your business' bottom line.
Our Method for Proven Success in Citation Management
We keep your business information up-to-date across hundreds of the top business listings around the web, and make sure it stays that way through profile creation and management, and ongoing optimization and distribution.
Profile Management
We'll help you create a snapshot of your business that includes everything a potential customer needs to know right away. From your business name, address, phone number, website address, and other contact information to the products and services you provide and the geographic area you serve, your profile information will be verified and maintained by your project manager, and will be distributed and published to directories most likely to reach new customers.
Monthly Submission to Data Providers & Directories
Data providers are responsible for supplying your business' information to hundreds of publishers around the internet. We submit your information to the top data providers and over 200 business directories each and every month, making sure your information stays up-to-date and consistent, wherever your business is mentioned.
Top 20 Local Listings
We make sure your business is GPS and 411 ready, and manually claim and optimize the top twenty local business listings including major names like Google My Business, Bing Local, Yelp, CitySearch, and more, ensuring your listing stays live, up-to-date, verified, and optimized for your customers to find.
Ongoing Optimization & Duplicate Clean Up
Incorrect information or duplicate business listings can cause serious damage to your online presence. We go above and beyond to locate and resolve problem listings that may be causing a drop in search engine rankings and online visibility.
Crystal Clear Progress Reporting
You'll find clear reports in your GoIQ Client Portal with up-to-the-minute updates on the status of your most important local listings, as well as links and other information designed to help you gauge the consistency of your business' online information and the success of your campaign.
How Important Are Local Citations for Small Businesses?
The short answer: very important! Local citations help search engines associate your business with your local service area. The links you get from these citations are also strong SEO ranking factors. Learn more about NAP consistency and the importance of local citations for small business SEO.
Local Citation Management for Small Businesses Like Yours
PlumbSmart Plumbing Heating & Air offers affordable, fast plumbing, heating, and air conditioning services to the entire Phoenix area. When launching a new website, they took it as an opportunity to revamp their entire online image. Now, their online image truly represents the 5-star service they provide to their clients. 
When I spoke with Jason Kosner by phone I was impressed that he understood the many goals I had in mind regarding online citation cleanup, reputation management, and everything I was aiming to achieve with our new website. I was also impressed that he spent over an hour talking to me during our initial phone call without ever once giving me the impression he had anything more important to do than listen to me.
Read more about PlumbSmart's experience with BizIQ.
There's a Big Universe of Data Out there Pertaining to Your Business.
Local Citation Management is the foundation that ensures a business' data is accurate and complete, wherever customers are searching. With millions of dollars a year lost due to incorrect listing information, it pays to make sure you're managing your listings. We can help.
Local Citation experience in…