Web Design Services
Every Small Business Needs a Website
If four customers walk into your store, you wouldn't turn three of them away, right? If you don't have a website – specifically an optimized, mobile responsive website – that's essentially what you're doing. Simply having a website is no longer enough. Your website needs to look professional, be easy to navigate, and provide useful information to your customers or they're likely to look elsewhere.
At BizIQ we ensure your website is a beautiful, user-friendly extension of your local business. Once we've worked with you to establish your vision for the design, our team of experienced web developers begin the build itself. Every step of the building process is done with the intention of creating a beautiful, search engine-friendly website that will set you up for success by helping to make your business the top pick among your online competitors. Whether you're just starting up or you've been in business for generations, an optimized site brings in customers, builds your brand, and helps you grow!
Your website needs to look professional, load quickly, be easy to navigate, and mobile optimized. Take a look at these stats and think about how a bad website can hurt your small business.


Benefits of a Well Designed Website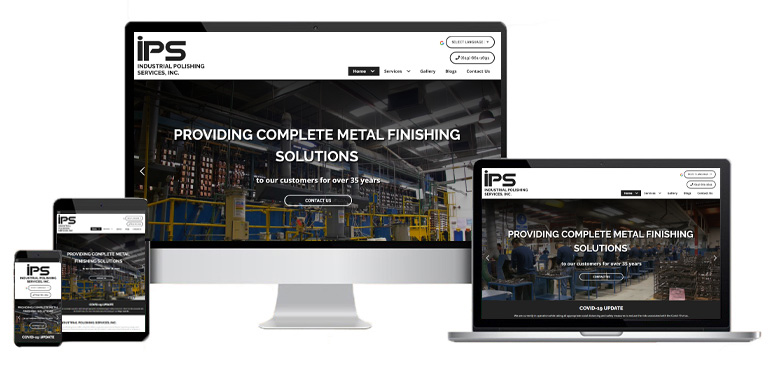 BizIQ small business websites are not only beautiful to look at and interact with. They're also designed by industry leading experts with experience in conversion rate optimization, SEO, and design theory. That means that they are built to be easy to find, easy to navigate, and built with the goal of generating plenty of leads for your business.

Responsive Websites Make Customers Happy
Did you know that 94% of people judge a website based on its responsiveness (Infront Webworks, 2018)? Responsiveness refers to the way a website responds to the different devices it's viewed on.
When BizIQ creates your business' website, we ensure it is fully mobile responsive, meaning it will operate seamlessly on a mobile device just as well as a desktop. This is an important part of web design not only because Google prioritizes mobile responsiveness in search rankings, but because 57% of all web traffic comes from mobile phones (BrightEdge, 2018)!
Search Engine Optimization to Set You Apart
In order for users to find your site and for your company to gain new customers, Google and other search engines must first index it. That means when Google is deciding which website to display for that important search term, your website or your competitions, it must first use its technology to "look" at your website and your competitors, and rank them based on which it believes to be most relevant. SEO is the process of encouraging Google to choose your site over the competition. Each BizIQ website built as part of our local marketing solutions comes with a complete search engine optimization strategy, and a team of experts optimizing your site on an ongoing basis to make sure you're staying visible for the search terms that matter most.
All of that means you rank higher, have greater visibility to customers, and of course, gain more business.

Part of a Comprehensive Solution
Your website plays a major role in the growth of your business, and the website conversions you see every month are a big part of that. But it's not the only thing that matters. There are many gears turning behind the scenes when it comes to small business online marketing. Designing a website is just one of these gears, albeit an important one. After all, you can't have a complete online marketing campaign in place without a great website!
Our small business websites are part of a larger, comprehensive package that includes custom website copy, content marketing, reputation management, search engine optimization, citation management, and more. At BizIQ we believe that combining these essential marketing methodologies into affordable packages that can grow with your business will allow us to continue to offer big business marketing solutions at the most affordable rates in the industry.