Digital Marketing Services for Franchise Businesses
As a franchise, you've got plenty of support from the core brand to help you get started. But when it comes to advertising and growing your business, the task falls to you, the owner. The good news is, it's easy to leverage the power of a franchise brand into marketable success for your business—you just need to know how. Let us turn your franchise into a local powerhouse online.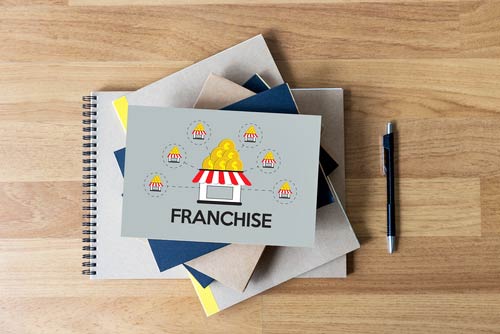 Why Should Franchise Businesses Market Online?
Despite their bigger brand name, franchise businesses are part of the local economy where they're operated. You need local customers to find your location when they search online. Local search marketing puts your franchise in the top local search results, so there's no question of convenience for your customers. Whether they're looking for products and services or searching for the brand specifically, it pays to be on page one. Every click, call and inquiry brings local customers closer to your business and the brand—whether you're a franchise trade, retail store, restaurant or professional services provider. Leverage the power of the franchise brand and position yourself to be a reputable business in the local market.
---
5 Reasons to Market Your Franchise Business Online
Too many franchise owners rely on brand recognition alone to make their success. True success comes from leveraging that bigger brand name into a local following for your franchise. The best way to do this is through a comprehensive online marketing strategy. From SEO to GMB, Google Ads to paid social exposure, a little online effort will take your business to the next level. Done right, your franchise will become even bigger than the brand it represents.
Dominate the local market.
Whether you do taxes or clean carpets, you're probably not the only game in town. Digital marketing helps you rise above the competition, to meet your customers where they're searching for local businesses like yours. No matter the product or service you offer, digital marketing is the key to establishing your franchise. Once you're on top, you'll become the first (and best) option for local customers.
Leverage brand recognition.
Franchises have the built-in benefit of industry traction thanks to the umbrella brand. Digital marketing uses this reputation as a springboard, to give you even more SEO power when you start advertising to your audience. They'll see the name, recognize the reputation and won't think twice about choosing a trusted business. Gaining this following starts with search optimization.
Spend less and get more.
Every dollar counts for franchises that are working to break even and become profitable. In the early stages of your growth—and beyond—it's important to maximize your marketing spend. Digital marketing ensures you're getting the best ROI—one that's measurable and meaningful to your business. Digital efforts are easy to track, optimize and coordinate, so your spend results in great franchise ROI.
Connect with customers.
Customers might be familiar with the brand you operate under, but are they familiar with your franchise? Digital marketing makes it easy to connect with customers on social media, through search ads or even via email, so they can learn more about how you distinguish your franchise. Customers that form a connection with a brand are 80% more likely to become loyal to that business!
Grow beyond the brand.
Ultimately, you want your franchise to become even bigger than the brand it's under. That starts by making a name for yourself in local markets. Use the brand's power to climb search rankings and to garner recognition—then, deliver an experience that goes above and beyond, so customers will go out of their way to come back. It starts with effective marketing and ends with a great experience.
There's no shortage of digital marketing options for franchise businesses. Whether you're a service-based business with a Google Ads budget or a purveyor of brand products seeking to market through informative blogs and email, it's easy to get your value proposition across online. People will give you a second look because they know the brand, and they'll keep coming back once you provide them with a superior experience. Digital marketing offers limitless potential!
Franchise Businesses Need to Distinguish Themselves
How do you make your franchise more than the brand it represents? It starts with a powerful online marketing campaign that attracts local customers, so you can provide them with an experience that only a dedicated franchise owner can create. Here's a look at some of the many ways franchise owners can get traction in local markets and distinguish themselves and their business.
We're Franchise Business Marketing Experts
From small local franchises to regional franchising powerhouses, we've worked with entrepreneurs across the spectrum. We know how to capitalize on the momentum of a bigger brand, to position your independently managed business as a local leader for products and services. Chat with one of our franchise business marketing experts and get the scoop on some of the franchise organizations we've helped lay down local roots.
Service-Based Franchises
From gyms and lawn care services to restaurants and professional service firms, we're ready to help you grow. The services you offer might be standard at every location, but no one offers the unique level of service that your franchise does! Let us help you capitalize on the uniqueness of your approach, to set your franchise apart.
Product-Based Franchises
Whether you sell health products or artesian goods, salesmanship is in your blood. We'll help you build your empire on the back of brand-name goods people know and trust. Let us help you deliver a value proposition that distinguishes you as a trustworthy expert who customers will feel confident buying from over and over again.
Independent Operators
Using franchised technology to operate an independent business? Let our team show you how to leverage the success and reputation of a larger brand into your own local success. We'll keep the focus on your unique business, while letting everyone know the secret to your success is tried, true and proven. Get ready to become more than the brand behind your company.
Optimize Your Online Efforts with BizIQ
How Do I Get Started?
When it comes to online promotion, knowing how to get started can seem challenging if you're not familiar with the different online marketing options that exist. We help you find your footing, putting your franchise on the path to local marketing dominance. Contact us directly to learn more about the steps below and how they can take your franchise business to the next level.
#1

Get a Complimentary Website and Digital Strategy Analysis

Your website is the backbone of your online campaign. It needs to be professionally designed, feature great content and promote easy navigation. We'll work with you to evaluate your site's strengths and opportunities for improvement, then roll those into broader strategies. We give you a complete rundown of your web presence so you know where you're starting from, what your goals are and how to achieve them. With a site breakdown and digital strategy analysis in-hand, you'll know what it takes to establish and grow your restaurant online.
#2

Review Findings and Opportunities

Before officially launching any online marketing campaigns, take time to review the findings and opportunities from your complimentary website analysis. This information will help you to establish where you currently are as a company and where you want to go. This involves setting actual benchmarks and making decisions about where to invest time and money online. We work with you to establish everything from your target keywords to marketing budget allocation, so you can be sure you're getting the most out of your decision to market online.
#3

Sit Back and Relax While the Pros Get to Work

Hiring experts to handle your digital marketing campaign affords you the time and mental space to focus on running your business. You can put your trust in our entire team, knowing we have the marketing savvy and food service background necessary to help your business win online. From targeting the right keywords for SEO, to smart PPC budgeting, to web design, content writing and reputation management, our team covers the complete scope of your efforts. While you're growing a small franchise into a local powerhouse, we're making sure people are finding your business online, so you can grow your local customers base the right way.
/p>