SEO Services Built for Small Business
Pretty is as pretty does, especially in the world of websites. After all, what good is a beautiful website if the people who matter – your potential customers – can't find it?
The way a search engine like Google evaluates a website is very different from a human visitor. Search engines consider complex technical factors like the code used to build your site, how quickly it loads, the quality of the written content, how keywords and phrases are used, the quality and quantity of websites that link to your site, and many other factors. If search engines cannot navigate and read your website, it will not rank in search results and your potential customers will not be able to find it.
The goal of Search Engine Optimization (SEO) is to make sure your business' website is easy for search engines to find and navigate so it remains highly visible when a potential customer searches for a service that you provide in the geographic area you serve.
Put simply, when search engines can find your business website easily, new customers can find it too. With SEO services from BizIQ designed with small business in mind, you'll experience increased visibility for important search phrases, better traffic to your website, and more calls, leads, and conversions.
"We have been working with BizIQ on our SEO campaign for our small business and are seeing promising results in a short amount of time. Our Account Manager, Mandy is very responsive to our concerns and works very hard to ensure our expectations are met. We couldn't be more pleased with our partnership with BizIQ and highly recommend them."
– Jodi Webster
Tru-star Management Solutions, LLC
Proven Success Across Industries
Our search engine optimization services have a history of generating impressive growth for thousands of small business partners across a wide variety of industries. We use proven SEO best practices as well as our own research and insight into ranking algorithms to produce meaningful results that have a direct impact on your business' bottom line. By creating websites that are mobile responsive, user-friendly, fast loading, and full of quality content, we not only bring new customers to your business' website but provide them with an experience that drives conversions once they get there.
A Complete SEO Strategy for Small Businesses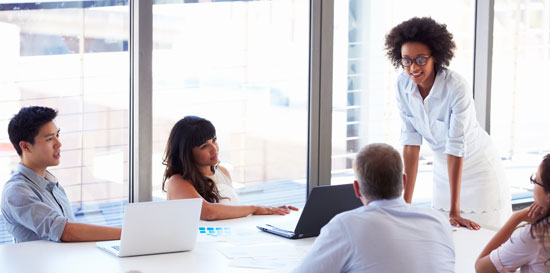 No two businesses are the same, and there's no such thing as a one-size-fits-all SEO solution. That's why we focus on getting to know you, your business, your goals, and your customers. Your dedicated project manager will work with you to craft a sustainable SEO strategy designed to get your business the visibility it needs to generate the results that matter most to you.
Keyword Research
Keywords are the terms and phrases that your future customers are typing into search engines like Google when they're looking for the services or products you provide. Your marketing team will perform extensive keyword research to determine which keywords will bring you the biggest return on your investment, and optimize your campaign around those high-performing phrases.
Transparent Reporting
We provide some of the most transparent reporting tools in the industry. With 24 hour access to your GoIQ Client Portal, you'll always know where you rank, how your top keywords are performing, and when it's time to reevaluate your strategy to create even more growth.
Ongoing Optimization
Search engine algorithms, standards, and best practices change constantly, and new competitors are popping up all the time. That means SEO is not a one-time thing. Put simply, SEO is a journey, not a destination, and a good SEO strategy should evolve and change as algorithms and businesses change. We monitor and optimize your campaign on an ongoing basis to make sure that you continue to get real results and that your website remains optimized and performs to the best of its ability, come what may.
Everything BizIQ does is geared towards making your small business the first option for local customers seeking the products & services you provide.
From the Blog: Search Engine Optimization

As 2018 fast approaches, SEOs are taking a step back and regarding the past year's search trends with the shrewd eyes of weathered war heroes. They've seen it all, from the clumsy first steps of the Google Dance to the Great Rankings Massacre of 2013, to the mysterious rise of artificial... View Article

Why Some SEO Myths Just Need to Go Extinct Already With a topic as complex as SEO, there are bound to be some prevalent myths and misinformation out there. At the rate search and digital culture are changing, understanding SEO requires upkeep; practices that put webpages and businesses in the... View Article