Close to 80% of people in the U.S. are on social media. BizIQ Social Media Management Packages provide your business with the most affordable, transparent solution for social media management in the industry so your customers can find you where they hang out most, on social media sites like Facebook.
How Much Does Social Media Management Cost at BizIQ?
At BizIQ, our social media marketing pricing plans are designed to grow as your business grows. We won't ever ask you to sign a contract, and we're committed to keeping it affordable for you to use social media to grow your business and communicate with more customers online.
We offer tiered social media management pricing packages to fit any budget. Best of all, there are never any contracts or pricing surprises.
To find out which social media package is right for you, browse our social media marketing pricing plans below, then get in touch with one of our social media specialists to learn more.
Social Media Management Pricing


Reach

Engage

Grow
Monthly Posts
4
8
12
Social Platforms (Up to)
1
2
3
Promotional Brand Posts
Curated Content
Optimized Brand Graphics
Monthly Content Review & Reporting
Recommendation Management
Engagement
Strategic Outreach & Following
  First Month Included
  No Contract Required
$598
Initial Setup
$898
Initial Setup
$1,298
Initial Setup
  Month-to-Month Basis
$299
Per Month
$499
Per Month
$799
Per Month
Sign Up
Sign Up
Sign Up
$299
$598
4 Monthly Posts
Monthly Activity Reporting
Onboarding & Strategy Session
Premium Profile Graphics & Optimization
Promotional Brand Posts & Curated Content
Spam Monitoring & Service Alerts
$499
$898
8 Monthly Posts
Monthly Activity Reporting
Onboarding & Strategy Session
Premium Profile Graphics & Optimization
Promotional Brand Posts & Curated Content
Spam Monitoring & Service Alerts
Engagement
$799
$1,298
12 Monthly Posts
Monthly Activity Reporting
Onboarding & Strategy Session
Premium Profile Graphics & Optimization
Promotional Brand Posts & Curated Content
Spam Monitoring & Service Alerts
Engagement
Custom Calls to Action
Strategic Outreach & Following
Instagram Posts (3)
We've made it our mission to bring the same standard and quality of social media management to small and medium-sized businesses that the large corporations get at a fraction of the price, all with no contracts and guaranteed results.
How to Choose the Right Social Media Management Pricing Package
Spending the most money on the most expensive social media marketing pricing package doesn't always lead to the desired end result of any social media management campaign – new customers.
In fact, the best results come from ongoing social media management, consistent content sharing, and engagement with potential customers. Plus, you can't forget about keeping your existing customers engaged.
To choose the right social media package for you, first, decided how many social platforms you need to be active on, and how frequently you should be posting.
---
What's Included in a Social Media Management Package?
An effective social media campaign involves time, skill, and strategy, and no two campaigns are exactly the same.
Your journey begins with a comprehensive consultation with an experienced social media strategist so we can gain a clear understanding of your goals, as well as what you've already tried, what's working, and what isn't.
We'll then make recommendations for a tailored-to-you plan that will help your business reach more customers and bring in new business.
Our Social Media Management Pricing Packages can include:
Expert Social Media Strategy

Whether your business has been around forever or you're about to launch the next big thing, our social media team will work with you to craft a strategy that is tailored to your business and designed to help you meet your goals and exceed your expectations.

Social Profile Creation & Optimization

Our social media managers will advise you on which platforms would be most beneficial for you to be active on.

They'll help you determine where your target audience spends most of their time, and which platforms your most successful competitors are leveraging.

When you know where your audience is, you'll know that you're reaching just the right people with the most effective messaging.

Social Media Posts to Keep Your Social Calendar Full

Keeping your social media profiles active and up-to-date so your customers know they can count on you takes more than just posting once a week. It's a time-consuming task and finding just the right content that your customers want to read and share can be tough.

Our social media management packages will include professionally written posts for each of your chosen social media profiles.

Staying active and engaged with your audience is essential for maintaining contact with your target audience, and regular posts will go a long way towards building an active and engaged audience of prospects and customers.

Our social media experts will keep your social calendar full with a mix of promotional brand content, engaging visuals, and curated content.

Promotional Brand Posts

We can help you develop promotional brand posts for your social media platforms so that your brand becomes more visible to the public in the most engaging way possible.

Strategic posting of promotional posts along with curated content (see below) will avoid oversaturation of your brand to consumers, while at the same time making your company a regular presence on your audience's newsfeed.

Curated Content

Curated content is engaging, shareable content curated from sources other than your brand. By sharing posts of complementary businesses, industry influencers, and other well-respected publications, we will provide your audience with a variety of content geared towards their interests.

By sifting through all the high-quality related content across social media, we'll be able to offer the very best content that is already available online, increasing the viewing or reading experience of all your followers.

Optimized Brand Graphics

Our graphics design team are experts in optimizing brand graphics for social media. We'll make sure your brand is represented visually and consistently across your social profiles, so no matter where your prospects are spending their time, your brand will be recognizable.

There's no overstating the importance of graphics and visuals, especially when it comes to brand awareness, so this is an area you just have to get right. Anything which directly represents your brand must be a great visual depiction of your values, your mission, and what your company is all about. That's what our team will strive to achieve in optimizing your brand graphics.

Spam & Customer Service Alerts

No one likes spam. We'll make sure your profiles stay spam-free by removing unwanted posts and blocking repeat offenders whenever possible, and customer service alerts will keep you in the loop when a customer is ready to reach out for more information or has a question on your products or services.

71% of consumers who have had a positive experience with a brand on social media are likely to recommend the brand to their friends and family

Engagement

We'll help you plan the best ways to engage with your followers on social media, and interact with them on your behalf, saving you valuable time.

Interacting with your audience is critical for the perception of your brand on social media, especially considering that most people expect brands to offer some level of customer service on their social media profiles.

Engagement might consist of participation in groups or online communities, or it might be that one-on-one exchanges are optimal for the kind of engagement that is most advantageous for your business.

Regular Content Review & Transparent Reporting

Your social media management package includes regular reviews of the content posted on your behalf. Your social media manager will work with you to understand your brand's voice and tone so posts will fit your company's personality perfectly.

We believe in transparent reporting, so together we'll review the results generated by your social media campaign and set goals to take them to new heights. You'll never be in the dark about what's working and what isn't working again.
To Choose the Right Social Media Marketing Package, Ask Yourself These Questions:
What social platforms do your customers typically use? What platforms are your most successful competitors using?
If your customers and competitors are active on Facebook but don't have time for Twitter, that's a good indication that you may only need a package that focuses exclusively on a single platform. But if they're spending their time on Facebook, Instagram, LinkedIn, or another platform, you'll want to make sure your presence is strong on those, too.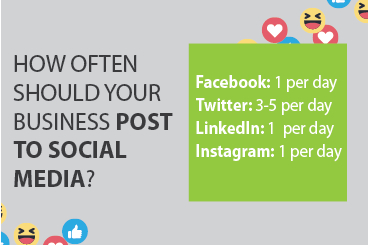 How frequently are your most successful competitors posting content to their social media profiles?
If they're posting very frequently, you'll want to consider a social media pricing package that offers a larger quantity of posts each week, like the Reach or Engage packages.
Do you need strategic outreach and following?
If you need to aggressively increase your following on social media, you'll need strategic outreach and following. This involves your social media professional performing extensive research and actively engaging with and following complementary businesses and people in your target market on your behalf.
No two businesses are alike, and what works for one may not work for you. To get a truly personalized look at how much you can expect to pay for social media management, get in touch with one of our social media professionals for a quick, no-pressure competitive analysis and consultation.
How is Social Media Management Pricing Determined
There are many possible factors that can influence the price of a social media management package. Here are a few of the most common.
The number of profiles being managed
Does your target audience hang out on one platform alone like Facebook or are they also browsing Instagram, Twitter, and LinkedIn?
The level of engagement and interaction required
How frequently will the social media manager need to respond to comments and moderate discussions? Perhaps you're hoping for full engagement and outreach, or maybe you're just interested in having basic posts added to your profile. Regardless, the level of engagement required will undoubtedly impact the cost of social media management services.
How much custom content will need to be created
Does your business have a great stock of photos and videos that your social media professional can share to your profiles? Are you blogging regularly? If great content is readily available, you won't have to spend as much on content creation.
All of these factors can influence the cost of a professionally managed social media marketing package.
What is The Industry Standard for Social Media Management Pricing?
Industry pricing can truly run the gamut. When you look for information on the cost of social media management for your business, you'll find a lot of confusing and misleading information.
The truth is, there's no standard pricing model in the industry when it comes to social media management pricing, including for creating posts for your business' Facebook page or sharing your company content online.
Furthermore, most social media marketing companies tack on extras like admin fees, service charges, and other hidden costs. There's no way to know what your monthly bill will be or if you're being overcharged. That's why so many business owners throw their hands up and try to manage it all themselves.
Transparent Social Media Management Pricing
Here at BizIQ, we believe everyone deserves to know what they're paying for. That's why we're completely transparent about all of our pricing, including our Social Media Management Packages.
In addition, we can offer you the most affordable social media management packages in the industry. That's because our priorities are about helping American businesses, not things like fancy offices. That helps to keep our own costs low, leading to lower prices on social media management packages for your business.
How to Get Started with Social Media Management
Ready to get started? Just get in touch to explore how our affordable Social Media Management Pricing Packages can help your business take advantage of one of the most powerful online marketing tools out there.