Landscaping is a thriving business that attracts many new entrepreneurs each year. It has continued to grow every year, and in 2019 alone the industry's total revenue was $99 billion.
It is a highly competitive field, with thousands of companies already established as well as new entrepreneurial businesses continually entering the field. This is why you must develop a targeted and effective marketing system that will win new clients and grow your business.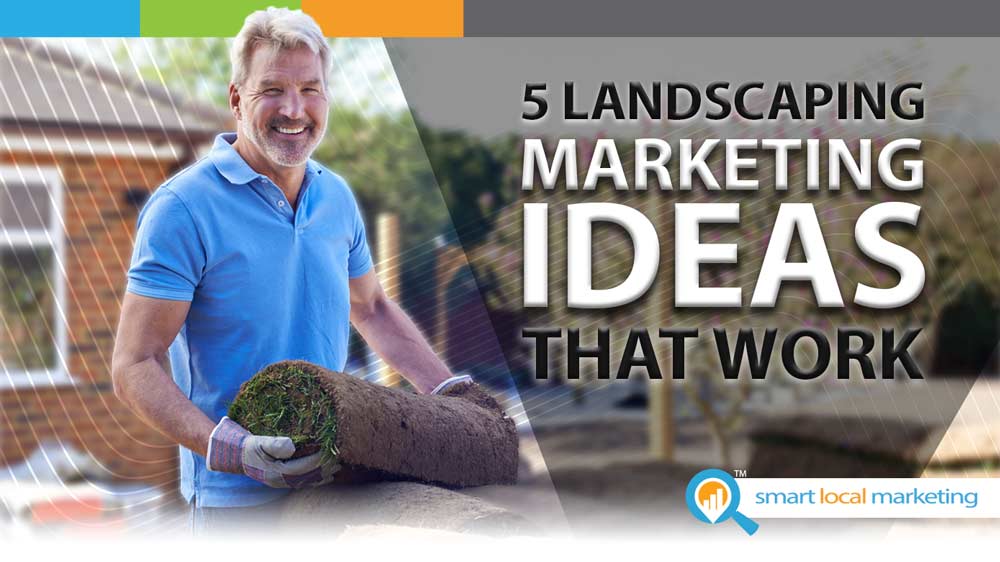 5 Effective Ways to Market Your Landscaping Business
Here are five of the best landscaping marketing ideas:
1. Begin Before Busy Season
The best time to market your landscaping services is before the busy season.
The peak season for landscape services begins in spring and usually continues through the fall, depending on your geographical location. That means you want to be planning and using your marketing strategy over the winter months.
Waiting until spring to begin is too late, and you will be behind the competition. Instead, consider reaching out to customers multiple times through advertising well before the spring season. You want them already thinking of you as their go-to resource when they're ready to actually buy, rather than someone else.
Also, during the busy season, you are just that, busy. You're assisting your current customers, likely with no time for developing marketing strategies for getting new customers. You also want to be able to take the time to nurture and serve your current client base, giving them your full attention.
The slower time is ideal for focusing on developing your marketing plan, growing your online presence, working on your website, and getting involved with social media.
It's also the time to give lots of free and valuable content specific to your target audience so that when the planting season arrives, they will feel like they already know you and are ready to buy from you.
But before you can even begin to form your marketing plan, you need to know exactly who to market to. You need to identify your customer base.
2. Identify Customer Base
Knowing who your customer base is may sound like a no-brainer but ignoring this step can cost you big time. You want to identify your ideal customer and get to know everything about them.
Research your local market. Reach out to your current customers; know what problems you are solving for them. Ask for feedback and make a note of recurring themes.
Who is it that you want to serve? Wanting to serve everyone is like wanting to serve no one, it doesn't work. You need to identify a specific person whose problem you solve. Niche down; be very specific. Find an area where you shine and market to that individual in every piece of content that you put out.
Here are just a few of many possibilities that include private and public ownership:
Homeowners who want to list their home in the spring and want everything looking immaculate
New homeowners who don't know how to maintain their yard yet
Homeowners who lack time, ability, or inclination to keep up with the yard work
Professionals who are out of town frequently and don't want their yard to look run-down
Residential or commercial builders
Historic buildings
Cemeteries
Irrigation maintenance
Environmentally-friendly services
Once you have identified your specific prospective customer you can begin putting together a targeted marketing campaign, beginning with social media.
3. Market on Social Media
Social media is crucial to your marketing plan. It is now considered one of the most effective means of marketing, as over a third of the world's entire population is now on social media. That is staggering when you think about it, so you neglect social media marketing at your peril.
Social media marketing is continually evolving, so that means you need to stay current with the best methods and tools available to get the most out of it. If digital marketing isn't something you like to do, you can hire a professional digital marketing service to help you. The best social media platforms to create and advertise your brand are Facebook, LinkedIn, and YouTube.
Facebook
Facebook has come a long way, and today it offers some of the most targeted advertising available in digital marketing. Not many landscaping companies use it, so take this opportunity to separate yourself from the competition. Create your FB business page and set up Messenger; fill out your contact information and be sure to enable reviews. Reviews are important as we like to see what other people think about products or services before trying them ourselves.
Facebook Lead Ads are a type of paid ad that appears in your audience's timeline just like other Facebook ads. However, the goal with FB lead ads is to capture the lead's info without them leaving Facebook. These ads don't link to a website landing page, which would create an additional step for them.
Another reason people who want to learn more about your business but could be reluctant is because it can be difficult filling out forms on their mobile phone. Facebook lead ads make the lead generation process easy. People can simply tap on your ad and a form pops up, it's already helpfully pre-populated with their Facebook contact information which is then sent directly to you. With just a few taps on their phone, they get the information they want, and you generate a qualified lead for your business.
Post Pictures and Content
You can also invite your customers to post pictures of your landscaping work on their FB pages and their other social media accounts. They'll love to show it off, too!
Give lots of free content that relates to landscaping. This can include natural solutions to aphids, for example, or what type of trimmer works best on bushes. You could give a simple layout for a flower bed that faces south. The possibilities are endless, just remember to keep your content in line with your business and niche and post quality, useful, and relevant content.
Be consistent and post regularly without trying to sell anything in these informational posts. Get involved in local community groups online. Ask questions! Check your pages every day to respond to the people who posted answers and be available to answer any questions they may have. All of this positions you as an authority in the landscaping business, creates trust, and begins a relationship so that when these potential customers are ready to buy, they will come to you as a known and trusted resource.
Other social platforms you may want to explore include Instagram, Twitter, and Pinterest. Have pictures available to post on all these sites, and your website, with the owner's permission, of course.
4. Great Website Design
Having a spectacular website for your landscaping business is not an option.
Today most consumers comparison shop for local services, and they love to look at websites. They don't just want to know about the services you provide, they want to know you.
They want to know:
If you're reliable
If other people recommend you
What your specialty is
What your work looks like
If you can solve their problem
Here's your chance to shine!
This will likely be their first impression of you, so it's important to get it right. Some suggestions include:
Keep Your Website Simple
You want a clean, modern design that looks professional, error-free and is easy to navigate. Nothing is worse than going to a website and not being able to get the information you came for! You want your visitor to feel comfortable with you through your website, not have a frustrating experience.
Include a Gallery or Portfolio
Use high-quality images of your work as well as testimonials from your best clients. Don't be shy about asking for testimonials; most customers will be happy to give you one.
Have a Focus in Your Marketing of Content
Your focus should be on providing a solution to your client's problem, which you have already figured out in Step 2 above. You also want to provide a clear call to action, making it easy to transform the visitor into a customer.
Consider Adding a Blog
Adding a blog to your website that offers free and valuable content, focused around solving a relevant problem, will add value and give people a reason to spend more time on your site. Additionally, visual material like infographics engages your audience and can be good link bait to improve your SEO (see below). Visual landscaping tips convey helpful information quickly to your potential client.
5. Ensure Your Site is Optimized for Search Engines
There are several tactics you can use for local searches on Google and Bing. When used properly, each method will drive traffic to your website. Here are the top three:
Pay Per Click (PPC)
These ads utilize an auction platform along with optimization techniques to try to outrank your competition. In this system, you bid on keywords that people use most often in their search for your services. You pay for the ad only when someone clicks on the ad through to your website. Google Ads, formerly Google AdWords, is the most popular PPC advertising system in the world.
Google My Business
Google My Business is a free service where you can delineate the area you want to serve based on zip codes, cities, or a defined area around your physical location. You can also let your customers know the hours you are available, your contact number, and the category of your business here.
Customers can leave online reviews and comments and will be managed and answered within your Google My Business account.
Be sure all your business information is accurate, otherwise, your business may not appear as often in Google search queries. Another benefit of having a free Google My Business account is that it makes it easier to locate you on Google Maps, and we all know how helpful that is.
Search Engine Optimization (SEO)
SEO works organically with targeted keywords to drive more traffic to your website.
When you add content to your blog or website, use your carefully selected targeted keywords in a natural way. This will create links to your website and get you more social media traffic. All this helps to increase your ranking organically towards the top of the organic Google search results. It takes time to gain and hold this ranking, but like Places, the traffic is free once you're there.
In order to show up in search results, your content needs to first be visible to search engines. Every search engine, including Google, has a tracker that scans websites to understand what each site is about. Basically, their purpose is to offer the most relevant results to the questions searchers are asking.
There are nearly four billion Google searches every day, with at least 60% looking for local services or products, so be sure to utilize all of these strategies.
Implementing Your Marketing Strategy
It takes a targeted and intelligent marketing plan to get customers and make your business thrive. Once you have successfully identified your target market, there are multiple methods of getting your company and your message in front of them.
In part, this can be done through a combination of paid advertising on Google, engaging with your local community online, optimizing your website, and offering free and valuable content to the many potential clients who are out there.
However, putting all of this together in the best way possible can be a challenge! You may not want to spend time keeping up with the latest technology or coming up with an effective digital marketing strategy.
That's why we're here. Here at BizIQ, we can handle all your digital marketing needs, and more. Our local internet marketing services are the most affordable and effective in the industry. That's because we believe in good, old fashioned frugality. We're a small business too. Just like you, we work hard to keep our costs down, which means we can pass the savings on to you.
Contact us to see how we can help you achieve your goals with our digital marketing expertise so that you can focus on what matters most to you.