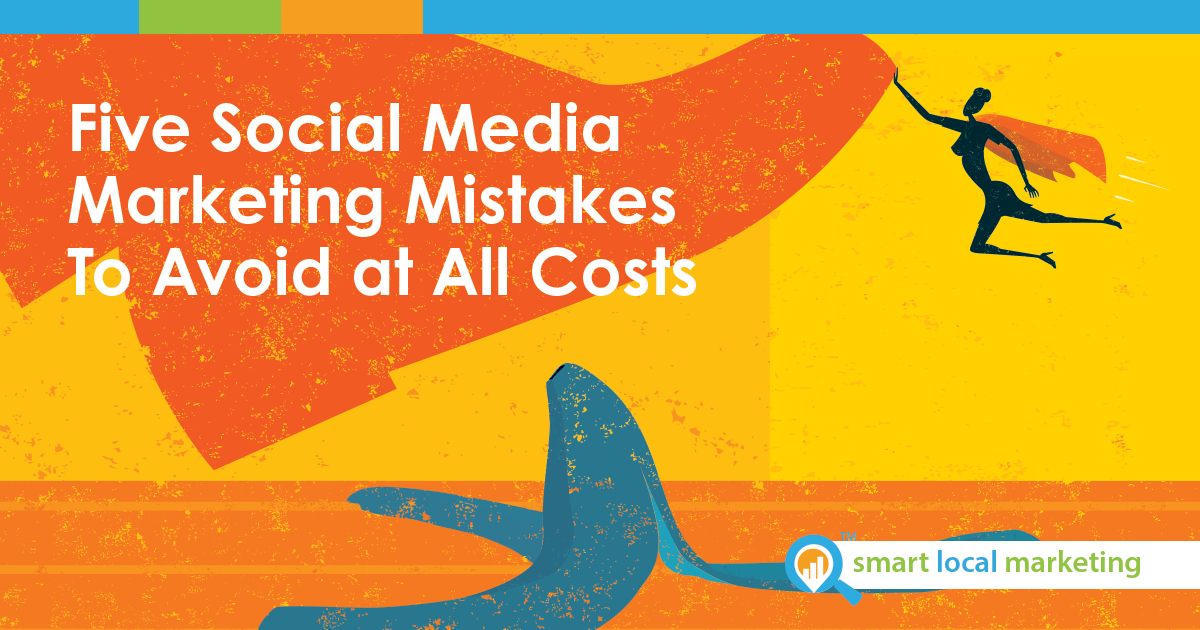 70% of Americans are on social media.
The extensive use of social media makes it an excellent marketing avenue for businesses. You can achieve a lot with a small budget if you avoid common mistakes.
Many brands advertise on social media. The platforms are competitive, and mistakes can cost your campaign. You can spend substantial resources but have little return. Users can choose your competition because of avoidable social media marketing mistakes.
Here are five social media marketing mistakes to avoid if you want to achieve your marketing goals:
1. Failure to Develop a Social Media Marketing Strategy
Many businesses fail in their social media marketing campaigns because they don't have a strategy. Some join social networks, develop their profiles, post great content, and disappear. The account that was gaining traction becomes dormant. Existing followers feel lost on their pages, and they cannot attract new audiences.
You can have substantial losses if you don't have a social media marketing strategy. Your business loses the existing prospects that followed its page with enthusiasm. Many of your followers may have followed you for a strong social media presence. Your company also losses out on future clients that would have been interested in your products or services.
Have an active social media presence. Developing a social media marketing strategy can help you achieve this goal. 
You need to do the following when developing a social media strategy for your organization:
Set your goals.

Know your target audience (the platforms they use, their behavior, and the posts to reach them).

Determine the right tactics.

Know your team.

Invest sufficient time in the campaign.
These decisions can ensure you approach social media marketing with purpose, increasing your chances of success.
2. Mishandling Negative Reviews
Social media users can leave negative comments and reviews if they don't like your products, services, or customer service. This negative feedback affects your reputation. 
Businesses can mishandle these responses by:
Responding harshly to them

Ignoring these negative reviews

Deleting the negative comments

Abandoning their social accounts
According to PowerReviews, 82% of buyers seek out negative ratings. Mishandling the negative responses can put your business in jeopardy. These prospects will find harsh reactions to them, strengthening their reservations against your company. If you don't address the negative feedback, these potential buyers will take the reviewers at their word.
How can you handle negative reviews the right way?
You can handle negative reviews in these ways:
Monitor your social media platforms to spot any negative ratings.

Be courteous as you respond to the reviews.

Take responsibility and inform the customers how you will change.

Request the reviewer to send you a private message to help them if their review wasn't clear.

Optimize your customer journey to ensure you avoid foreseeable issues, such as shipping challenges.

Never argue with a customer or threaten them.

Don't hide information or reviews.
3. Being Too Corporate
Some businesses never show the people behind their brand on social media. They post business stuff without putting a human touch on their accounts. If they get questions or complaints, they respond to them with the "stock" corporate responses.
Social media users want to connect and engage with other users. If you have a social media presence, it will help to remember this need. They prefer brands that have that human touch. Companies that don't engage and address the concerns of social media users respectfully can lose clients.
Putting a face to your company account can be an excellent way to avoid being too corporate. Address the concerns and complaints of your followers with respect. Focus on helping them instead of not making your company vulnerable. If you make a mistake, apologize, and promise to do better.
4. Promoting Yourself Too Much
Once you create your account, you have the issue of what to post. Some businesses choose to share promotional content all the time. They don't offer any value to their audience besides telling them to buy this product or service.
Social media users like accounts that are interesting, informative, engaging, and entertaining. If you only focus on what they can do for your bottom line, you can lose them. Your platforms will be boring, and your followers might mute or block you.
A good practice is to have the ratio of promotional posts to value-driven content to be 1:4. This mix enables you to attract and keep your following. Followers will look forward to your posts. Take advantage of this interest to promote your materials. You can have indirect promotions or show them why you are a leader in your industry with extensive knowledge.
5. Ignoring Your Analytics
Some businesses market on social media with no actionable insights. They don't track various metrics to know what is working. This approach is astonishing, considering the companies spend substantial resources on social media marketing campaigns.
If you don't track various metrics, you won't know if your social media marketing campaigns are successful. You may waste resources on things that don't work. For example, you may pay for ads that aren't yielding any returns. You will also not know your engagement rate or happy clients.
You can track your analytics by using tools that come with your social accounts. For example, Facebook Analytics can help you get actionable insights from the platform. You may also link your social media with other tools to track your metrics. Measuring your performance will help you make the right decisions, improving your social media marketing.
Avoid Making Mistakes with Your Social Media Marketing with BizIQ
BizIQ offers experienced, affordable, reliable, and expert social media marketing services. Our specialists can review your digital marketing campaigns and improve them to help you achieve your objectives.
Contact us now to get the social media marketing help you need to succeed.