Modern consumers use reviews before using any kind of business. A positive brand identity can be destroyed in just a few strokes by one or two bad reviews. Although you cannot please every patient, you do need to stay on top of your online reputation. Learn more about dealing with online reviews and managing your brand without hiring a full public relations firm.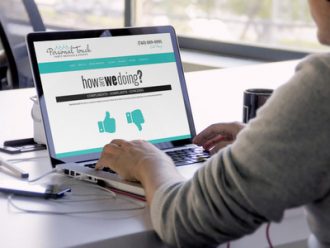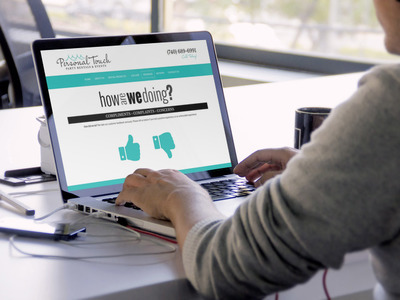 What is Internet Reputation Management?
Internet reputation management is about shaping the information that appears online. Specifically, it involves monitoring content that is posted that may damage your brand or personal reputation. Over 92% of consumers use online reviews to judge a brand, which means that anything your patients post about your office or level of care is being used to determine whether to make an appointment with you. Although you can't prevent unhappy people from posting negative reviews, you can try to solve problems before they become big issues.
How Can I Protect My Online Reputation?
Online reviews aren't going anywhere. You can't stick your head in the sand and avoid your online reputation. Many doctors wait until they have an online reputation problem before seeking reputation management.
The time to think about your online reputation is now. Prospective patients are looking for you online.
You can't afford to ignore your online reviews. Here are some strategies to employ to manage your online reputation without losing focus on patient care.
1. Assess Your Current Reputation
You can't fix what you don't know. The first step is to take a look at where you are today. You need to look at what patients are saying about you. Google yourself and check your reviews on Yelp, Healthgrades, RateMDs and Angie's List, among others. You'll gain a lot of valuable information. Before you start asking patients for reviews, make sure your office is providing a good experience. If you've already got a bad reputation, you may want to hire a management company who can lay a good foundation to change the profile.
2. Launch Your Own Website
A website can be one of the most effective tools in your online reputation management toolkit. You control what goes on your website and can focus on the positives. With good website management, it should be one of the first search items when people look for your practice. It's the first impression that most patients will get. Start a blog under your name to engage with potential patients. It's good PR for your practice and your name. Offer to guest post for other businesses. Look for opportunities to have other organizations present your business and link to you. If you have a chamber of commerce or work closely with a non-profit, you can leverage those connections to help your online reputation.
3. Embrace Online Platforms
Your patients are reviewing you, whether your profile is on a particular platform or not. Get one step ahead by completing online profiles to provide information about your expertise, education and specialties. Make sure your office information is up-to-date and consistent with what's on your website. You'll need to take a proactive approach to your online reputation to turn the tide in your favor. If you haven't claimed your Google My Business listing, make sure that is part of your strategy. Think of Google as a business card that needs to be professional. The GMB listing can provide a lot of information about your practice for potential patients at no charge to you.
4. Treat Every Patient as a Potential Reviewer
Every person who comes into your practice can go home satisfied or not. One negative review can go much farther than a positive review. Before you ask patients for reviews, you need to make sure that your customer service is excellent. Every patient deserves respect and compassion. Everything you say could go online. Reputation management is even tougher for healthcare providers because HIPAA limits what you can say. Your patients aren't bound by the same rules.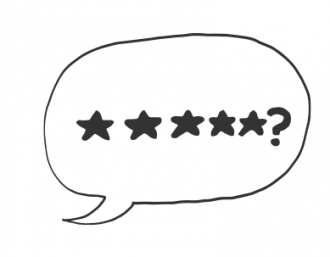 5. Ask Patients for Reviews
Whether you have hundreds of reviews or just a few, you need to get patients giving you current reviews. Again, you'll need to be proactive and ask. Many times, people will leave a review if you make it easy for them. However, you should never ask for positive reviews as that can go against the terms of service. You'll simply need to request that your patient leave a review. Here's a few suggestions:
List a rating site on your appointment card and ask patients to leave a review.
Add links to your website for key rating sites to make it easy for patients to click through and review your office.
Send snail mail to patients asking for reviews.
Add links to your auto-email signature.
6. Monitor and Respond to Reviews
You are going to receive both positive and negative reviews; it's just a fact that you won't be able to please everyone. Ideally, you'll receive more positive than negative reviews. The more positive reviews you get, the less likely people will notice the few negatives. Still, you can't ignore them. Some rating sites let you respond to reviews. Without violating HIPAA, you can address problems and show prospective patients that your office cares about their experiences. You will have to be creative, but with carefully crafted messages that direct the patient to send you a private message for your office to discuss the situation, you may be able to turn the tide.
7. Do Not Create Fake Reviews or Get Mad at Negativity
Whatever you do, don't ask family or employees to create fake reviews. This will backfire on you and potentially destroy your reputation. If you have a tarnished reputation, don't fight fire with fire. You must take the high road when addressing negative press. You can't sue to remove negative reviews. A Manhattan dentist sued patients for leaving bad reviews. The press reported that he was extorting money. It turned a bad situation into a worse one. Stay calm when addressing negative reviews. Make sure that you listen to valid complaints.
8. Showcase Your Practice
Along with your website, you should be on social media, such as LinkedIn and Facebook. Your social media profiles need to be part of your online reputation management strategy. You will want to post regularly to gain followers. Patients will be looking for information about your practice online.
Your social media presence is a great place to show off your brand and practice. You can include what your business does to support the community, which is always great PR. Use Facebook to demonstrate your expertise by posting seasonal information for your area. Many doctors use social media to combat misinformation by linking to the CDC or other reputable health organizations. You can also use social media for reminders or announcements, i.e. – don't forget to stop by and get your flu shot.
YouTube is another popular platform that your practice can use to boost engagement with potential customers. Most people don't realize that YouTube is the second most popular search engine after Google. Younger patients prefer videos. You may be able to reach a new audience by focusing your efforts through YouTube.
Keep your professional social media professional. Don't let your private life seep through your professional accounts, no matter how seemingly harmless. Set your personal accounts to private. Don't post personal photos of your home, your family or your fun times on your professional accounts. Watch posting your personal opinions, too. Anything you post online may be online for a long time, even if you delete it. Don't negate the good you're doing by being anything but polite and professional online.
9. Hire a Reputation Firm
Online reputation management can take a lot of time and persistence. It goes hand-in-hand with your online presence and content marketing strategy, but it does involve some different tactics.
It can make sense to outsource this aspect of your business. A firm that understands how to use the technology to monitor your reputation can let your practice react quickly to negative reviews or incidents. A good reputation firm can also help your practice identify trends in the industry and can help you get ahead of negative press when you become aware of lawsuits or other problems.
There are many ways to manage your online reputation. Some are bad practices, like leaving fake reviews or buying reviews. Instead of putting your reputation in the hands of an inexperienced practitioner, an online firm that takes a proactive approach can help you avoid problems. You can't erase bad publicity, but you can put enough positive press around your practice to have some insulation against negative reviews.
Smart Tools for Your Practice
Online reputation management needs to be part of your marketing strategy. Remember that you're involved in a marathon. It may take a few weeks to start ranking higher in search and to see more positive reviews. If your staff doesn't have the extra time and knowledge to manage your online reputation, outsource it to BizIQ. We have the tools and experience to help you earn the online reputation you deserve.