"In this world, nothing can be said to be certain except death and taxes." -Benjamin Franklin
You've no doubt heard the old saying by Benjamin Franklin. But there is something else that is just as certain in the lives of modern day people as these two old staples. Something just about every single American will need to interact with and be a part of at least once in their lives, and most likely on a daily basis. The internet.
Of course Mr. Franklin could never have predicted that the internet would someday be as much a permanent part of our lives as death and taxes, but the fact remains that much of our way of life depends on what can sometimes be a very mysterious thing. In the case of the modern small business owner, nothing could be truer. From bookkeeping and credit card transactions, to email communication and marketing; the internet has infiltrated every aspect of running a business. Because of it's prevalence and necessity for small businesses, here are three reasons we feel Benjamin Franklin's old saying needs an update for 2016.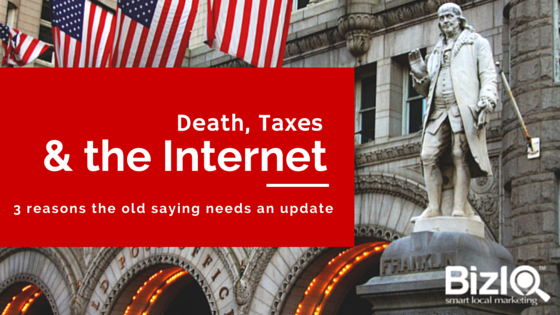 1. The Internet isn't Going Anywhere
No longer can the internet be called a mere fad. The world wide web was invented in 1989, and since then it and the technology behind it has grown and evolved at a mind boggling rate. With so much of our world running on the internet, thinking of it as a temporary, passing thing can be dangerously naive. The internet is here to stay, and with small businesses, it's a matter of learning to swim, or getting lost in the waves.
2. Offline Advertisements Just Don't Work Like They Used to
No one wants to see their marketing budget used as a doorstop or booster seat. Unfortunately, that is the all-too-common destination for phone books these days. Old standbys like phone books, newspaper advertisements and even radio air time just don't have the same audience they used to enjoy. Even magazines are turning digital, with more and more well known titles going out of print and operating completely online. Simply put, there simply aren't enough eyes on the local paper
[bctt tweet="No one wants to see their marketing budget used as a doorstop or booster seat via @ebiziq" via="no"]
3. Conversion Rates & ROI Are Greater Online
It's easy to see how an advertisement in the local paper can feel like the best option for your business. It's local, right? Not really. While the local paper ensures that only residents of your local area will see your ad, it doesn't give you the same precision that online marketing affords. After all, every person who scans the page containing your ad might see it, but there's no telling how many of them are actually looking for the service you provide. With online marketing, we are able to target people who are actually searching for the services you provide, within the specific area in which you provide those services. That means that the conversion rate of your marketing efforts – the number of people viewing your advertisement versus those who actually pick up the phone and call – is substantially higher online. See our post on how keywords help local businesses get found for more on how it all works.
Solutions Designed for Peace of Mind
Fortunately using the internet to grow your business doesn't have to be scary or complicated. There are many resources available to the modern entrepreneur including blogs, books, and of course professional internet marketers like BizIQ. Our goal is to make the competitive advantage that the internet offers available and accessible to small business owners everywhere. Through unique proprietary tools like our BizIQ Back Office, as well as easy-to-understand reporting features that make monitoring your growth a cinch, right down to your personal Account Manager who works side by side with you to achieve your goals; you can rest assured that your business' online presence is in expert hands.