Contrary to what most marketing companies will tell you, your brand is not just the colors of your website, your business card, or your logo. As a small business your brand is an extension of you, the owner. Your brand voice could be lively, low-key, professional or playful. The tone of that voice is how you relay it to your customers and the world. Think of voice as your mission statement and tone is how you apply it.
Starting to build or re-build your brand can be a daunting task especially when, as a small business owner, you wear a lot of hats. Brand yourself and your business by what makes it, and you, unique. No one is like you and no one can do what you do, the way you do it. Say that five times fast!
Start at the Beginning
Once you have determined what your business voice is, start by taking the simplest step…tell your story. Just as Glinda the Good Witch told Dorothy "It's always best to start at the beginning" so should you. Go back to the very start of your journey. Why did you choose your particular business? What was your initial concept? Did it start as a hobby? Or was it a family, generations-owned calling that has been passed down?
Now take that story and put it out into the world. Publish it on the about page on your website, tell it in a blog post, or in your business listings on directories. You can even take some interesting facts and make them social media updates.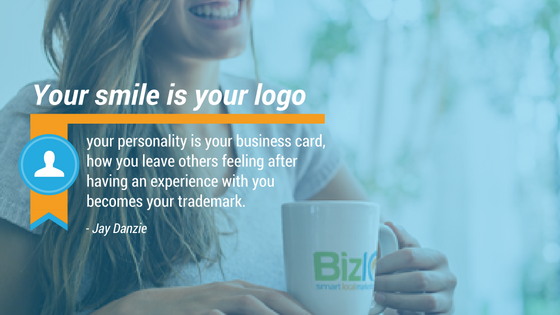 Don't be Afraid to Share
Speaking of social media, don't be afraid to share a little. Maybe not what you had for breakfast (unless you have a restaurant or bistro, then share away!) but facts about your team, yourself and your local community. Are you an avid bicycler who loves the Monon Trail in Indianapolis? You never know what kind of connection you can spark with just that one fun fact. No time for social media? Share smart by utilizing some of the free scheduling systems like Hootsuite or Buffer. You can schedule posts in advance so you can get back to what matters most, your customers.
A picture is worth a thousand words and lot easier to share! Show the world where you work everyday and who you are working with. Snap a photo of your foreman taking on your big new project, that beautiful floral bouquet on its way to a wedding or the inside of your newly renovated retail storefront. Use these photos on your website, social media or in a blog post. Don't settle for just stock photos, your possibilities are endless and just a click away.
Remember Your Audience
Ask for feedback. Customer reviews are the lifeblood of many small businesses so reach out to that satisfied clientele and have them sing your praises. Create a poll or ask a question that will engage your clients on social media. The more involved your clientele (and potential clientele) is, the more likely they will be to use your service or buy your products.
Just remember what you have identified as your brand voice and keep all marketing in line with that. Adorable animals on Facebook may work well for a veterinarian but might turn off the potential customers of a law or accounting firm. Consider updating your followers with the latest tax news instead. You will build value for them and credibility for yourself in your industry.
Lastly, keep in mind that people buy from people. By having your brand be an extension of who you are, you project an image of approachability to your customers. And that is never a bad thing for small business!