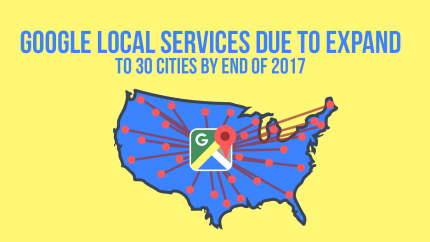 Back in August, we told you all about a new Google program for certain types of small local businesses called Google Home Services. At the time of that post, the program was in a very limited number of cities, and only open to businesses who perform services inside customer's homes.
Now, Google has rebranded the program as Google Local Services and expanded it to 17 cities, with plans to have it in 30 cities by the end of 2017. Google quietly announced the rebranding via its blog on Oct 31,2017, but now everyone is talking about it. So what exactly does this all mean for your small business' local internet marketing efforts?
Why Google Local Services instead of Home Services?
While Google didn't give a reason for the rebranding, it's likely that it plans to expand the types of local businesses that can use the program. Initially when the program was called Google Home Services, only local businesses who provide services inside customer's homes such as house cleaners, locksmiths, and plumbers were eligible to sign up for the program.
With the rebranding of Google Home Services to Google Local Services, it looks like Google might have plans to expand the service to more categories of businesses, possibly because of increased competition from Amazon and now Facebook's new services tailored specifically for small local businesses adding even more competition for control of growing the small business online marketing share.
Google is notoriously tight lipped about its reasons for doing anything as well as for how it's processes work, so here's what we do know.
The Google Local Services program still only available to limited types of businesses in most cities.
Now it looks like the program is slowly expanding to more types of local small businesses, but Google is still only explicitly listing the same business categories as for the old Home Services beta program in their user forums for Local Services. Those business types are:
Locksmiths
Plumbers
Electricians
HVAC
Garage door services
It seems like Google is probably testing the expanded program in limited markets because they do mention that other business categories might be available in select cities, but there's no mention on what those expanded categories are or when more categories will be eligible for the Local Services program in more cities. We'll continue to post updates as we learn more and as Google announces them.
Google Local Services Only Available in 17 Cities Right Now
While Google also announced that its Local Services program will be available in 30 US cities by the end of 2017, so far it's only been expanded to include 17 cities throughout the United States and Google has still not mentioned any plans to roll out the program internationally. That being said, the cities the Local Services program is available in now are:
| | | |
| --- | --- | --- |
| Phoenix, AZ | Los Angeles, CA | Riverside, CA |
| Sacramento, CA | San Diego, CA | San Francisco, CA |
| San Jose, CA | Miami, FL | Atlanta, GA |
| Chicago, IL | Boston, MA | Detroit, MI |
| New York, NY | Philadelphia, PA | Dallas, TX |
| Seattle, WA | Washington, DC | |
Google hasn't announced the rest of the cities they'll be adding or when, but again, they mention the program will be available in 30 cities by the end of the year. It's already mid-November, so the rest of the cities should be added soon.
How to Use Google Local Services via the Local Services App or Online.
Besides the rebranding and expansion to even more cities, the other interesting development is it seems that Google has also expanded the app that eligible businesses use to access their Local Service profile, listings and their leads. In addition to the just being a way to see leads and manage ads, like in the Home Services beta program, the Google Local Services App also allows you to
Manage leads
Communicate with customers
View reports to track how leads convert
Read customer reviews
Request customer reviews
Update existing ads
Manage your advertising budget
The increased functionality of the Local Services app looks like business owners won't have to juggle too many Google apps at once when it comes to communicating with customers while managing Local Service listings which is great news.
Does Google Local Services Work the Same as Google Home Services Did?
In short, yes. If you're a local business operating in one of the cities where Google Local Services is available it's definitely worth it for you to sign up, especially if you own a small business in one of the categories . That's because just like we said in our post on Google Home Servicesback in August, signing up for Google Local Services means both that your Local Service Ads will appear at the top of Google user search results pages, and that unlike Pay Per Click (PPC) ads, you only pay for leads, not for clicks to your ad.
Plus, just like with the old Home Services Ads program, Google Local Service Ads scores are based on your reputation, your reliability, your location, and the services you provide and not on how much money is in your ad budget or on how much you can bid on specific search terms.
We're really excited about the latest developments and what they can mean for our small business clients, and for the helping small local businesses compete online when it comes to their local online marketing efforts.
So what do you think of Google's decision to to rebrand Google Home Services to Google Local Services? What businesses do you hope they open the service to? Let us know in the comments below and don't forget to share this post with your friends and any small business owners you know! Questions about local SEO service costs? Contact us for details!