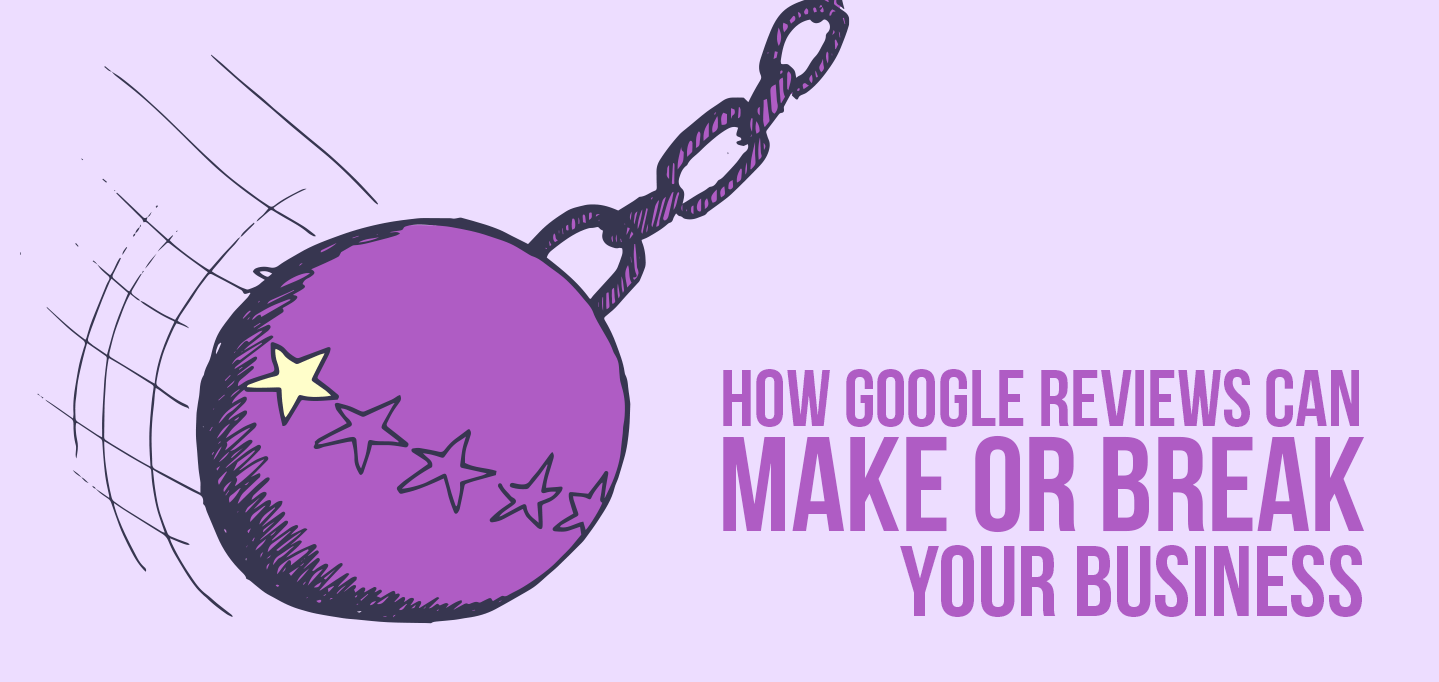 For small businesses, word-of-mouth is one of the the most effective ways to find new customers and new business.
But Google reviews are incredibly popular and can cause potential customers to either run to your business or run away from it.
In this post, we will discuss what Google reviews are, why they matter, what to do with the bad ones (and the good ones), and how to get more of them.
What are Google Reviews?
Google reviews are now the most popular way to review a business online.
These reviews happen on your Google Business profile and help your customers share their experiences with potential customers as a way to (hopefully) recommend you.
Why Google Reviews Matter to Your Small Business
For a small business, Google reviews are invaluable. But they can also be tricky since many business owners have fears around potential negative reviews.
Here's the problem: business owners don't have the luxury of ignoring Google reviews–the good or the bad.
Google Wants to See Reviews
When it comes down to it, Google wants to recommend the best of the best. But that doesn't always mean the best-reviewed businesses.
You read that right.
Google recommends businesses based on a number of different factors, but it's not always the businesses with the highest average rating that get top billing. The more consistently you are being reviewed, the clearer it is to Google that people are using your services.
That popularity can mean better rankings and even more traffic and business, especially if the reviews are positive.
Customers Want to See Reviews
Of course, Google isn't the only one wanting to see reviews.
With potential customers now trusting online reviews equally to those of their own acquaintances, making sure that you have plenty of reviews is crucial, as they show that your business is trusted and well-used in the area.
In their annual survey published in December 2020, BrightLocal found that 93% of consumers use the internet to find local businesses and 86% read reviews of local businesses.
With so many users wanting to see reviews, it's crucial that you find ways to gather as many reviews as possible.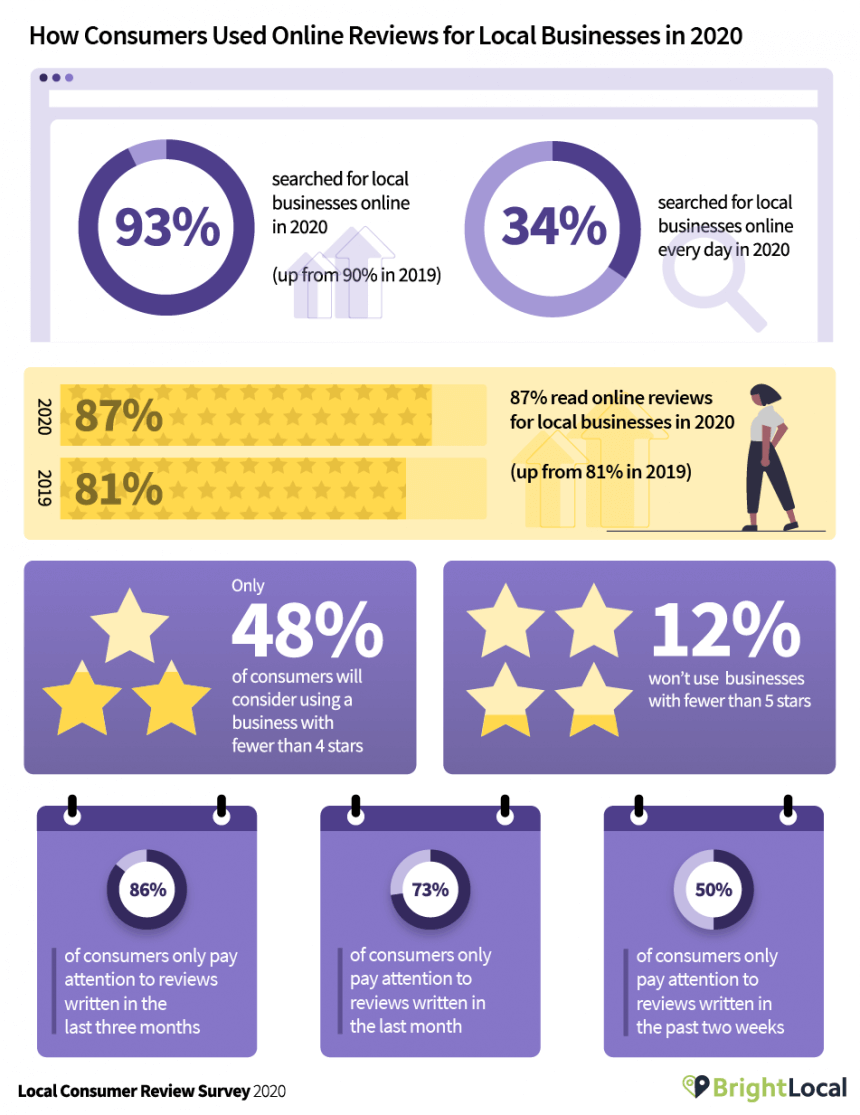 Reviews Build Trust with Potential Customers
Consumers want to see reviews because they want to trust you before they use your business.
More reviews just means more opportunities for potential customers to see the wide range of great experiences that others have had with your business.
Those reviews speak for themselves.
When It Comes to Reviews, More is More
In order to compete against other small businesses in your market, in addition to larger chains, reviews showcase what your business has to offer and what that experience is like for those that have used your products or services.
A lack of reviews may cause potential customers to experience apprehension when looking at your business.
In fact, according to that BrightLocal survey, 86% of those surveyed said they only pay attention to reviews from the last 3 months.
Use Google Reviews to Build Brand Loyalty
But with all the reviews that you get, don't neglect the good ones!
You can reply to these reviews and turn satisfied customers into brand loyalists for years to come.
When you receive a positive review, make sure to reply back and thank the reviewer. If you are able to, find ways to make that response personal as well to build that extra connection.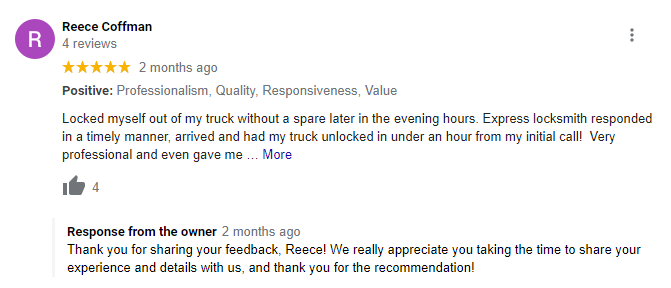 Bad Reviews Aren't as Bad as They Seem
One thing we hear over and over is how nerve-wracking bad reviews can be.
We get it. And it totally makes sense to feel that way.
This is your business and a negative review when so many people are reading them, can probably give off a bad or unfair impression of your business.
But no business is perfect.
A business with all 5-star reviews can often come across as fishy and can actually cause distrust, while a high amount of positive reviews with a few bad ones mixed in looks and feels more natural.
Leverage Bad Reviews to Get More Customers
Yeah, you read that right.
The natural reaction when it comes to bad reviews is to want to hide them. Report them, get rid of them, make them vanish.
But there's a better way.
Responding to bad reviews in a professional way, apologizing for a bad experience, or even thanking a reviewer for highlighting something that needs attention, is a Google review secret weapon.
It's a great way to try and turn a bad experience into a positive one, but also shows potential customers that see that review that a 1 star experience isn't the norm.
Replying to that review in a professional way shows that every customer is important and can usually help to overcome a bad review and prove all the other great reviews right.
What Do I Do About Spam Reviews?
Spam reviews are tricky.
Sometimes you can find yourself with reviews that are plain spam, some from non-clients, or otherwise. You probably find yourself wanting to respond with something like, "You've never done business with us before."
Don't do it.
Here, the crucial thing is that you DON'T respond to these reviews. Responding can cement them on your profile.
Rather, use the Google Business profile platform to report these reviews as spam and let Google take care of it.
How Do I Get More Google Reviews?
Now that you know the importance of Google reviews, you're probably asking yourself how to get more of them.
It's easy: you ask for them. But a couple of pointers here:
Ask Everyone
Make sure that you incorporate asking for Google reviews into your every day routine.
When you hand someone their receipt, thank them and ask for a Google review. Include a mention of Google reviews on business cards or pamphlets. Include links in email receipts.
Find as many ways to ask as possible. It's the only way to guarantee more of them.
Turn Live Reviews into Written Reviews
You probably know the routine here. You finish up a job or finish a sale and the customer says something along the lines of, "Wow! This is fantastic! I'm going to recommend you to my friends!"
Another happy customer!
That's a perfect time to direct them to your Google Business Profile where they can not only "recommend" you to their friends, but to anyone who may come across your business in Search.
A Warning About Google Reviews
In the pursuit of more Google Reviews, sometimes small business owners instinctively look for ways to incentivize their customers to leave reviews.
Don't do it!
Google wants its reviews to be as unbiased as possible and will oftentimes hide reviews that it feels go against its review policy.
For example, in 2018, a law firm in Kentucky that offered giveaways and free zoo passes for reviews ended up seeing all but one of their Google reviews removed after Google caught on.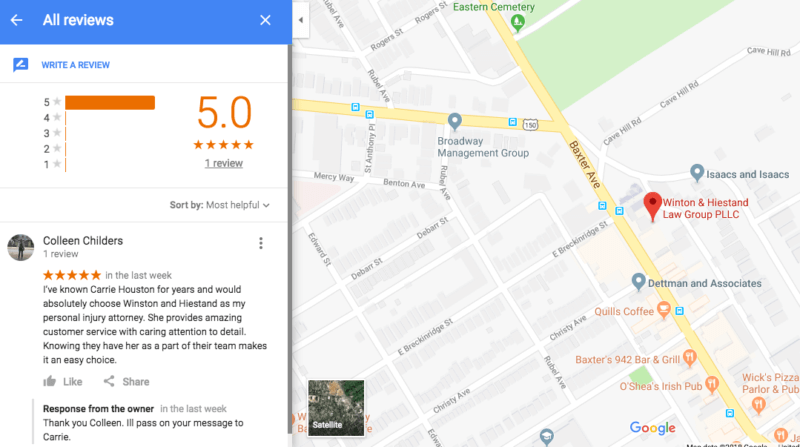 So just stick to asking politely and you'll stay clear of any kind of punishment from Google.
Google's Review Policy
In case you need it, here are Google's guidelines in their own words:
Don't use reviews for advertising purposes.

This includes, but is not limited to, posting email addresses, phone numbers, social media links or links to other websites in your reviews.

Don't include promotional or commercial content.
Don't offer or accept money in exchange for reviews.
Don't solicit reviews from customers in bulk.
Contests to generate reviews are a violation of policy.

Our policy states that businesses should not solicit reviews from customers in bulk.
Learn How BizIQ Can Help With Your Google Business Profile
BizIQ Digital Marketing knows Google reviews and Google Business profiles front and back!
If you think your business can benefit from a strategy that is focused on reviews, let's start a conversation. At BizIQ we have a dedicated team who develops and manages these every single day and we'll be happy to share it with you, so you too will get it done, right. Click here to get started.