According to Search Engine Land, 85 percent of people trust online reviews as much as they do personal recommendations from their friends and family and as many as 69 percent of consumers won't even visit your small business until after they read your online reviews.
Of all the sites where consumers can find reviews of your small business on the internet, Google, not Yelp, and not even Facebook, is king.
In fact, according to that same article, Google Reviews has seen (and I don't often use this word when talking to other adults) humongous growth over the last few years. In 2013 Google had an 80 percent increase in the number of reviews people were leaving local businesses on its platform, but by 2015 that growth had ballooned to 278 percent! Those numbers continued to grow again in 2017 and are showing no signs of slowing down in 2018.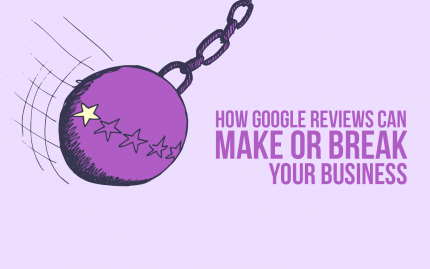 Contrary to what you might have been told, Google Reviews are good for your small business
Less experienced marketers or website developers might tell you that you should beware of Google reviews and focus on other review sites like Yelp, or Trip Advisor. I'm not saying you should ignore those reviews in favor of Google, but given the exponential growth in Google reviews over the last 4 years, if you're not responding to your Google reviews, then you might be inadvertently turning away potential customers.
In fact, Google reviews of your business are a great way that you can get a conversation going with your customers. You can even answer customer questions right on your Google listing. I explain how that aspect of reputation management works in this BizIQ article on Google Questions & Answers.
Even a bad review is an opportunity to gain new customers
But let's get back to regular Google reviews and how you can use your review responses to repair relationships with unhappy customers, thank happy customers, turn regular customers into brand evangelists, and show potential customers that you provide a high level of customer service.
I'm completely serious when I caution you against worrying about those 1 or 2 star Google reviews. I feel so strongly about the business owner obsession with all 5- star reviews that I wrote this blog post on why having a perfect 5-star rating can actually make you appear untrustworthy. I'm not going to repeat the entire post, but you need to learn how to respond to negative reviews of your business without taking them personally. That's because, for those really angry reviews, you might not be able to or even want to repair the relationship with that customer, but your response isn't for them.
Your response to a really terrible review is to show potential customers how professional you are and how much you care about all your customers. If you just respond with an equally angry response as the person who left the negative review, even if the review is really from a competitor or is fake, how will that look to someone who doesn't know you or your business? Bad, really bad, right?
Responding to your positive reviews can turn happy customers into brand evangelists.
If you have responding to negative reviews on Google down to a science, you might still be ignoring some of your most powerful online marketing opportunities – your positive Google reviews. When a happy customer leaves you a 5-star review, you need to thank them and tell them how much you're happy to have them as a customer and always happy to see them.
Don't get creepy about it. Just let them know how much you're happy they're happy. Not only does this present your business as one who really values their customers, it also makes your current customer feel amazing and makes them want to become a loyal customer. When you don't just focus on gaining new customers, but on keeping the customers you have, you can achieve lasting business growth.
Plus, some of those loyal customers will become superfans, or what us digital marketers like to call "brand evangelists." Brand evangelists are those customers who will share how happy they are with your business to anyone who will listen and that includes leaving you 5-star reviews, talking about you on social media and recruiting their friends and family with very little effort on your part. These customers are priceless! Keep them happy and always respond to their reviews, posts, and comments.
Final thoughts:
With so many people relying on and leaving reviews on your Google listing, you need to pay attention. Those Google reviews are only going to become more and more important as the number of reviews on Google grows and the consumer dependence on online reviews increases.
You definitely need to learn how to calmly respond to negative reviews, but you also can't afford to ignore those really positive reviews. By ensuring you're always monitoring what people are saying about your business as well as using your Google reviews to keep the conversation going with your customers so they spread the word far and wide about how great your business is, you'll never have to worry about whether a review on Google is going to destroy your reputation or damage your brand again.
Have comments, questions or your own tips for responding to Google reviews? Drop them in the comments below!