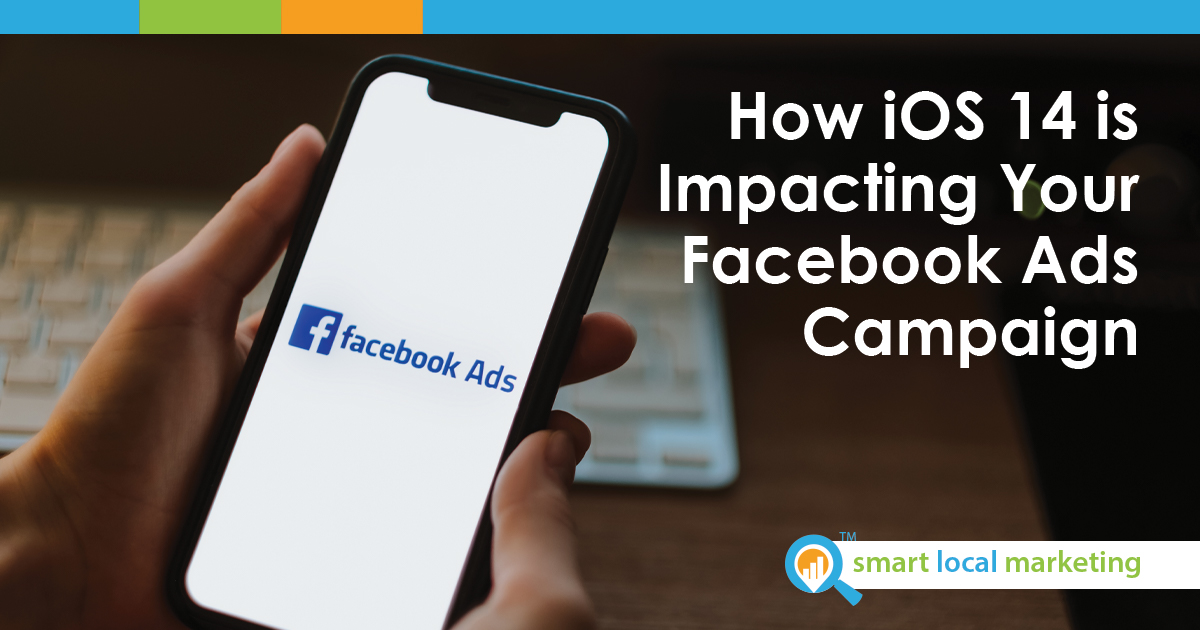 If you run a small business today, then you probably know the importance of having a strong social media presence. With hundreds of millions of people using social media on a daily basis, this is one of the best ways for you to interact with not only new customers but existing ones as well. One of the most popular social media platforms out there is Facebook. With countless users, you are probably running active Facebook ad campaigns. Recently, an iOS 14 update was made, with the potential to impact how your Facebook ad campaigns currently operate. These new changes have many asking, "What do you need to know about this update?" and "What can you do to place your business in the best position possible to be successful?" 
What the New iOS 14 Update Does
With the iOS 14 update to iPhone and iPad, Apple implemented new policies going into effect that would limit the amount of data that could be shared across iOS. This policy will impact how businesses will be able to access data they can use in advertising. 
Specifically, the update will impact the ability of business owners to reach, understand, and engage everyone who uses mobile devices across the internet. This update can also make it harder for you to understand the performance of your individual campaign. You may even lose control over who can see your ad, making it hard for you to make decisions regarding the advertising budget. Therefore, you may see a decrease in the performance of your advertisements over time. As a result, the amount of money you will have to spend to convert a single customer may go up. 
Overall, this update will make it more difficult for businesses to make decisions regarding the efficacy of their ad campaigns on Facebook. Business owners need to carefully consider this update and what it will mean for their individual Facebook ad campaigns.
How this Affects Your Facebook Ads Campaign
Clearly, there are a lot of changes that are taking place in the world of Facebook ad campaigns because you currently use a tremendous amount of data to optimize your ad spending and placement. If you do not have access to this data, that is going to be a problem. A few ways this may impact your Facebook ad campaigns down the road include:
Less Access to User Data

: First, you will immediately notice that you have less access to user data. Apple will require that all users be given the opportunity to opt out of certain types of data collection. 

Reduced Transparency Regarding the Efficacy of Your Ads:

Next, you will not have the same level of transparency regarding how effective your ads are. You may not know if you are hitting your target market, making it harder for you to see how your ads are performing among your most important user base. 

A Reduced Return on Your Marketing Investment:

Finally, you may notice a reduced return on your marketing investment regarding Facebook ad campaigns as they are currently set up. If you cannot effectively target your ads, you might see less reward as a result.
So, if you anticipate these impacts coming down the road, what are a few ways you can prepare? Fortunately, there are a few actions you can take to mitigate the impacts of these changes on your future Facebook ad campaigns.
What You Can do to Prepare
There are several steps that you can take to prepare your ad campaign in advance. A few steps you should take include:
Upgrade to the Latest Facebook SDK for iOS 14:

Make sure you are using the latest software update. That way, you know that you are still receiving the information you need to make decisions regarding your ad campaign, as well as whatever data might be available to you in the future.

Verify Your Web Domain:

Make sure that you have verified your web domain. This way, you can avoid any disruption of your Facebook ad campaigns in the future. You should check to make sure that your domain is listed in the Public Suffix List, as this is what Facebook will use to verify domain eligibility.

Check Ad Creation Limitations:

Each ad is limited to 9 campaigns on iOS 14 at once. Therefore, you need to prioritize the ad campaigns you are running. You should also check the optimization types, as each campaign is limited to 5 ad sets of the same optimization type at a time. 
These are just a few of the many steps that you should take in order to make sure your business is adequately prepared for this update. Because you probably have a lot of decisions to make in the near future, it may be beneficial for you to partner with trained professionals. That way, you know that your business is placed in the best position possible moving forward. That is where our team can help you.
Rely on the Professionals from BizIQ
In the end, if you want to make sure you are social media marketing campaigns are in good hands, you need to take advantage of trained professionals who can guide the way. That is where we can help you. Here at BizIQ, we work hard to stay on top of the latest developments in our industry. We would be happy to guide your Facebook ad campaigns through the iOS 14 update. That way, you can focus on other areas of your business as your social media marketing strategy has been placed in professional hands. Contact us today to learn more about how we can help your small business succeed.