Even in our digital world where so many of us spend an increasing amount of time online, the telephone is still the contact method your customers prefer the most. In fact, the way you answer your phone can even impact your bottom line.
As a homeowner who just purchased a new to me home, I've discovered there are a lot of issues the previous owner never took care of, seemingly ever, or repaired poorly. As a result, I've spent a lot of my spare time trying to get contractors, pool guys, HVAC companies, plumbers, popcorn ceiling removal specialists, and electricians to call me back after I've either left them a voicemail message or filled out a contact form on their websites. Usually, I give up and move on to the next company.
And I'm not the only consumer who has this problem either. As a business owner, you obviously want new business and spend a portion of your budget on marketing, including paid ads and a website so people will know how to get in touch with you. But if you're not responding to their attempts to get in touch, you're wasting a lot of money and losing potential customers as well.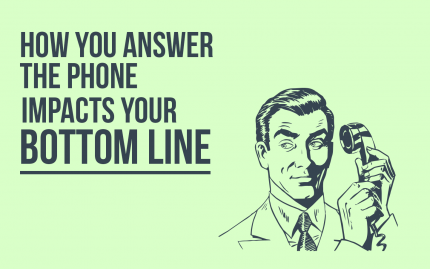 How you answer your phone could be causing you to lose customers
Basically, I thought it was about time we had a little talk about how to answer your phone because I'm sorry to have to be blunt, but, a lot of you are doing it wrong. I'm not saying you're terrible, but…Okay, I am saying you're terrible. If you answer your phone, you don't do it in a way that sounds professional, or you don't return voicemails or you take forever to get back to customers who call you.
80% of companies say they deliver "superior" customer service; 8% of people think these same companies deliver "superior" customer service.
You probably think you have the best customer service on the planet. I mean it says you do right on your website right? According to an article from Help Scout, only 8% of consumers think companies provide 'superior" customer service. That's really sad. It also means you could be one of the 925 of business who don't have good customer service. Your opportunity to actually provide great service starts with the phone. Even if your small business is just you and you can't answer every call or contact form as soon as you receive them, you need to set aside time to return and answer phone calls. That's because that first phone interaction is a potential customer's first impression of your business.
If you aren't answering your phone or aren't returning customer calls, you don't have the level of customer service you think you do.
Once a customer clicks on your ad or visits your website and decides to pick up their phone to call you, or fills out a contact form on your website, if you don't answer their call, don't return their call, or plain ignore the forms you receive from your website, they aren't going to call back and give you a 2nd chance to win their business. In according research by Message Direct, 85 percent of consumers will not call you back if you don't answer their calls.
Take, for example, something from my experience trying to get in touch with a pool company after the pool at my new home turned green overnight. After looking online and reading the Google reviews of several pool guys, I also coincidentally found a business card with a piece of chocolate from a pool specialist in my neighborhood. I knew I'd rather do business with a small, locally owned business and not with a large chain.
The first person I called was the one who left their card on my door. I got their voicemail and left a message. I then called a couple more places or filled out forms on their websites. The same thing happened. I probably tried to contact 5 different pool maintenance companies. Nobody got back to me. In the end, I had to contact a national pool supply and maintenance chain. They answered their phone on the first ring and scheduled someone to come take a look at my pool. So far none of the local companies I phoned have called me back.
Don't assume people will keep calling until you answer because 85% won't.
That 85 percent is a hung chunk of business you could be losing if you're not answering your phone or you don't return your voicemails, let alone respond to the contact forms you receive from your website. And actually, the phone calls your small business receives are one of your business's key assets because 65 percent of people prefer to call your business versus filling out a form on your website. Your business can't afford to let any calls fall through the cracks. Furthermore, besides new business, when you don't answer the phone or return calls from customers, you also risk losing existing customers that's because 66 percent of people will take their business to your competitors because of bad customer service.
But I'm a small business with few employees, how can I balance doing the work and answering the phone?
The good news is that all hope is not lost. With a few tips and a little practice, you can become a pro.
Make answering calls a priority: Even if you're the sole employee of your business or your operate a crew of limited workers, you can still make answering or at least returning customer calls a priority.
Dedicate part of your day to returning customers' voicemails: Even just 1 hour a day is enough to make a difference. Remember most people who leave you a voicemail won't try again.
Be friendly: Even if talking on the telephone isn't your favorite activity, you absolutely can't be rude or gruff when you answer the phone. Even if it feels strange, try smiling when you answer the phone.
Quick response time: When customers leave your business a voicemail, set a clear expectation for how long it will take for you to get back to them on your outgoing message and stick to it. 24 hours is a reasonable turnaround time that most people will accept without getting impatient.
Return calls: This is really important! Remember you could be losing as much as 85% of your business if you're not returning customer calls. Not to mention risking 1-star reviews online when your business is hard to reach.
Conclusion
Even in our digital world where so many of us spend an increasing amount of time online, the telephone is still the contact method your customers prefer the most. By answering your phone and making returning customer calls promptly and happily, you're well on your way to demonstrating that your business is one of the 8 percent who really does provide customers with high-quality service. The more you answer your phone and return those calls, the more comfortable you'll be and your small business will continue to attract new business while retaining your existing customers as well.
So what are your tips and tricks for keeping up with customer phone calls and inquiries? Let us know in the comments section below.