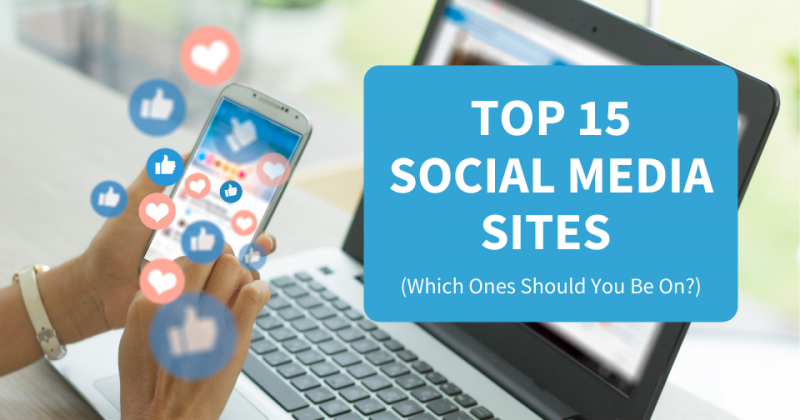 When it comes to social media marketing, it can be challenging to know where to start.
And because there are dozens of social networks worldwide, trying to focus on all of them at once could pretty much take up all of your time and maybe cause you to miss out on smarter opportunities to promote your brand and connect with your target customers.
Keep reading to learn more about fifteen of the most popular sites and get some insight into how to choose which ones to focus your time and budget on.
What are some of the most popular social media networks?
While this list stops at 15, there are dozens more. We chose these social media sites based on a variety of factors, including numbers of active users as well as the marketing and business tools available on each platform.
The largest network has a global audience of around 2.38 billion. Users can talk to each other publicly and privately, and get feeds of news, games, and other interests. While individual and business profiles are free, companies can pay to reach their audiences better.
Facebook has some of the most powerful ad targeting available, and Facebook ads and boosted posts are more affordable than other online advertising services.
Owned by Facebook, the visual-oriented platform allows users to post photos and videos, while Instagram Stories allows users to post short separate videos. It has about 500 million active users and 1 billion monthly active users.
The platform is perfect for showcasing the visual aspects of your small business – from product photos to pictures and video about life at your company.
Users post short details about their thoughts and activities, or comment on or share others' Tweets. This fast-moving channel has about 126 million daily users.
Some people say the site is dead, while others disagree.
The site is excellent for networking via topic-specific Twitter chats, positioning yourself and your company as influencers and thought leaders, and cultivating relationships with customers and industry peers.
This Google-owned channel is the 2nd largest search engine in the world.
YouTube focuses primarily on hosting user-generated videos and video sharing. It includes a free version with 1.8 billion users plus a premium paid subscription service.
According to Moz and SparkToro founder, Rand Fishkin, there's some evidence that Google favors YouTube videos in its search results.
Regardless, YouTube hosted videos can appear in both Google and YouTube search results. So, for video marketing, a YouTube channel where you can share your videos are both essential.
Furthermore, by embedding YouTube video into your blog posts, and sharing them on other social sites, you gain more opportunities to reach customers and rank in Google search results.
The private messaging service allows users to send and receive text messages plus voice and video calls. With 1.6 billion users, it also is designed to work on any operating system. Facebook purchased WhatsApp in February 2014, and you might wonder why, since they also created a messaging service of their own.
There are differences between the two platforms. For example, WhatsApp offers users more privacy and the ability to delete messages after you send them.
The messaging platform also offers business features, but there's limited ability at this time to track the success of your marketing efforts.
Messenger is an instant messaging platform owned by Facebook. It used to be the way Facebook users could chat and message each other on the social media giant's platform.
It still is but is also a standalone instant messaging app that also provides access to businesses, games, voice chat, shopping, and more.
With 1.3 billion active monthly users worldwide and powerful tools for business owners, if your target customer uses the service, your company should explore ways to use the service as well.
This channel was designed for people to save or 'pin'  images they like in different public or private category boards, so is handy for designers, chefs, hobbyists, and students. Its 265 million users can now pin gifs and short video clips.
Like Instagram, if your target market tends to pin ideas related to products and services your business provides, it's worthwhile to maintain an active business page on the site.
Sanpchat is a combination video messaging service and live video platform. Users can broadcast and share live pictures and short videos that disappear after 24 hours or immediately after it's viewed in a message. It also offers a variety of filters to enhance images.
There are about 186 million daily users, and the average user sends about 34 videos daily.
This network promises "real short videos" and delivers them primarily to mobile devices. It evolved from musical.ly, which provides a variety of downloadable music options for its 500 million users.
The business and professional network is no longer just for employers and job applicants.
It's now a rapidly growing B2B networking and marketing space where companies post everything from articles to native video.
The popular social network has about 575 million users and continues to add more tools for businesses and professionals to share content, market services, and build relationships.
This live streaming video platform is a subsidiary of Amazon. It offers users the ability to record and "broadcast" their videos easily. Watchers can also earn credits over time. According to Twitch, they have nearly 150 million monthly viewers.
It's the most popular live streaming site for gamers, and if you think because your target market are adults, they no longer play video games, you're probably wrong. As of 2018, 20% of gamers in the US were between 36 and 49 years old, and 23% were over 50.
Don't know what Reddit is? Well, it's a website that has user-created forums, called subreddits on just about any and every topic you can think of, including those related to your industry.
Membership isn't required to browse the eclectic collection of topics, but it is encouraged if you want to join in the conversations and offer your own opinion to the 542 million users.
It's the perfect spot for you to educate your customers and eavesdrop on their problems and concerns.
Medium is a bit of a hybrid. It's a combination publication and social media platform. However, it's also a powerful medium for you to re-publish blog content, post unique content specifically for customers who use Medium and create your brand's own publication on the site.
With nearly 240 million total visits over the last five months, if your company has an active content marketing strategy, the popular social publishing site is worth looking into.
Not to be confused with Reddit, Quora is a social platform where users can ask and answer questions. Q&A's are organized by topics, and users can choose to follow the topics they're interested in, as well as like or "upvote" the answers they like.
The site claims to have upwards of 300 million monthly users and is a great way to research what potential customers are asking about as well as get content in front of your target audience.
Mobile phone owners can easily record and stream live video in short or long increments. More than 10 million users stream more than 9.3 million monthly. Periscope is connected to Twitter and can be used alone or with your business' Twitter feed.
How to choose the right social media networks to focus on
Once you know how many social media sites there are the next step is to zero in on the ones that have your ideal customers.
Then, consider other channels by looking at their audience, what tools are available to reach the audience you want, costs for this, and how easy it can be to get started.
For example, if your optimal users like watching longer videos, you should consider places like Twitch or YouTube. If they prefer instant messages, then promotions from you on WhatsApp or Messenger are in order.
If you market to younger customers, then social sites like Snapchat or TikTok are good choices to explore. If your business markets to other businesses, then make sure you're using LinkedIn to market your business.
For most small businesses, though, Facebook and YouTube are the must-use social media networks, where you can reach and communicate with the most customers outside of your website.
There's at least one social network for everyone
If you're trying to reach that perfect customer, get to know who your ideal customers are, find out which social networks they're active on, and maintain an active presence there.
However, trying to hit them all because you want to reach every potential customer will ultimately waste both your time and money.
Need social media help?
Still have questions about which social media sites your small business should focus on? Drop them in the comments below, or click here to contact us.