What's one of the biggest questions that haunts companies nowadays?
Emails. What is the best day of the week to send marketing emails?
To start off with, the most important thing to consider is your audience. If you're targeting the wrong audience, then it won't matter when you send your emails or what the content is, they won't be interesting enough to your readers and therefore will go left unopened or deleted right out of their inbox. But once you have your target audience and a set email list, the next big consideration is what day to send your emails.
Old advice says that the best days to send emails were Tuesday through Thursday morning, anywhere between 8 and 10 am. Times are changing now though, and you might be shocked to know that according to eConsultancy's 2012 email marketing industry census, 39% of marketers have no strategy for mobile email. This might be because people are now more frequently checking emails on their cell phones, and aren't confined to just checking emails on their desktop or work computers. This change in email availability brings about a change in when emails are opened, clicked on and responded to and therefore a change in marketing strategies.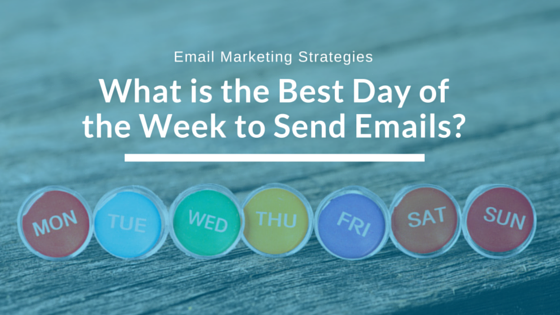 Let's start with the first and last days of the week: Monday.
Studies suggest that when it comes to Monday, people are either still coasting off the relaxation of the weekend, or are busy in meetings and conferences catching up on what was missed over the weekend. People are either too lazy, too busy or too lackadaisical from the weekend to be concerned about checking their emails. On Fridays on the other hand, everyone is distracted, waiting for the weekend and are not likely to be concerned with checking and responding to emails.
Tuesday however, Tuesday is the day.
Multiple studies show that Tuesday is perhaps the best day to send marketing emails. A census by GetResponse shows that people send over 17% of emails on Tuesdays, which makes it the most popular day to send emails. On top of that, those 17% of emails that are sent on Tuesday have the highest open rate of weekdays. 18% of those 17% of emails sent on Tuesday are opened, making Tuesday the most popular day to send emails.
There is data from Harland Clarke that suggest that Wednesday might be the most popular day to send emails however, and their study suggests that almost 30% of emails were sent on Wednesday, but only had a 15.6% open rate. Either way you look at it, it seems as though the middle of the week might be the most popular time to send out those email blasts.
If you're looking to try something different though, Saturdays are proving to be quite a successful day to send emails. GetResponse's census shows that Saturday actually has the highest overall open rate of the whole week, at 18.3%. Less emails are sent on Saturday, however, which makes Tuesday the winner for the most emails opened based on how many are sent out, but those companies who are willing to risk sending emails on a day off such as Saturday may have a higher chance of their email being opened. People are relaxed, lounging around and more in the mood to check their phones. A good idea might be to split up your email list. Maybe try sending one list on Tuesday or Wednesday morning and another on Saturday, and see how the open and click rates vary.
Here at BizIQ, all of our emails sent in the last 30 days have an average open rate of 27.53%, and we've found that the subject line is very important for our open rate. Convinceandconvert.com says that 33% of recipients' open email based on the subject line alone, and Chadwick Martin Bailey says that 64% of people open an email because of the subject line alone. BizIQ's recent emails suggested that "(Customer's name), I need your help" had a 49% open rate, coinciding with Adestra's July 2012 report showing that personalized subject lines are 22.2% more likely to be opened.
Overall it seems as though middle of the week is the best day to send those email blasts, and perhaps Saturday if you're feeling brave.