Today, there are over 118,000 HVAC businesses in the United States. Therefore, if you decide to start a new business in the HVAC industry in 2023, it might be more challenging than you think. It is difficult to stand out and get ahead of your competitors, and in order to help your business move forward, you need to develop an effective marketing plan.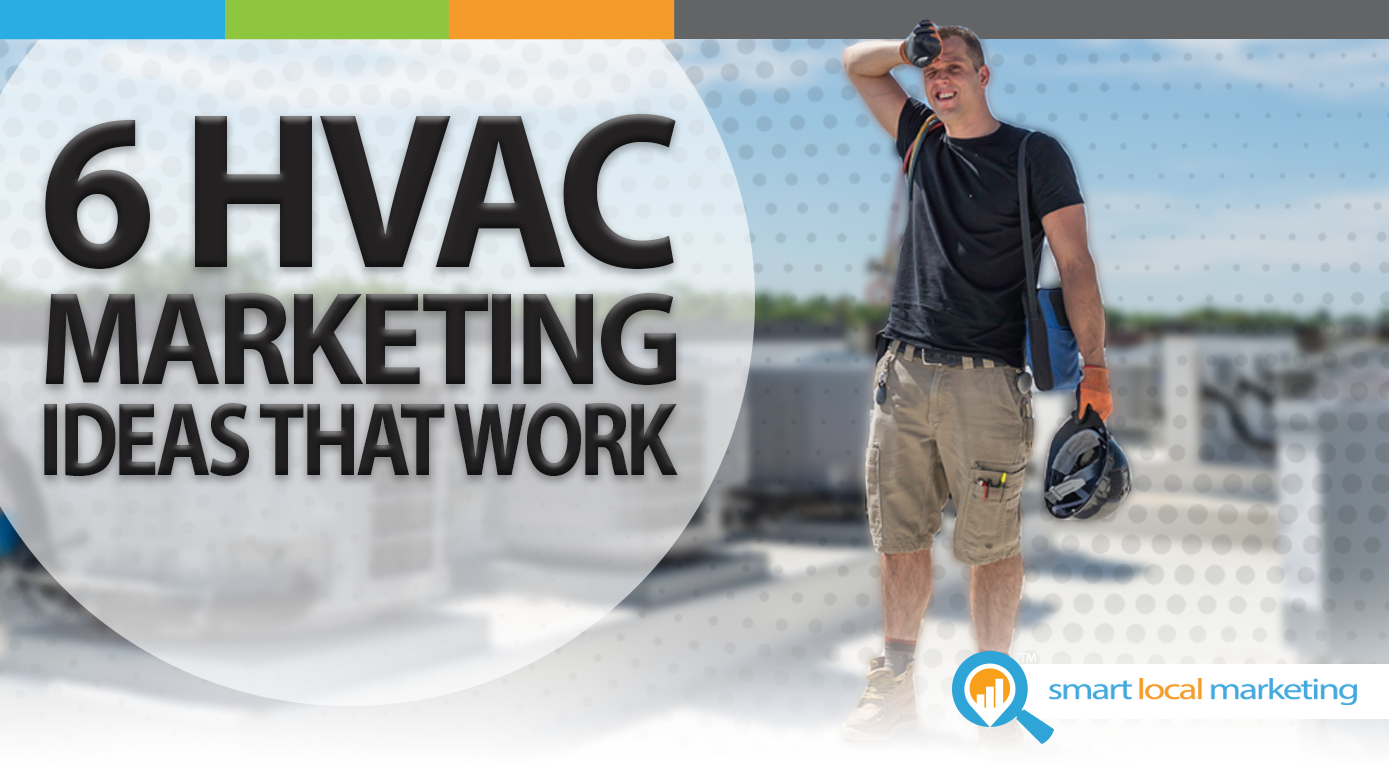 There are so many marketing strategies out there that you can use for your HVAC business, it can be overwhelming to decide what direction to take. In this guide, we will discuss the most popular and powerful marketing ideas you should consider for your HVAC company in 2023.
What Are the Best Marketing Ideas for Your HVAC Business in 2023?
Here is a list of ideas that you may want to consider for your company to improve its online presence and visibility:
Creating a user-friendly and well-optimized website
Your business website is the first impression that prospective clients have of your company. Creating a modern, user-friendly, and well-optimized website is one of the best and most effective ways to define your brand and tell the world about it. Creating a quality website will help you reach your target local audience, build brand awareness, and market your business in the local community. Here is what you need to keep in mind when creating a website for your HVAC company:
Implement Search Engine Optimization (SEO) techniques on your website. Implementing SEO tactics on your website will help you drive more traffic and market your services organically. When creating content for your website, use targeted keywords for the HVAC industry, such as "air conditioner repair", "ac replacement", and others.
Post your pricing. One of the most common complaints among customers is that many HVAC contractors need to be more transparent about their pricing. Refrain from making this mistake and display your prices and description of the services on the home page. You can also create a separate page with prices and services easily found on your website. Make sure your website is easy to navigate, so visitors do not have to spend their valuable time trying to find the information they need.
Post customer reviews. When you post reviews of your current or past customers, you show that your business is trustworthy and reliable.
Include an "About us" page. Most prospective customers want to know more about a contractor before hiring them. Give them this opportunity to get to know you better and create a page on the website with information about your company, its story, and its mission. An "about us" page is important because it helps establish closer relationships with customers from the beginning.
Use Pay-Per-Click (PPC) advertising
Pay-per-click advertising is a popular marketing strategy that allows an advertiser to buy visits to their website. The main benefits of PPC advertising are that it offers quick entry, it is affordable, can be combined successfully with other marketing channels, its results are easy to track and measure, and it provides a wealth of valuable data. PPC advertising offers several avenues to choose from, including the following:
Search engine advertising. It is advertising that you see at the top of the Google search result page.
Display advertising. It includes banners, text ads, or images placed on other websites.
Social media advertising. This advertising type is known for its high click-through rates.
Retargeting advertising. It uses cookies to show users specific advertisements based on their searches and online activity.
Affiliate marketing. For example, you can work with marketers or influencers who will promote your HVAC products or services while earning commissions.
Use Google My Business to attract more customers
If you want your business to show up on Google Maps, you should create and optimize your Google My Business page. You can use this free service to provide more information about your business. You can add a description, URL, videos, photos, telephone numbers, business hours, and more. Using Google My Business is a free and effective tool to optimize your marketing efforts and your local visibility.
Post video content to engage the audience
Creating video content today is one of the most effective methods to tell the world and community about your business and educate your customers. For example, you can create short how-to and training videos to teach your audience and customers something new about HVAC repair, installation, replacement, etc. It is recommended to post your video content on popular social media platforms, such as Instagram and TikTok.
Do not forget about email marketing
You may think that email marketing is outdated, but it is not true. Email marketing is still used in many industries, including the HVAC industry. One recent study showed that 59% of people took promotional emails into account when purchasing a service or hiring a contractor. Therefore, it is possible to say that email marketing has a huge advertising potential for the HVAC industry. When you create promotional emails for your subscribers, make sure they include the following:
Name and address of your company
An overview of the intended purpose of your email
Valuable and useful HVAC tips and insights
Call to action that encourages your subscribers to click on the link in the email.
Use Nextdoor to reach out to your local community
As a small business owner, you must focus on reaching out to local communities and establishing relationships with them. There is an online service that will help you with that – Nextdoor. You can claim a business page on Nextdoor, which will allow you to communicate with local prospective customers and stand out among your HVAC competitors.
BizIQ – We Will Help You with Your Marketing Strategy for an HVAC Business
If you are establishing your HVAC business and are working on the marketing strategy for 2023, you may need the help of professionals. At BizIQ, we are ready to help, just as we have already helped over 26,000 other businesses. Our mission is to make businesses shine online, regardless of size and industry. If you have any questions or need more information, feel free to contact us.
---
According to statistics, as of February 2020, the global HVAC systems market size was valued at $130.5 billion in 2019 and is projected to reach a compound annual growth rate of 6.1% from 2020 to 2027. The market is there.
However, the methodology of HVAC marketing has changed dramatically in just the past couple of years, so it is critical that you adapt your marketing methods accordingly. You can have the best HVAC business around, but if you're unable to get it in front of potential customers and make actual sales, it doesn't matter.
You must have a clear marketing strategy in order to grow your business and serve more customers.
6 Actionable Marketing Tactics for HVAC Companies
Here are six of the best marketing ideas to get more leads, more sales, and more satisfied customers for your HVAC business.
1. Google Ads
Google has two types of advertising: paid and free. Free is in reference to Google's organic search results and while it is free to be included in this form of marketing, running effective organic SEO campaigns do have fees associated with them.
While organic searches can be useful in identifying new keywords for your Google Ads campaigns, they don't produce the most effective advertising results for getting customers. This is because organic search results now appear at the bottom of every search page. It has simply become more difficult to appear in geographically related organic searches.
So, what should you do? Here are the three best types of Google ads:
#1 Google Local Service Ads (LSAs)
LSAs are paid ads that show up at the top of search pages so people see these ads first.
Google LSAs are available for HVAC companies anywhere in the U.S. and are the first thing potential customers will see when they search for your services near them, providing it's an area you serve. Your ad appears at the very top of the search results page, exactly where you want it to be.
#2 Google Ads, formerly known as Google AdWords
Running paid Google Ads is another type of paid search engine ad. In this system, you bid on keywords that you think most people will use in their online search for your services. Google Ads is a type of Pay Per Click (PPC) ad, where you only pay for your ad when someone actually clicks on it, just like it sounds.
When using paid search ads, you pay to list advertisements throughout the internet search engines and platforms. PPC is the most commonly used form of paid search marketing.
The term "PPC" is self-explanatory. Every time your ad is clicked on, you pay the network who is showing your ad. Basically, you are paying people to visit your website instead of having them find it naturally.
Getting your website to organically appear on search pages takes time, whereas with Google Ads, your ad will appear on the first page of a search right away, before your competitors' ads.
#3 Google Follow-Up Ads
Visitors may visit your website and leave without signing up for anything. This happens frequently, but it doesn't mean that all is lost. They will receive reminders of your HVAC business through "cookies." Cookies are subtle coding that is left on the visitor's computer when they visit your website. Your (paid) banner ads will then pop up in their web searches later.
This is known as remarketing or retargeting and using Google follow-up ads can improve your ad response by up to 400%.
The lesson here is to employ all of Google's powerful advertising techniques to your advantage.
2. Generate Reviews
This strategy will likely never change because of human nature: people trust reviews. They want to see other people's experiences with your company: if you're trustworthy, how well you perform, and if you care. We all look at reviews, whether it's for a new restaurant, travel agency, or any other product or service. We want to check it out before exploring further, much less committing to it.
It's been estimated that 90% of consumers read online reviews before even visiting a business and that 88% of consumers value online reviews as highly as personal recommendations.
Ask your customers for reviews and then engage with them, showing that you value them. Let them know you appreciate the time and effort it took them to leave their review.
Hopefully, you'll never get a bad review, justified or not, but it can happen. If it wasn't deserved, you'll want to address it in a positive and caring way that corrects what was said. If the negative review is legitimate, own up to it. Let people know what you are doing to correct the problem (but deal with the customer directly, offline), and then focus on your strengths.
Be professional and show that you care about your customers as well as deliver excellent products and services. Stand behind what you do and consider all reviews as feedback and an opportunity to improve.
And of course, the more positive online reviews you have, the more likely you will be to attract new customers. It's just a fact.
3. Focus Locally
For in-person service, your business needs to be seen by future customers in their area. That means that when people do a search for a service and include their city or "near me," you want your website to pop up first. This requires local SEO (Search Engine Optimization) to place higher in local searches.
A few years ago, Google changed the results that people get from an online search. Now when they search on Google for a business or service, they get results based on their location. This makes it imperative that your website is optimized for local SEO so that people within the area you serve will see you right away.
This makes it critical that your website is optimized for local SEO so that you're being seen by people in your service area.
Many HVAC services target areas outside their primary location; some cover large areas within a state or even regions that include multiple states. It has become very difficult to rank organically for multiple geographic areas.
However, it is easy to set geographic targets with paid ads. This is a vital step that will allow your listing to show in the larger geographic region you serve.
Google My Business can help with that. It's a free service where you can specify the area you want to serve based on zip codes, cities, or a defined area around your physical location. You can let your customers know the hours you are available, contact information, etc., in Google My Business. It is also another place for people to leave reviews.
With nearly four billion Google searches each day and at least 60% with local intent, don't miss this one.
4. Create a Great Site
It's important for potential customers to have a great user experience. They visit your website for a reason, so you want to be sure you are addressing their need, giving them a solution, and answering all their questions. You also want to make it easy for them to navigate your site, so they leave feeling satisfied, not frustrated or overwhelmed. Too much information can be as confusing as not enough information.
Your website needs to be professional and error-free, with all links working properly. Again, it's important to avoid the frustration factor: keep it clear and simple. Include keywords that will draw people to your website when they search on Google. Routinely reviewing your Google Analytics can help keep your bounce rate (the percentage of people who visit your site and leave without visiting other pages) low and increase the average time spent on your site; important factors in your Google ranking.
You'll also want to make sure to give them a clear action step to take that will bring them closer to becoming a customer.
Additionally, there are about 40% of people searching exclusively on their mobile devices, so your website needs to be mobile-friendly. This can be a challenge and often requires professional assistance to ensure it's done correctly.
Great content is an absolute must. Give helpful and useful tips related to your service and products that aren't intended to sell, but rather solve a problem, giving real value. For example, include an article on staying safe in winter, or how to get the most from their AC unit. This will increase your status as an authority in the HVAC field, gain their trust, and build a relationship so that when they are ready to buy, they will naturally turn to you first.
5. Identify Customer Base
You need to be crystal clear on who your ideal customer is. Adding clarity to your marketing strategy will help you attract more visitors to your website and make it up to five times more effective.
You may think that because everyone needs HVAC systems and services, everyone is your customer. Not so! While it's true that everyone does need at least some of the services and systems you provide, not everyone is your customer. For example, a renter will likely not be part of your customer base, whereas a homeowner, landlord, or builder will be.
Creating a specific buyer persona is more than simply narrowing down your ideal customer by gender, age range, occupation, or another descriptor. It's getting to know everything about that person. A great place to start is by surveying your current customer base. Take note of recurring themes and use them in your targeted marketing.
It's also important to utilize professional research and analytics services. Identifying your customer base has become so important that marketers have made a science out of it so they can get you more effective and consistent results.
Utilizing all these methods to clarify your target customer will enable you to dramatically improve your marketing campaigns and results, as well as save you time and money by not advertising to the wrong audience.
6. Use Social Media
Finally, don't underestimate the importance of using social media. With over a third of the world's population now on social media, you need to be using it to its fullest potential so you can reach new customers. And while it's true that social platforms are continually evolving, that only makes it even more critical to continually maintain and update your online profile and presence.
Use social media sites like Facebook and LinkedIn to establish your presence. You'll want to share helpful content that gives value here as well as on your website. Hint: It's okay to repost, or repurpose, your relevant content, just get it out there on a regular and consistent basis. Using social media will enable you to expand your field of influence as a trusted authority in the HVAC field.
Also, get into the habit of posting in local forums and on local community pages so more people in your service area come to know and trust you. Don't just post and leave; remain engaged and be responsive to customers and potential customers alike.
Paying for ads on social media can be another effective and low-cost method of targeting your ideal customer. There are other social media platforms, but they won't have nearly the effect that Facebook and LinkedIn will, so start with them.
Developing an Effective Strategy
It takes a strategic marketing plan to grow your business. Once you have successfully identified your target market, there are multiple methods of getting your company and your message in front of them.
This can be done through a combination of paid advertising on Google, engaging with your local community online, optimizing your website, and offering free and valuable content to your many potential HVAC clients. However, putting all of this together in the best way possible can be challenging. You may not want to spend time keeping up with the latest technology or coming up with an effective marketing strategy. Maybe you'd rather spend time running your company.
That's why we're here. At BizIQ, we have a dedicated team that is experienced, hardworking, and enthusiastic. Our local internet marketing services are the most affordable and effective in the industry. That's because we believe in good, old fashioned frugality. We're a small business too. Just like you, we work hard to keep our costs down, which means we can pass the savings on to you.
Contact us to see how we can help you achieve your goals with our digital marketing expertise so that you can focus on what matters most to you.