What we know about the Google My Business consumer survey.
Last month, Google My Business sent out a mysterious survey to some of its users.
The poll asked a plethora of questions, pertaining to the marketing services their users are currently using and their appeal to possible paid features within their Google business account. Before moving on, you may be wondering what is a Google My Business profile?
What's a Google My Business Listing?
Google My Business is a program that launched in June 2014.
As it stands, a Google My Business profile is a free service.
Your Google My Business profile allows your business information such as your phone number, reviews, location, and hours to be visible to their users –
the almost 3 billion searches happening every day
– on Google Search and Google Maps.
Your Google listing should be part of your local citation management. Local citation management is the process of making sure that you are in control of your business' information on these important directories, such as Google.
Google My Business is considered to be the foundation of businesses online presence.
Worldwide, 90% of all desktop searches begin on Google and mobile searches now make up over 50% of all searches worldwide as well. Your Google business account is more critical than ever.
As the amount of searches made on Google only grows, this only increases your chances to drive customers to your website from your local listing profile.
W
hat was on the Google survey?
Some of the survey questions included options for the following services:
♦ Monthly subscription pricing
Ranging from $25 – $50.

♦ Call reports and recordings
Google will send the GMB listing owner all recordings and reports from calls made from the GMB business profile. Allowing you to evaluate the quality and volume of your calls.
♦ Featured reviews
Choose a review that you would like to be promoted at the top of your business profile.
♦ Verified licensing
Google would verify your trade license and display it on your local listings.
♦ Booking options
Google will show your customers your availability, and they can confirm a booking or request a time slot for your service.
♦ Potential leads from competitor profiles
When a customer messages a business that offers the same service as you, Google will also display your business information so they can message you as well.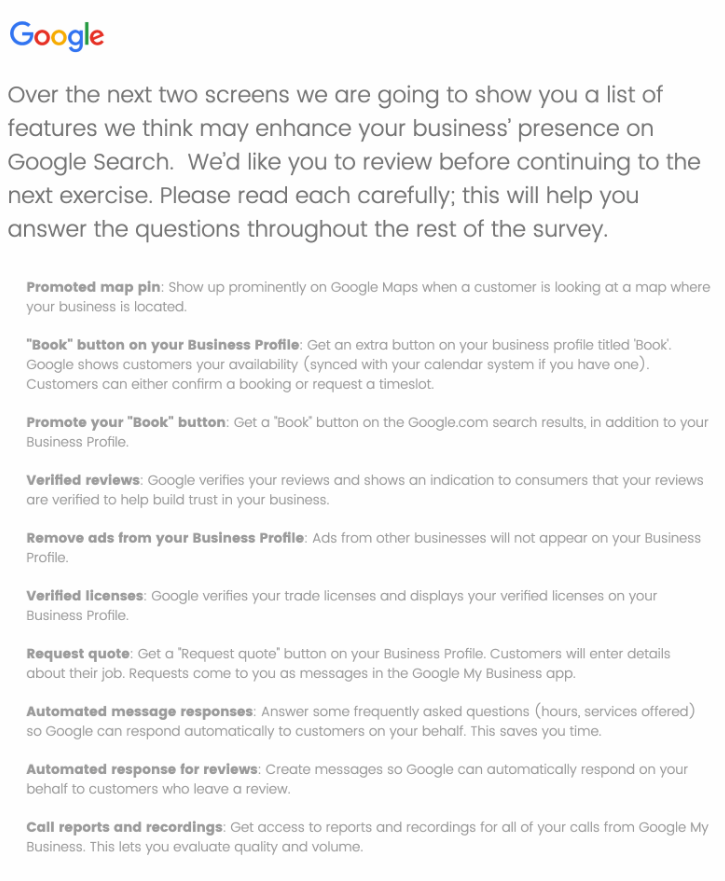 What does the Google listings survey mean for local businesses?
There haven't been any specific details from Google on when these immense changes will be rolling out.
Even the verbiage on the survey was very inexact and left many of its participants to read between the lines. Leaving our imaginations to fill in the blanks.
Google has always been strategically vague with their planning and development of new applications and programs. I speculate that these changes could be implemented a lot sooner than we realize.
However, having said that, I would be surprised if we experienced all of these options on the first release. I am expecting only a few options will be released at a time. After all, the less moving parts they need to be accountable for, the higher the efficiency
Are all of the Google business account features new?
Some of the survey options are features that are already accessible to some industries via GMB but aren't available to all industries.
Such as, lodging establishments, many of their listings already include a booking option, and Google has witnessed very successful results from this.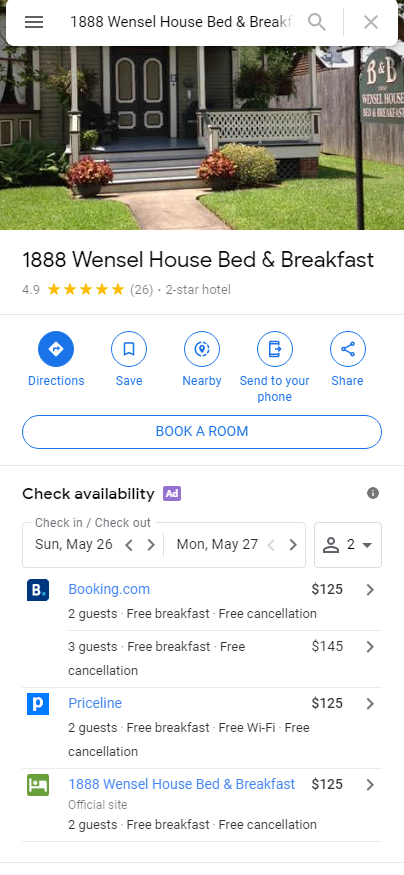 It's no wonder that they would extend these options to all industries.
Google wants to be its user's primary source of information and keep their users on their products longer.
Google prides its self on the fact that "As technology continues to evolve, our commitment will always be the same: helping everyone find the information they need."
These possible features are only going to increase the value of a GMB listing and help their consumers find the information they need more efficiently.
Although, some of the other options mentioned in the survey are features that are not currently implemented in any industry.
Such as:
1.
Removing ads from your business profile
2. Instant quotes
3. Automated review and message responses
4. Background checks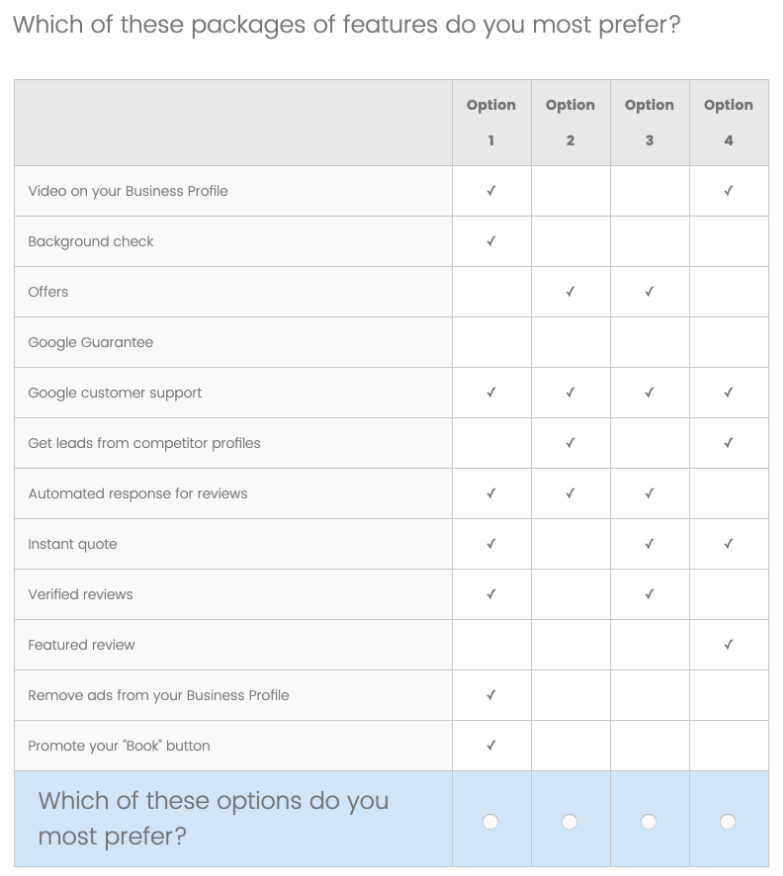 Since the survey mentions features that are not currently available to anyone; it leads me to believe that Google My Business will keep its free tier.
I suspect that they will also create a new paid level rather than replacing the free service entirely.
Since GMB is such a widely used platform, any change they plan to apply will be monumental.
Historically, Google has depended on other directories to obtain all the information on businesses.
The problem with this is that a lot of the information they were gathering was outdated and incorrect.
With all the recent technological advances and changes in the last five years; consumer behavior has changed as well.
In turn, Google My Business has turned into the foundation of your online presence.
It's no wonder that Google My Business is looking into a way to turn this massive online presence tool into a source of income.
What's next for Google local listings?
The survey shows that GMB developers are interested in making some significant changes to their program.
They are also interested in how their consumers would receive these changes.
If these changes come to fruition, Google My Business developers could be putting together a disruptive new playing field.
How will these paid services affect ownership requests? Will Google maintain its organic search result integrity? Who's to say and only time will tell. That's all for now, folks!
What do you think the latest Google survey means?
Feel free to like and comment below. I want to pick your brain and see what you think will be the next course of action.
Also, don't forget to subscribe to our blog for more marketing tips and strategies delivered right to your inbox.
Ready to take the next step?
We have helped over 19,000 small businesses get found online and grow through our smart local marketing. Now is the time to take your business to the next level! Contact us today!