Google is an open space that allows people to review your business and anyone with a Gmail can leave a review. Due to the nature of this platform, you cannot disable reviews.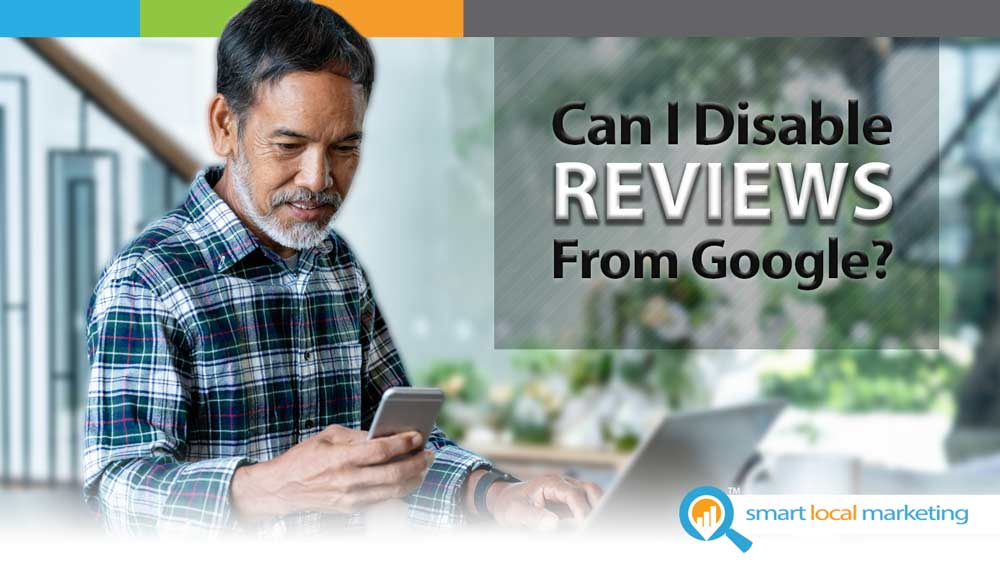 Google strives to make people's search experience the very best it can be. They want to provide searchers with the most accurate information possible so they can find what they're looking for online. And that includes what others have to say about your business.
Furthermore, the content that appears in Google Search, Google Maps, and your Google My Business listing belongs to them, not you.
That's why you cannot disable reviews, nor should you want to. Reviews help your business show up first in a search.
Can I Flag Inappropriate Reviews?
Yes. You can flag and fix an inappropriate Google review that your business receives. As much as you may have a strategy to reduce the risk of receiving a negative review, it is important to remember that positive and negative Google reviews are both part of doing business. However, you should never tolerate an inappropriate review as it can tarnish your reputation and hurt your business. When you receive an inappropriate review, knowing how to handle the situation will help a great deal. To deal with such a situation well, you need to review Google's review and photo policies. Reviewing these policies will help you to understand what constitutes an inappropriate review.
Although Google will have the final say in determining whether or not a particular review is inappropriate, you should know what qualifies as a questionable review. Generally, an inappropriate review will be fake or somehow invalid. Common examples are when a reviewer has an evident conflict of interest, when the reviewer does not focus on their own customer experience, when the review includes inappropriate material, and when it contains false information. While a legitimate negative assessment can be a bitter pill to swallow, it does not instantly qualify as inappropriate.
Once you notice an inappropriate review, you should flag the review immediately. If you can, have several people flag it as there is always power in numbers. Proceed to make your case by providing reasons why the review has been flagged, after which Google will assess your request. Be patient as this may take some time. If there are sufficient grounds, Google will remove the review from your listing.
In summary, you should know what to flag. There is a difference between a review that violates Google's policy, and one that you do not like or do not agree with. This means that there are certain incidences where Google will not intervene or mitigate the situation. In the event you suspect a review is invalid or are unsure if it is inappropriate, you should inform the review site so that it can be looked at in line with the applicable policy. However, it is recommended that you reply to all reviews, regardless of whether they are positive or negative.
Do Google Reviews Actually Help?
Here's why Google Reviews actually help your business:
So, in short, no, you cannot disable Google reviews. However, you shouldn't want to. That's because they're a tool Google created to help you manage your reputation and foster better customer relationships. Plus, they also help customers find what they're looking for online.
How Can I Get More People to Review My Business?
One of the best ways to maintain a good reputation online is to ensure positive reviews overpower the negative ones. You can achieve this by getting more happy customers to review your business.
6 Ways to Get More Google Reviews
#1 Remind Your Customers to Leave Reviews
If you want to get more people to review your business, you should start by asking them. A good number of customers understand how important reviews are to your business and will not mind leaving one provided you offer excellent products or services. However, you will have to be smart about it and ask at the right time. To encourage more people to leave a review, you should make it easy for them to do so.
#2 Incentivize Your Requests
Rather than buying reviews, you should offer an incentive to get that happy customer to write a review. Modern life is such that most people have busy schedules and may not leave a review without some form of reward. Some of the incentives you can consider are points in a loyalty program or entries to a draw.
#3 Build Customers' Trust by Replying to Reviews
One of the best ways to build long-lasting relationships with your customers is by interacting with them. This means that if you want to get more people to review your business, you should reply to their reviews. Engaging with your existing reviews will show that you value their input, leading to more reviews. You should also remember to take the time to thank all your reviewers.
#4 Verify Your Business
Verifying your business will go a long way in ensuring that your information appears on different Google services. Since only verified businesses can respond to reviews, you will be in a position to engage your customers. This will also give your business more credibility.
#5 Make it Mobile First
With an increasingly high number of people using their mobile devices to access the internet, you need to make it easy for them to respond via the devices. This means making your texts and surveys responsive to different screen sizes.
#6 Share Your Reviews on Social Media
One way to show your customers that you are engaged with their reviews is by sharing them on social media. This encourages people to review your product, knowing that you take time to go through what they have to say. Effectively managing social media is also a great way to reach a bigger audience, effectively helping you to receive more reviews.
Is There a Right or Wrong Way to Respond to Reviewers?
As much as replying to reviews helps to build and maintain healthy relationships with customers, you should remember that reviews and replies are public. As such, you should consider following certain guidelines.
5 Tips for Responding to Reviews
#1 Be Nice and Avoid Getting Personal
Being nice and not getting personal is a good idea for your business. Keeping your responses courteous, readable, and useful will allow you to communicate with a frustrated customer without burning bridges.
#2 Keep Your Responses Short and Sweet
If you want your responses to be genuine and useful, you should keep them short. A long response could overwhelm your users, making it difficult to pass the intended message in the manner that you would like.
#3 Be a Friend as Opposed to a Salesperson
When responding to reviews, you will be engaging people who are already customers. Rather than trying to advertise or offer incentives, you should provide useful information that they may not know.
#4 Thank Your Reviewers
It is important to thank all your reviewers, regardless of whether their review was positive or negative. Such information can help you better your business, and you never know the platform on which the review and response will be shared.
#5 Responding to Negative Reviews
It can be difficult handling negative reviews. However, you should remember that negative assessments are not always an indication of bad business practices. Investigate the reason behind the negative comment, respond in good time, be honest about your mistakes, apologize when appropriate, and avoid lashing out.
In the end, the best defense is a good defense. Part of protecting your business is to have a good reputation management strategy in place. One way of doing this is to encourage your loyal customers to leave an online review and to reduce the possibility of receiving a fake review.
Have More Questions? We Can Help!
Having problems with your Google reviews? Download our Ebook, 25 Ways to Respond to Any Online Review. Or if you need more personal help, click on the chat bubble in the lower right corner to speak with a BizIQ digital marketing expert right now.