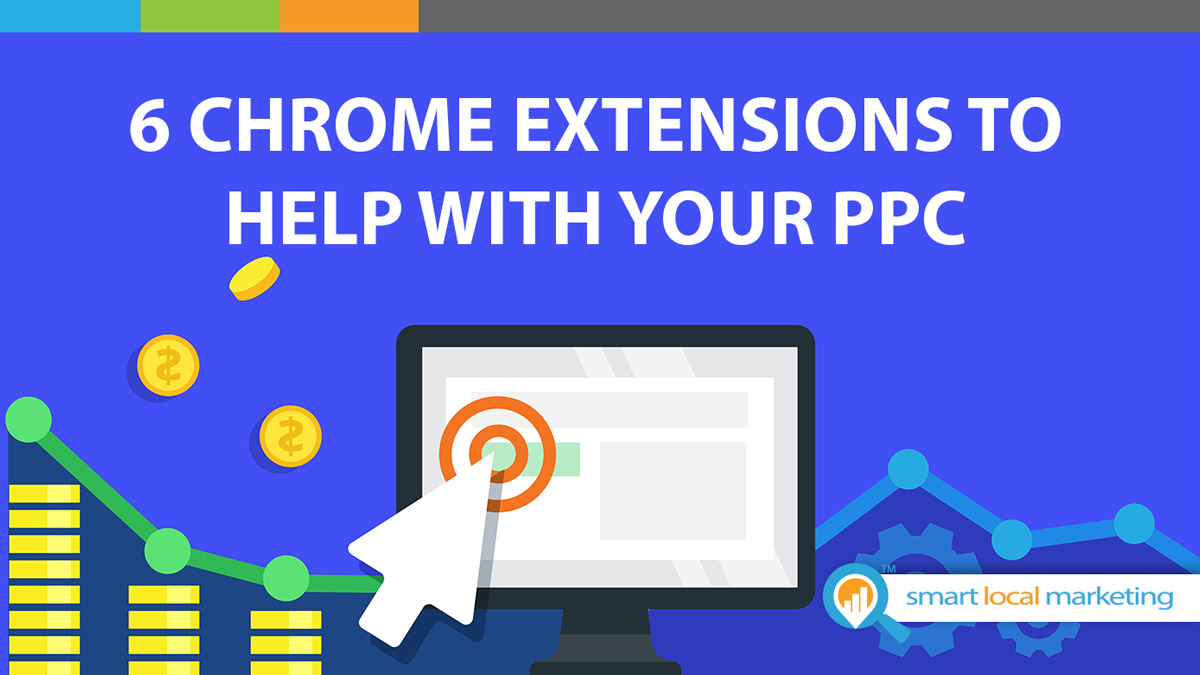 As far as web browsers go, nothing is quite as helpful or versatile as Google Chrome. Since its inception, Chrome has become the browser of choice for both marketers and many customers. Since it offers complete synchronicity with a user's Google account, Chrome makes it easy to stay on top of everything in a single spot. 
One substantial advantage of using Chrome is its abundance of extensions. As we'll discuss in this article, these extensions can help you be much more productive, particularly with pay-per-click (PPC) ad campaigns. If you haven't been using extensions yet, now is the perfect time to start. We'll show you six Chrome extensions to help with your PPC campaigns. 
The Benefits of Using Chrome Extensions for Your PPC Campaign
Before we dive into our list, let's look at the top reasons why you should start utilizing Chrome extensions: 
Improve Productivity

 – Rather than switching back and forth between multiple programs, you can take care of different functions from the same platform. Overall, you (and your team) can be far more efficient in executing your next ad campaign. 

Increase Your Page Rank

 – Since Google is the biggest search engine on the planet, working with the company comes with some perks. Notably, you can rank higher on search results because you're using Google's own extensions. As we all know, the higher your ranking, the more likely users will click on your ad. 

Improve Your Click-Through-Rate

 – Another advantage of extensions is that Google will help you take up more space on the page, making it easier for users to notice you. From there, they'll click on the ad, which boosts your CTR. 
6 Chrome Extensions To Help Your PPC Campaigns
No matter what kind of marketing you're doing, you need a way to analyze the results. Otherwise, you could be wasting money on ads and strategies that don't convert. Google Analytics is one of the most powerful tools, and it's so potent because of Google tags.
If you're unfamiliar with tags, they're bits of code embedded into web pages that track user behavior. These tags allow you to see how a user browses through your site so that you can see which elements get the most attention. Google tags are also useful at tracking AdWords conversions, as they can tell you if someone came to your site through AdWords or not. 
Google Tag Assistant is an extension that can monitor your site's tags to see if they're optimized or broken. As we mentioned, one advantage of Google Chrome is its synchronicity with the search engine. So, Google Tag Assistant offers seamless connectivity between your PPC campaign and site tracking. If a tag isn't working, you'll know immediately so that you can correct the issue. 
Facebook Pixel is a valuable tool that helps you get the most out of your Facebook advertising. However, the platform is a bit complicated and hard to use, particularly for new companies.
This extension makes it easier to tell whether your ads are doing what they're supposed to with instant reports and analytics. This helper is just like Tag Assistant, except it's looking at Facebook's data instead of Google's. The only reason not to use this extension is if a) you're not advertising on Facebook (unlikely), or b) you've already mastered Pixel (also unlikely). 
As we mentioned, one primary benefit of using Chrome extensions to help with your PPC campaigns is to improve productivity. LastPass ups the ante by storing all of your site passwords in one uber-secure place.
This extension allows you to switch between programs without having to look up your passwords every time. Seamless transitions enable you and your team to keep the momentum going. 
LastPass is also very user-friendly, with tools to help you see which sites you've stored data in and update your passwords instantly. The extension can also generate new passwords and save them for even better security. No longer will you rely on easy-to-crack passwords!
If you're invested in SEO marketing (and you should be), you understand the value of keywords. However, figuring out which keywords have the best conversion rates can be tricky.
Keywords Everywhere is an extension that will show you related keywords every time you search for something on Google or Bing. Better yet, the widget will even show "people also searched for" so that you can get a better understanding of user habits. This data can help you develop a more robust PPC campaign since you can target your audience more efficiently. 
In case you can't tell, we love us some analytical data. While Page Analytics is no longer receiving app updates and support, it still works like a charm.
The extension operates just as you'd expect – visit a page, and it will provide detailed insight, including heat maps, clicks, page visits, and more. You can use this extension on your own website or a competitor's to see how they stack up. This data can help you design better pages that convert. 
Instagram is another excellent resource for paid ads since you can access tons of user data. However, managing your Instagram page via mobile is a huge pain, so this extension makes it desktop friendly. Now you can upload and manage your posts more efficiently so that they convert better. 
Do You Need Help Getting a More Profitable PPC Campaign?
While extensions can do a lot of heavy lifting for your PPC campaign, they can only do so much. Building a new campaign from scratch is challenging because you need to know how to create captivating ads that work.
Fortunately, BizIQ's PPC Advertising services can take care of all of that for you so that you can just sit back and let the clicks flow into your site.
Contact us today to see what we can do for your business.