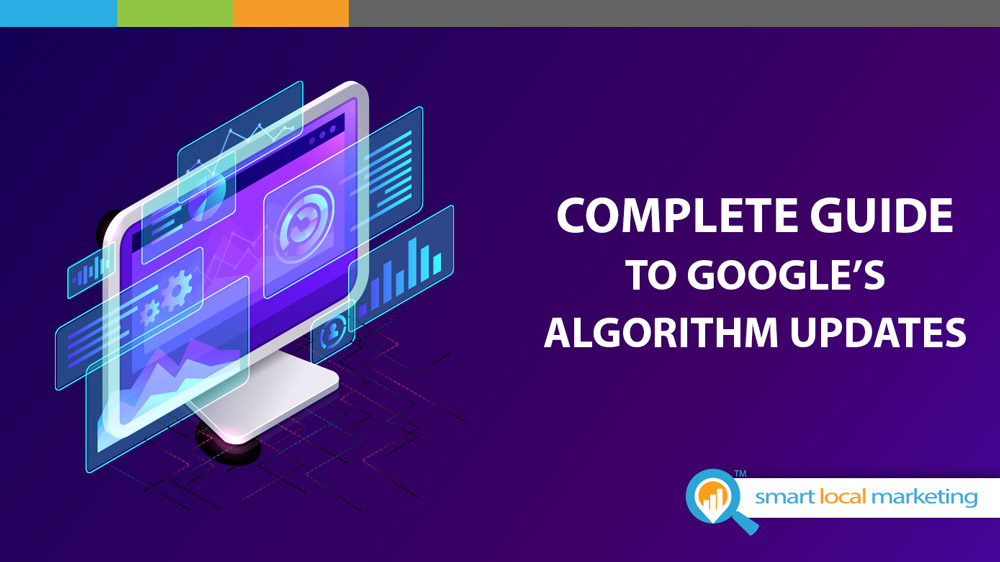 As the largest search engine in the world, Google has come a long way from its early days. One of the main reasons Google is so popular is that it offers exceptional search results. To ensure that these results are accurate and relevant, the company comes out with new algorithm updates regularly.
For business owners, it can be challenging to keep up with these changes, mainly because they can affect search engine optimization tactics. So, with that in mind, we want to look at all the significant updates Google has made and how you can adapt to them. This is the complete guide to Google's algorithm updates.
A Complete List of Google Updates (So Far)
The first named update to the Google algorithm occurred on February 1st, 2003, and it was called Boston. In the early days, the company aimed to update the algorithm monthly with modifications and index refreshes, dubbed the "Google dance." However, it quickly became apparent that updates would have to be much more frequent.
Over the years, there have been dozens of updates – most of them are relatively minor, but some have changed the game dramatically. Rather than give you a play-by-play of all the various confirmed and unconfirmed updates, we'll just stick to the big ones that affect the algorithm the most. These updates include:
Panda
Penguin
Pigeon
Hummingbird
Mobilegeddon
Google Core Updates
Google BERT
Google Page Experience
With that in mind, let's get started examining these updates to the algorithm.
Google Fred Update
Technically, Fred isn't an algorithm update. Instead, it's a term that refers to site quality updates. It's a catch-all moniker provided by Gary Illyes in 2017 as a sarcastic response to a journalist's question about an update. From there, the name stuck, and all changes related to site quality are now under this umbrella.
Because Fred is such a nebulous term, it's difficult to know how to optimize for it. Unlike other named updates, there is no specific focus or rule set. Instead, the name could refer to a wide range of updates. That said, because Fred has to do with site quality, developers have a starting point from which to figure out what's wrong.
Google Panda Updates
Panda is one of the longest-running updates, first debuting on February 23rd, 2011. Panda has had many iterations over the years, and it started because of complaints about "content farms." These "farms" had lots of low-quality content that was rigged to rank highly on search engine results pages (SERPs). Part of the problem was the Caffeine update of 2009, which helped index pages and sites much faster. Unfortunately, a side effect of that speed was that many low-quality pages were ranked higher than they should have been.
According to Google, this update affected almost 12 percent of all searches, and the goal of Panda was "to reduce rankings for low-quality sites – sites which are low-value add for users, copy content from other websites or sites that are just not very useful. At the same time, it will provide better rankings for high-quality sites – sites with original content and information such as research, in-depth reports, thoughtful analysis and so on."
Basically, before the update, keyword-stuffing was a common practice. Once Panda came out, Google cracked down hard on the tactic. Another component of Panda was the EAT acronym, which stood for expertise, authoritativeness, and trustworthiness. Sites that had a high EAT score would get ranked well, while others would get pushed down.
Since 2011, Panda has been updated many times. Here's a rundown of the different changes Google made to it.
Panda 2.0, April 11th, 2011
The update rolled out internationally and covered all English queries, including those in non-English countries. This update also incorporated more data about disreputable sites, including information about any of those blocked by users.
Panda 2.1, May 9th, 2011
These changes were relatively minor, and it wasn't clear what was updated. While the original Panda affected 12 percent of searches and 2.0 affected two percent, this version didn't make a noticeable impact.
Panda 2.2, June 21st, 2011
Because content farming was so widespread, Google had to keep updating the rules to catch offenders. This update further refined the algorithm, and it became known that Panda updates existed outside the main index. So, changes weren't happening in real-time, as some had thought.
Panda 2.3, July 23rd, 2011
Further refinement of the update, but no noticeable changes.
Panda 2.4, August 12th, 2011
Now Panda rolled out to all non-English languages except Chinese, Japanese, and Korean. This sweeping adjustment affected between six and nine percent of all searches.
Panda 2.5, September 28th, 2011
Another minor update with unclear specifics.
Panda "Flux," October 3rd to November 18th, 2011
There were four updates during this period, in which Google said to expect some "flux." Some sites were hit, while others remained the same.
Panda 3.2, January 18th, 2012
During the flux period, Panda entered into 3.0 territory. By January, it was at 3.2, but the update was another minor adjustment.
Panda 3.3, February 27th, 2012
Three days after its one-year anniversary, Google made some further refinements, but nothing noticeable.
Panda 3.4, March 23rd, 2012
Although the specifics of this version were unclear, Google did say that it impacted roughly 1.6 percent of all search results, indicating some significant changes.
Panda 3.7, June 8th, 2012
Updates 3.5 and 3.6 were pretty small, so they didn't affect many results. However, 3.7 did cause a minor ripple effect, even though it affected less than one percent of all searches.
Panda 3.9, July 24th, 2012
This version is another "refresh" of the Panda update, which meant that it affected some pages more than others.
Panda 20, September 27th, 2012
After another small string of minor updates, Google decided to start naming these versions in order rather than sticking with the old convention. This update did have a moderate impact, affecting 2.4 percent of all English search queries.
Panda 21, November 5th, 2012
Although this was another small update, it did affect 1.1 percent of all English queries.
Panda 23, December 21st, 2012
Number 22 was a data-only update, so it didn't affect results at all. This update, however, impacted 1.3 percent of searches. The official designation of this update was that it was another "refresh" of the system.
Panda Dance, June 11th, 2013
Starting in January, Google made more minor updates to Panda. The company indicated that it would be making regular changes every month, which would take about 10 days to roll out. So, this constant fluctuation was dubbed the "Panda dance."
Panda 4.0, May 19th, 2014
Apparently, Google had enough of the numbered naming convention and went back to basics. This version was a pretty big shake-up, as it affected 7.5 percent of all English queries.
Panda 4.1, September 23rd, 2014
Another shake-up that affected between three and five percent of queries.
Panda 4.2, July 17th, 2015
Although this specific update wasn't impactful, it was the last named update in the Panda lineup. Google hasn't unveiled any new developments with Panda since then.
Google Penguin Update
As with Panda, this update was designed to combat spammy websites that used unscrupulous ranking tactics. While Panda focused on content farming, Penguin paid attention to shady link-building. Basically, developers would have a bunch of low-quality or spam-related links pointing to a website so that it would look more official or authoritative.
With Penguin, Google wanted to evaluate those links more closely to ensure that each one was reputable and safe. Once this update rolled out, it affected over three percent of all English queries.
Penguin has had several updates since 2012, although nowhere near as many as Panda. Let's run through the significant adjustments.
Penguin 1.1, May 25th, 2012
A minor update, but it illustrated that Penguin was being developed and deployed outside of the main index, meaning that changes would roll out over several days, not in real-time.
Penguin 3, October 5th, 2012
Since Panda went to a straight numbering convention, Google decided to do the same with Penguin. This was another small update, impacting 0.3 percent of searches.
Penguin 2.0, May 22nd, 2013
Back to the old naming convention, this was a further refinement of the algorithm without much impact.
Penguin 2.1, October 4th, 2013
This was a data update, so most sites weren't affected. However, some developers reported a significant rank reduction.
Penguin 3.0, October 17th, 2014
This version was a full refresh, but it only affected less than one percent of all queries.
Penguin Everflux, December 10th, 2014
Rather than named updates, Google announced that Penguin would just be in constant fluctuation with minor adjustments and updates as necessary.
Penguin 4.0, September 23rd, 2016
At this time, Penguin was enveloped into the main index, meaning that changes would happen in real-time. This shift took a few weeks to roll out completely, and it had a pretty significant impact. The biggest change was that Penguin would devalue bad links instead of penalizing sites that had them.
Google Pigeon Update
Local search results are an essential part of the Google experience. When someone searches for businesses near them, the search engine still needs to rank companies based on relevance, not necessarily size or scope. The idea behind this update is that Mom and Pop shops can rank just as highly as major retailers as long as they have a decent online presence.
Initially, Pigeon had some rollout issues, but Google has updated it and refined it since 2014. There's a reason why local search results are much more targeted and precise today than they were before. Part of the change was to make Google Maps search results more consistent with web results and level the playing field for local directory sites (i.e., Yelp). Before the update, Google seemed to favor its own reviews and ratings over other sites, even if a user specifically requested them.
Google Hummingbird Update
These days, it's hard to recognize how far we've come in search engine results pages. Today's algorithms are smarter and faster, yielding results based on context and other cues. As recently as 2013, however, search engines still relied on exact match keywords to provide relevant information.
The Hummingbird update changed all that, and the world of SEO was never the same. While Panda and Penguin were transformative updates, Hummingbird was revolutionary.
What it all comes down to is intent. Pre-Hummingbird, Google and other search engines couldn't really figure out what you were trying to do. So, if your keyword was pretty broad (i.e., dog toys), you would only get results that matched the exact keyword. As a user, you had to figure out how to ask for what you really wanted.
Another side effect of Hummingbird is that you could get answers immediately without having to click on a webpage. Type a question into Google, and a response will pop up in the search results.
This update is paving the way for the next generation of contextual search results – MUM. While MUM uses machine learning to understand a query, Hummingbird mainly relied on good old-fashioned elbow grease and grit.
Google Mobile Update – AKA Mobilegeddon
These days, more and more users are utilizing smartphones and mobile devices to search. As phones got more advanced, it made sense that they would act as a pocket directory. It's hard to believe how we used to find things like restaurants and businesses in the pre-mobile search era. Even with traditional searches, you would have to look up the information at home or on a real computer. If you weren't around one, you were out of luck.
Because mobile searches have been trending upward for years, Google decided to rank mobile-friendly pages higher than those that weren't. The reason "Mobilegeddon" became a thing is because of the sudden shift. Also, Google made clear that there was no gray area. Either your website is mobile-friendly, or it isn't. Once the update rolled out on April 21st, 2015, you had to be mobile or else face the consequences.
That said, Google did offer a warning in February 2015, but as any web developer knows, you need plenty of time to make adjustments. At least, back then, you did. Today, mobile integration is a standard part of page building, but in 2015, it required a lot of backend work. Also, since the update affected all mobile searches in all languages, it would impact 100% of search queries.
Obviously, the results weren't doom and gloom, but sometimes, technology and progress need a swift kick in the pants to jolt forward. Had Google not made the switch, it may have taken much longer for mobile searches to be as helpful as they are today.
Google Core Updates
As you should know by now, Google maintains a "main index" of all websites and pages on the internet. By indexing all pages, the search engine can pull up relevant information whenever someone launches a new search. So, Google core updates affect how the algorithm indexes these pages.
As Google puts it, think of core updates as refreshing a top 100 list of your favorite movies. If you didn't update the list regularly, it would become obsolete pretty fast. The longer between updates, the more outdated your choices. You can update your list based on various conditions, such as new releases, rewatches, or changes in your tastes. For example, perhaps you loved one of your top 10 movies because you watched it as a kid, but seeing it again makes you rethink its position.
Core updates officially began back in 2019, although technically, any update to the main index could be considered "core." Since May of 2019, Google has unveiled new updates every few months. However, details are often slim to none, so it's rarely clear what they're updating. Based on the company's analogy, these updates may just be refreshing the index with new data and letting the chips (or sites) fall where they may.
Google BERT Update
This update is much more recent, rolling out on October 22nd, 2019. In Google's constant efforts to make SERPs more relevant, the company unveiled a new programming language. BERT stands for Bidirectional Encoder Representations from Transformers. A transformer is a language model that looks at the entire context of a sentence. So, rather than looking at each word individually, BERT sees how they relate to each other within a search query.
What also makes BERT unique is that it can pay attention to conjunctions and non-keyword words. To, and, the, and similar terms can alter the meaning of a sentence. For example, if a user types "flying from New York to Los Angeles," Google knows to show flights and prices for that direction, not one from LA to New York.
The original update was for English searches, but Google rolled BERT out in 70 languages by December 2019.
Google Page Experience Update
This is one of the latest updates by Google, starting on June 25th and ending in August of 2021. This update is designed to rank pages based on the overall experience rather than a collective sum of individual parts. So, while keywords, links, and relevant information still count, Google will look at everything else on the page to see how well it will impact a user.
As always, Google is tight-lipped about specifics, but it did provide some insight into the various metrics that will go into the page experience score. Those elements are:
Core Web Vitals – These vitals include page speed, responsiveness, and the overall layout of a site.
Mobile Usability – How well does a page work on a mobile device, and are there any errors or broken elements?
Security – Any page with insecure components will lose its standing.
HTTPS Usage – One way to keep pages more secure is to upgrade to HTTPS, the protected version of HTTP.
Intrusive Interstitial – Disruptive or misleading pop-ups will cause a page's rank to plummet.
Since this update affects all pages, developers need to make sure that they hit every checkbox. Otherwise, they'll risk losing all their hard work from previous SEO strategies.
How to Optimize For Each Update
Knowing the ins and outs of each update is just the beginning. Next, you need to understand how the change impacts your SEO strategies. We've come a long way in the past 20 years, and Google will continue to evolve and get better at delivering results. So, keep in mind that some of these tactics may become obsolete in a few years.
That said, adapting to these changes is what will keep you ahead of the competition, so let's break down what your business can do for each individual update. In this case, we'll be going in descending order from the latest to the earliest.
Google Page Experience
As we mentioned above, this latest update focuses on the overall user experience. The four components that Google is paying attention to are site security (including upgrading to HTTPS), web vitals (more on those in a bit), mobile usability, and accessibility. Let's break down each element and how to optimize it for your site.
Site Security
The main part to worry about is upgrading from HTTP to HTTPS. Even if you have decent security settings, Google will dock you points for not switching to the secure protocol. Fortunately, moving to HTTPS is not too difficult, particularly if you have a development team. The basic steps include:
Step One: Buy an SSL Certificate – Your web host should be able to sell you one.
Step Two: Upload Your SSL Certificate – If you purchased the certificate from your web host, they could install it on your site. Otherwise, you can give them a third-party certificate, and they can handle the rest.
Step Three: Verify Your Links – All of your pages must be on HTTPS to qualify for Page Experience ranking. Use a site crawler to verify if any links are still using HTTP.
Step Four: Set up a 301 Redirect – If you're unsure how to do this, click here. A 301 redirect is permanent, meaning that it won't revert to the original page. This step is necessary to tell Google to index your new, secure pages. Otherwise, you'll have to wait for Google to check them on its own, which can take a while.
Beyond switching to HTTPS, you should run a site audit with the Google Security Report. This way, you can spot any potential weak points that you know Google will pay attention to. From there, you can fix those problems and ensure that you get a better rank.
Core Web Vitals
While each element of the Page Experience update could be considered part of the "web vitals" package, Google includes three metrics as the core foundation of any page. Those components are:
Page Load Speed – If your pages don't load the main content within 2.5 seconds, they'll get dinged by Google. Obviously, the faster, the better.
Interactivity (AKA First Input Demand) – This metric measures the time it takes between a user conducting an action (i.e., clicking a button) and it is happening on the page. An ideal score is fewer than 100 milliseconds.
Visual Stability – Sometimes, content on low-quality sites will shift as a user scrolls down the page. If that happens, the site receives a low visual stability score, pushing down its ranking.
To optimize these core web vitals, you need to focus on making your pages as lean as possible. Even if you use a lot of text and video, compress those files so that they can load faster. Otherwise, more imagery will bog down each page, causing your rank to suffer. You may also need to upgrade to a better web hosting service if the one you're using is too slow.
You can check your core web vitals by using the Google Search Console. Simply enter your page URL, verify your domain, and Google will check everything and deliver a comprehensive report. You can find out more about the report here.
Mobile Usability
We'll go into more detail about this in the Mobilegeddon section. Fortunately, many web development programs automatically optimize your pages for smaller screens. That said, you will need to check your site on a mobile device to see how well it follows the core web vitals. Often, it's better to optimize your main site for mobile rather than build two separate URLs. If you have too much content or it's hard to navigate pages on a smaller screen, it's much more efficient to adjust your desktop version.
Accessibility (AKA Intrusive Interstitials)
The pop-up window used to be the bane of the internet, as it was the hallmark of shady websites trying to get you to click on an ad. These days, pop-ups are baked into the usability of a website. Usually, they're a way to get a user to follow a call-to-action.
Unfortunately, if those pop-ups are too intrusive or hard to remove, they'll cause the page experience score to go down. Google pays closer attention to these interstitials on mobile devices, so you should too. Mobile pages are more important because it's harder to hit the close button on these windows. So, if a user gets frustrated and leaves the page because the X isn't big enough (or noticeable enough), Google will take note.
Overall, if you use pop-ups, make sure that they're easy to close. Also, use them sparingly so that they're not too disruptive. For example, a CTA window is suitable for when a user is about to exit a page. However, pop-ups for multiple actions will get frustrating fast.
Google BERT
Technically, since BERT focuses on understanding user intent, site developers can't necessarily "optimize" for it. In fact, Google developers specifically stated that there's nothing to change or adjust. However, knowing more about how BERT works and what it's capable of means that you can adjust your site content accordingly. Here are some tips on how to make BERT work better for you.
Provide Succinct Answers to Queries
Regardless of your industry, you should try to establish your site as a resource for new clients and customers. Then, as you become more of an authority over time, users will start coming to you for insight and advice.
As we mentioned, the Hummingbird update meant that Google could provide snippets of information on the results page. This convenience means that users don't have to click anything to get an answer to a direct question. So, you can use that to your advantage. Think about the questions that potential clients will have about your industry and write short snippets within your content.
Even better, you can include the question in your blog posts or video clips. Doing this will help Google index your page better for that question so that you can rank higher.
Go Deeper With Your Content
Now that BERT can understand the context of a query better, it will provide more comprehensive results. So, instead of focusing a page or post on a specific keyword, you need to develop better content.
One excellent way to do this is by using Google search to your advantage. Start with a specific keyword or phrase, then scroll down to the "questions" section. There, you can see what people are asking about that keyword, which will provide some incredible insight. Overall, the deeper you can go with your content, the more likely BERT will see its relevance to a particular query.
Understand Your Users Better
Even without BERT, you should focus on building content for your audience, not search engines. As Google becomes more nuanced, it will start acting more "human," meaning that individual keywords won't be as valuable as they were before.
If you haven't developed buyer personas yet, now is the time to do so. These personas or avatars allow you to focus on selling to one specific niche rather than trying to appeal to a broader audience. Understanding your target customer ensures that you can develop content that appeals to them specifically.
Google Core Updates
As with BERT, there isn't much you can do to optimize for Core updates. The primary reason it's hard to make any adjustments is that Google is always so tight-lipped about what's inside these updates. For 2021, the most significant shift is the page experience, so if you can focus your time and attention on optimizing for those elements, you should be golden.
Otherwise, you can still maintain standard SEO strategies, such as:
Consistent Tags – Everything from title tags to meta tags to alt image tags should be optimized for keywords and content. If you use complicated naming conventions, search engines won't be able to index everything correctly.
Quality Over Quantity – While keyword strings can help you narrow your content focus, you should pay more attention to the value that content provides. Don't worry too much about "keyword stuffing," as you can actually get docked points for that.
Link Structure – Internal and external links can help Google know that your site is reputable, and it helps the algorithm index your pages correctly. Be sure that all the links work and that they lead to high-quality sites. While you can't control backlinks (other sites that connect to yours), you can run a backlink scan to see if there are any potential red flags.
Mobilegeddon
As we've mentioned, mobile-friendly websites get higher rankings than those that focus on desktop layouts. We've covered a few elements of mobile optimization, but let's dive deeper into each one.
Focus on the User First
While content matters a lot, you need to make sure that your mobile users can access it. After all, if someone can't find or read your content, it won't matter how good it is.
So, when making your site mobile-friendly, focus on tasks and objectives for each page. What do you want the user to do? What are some potential elements that may cause friction? For example, are the buttons too small? Will they have to zoom in to see the content?
Also, remember that your users will be using a touchscreen instead of a mouse. So, links and buttons can't be too close together since they'll be harder to press.
Improve Your Site's Layout
One of the best ways to make pages mobile-friendly is to have them be a single column of information. This way, users won't have to scroll from side to side, but they can just keep going down to the end of the page.
What you should also focus on is the readability of buttons and headings. For the mobile version, it helps to eliminate any extra information or graphics that could get distracting. If users cannot read content or view images clearly, they'll likely get frustrated and leave the page.
Weigh the Pros and Cons of Developing a Separate Mobile Website
For convenience's sake, it's often best to just have one website that works well for desktop and mobile users. Again, a single-column design can be ideal since you only have to change the aspect ratio.
However, for some websites, it's hard to straddle that line effectively. In those cases, you may want to have a mobile-only version of your site. If that is the case, you can focus all your attention on usability and interactivity on smaller screens. For example, you can have streamlined layouts, bigger buttons, and mobile integration (i.e., SMS messaging). For example, a "click to call" button will be an excellent addition to any layout.
Additionally, you can have mobile-friendly content on those pages, such as vertical video and images. By developing a mobile-first experience, you can ensure that you'll get ranked better in searches.
View Your Content on Multiple Devices
Most modern smartphones have pretty large screens (relatively speaking). However, some users may be looking at your site on a smaller device, which can affect the experience. So, if you can look at your layouts and content on multiple screens, that will help you identify any potential problems. For example, if you have a pop-up window with a CTA, the close button may be too small on some devices.
Hummingbird
Since Hummingbird can be labeled as a precursor to BERT, all the same SEO tactics can still apply. That said, because BERT essentially updated Hummingbird, you have to take both elements into account. As we mentioned, the point of Hummingbird was to look at intent over individual keywords. So, longtail keywords became far more relevant. If you're already optimizing for BERT, you should be good for Hummingbird.
Pigeon
Since Pigeon is all about local searches, you need to optimize for them. In fact, just about half of all Google searches are local, and that percentage is still trending upward. So here are some top tactics for making sure that you rank higher.
Capitalize on Your Google My Business Listing
Even if you're not actively managing your presence on Google, the search engine has your location indexed within the Maps app. Your Google My Business listing is where you can verify and update everything from your hours of operation, contact information, and address. If you haven't claimed your company yet, now is the time to do so. Otherwise, the data can be inaccurate or inconsistent with your website, which will ding your ranking.
Focus On Social Content
Google pays more attention to social posts and profiles more than you might imagine. For example, Facebook pages will often be the first listing for businesses that don't have a website. So, engaging with your audience and developing more content on your page can help your brand overall.
As with everything else, consistency is critical. Make sure that your contact information, address, and other details are the same on social platforms as they are on your website and GMB listing.
Pay Attention to Local Directories
Directories can include sites like Yelp and the Yellow Pages. If your information is inconsistent on those sites, it could impact your local search ranking. Fortunately, you don't have to reach out to all of these websites directly. Instead, you can verify your information with one of four different data aggregators. They are:
Express Update
Neustar Localize
Foursquare
Factual
When reaching out to these websites, you want to check everything, including all spellings and numbers. Any typo could impact your business listing, so you want to be as thorough as possible. You may also find duplicate listings, which you should tell them to remove. Otherwise, Google's index may get confused as to which one is correct.
Put Your NAP on Every Page
NAP stands for Name, Address, and Phone Number. For local searches, you want to make sure that these details are on every page. While not having your NAP won't hurt your rank too much, it's better to be consistent across the whole site.
Focus On Reviews
As always, Google wants to refer users to the best businesses and websites. So, the more reviews you have, the more reputable you are, and the more likely that you'll get featured. When soliciting reviews, keep these pointers in mind:
Don't Bribe Anyone for Reviews
While you want to tell people to review your business as much as possible, you can't incentivize them to do so. Even something small can taint the review process, which Google will not appreciate. Other sites like Yelp also have strict policies that prohibit "bribes."
Make It Easy to Review Your Business
QR codes, internal links, and constant reminders can make it easier for people to review your company. The fewer obstacles in place, the more likely that customers will follow through.
Respond to All Reviews, Especially Negative Ones
If someone doesn't like your business, be sure to reach out to them on the review page. Doing this shows that you're proactive about solving problems, which is often better than a one or two-star rating. The more often you can connect with reviewers, the more likely new customers will feel inspired to rate your business.
Create Localized Content and Pages
If you have a brick-and-mortar business, it's relatively easy to localize your pages. However, if you have multiple locations or offices, you need to create unique pages for each one. This way, Google won't get confused by different addresses and contact information. If possible, it's actually better to build separate websites for each location so that everything will be indexed correctly.
As far as website content, you should focus on locally inspired material. For example, blog posts about the area and mentions of your city will help Google index your site correctly for local searches. Overall, the more information you can provide for Google, the better your ranking. Plus, inbound marketing can help drive traffic to your site, which will also boost your position.
Get Active In Your Community
While external links on your own site are essential, they're not as valuable as backlinks. One of the best ways to get localized backlinks is to get involved with other businesses and organizations within your community. Charities, youth groups, and chambers of commerce are all excellent resources. If they mention your business on their websites or social media, Google will pay attention and rank you accordingly. So, the more active you are, the better your optimization.
Penguin
Since Penguin focused on penalizing websites with bad links, you should focus on your link structure and backlink catalog to ensure that you don't run afoul of the Penguin's algorithms. Here are some top tips for link optimization.
Pay Attention to Anchor Text
For the uninitiated, anchor text refers to hyperlinked words (like this). While you could use any words to link to an external or internal page, Google pays close attention to the anchor. So, if you're linking to a page about humpback whales, the hypertext should be over "humpback whales." Otherwise, Google will have to take more time to figure out why you're linking to that page. Ideally, all anchor text should use the primary keyword for the page it's linking to.
Be Careful About Duplicate Links
While you'll need to connect to the same internal pages multiple times, try not to overdo it. It's unclear how this affects Google's indexing, but more is not always better. Instead, you should be strategic about when and where to link to the same page. This strategy also holds true for external links.
Pay Attention to PageRank for Linked Pages
Google ranks all of the pages within your website. Ideally, each page will have a substantial score, but some will be weighted heavier than others. For example, the home page is often the primary resource with the most links. So, the pages that you link to internally should all have excellent ranks. If not, you should focus on optimizing them. This way, Google will value those links more and improve your overall position.
Get Backlinks From Reputable Sites
While you can't control who links to your pages, you can be proactive about it. One easy way to do this is by collaborating with blogs or other businesses. For example, if you work with vendors or rental companies regularly, you can feature them on your site, and they can do the same for yours. Building a strong backlink network makes you more noticeable to Google.
Run Automatic Backlink Scans
Scanning tools can tell you if shade sites are linking to your pages. Running these scans can provide valuable insight and let you know whether your network is good or bad. If you have harmful backlinks, you can find the source and see what's going on. Figure out why they're linking to you and ask them not to. Again, you can't control what other people do, but you can be proactive about link building.
Panda
While Penguin is all about your site's link structure, Panda focuses on the quality of your site content. As we saw above, Panda has gone through tons of iterations, illustrating how committed Google is to providing high-quality, relevant material to its users. Since content is king, let's look at a few ways to optimize your pages for Panda:
Focus on Keyword Sets
Even if you want to rank for a specific keyword, Google will also pay attention to similar words and phrases. So, even if your target keyword is "digital marketing," additional terms could include "for small businesses," "for restaurants," etc. If your content is too narrow, Google may not think it's as relevant as broader, more comprehensive pages.
Check Plagiarism
Even if you're referencing other websites, you want to avoid too much plagiarism. If much of your text is copied from somewhere else, Google will devalue your site and rank it much lower. If you're not sure, you can copy the text from an individual page and run it through a verification program like CopyScape.
Create Valuable Content
Google values relevancy more than anything else. As we mentioned, a big reason for Panda's debut was to combat content farms that churned out low-grade material. If necessary, it's much better to outsource your writing and content production to professionals. Yes, you'll have to pay more upfront, but it will yield better results in the long run. Better content drives more traffic, leading to a higher rank.
Add More Content to Thin Pages
If a page only has a few hundred words on it, Google will probably think it's not helpful. Ideally, each page will have sufficiently in-depth material to catch Google's eye. You may have to get creative with additional material, but it's better than a low page rank.
Remove Duplicate Content
While it's easy to copy and paste writing from one page to the next, doing so will hurt your ranking. You can use an automated scanning tool to see if any content is similar or identical throughout your website. If it is, be sure to change it as quickly as possible.
Fred
Since Fred doesn't refer to a specific update, there's nothing available for optimization. That said, "Fred" updates do refer to site quality, which should always be a priority. So, if you can maintain high scores for all of your Core Web Vitals, you should be good for anything that falls under the Fred umbrella.
Also, you can start paying more attention to Google updates and when they roll out. Doing this means that you can discover whether a new update affects your page ranking or not. There are automatic SEO tools that can check your current rank for various pages and keywords. These tools will notify you if your placement changes. If that notification coincides with a Google update, you can dive in and try to figure out what happened.
Get More From Your SEO With BizIQ
Optimizing for SEO is a lot of work. Fortunately, you don't have to do it all yourself. BizIQ has the tools and experience necessary to help you rank higher in searches and improve your site traffic.
Contact BizIQ and see how we can develop a long-term relationship for your digital marketing. Our SEO services team can keep your site agile and in line with the most current Google updates. Discover more about what we can do, and contact us today!