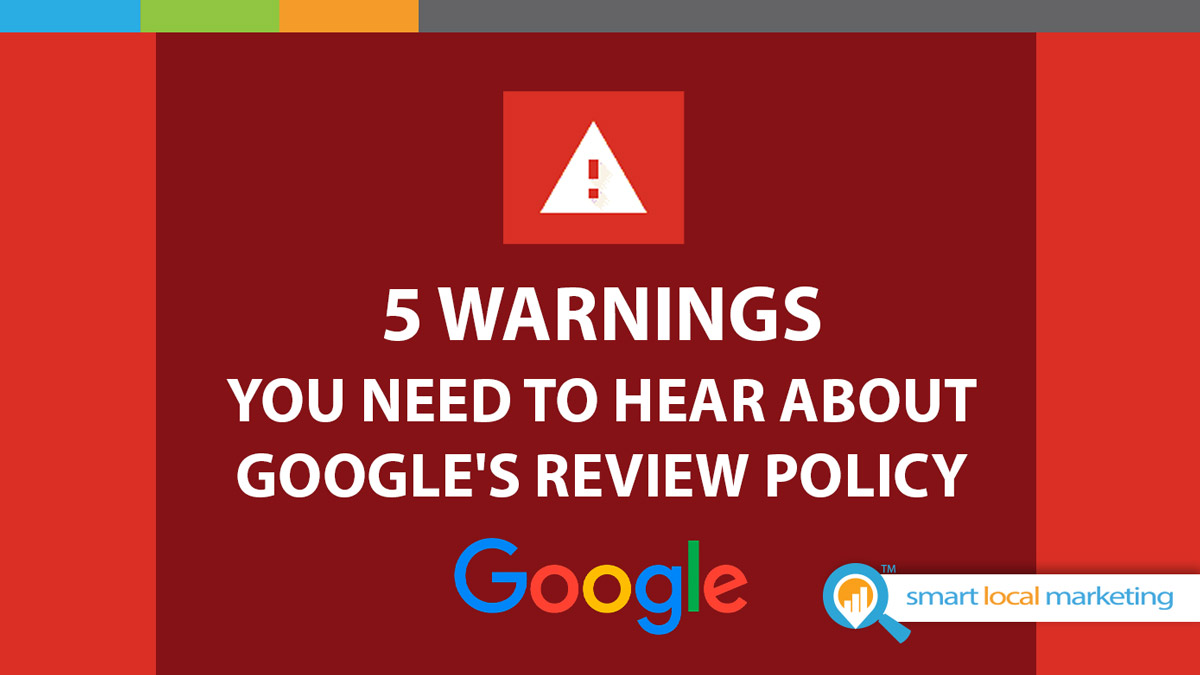 One of the best ways to boost your brand online is through positive user reviews. Unfortunately, most people don't take the time to leave comments about a business unless they had a bad experience. According to a recent survey, customers are 21 percent more likely to leave a negative review than a positive one. It's one of the golden rules – if you do your job correctly, no one notices or cares. 
Because of this disparity between positive and negative reviews, some companies will bend over backward to get customers to leave high marks on Google and other platforms. However, this process is kind of tricky to navigate since Google has some strict review policies. So, before you start hustling for those five-star ratings, be sure to keep these warnings in mind. 
1. You Can Solicit Reviews – To a Point
One of the best ways to get customer reviews is to ask for them. However, your request can't be too direct or suggestive. For example, asking someone to review your business after their purchase or service is fine. Asking for them to leave you a five-star review is questionable. While you can encourage positive reviews (if you like our service, please rate us on Google!), you can't discourage negative ones. 
2. You Can't Buy Reviews
Since online ratings can have such a profound impact on your business, you may be tempted to incentivize customers to leave positive feedback. If you're feeling extra industrious, you might opt to pay people to leave reviews, whether they've patronized your company or not. Unfortunately, this practice is both forbidden by Google and illegal, according to the Federal Trade Commission. 
The FTC has strict guidelines on this kind of solicitation, and it pushes back hard against businesses that do it. The FTC considers paid reviews to be "false advertising" and could slap your company with a hefty fine. Even worse, Google will take down all your paid reviews, so you'll wind up worse off than before. 
Another tactic that some companies have used in the past is running a contest for leaving a review. One example is a law firm that offered free zoo passes to clients who left a review. This practice violated Google's guidelines, so it deleted all the customer ratings.
3. You Can't Solicit Reviews "In Bulk"
While the specific definition of "in bulk" is somewhat open to interpretation, Google does offer a bit of leeway for businesses who want to encourage more customers to leave reviews. Here are some examples: 
Posting on Social Media

 – If you have a generic post on your wall that asks for reviews, that should be okay. Although your followers can see it, they aren't being asked directly. If you tagged a bunch of people in the post, that could violate the rule. 

Automated Emails

 – One excellent way to solicit reviews is to send a follow-up email to customers after using your product or service. Even though this process is automatic, it doesn't violate the "in bulk" definition because you're only sending one message to a specific individual. 

Mass Emails

 – On the other hand, if you send a review email to your entire subscriber list, that could be considered "bulk" solicitation. That said, it can be hard to prove, depending on the language you use and the size of your list. 
Overall, this rule is designed to prevent businesses from asking large groups of customers to leave a review. Instead, it's better to address everyone individually with an email or Google Review QR code on a receipt. 
4. You Can't Remove Bad Reviews
Although you can't prevent someone from leaving a negative review, what if you just took it off your Google My Business listing? This way, new customers won't see the bad ratings and only focus on the good ones. Unfortunately, this tactic violates Google's guidelines and is impossible to do. You can't remove reviews – only Google can. That said, if you think that a review is disingenuous or false, you can submit a claim to the Google Review team. 
5. You Can't Have Employees, Friends, or Family Leave Reviews
Finally, don't try to go for the easy reviews and solicit people you know. The problem with this strategy is that the reviews are going to be biased. Asking employees adds a whole other layer of violations because it could be considered a "quid pro quo" situation. Essentially, employees may think that they must leave a review or face workplace consequences. 
Tips on Asking for Google Reviews
With so many guidelines and restrictions, it can be hard to know what's allowed and recommended. Here are some top tips on getting more people to leave positive reviews on Google and other platforms. 
Ask Every Customer
As we mentioned, bulk solicitation indicates asking a bunch of customers at once. However, you can ask the same number of people with one-on-one interactions. Incorporate your Google Review QR code or link wherever you can – your website, invoices, receipts, and emails. When customers are reminded of leaving a review, they're more likely to follow through. 
Respond to Reviews
When customers can see that a business pays attention and responds to reviews, they'll be encouraged to leave more. This is especially true if you address negative reviews. For example, if someone has a bad experience, you can respond to them with a message to reach out to you directly. 
Make it Easy 
The fewer obstacles people have to face when leaving a review, the more likely they'll do it. Having your QR code handy is an excellent option since customers can just scan it with their phones and start typing. 
Do You Need Help Managing Your Online Reputation?
Managing a positive online reputation is crucial for growing your business. BizIQ has the tools and know-how to make it happen, so contact us today to see what we can do!