If you own a business, you should have a Facebook Business Page. It's a great marketing tool to help you get on peoples' radar. It essentially functions as a listings platform, like Yelp or Yellowpages.com, but has way more advantages.
4 Biggest Facebook Business Page Advantages
Why bother creating a business page on the largest social network on the face of the planet? Well, there are a number of good reasons to.
#1 Facebook Has the Most Users
Facebook has a lot more users than other listing sites because acting as a citation service is not its primarily function – it's a social networking site. Because Facebook is an established social media giant, people visit more often and spend more time there than just about every other website in the world. This means there's a greater chance of potential customers finding your page. People will come across your company due to similar interests, from one of their friends recommending it, or you can run paid ads to get more visits.
#2 Easy to Connect with Likeminded People
Similar interests could mean hobbies, activities, or careers, but it can also refer to any interested party. Some people will find your organization when they're looking for a product or service in effort to solve a problem they are having. You might offer exactly what they need, either in the form of a service/product offering or information, and if they wish to connect with your company directly, your information right there on your FB page for people to access. Of course, potential customers can also direct message you via the page itself.
#3 Organically Grow Your Following or Pay for Followers
People can find your page organically or you can create Facebook Ads that will target specific demographics. You can apply multiple filters to each ad to make it as broad or as narrow as you'd like; giving you more control over your paid presence than other PPC platforms. However, you don't have to buy ads in order for people to find your organization. By simply having a Facebook page for your company, you will gain exposure in the marketplace; all the while having complete access to the specific audience metrics your company can use to continue to grow.
#4 Virtual Word of Mouth
Word-of-mouth is still one of the most influential marketing tactics to impact people's purchasing decision. By having a Business Page on Facebook, people who enjoy your products or services can, and will, share it with their friends with just the click of a button. This is still a word-of-mouth recommendation, even though it's over the computer.
People can also ask for recommendations over Facebook. Their friends can then tag your company in the comments and they'll be able to go straight to your page and see what you're all about.
Also, customers can "check-in" to your business by sharing their location while they eat at your restaurant or shop at your store. This is yet another great word-of-mouth tool that happens to be online. They are able to talk about their encounter first hand, giving updates on the service and overall experience while still in the store.
How to Create Your Business Page on Facebook
Here's how to create a Facebook Business Page:
Go to Facebook.com.

Click "Create a Page" at the bottom, beneath the green "Sign Up" button.

Click "Get Started" beneath "Business or Brand".

Log into your account (or create a new account).

Enter the name you want for your page and select a category from the predetermined list by typing the first few letters that describe what your business is. Then enter your company's address, city, state, zip, and phone number (optional). If you'd prefer that visitors to your page don't see your physical address, select the "Don't show my address. Only show that this business is in the City, State region." box.

Add pictures! First, upload a profile picture (must be at least 180 x 180 pixels and any size over this that is a square image should look great). Next, upload an image for your cover photo (ideal image size is 828 x 465 pixels).

Congratulations! You've officially created your first page on Facebook! Here's what you should do next:

Familiarize yourself with the space. Click on "See All Page Tips" to get a tour and introduction to the features of your new page.

Add a description by clicking on the three-dot button. Write the most important but basic information about your company. This is what people will skim to see if they're interested in your services.

Click "About" in the left menu. Fill this section out completely, don't leave parts of it blank. This is the information people are looking at in order to make a purchase or to help them decide if they should do business with you. If your competition is giving more details in this section about operations (hours, location, phone, website, response time, etc.) visitors are going to go with your competition over you. We recommend you do not skip filling out this section.

Create a username – if you can, make it your business' name or as close to it as possible – and click "Create Username".

Add a story – click "Edit story" on the right side and put in a detailed story about what you offer and why people should choose you. Include a bit about how/why you started the business and give a reason to engage with your page/business as a whole.

Craft your first post! Do this before you start inviting people to show that your account and business are active. Visitors won't be inclined to stay on your page if it doesn't appear to be updated or interacted with much. A good idea for this first post would be to introduce yourself and maybe announce any special offers you currently have going on.
Now What?
Now that your company page is created it's time to start managing it well. The first thing you should do is begin engaging with people. You can do this by responding to comments, posting often (three to four times a week), and replying to people's direct messages. Remember that you can post videos, not just photos. Videos are a great way to engage with your followers and can bring them in on what you're doing in a more personal way.
Craft a Call-to-Action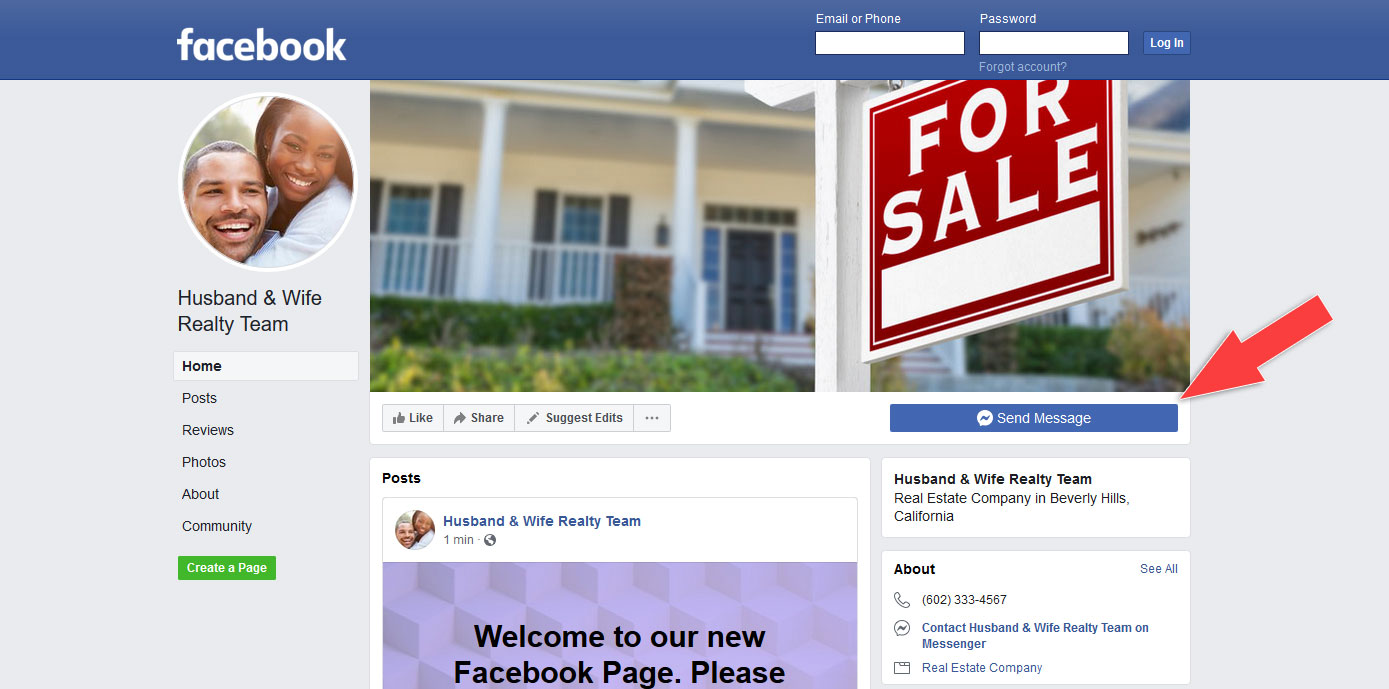 The next step to managing your page well is adding a call-to-action (CTA). This is going to look different depending on the type of business you run. The default one that Facebook uses is "Send Message" which will allow people to message you and ask any questions they may have. If you choose this as your CTA, it's important that you regularly go through your inbox and respond to these messages.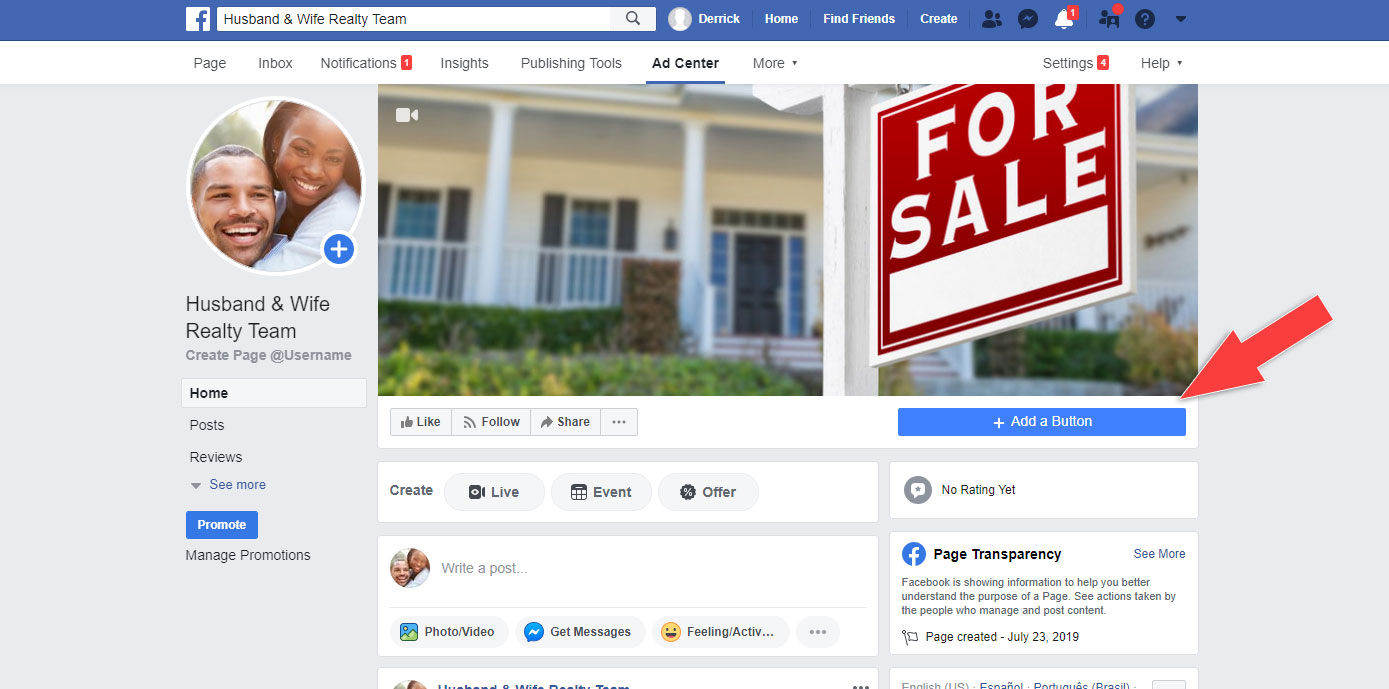 You can change the button if sending messaging isn't the most efficient way to learn information or do business with you. Other call to action options can direct them to your website, shop, app download, or to book an appointment. To change this, click the "Add a Button" button and choose which message you want to display. There may be additional prompts depending on which one you selected, just follow along with the directions they give you.
Pin Some Posts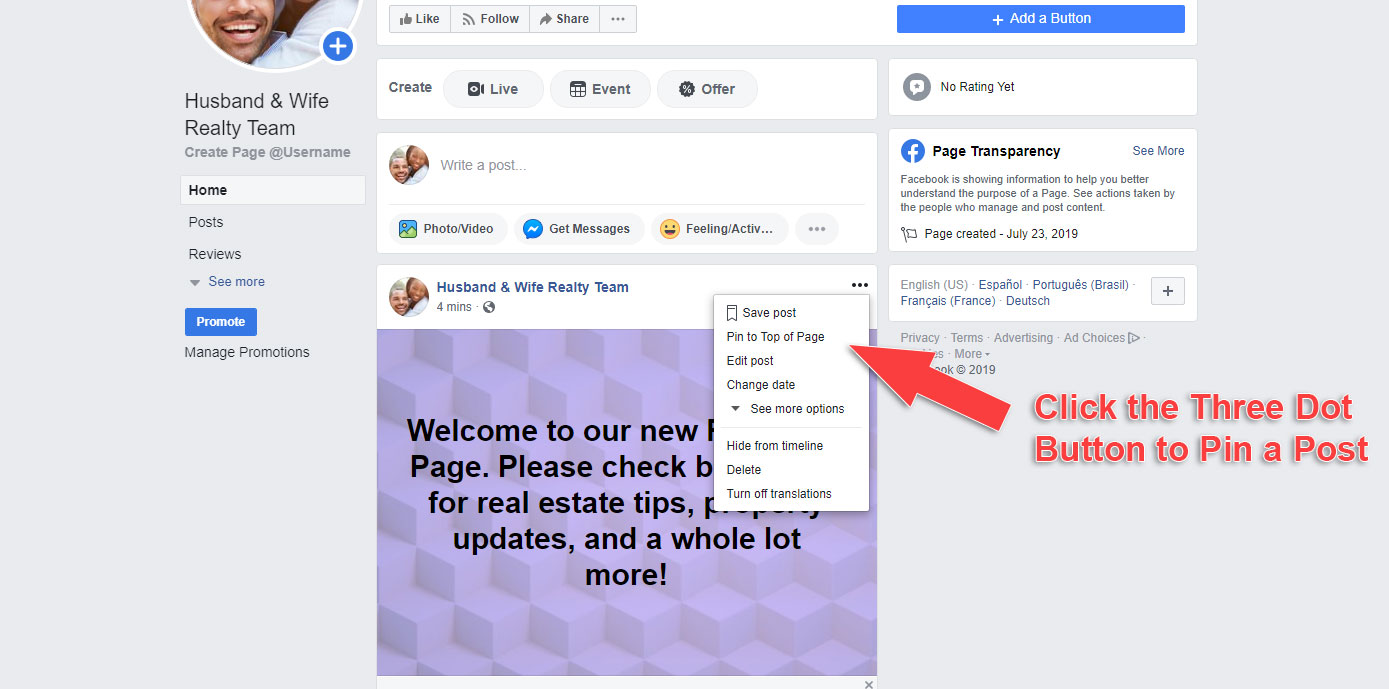 You can also add a pinned post to your timeline. This means you can choose a sticky post to always be the first one people see. For example, if the very first thing you post on your page is an introduction, you can pin that post so people visiting your page will see it rather than it being buried all the way at the bottom. This is helpful because it serves as an additional "about you" section and helps new visitors connect with your brand. Another good use for this is temporarily pinning a post if you have a sale or special going on. That way it doesn't get moved down in your timeline and people who visit your page will always know about it because it's up top!
Key Take-Aways
Creating a strong business presence on Facebook is important to engage, inform, and draw in new customers.
Facebook pages act like a listings service, but through a massive social network, that offers different online word-of-mouth recommendations. Setting it up might take a while, but it will be worth it when visitors decide to do business with you.
Once the initial setup is complete it's important to be managing the site regularly. Keep it active by posting often and make sure you're promptly answering people's questions and interacting with visitor's comments comments to help boost your customer service and perceived value to them.
Need Professional Help or Have Tips for Others?
Not having much success creating your FB page on your own? If so, no prob! Simply use the form below to reach out to our team of Facebook pros for some friendly advice. We'll even take care of the entire process, from start to finish, for you!
If you have advice or suggestions for how to best get a Facebook page up, running, and active, we want to hear from you! What have you tried on your business page that has worked and that maybe hasn't quite worked. Let us know and share your stories! And make sure you subscribe to our blog for more marketing tips!