Today's business world is highly competitive. Businesses that want to remain relevant and grow their revenues have to constantly come up with innovative ways of attracting new customers while retaining the existing ones. Marketing plays a crucial role in helping businesses to promote their products and services, maintain a healthy relationship with customers, ensure customer loyalty, and increase their market share.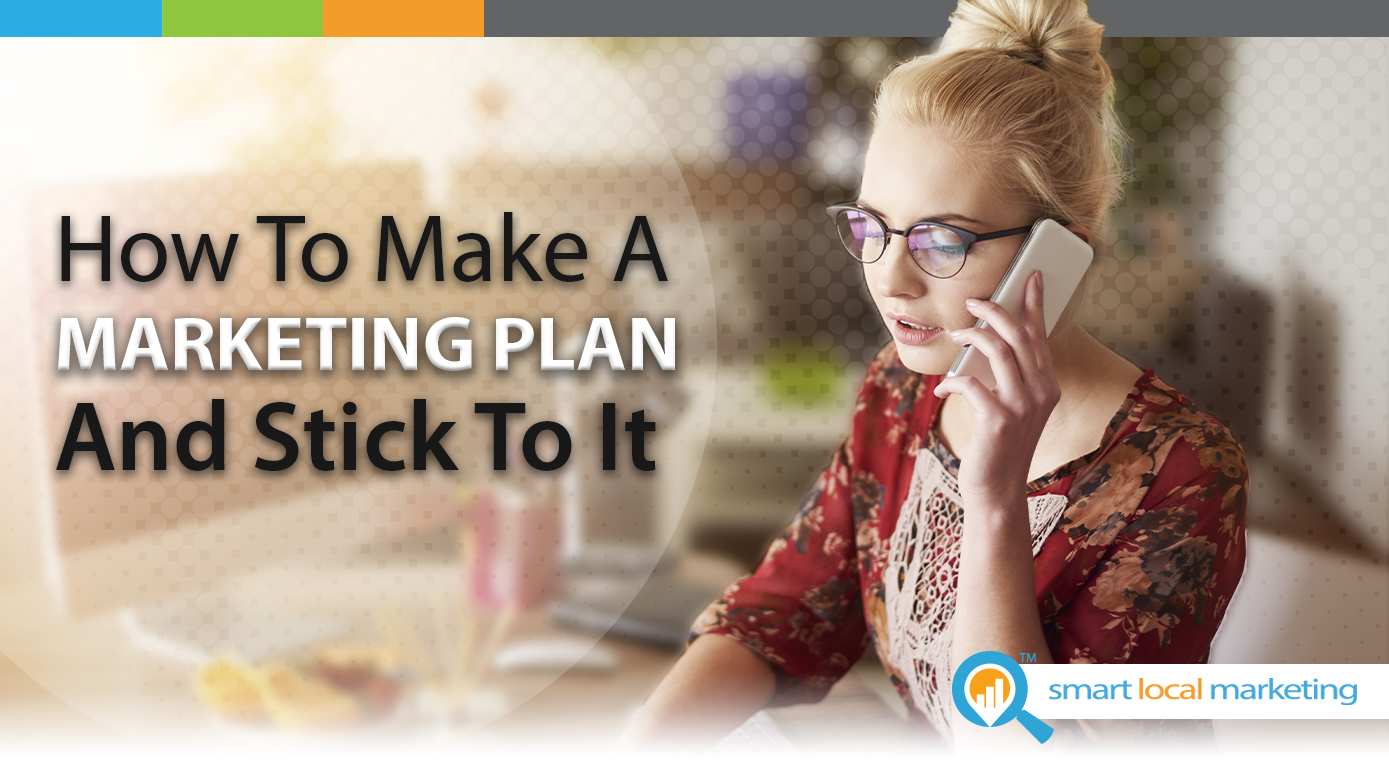 While there are many marketing channels and techniques for reaching different target audiences, it is important to have a roadmap for implementing the strategies and tactics. A good marketing plan is a clear roadmap that outlines the overall marketing effort, effectively defining how the company will use a combination of resources to achieve its sales targets, customer acquisition, and other objectives.
The benefits of coming up with a good marketing plan cannot be denied. However, it is equally important to stick to the plan throughout the process of executing your marketing campaign. Below is information on how to make a marketing plan and stick to it for amazing results.
What is a marketing plan and how is it important?
To be a successful business owner, you have to constantly promote your business so you can get more customers to buy your products. However, marketing can be overwhelming, a factor that makes it difficult to know where to start. Having a marketing plan will make your work easier and help you take your business to the next level. However, before rushing into making a marketing plan, you should first understand what exactly it is.
What is a marketing plan?
A marketing plan is an important business tool that outlines how a company's marketing strategy will be implemented. The comprehensive blueprint is the important missing link between the strategic direction of the company and the delivery of the desired results. It describes the various business activities that will help to achieve the set marketing objectives within a given time period. While there is no particular length or structure for the document, it should generally span one year. This period is enough to reach your long-term objectives and also short enough to allow you to adjust your goals depending on changing circumstances. With a good marketing plan, you will combine strategy and tactics to grow your business and achieve success.
Steps to build a marketing plan
Now that you know the basics of a marketing plan, it is important to understand how to put together the essential elements that make a marketing plan.
Know your business
The first step to creating a marketing plan is to evaluate the company's current situation. Since you know your business better than anyone else, you will have an opportunity to go into details regarding the status of your operations as well as the internal and external environment. A snapshot of the current situation will let you identify your strengths and weaknesses, opportunities for growth, and challenges you may face in your journey.
Determine the target market
In order to come up with effective and successful marketing strategies, you will have to identify your target market. Create a picture of your ideal customer in your mind and list down basic information about them. This includes demographic information like age and gender, as well as their purchase behaviors and decisions. Take time to understand their needs, where they seek information, and their challenges before identifying the right marketing strategies to use.
Analyze competitors
In the business world, companies are constantly competing for the same space and customers. When creating a marketing plan, you have to understand your competitors so you can work on ways to differentiate yourself from them. Describe your product or service in detail, taking time to identify what makes you different and how the product matches up to your competition. Regardless of how successful your competitors may be, gathering relevant information about them will help you develop ways of tackling competition-related challenges.
Set goals
Once you are aware of your current situation and the target market, you should proceed to spell out your marketing goals. Make sure you include both lofty and smaller ambitions regardless of whether they seem possible or not. Do not worry about the logistics since you will handle that when outlining strategies.
Outline strategies
Your strategies will describe the actions that need to be taken in order to move your business from the current state towards the set goals. With the importance associated with this link, you should take each goal separately if you are to come up with the right strategies. This will also allow you to identify realistic goals and those that need a little adjustment. Clear and well-defined strategies will give you the motivation you need to work towards growing your business and achieving your marketing objectives.
Forecasting and budgeting
Forecasting and budgeting involve numbers, one of the most important aspects of running any business. Building a marketing plan involves detailing the financial side of marketing related activities. Spell out how much you would want to spend on marketing and advertising, taking time to list each of the activities and how much it would cost. You will also have to identify where the money will come from and estimate revenues and profits.
Monitor and adjust
Monitoring involves putting everything together to ensure that the different activities you embark on will work in harmony. Assign resources to various activities and implement your strategies to reach the target audience. As you do this, you will have to monitor and measure progress continuously. Continuous monitoring helps you to know whether your efforts are bearing fruit and areas where you need to make adjustments.

The Importance of a Marketing Plan
Creating a marketing plan is an exercise that should be taken seriously. In essence, a marketing plan is an important business tool that can put your business on the path to success. Here are some benefits of the document.
A view of your company's current situation
One of the reasons why a marketing plan is important is because it gives you a good view of your company's current situation. You will get to know how far you have come, the business structure you have been using, get another look at the products or service you offer, and understand the kind of people who benefit from your product. It also allows you to know where you stand compared to your competitors so you can systematically reflect upon the future.
You get to know who your customers are
Apart from knowing what your business is, a marketing plan enables you to know your customers better. In this way, you will be in a better position to develop marketing strategies that are aimed at meeting the needs and solving the problems of your customers. The plan provides the focus you need to work on reaching your customers, staying ahead of the competition, and increasing your market share.
Communicating value in a consistent way
A marketing plan defines how you communicate value to different stakeholders. It goes further to help you maintain a consistent message that lets people know exactly who you are. These include employees, salespeople, marketing agencies, contractors, and customers. A consistent face in the market helps to build confidence and ensures your business is accurately represented in matters of sales and marketing.
Helps you to plan and manage resources effectively
Any marketing campaign takes a significant amount of money, making it important for businesses to set aside a marketing budget. In order for businesses to realize a return on investment, proper planning and utilization of resources are critical. A marketing plan allows you to understand the kind of budget you need, the specific activities required, and the level of resources needed to deliver results. With a clear marketing plan, businesses will use their time and financial resources more effectively.
Setting goals and defining success
A marketing plan helps you to define what success looks like for your company and makes it easy to measure that success. As such, it is important to outline the metrics you will be using to measure the success of your marketing campaign from time to time. In this way, you will be able to identify the activities that are doing well and which ones need tweaking for greater success.
A way to stack up against the competition
By giving you insights into your competitive landscape, a marketing plan makes it possible to come up with ways of competing effectively against similar businesses. In the event that your competitors do not have a marketing plan, your clear vision will help you win in your space. You will know where you need to win, how to promote your company, and the efforts to direct to specific activities.
You exude professionalism
A clear understanding of who you are and who your customers are makes you exude professionalism and confidence when talking about your business. You will also know the needs of your customers and how your products help to address these needs. This allows you to focus your energy, time, and money on reaching your target customer base. By exuding professionalism, potential customers are likely to be interested in transacting with your business.
What Should a Marketing Plan Include?
Every marketing plan should fit the situation and needs of the business for which it is created. While the information and details in marketing plans may be different, there are certain standard components that you cannot do without. Before you start designing and writing your marketing plan, you should know what the necessary parts of the document are. This will guide you and go a long way in ensuring you build a marketing plan that benefits your business.
Here is what any marketing plan should include.
Simple executive summary
A marketing plan is not only a business tool that outlines how your business will achieve its marketing objectives but also a way to communicate with different stakeholders. As such, it is important that you start the document off on the right foot. One of the best ways to get people interested in reading your marketing plan and make them part of the process is to have a short executive summary. This component should be an introduction to your brand, company goals, past marketing successes, future plans, and other important details. The executive summary should also set the tone for the marketing plan, ensuring that readers remain interested in reading on.
Mission statement
As you introduce your business to the stakeholders, it would be important to provide an overview of the business. This is what is referred to as the mission statement. This part will be a few sentences about your key market, which refers to the people your business sells products and services to. It should also include information on what exactly you are selling, commonly known as contribution. Another piece of information to include in the mission statement is the distinction, or simply your unique selling proposition. The mission statement lets people know what they are getting involved in as they become part of your journey to market domination.
Market research
There is no doubt that your business is in competition with similar businesses for the same space and customers. When creating a marketing plan, you will need to collect, organize, and list down data on the market to which you are currently selling your products. You will need to include important details, such as market dynamics and patterns. In addition, you should describe the kind of products that are available in the market and what the competition is offering. Important marketing research information will also include current sales in the industry, benchmarks in the industry, and possibly the vendors you will need to rely on.
Target user personas
While this may not seem like an important part of the document, it holds great value. Since you will be looking to find ways of getting the right visitors to your business, you will have to define who your ideal customer is. As much as businesses have different types of target users, some of the issues you have to identify are the demographic traits, habits, and goals of your existing and prospective customers. The information you collect will go a long way in helping you to identify their problems and offer insights into how you can help to solve them.
Accurate competitive analysis
Another critical component of any marketing plan is research on and a clear understanding of your competitors. Apart from knowledge on who your competitors are, you should be aware of what they are doing. This makes it easy for you to carve a niche for your business alongside them and ultimately surpass your competitors. Some of the details you may want to know about your competitors include their leadership team, their marketing strategy, their sales strategy, their market financials, yearly growth, and the number of customers they have. In the end, it is important to remember that there are times when your competition will not be in the same industry as you.
Key baselines
No one knows your business better than you. However, evaluating the business puts you in a great position to create the right marketing strategies. Without knowing where your business stands right now, it will be difficult to plan for the future. You will also not have something with which to compare your future results. Setting baselines makes it easy to track your progress so you can know what works and what does not, a factor that lets you build a stronger marketing strategy. Knowing the current situation of your business gives you a clear picture of how far you have come, your strengths and weaknesses as well as the growth opportunities available for you.
Positioning statement
Once you know the status of your business and understand your competitors, you should define what will set you apart from the competition. Through the positioning statement, you should outline how you intend to present your products and services, so you can attract more customers and dominate the space. Essentially, it means describing what your business will do better than anyone else and the specific steps you plan to take to distinguish yourself in the market.
Metric-driven marketing goals
Without clearly-defined goals, it will be hard for people to know what they are working towards. It will also be impossible to measure progress or to remain motivated. As such, why you should establish quantifiable goals that can be turned into numbers. You should also take each of your marketing goals separately and list them down. Make sure your marketing goals are as specific as possible and are designed to help increase site traffic, ensure more conversions, and enhance customer loyalty. While you may be in a position to visualize the marketing strategies, every member of your team should understand what they need to do to help achieve the collective goals.
Actionable marketing strategy
Once you have defined your goals, you will need to spell out how you will move from where you are to where you want to be. This involves coming up with a marketing strategy that includes information on actions that have to be taken and the resources needed to deliver the desired results. However, marketing strategies can be complex and confusing, making it necessary to break it down into several stages. Make sure you break down the strategy into smaller actionable tasks that are easier to tackle, ensuring that each member knows their role and responsibilities.
Budget and planning
Budget and planning are important components of a marketing plan. Generally, no marketing campaign will be effective or successful without a proper marketing budget in place. You should be clear on where the money required to execute the campaign will come from, how it will be allocated to the different activities, and state your forecasted revenues from the marketing exercise. Budgeting will not only ensure that marketing activities go on smoothly but also help people to understand the value that the promotion will add to the business.
Results tracking guidelines
The marketing plan will not be complete without a brief explanation of how you will track progress and measure results. While it is up to you to decide how detailed this section will be, you should specify what you plan to track, how you intend to track results, and how often you want to be measuring. Tracking will go a long way in helping you to determine whether your marketing campaign is on the right track. You will also know techniques that are working and those that are not. In this way, you will know the adjustments and changes you need to put in place to achieve your goals.

I have my plan. How do I keep to it?
When it comes to achieving your marketing goals, having a marketing plan alone is not enough. Marketing plans are meant to be tools that businesses use actively as opposed to documents that sit on shelves or desk drawers. You must come up with ways of implementing the plan and stick to it. If you are to implement your long-term marketing plan and resist the temptation to abandon the original strategy, it would be important to be consistent. Here are tips to help you keep your marketing plan.
Set the right expectations
Marketing is not a quick fix, with the process of implementing a marketing plan being more of a marathon than a sprint. Therefore, you should set the right expectations if you are to stick to the plan and achieve the results you desire. It takes time and effort to lay the right foundation and see the momentum you want to see in your business. When implementing your marketing plan, you should ensure that your company leadership and team understand that success takes time. Setting these expectations early on will help to bring everyone on board and ensure you stick with the plan.
Communicate the plan
Your marketing team will play a central role in ensuring that the implementation of the marketing plan is always on track. As such, you should start by communicating the marketing strategy to members of this team. Make sure that they understand both the strategy as well as the set goals. Proper communication will help every member of the team to know the role they have to play in the implementation effort and the contribution they will make to the overall success of the plan. When the entire organization feels like they are part of the process, there is a good chance that people will make sure their actions are in line with the larger plan.
Take action every day
Success is a series of small wins. What this means is that achieving your goals will require that you take small actions continuously over time. One of the best ways to ensure you stick to the marketing plan is to follow your schedule and complete all the actions you are required to complete on a given day. At the end of every week, team members can take time to review progress and give themselves a grade for their effort. This makes it easy to identify challenges and keep people motivated throughout the process.
One marketing project at a time
It is already clear that a good marketing plan should include a part that breaks the strategy into smaller actionable parts. Rather than trying to work on too many things at once, you should focus on one project at any given time. When your team concentrates on a single idea or objective, there is great power and a better chance of getting the job done. Find out which projects need to be given priority and work on them first before moving to the rest. Working on one project at a time will not only make it easier to accomplish tasks but also allow you to monitor progress after the completion of each task.
Build out timeline and tasks
The importance of working with a clear timeline can never be denied. In case you had not included a detailed project timeline in your marketing plan, building one will go a long way in helping you to stick to the plan. Creating deadlines will make the project manageable, a factor that will ensure your team delivers on the tasks assigned to them. With the sheer amount of work that goes into implementing a marketing plan, deadlines will help to stay on top of the projects. It will also contribute towards ensuring that you stick to your marketing plan.
Ask yourself the right questions
There is always the temptation to deviate from the plan when implementing your marketing strategy. While most people think about their goals, they do not focus on what it takes to reach them. It is perfectly okay to think about your goals as you direct your efforts towards achieving them. However, part of ensuring you stick to your marketing plan is to ask yourself good questions. These include how and what needs to be done to make them come true. Rather than making statements or wishes, asking yourself these questions will allow your subconscious to respond to them effectively. In this way, you will always remain focused on achieving the goals, a factor that will help to keep you on track.
Stay close to your ideal client
One of the primary objectives of any marketing campaign is to attract new customers and retain the existing ones. This is why you should keep yourself updated on the things that matter to your ideal client. Some of the ways through which you can get this information include surveys, networking, online community forums, and trade magazines. You should also make sure you are on top of the news so that you can analyze how the changing world and business environment will affect your customers' needs. Staying close to your ideal client in this way will constantly remind you of the important things that your marketing plan can help you achieve.
Keep your eyes on your competition
Today's business world is characterized by high competition among similar businesses in the same industry. When executing a marketing campaign, you will be looking to increase your market share, remain relevant, and stay ahead of the competition. The moment your customers feel that you no longer offer a competitive advantage in addressing their needs, you will lose out on the market as your competitors win. One of the reasons why this may happen is because you stopped keeping up with what competition is doing. If you want to maintain your focus on your marketing plan, you should keep finding out what your competitors are doing and the progress they are making. Monitoring your competition will help you carve out and dominate your niche.
Monitor and track success regularly
Generally, a marketing plan will have a span of one year, a period during which you can set long-term goals while enjoying the flexibility of making adjustments in case circumstances change. When creating your marketing plan, you will build a measurement dashboard that allows you to input the necessary information when implementing your plan. A measurement board helps you to establish whether your marketing efforts are producing the results you want. At the very least, monthly check-ins should be done to find out what is working and what is not. Every time you are monitoring efforts, you should consider meeting with your team to go over the progress they have made. This helps to remind everyone what needs to be done and how things are going.
Communicate results and celebrate success
Effective communication will play a critical role when it comes to putting your marketing plan and strategy into action. If you want to stick to your marketing plan throughout the period of implementing it, you should communicate results and celebrate success. Every small win is important, and celebrating it will boost the morale of your team. As you celebrate success, you should consider rewarding team members as a way of encouraging them to stick to the plan. In the event that things do not work, you should communicate this as well. This window will afford your team to share their views, generate new ideas, and draw the inspiration they need to stay on track.
In the end, it is important to remember that the marketing plan is not cast in stone. As much as it is important to keep to it, there are times when you may need to make a few changes. Change may be occasioned by varying circumstances or a realization that some aspects of the strategy are not working as expected. When implementing your marketing plan, you should be ready and willing to adapt. This way, you will mak
e the necessary adjustment without spending too much time on the challenges that come up during the implementation process. Working with a marketing expert will also go a long way in helping you to achieve your marketing goals. At BizIQ, we offer a wide range of digital marketing packages and services to ensure your marketing efforts take your business to the next level.