With the Internet becoming the first source of information that customers turn to when they are evaluating a business'services or products, your companys online reputation can be a fragile thing. We've talked about this before in our post the Evolution of Word of Mouth. Reputation management should be a part of your regular marketing program to ensure there are more positive comments about your company than negative ones. The following tips will guide you on how to protect your business reputation from negative online reviews using good reputation management: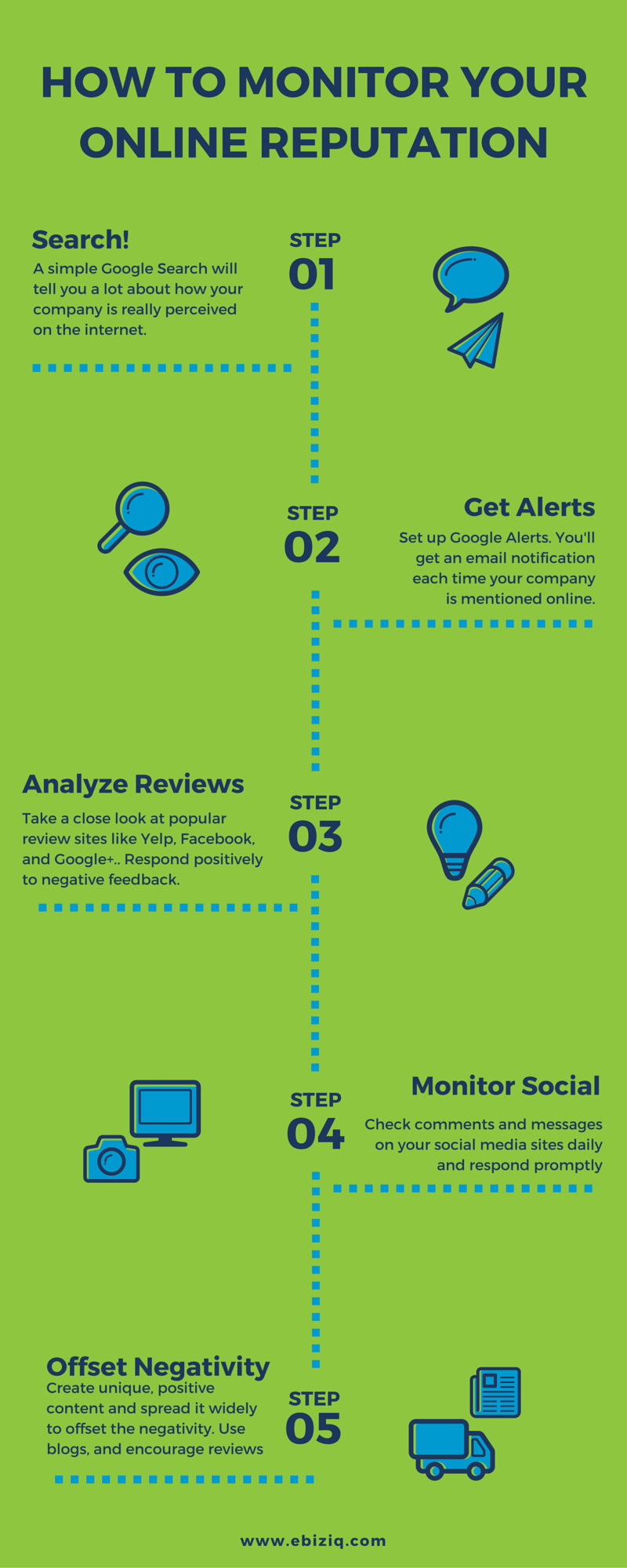 Search your companys name
To find out what people are saying about your business,the first thing you need to do is search your company's name on sites such as Google, Yahoo and Bing. Use the exact title of your business as well as common misspellings.Also, do an image search of you company's name to see what images are posted. By conducting these searches, you will have a good idea of what results people are seeing when they search for your company. Hopefully this is dominated by positive online reviews and accurate information.
Sign up for alerts
Now that you know what is being said about your company online,you will want to be notified if this changes in any way. Set up a Google Alert for your company, which will provide you with email alerts anytime your business and its products and services are mentioned online.
Analyze review sites
Don't overlook what people are saying about your business on online review sites such as Yelp. If people are complaining about your products or services, look at this as an opportunity to improve your offerings and take corrective action. You can update this change in business on your company website to get the word out. It may not be worth responding to excessively negative online reviews, as this will engage the comments and drive search engine traffic to these interactions.
Monitor social media
Sign into your social media accounts daily and track customer comments and questions. Respond to them promptly before they blow up into bigger issues. If you don't have the time to monitor and respond to your social media sites,consider a reputation management company to help you with this. There are also fee-based social media management packages and tools that will help you work with your social media accounts more easily.
Offset the negative content
If you have negative content showing up in search engine results, you can combat this by creating unique web content that highlights your company's products and services. Start a blog or a YouTube channel to highlight the benefits and outstanding qualities of your business. Building up interesting and relevant positive content will help move these links to the first page of results on sites such as Google and take attention away from the bad content that you want to minimize.
The success of your business relies on your online reputation and should be the main reason to undertake reputation management for your company. BizIQ offers a way to filter out the negative online reviews through its built-in reputation management services. This is offered with all our services as a way to make sure your business' reputation stays intact.