Robocalls and phone scams are on the rise. According to the FCC, consumers receive approximately 4 billion robocalls per month. And in August of 2023, the agency imposed a record $300 million fine on a transnational illegal robocalling operation.
Business owners are no strangers to the world of scam calls, and among the most prevalent scams is the one perpetrated by companies posing as Google. These fraudulent entities often reach out to business owners, promising to manage their Google Business listings in exchange for a fee. All business owners should know that Google won't call you unless you've asked them to.
We've reported on the issue before, and gone into all the ins and outs of being able to tell if a call is coming from Google, when it's coming from a legitimate digital marketing company, and when it's a scam.
But how do you get them to stop?
Why Does Google Call Businesses?
Google usually won't call you unless you've asked them to – often related to the verification of your Google My Business listing.
Typically, you may get automated phone calls from Google to the business owner's phone number on your Google business listing.
These calls generally cover Google user-related services like appointments or to confirm business hours. You may also receive a call from a Google operator for customer support and service purposes, ad development, and other Google accounts you may have.
Google does use automated calling to perform many of these calls. You can recognize Google verified calls because they come from a designated series of numbers starting with 650-203-0000.
Remember, if Google is calling you to verify information about your business, it helps you get more customers because when people find you online, they will find the correct information about your business.
How to keep scammers from calling your business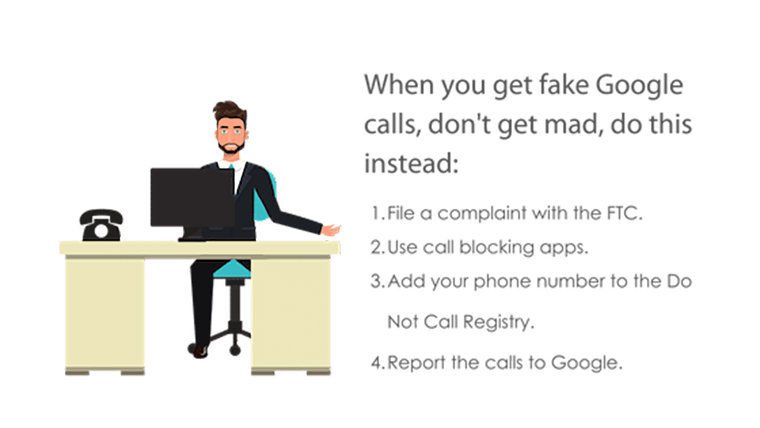 What can you do about the unwanted calls about your Google business account or Google login?
In 1991, the US Congress passed the Telephone Consumer Protection Act (TCPA) to help reduce telemarketing calls, and they revised the act again 20003 and 2012, each time making it tougher on robocalls.
As a result, there are many things you can do to diminish or cut down on the frequency of these calls.
Want a trusted agency to do it for you? Learn more about local citation management services.
1. Report Robocalls and Fake Google Call to the FTC
File a complaint about any unwanted calls with the Federal Trade Commission or FTC. You can make a formal complaint by going to donotcall.gov or call 1-888-382-1222.
You can register both your landline and cell phone with this service. If you're getting calls on your personal phones, those lines can be registered as well.
2. Block the numbers or use Blocking Apps
You can also block nuisance phone numbers on your phone. Some phones have call blocking built in, and your cellular service provider can have specific numbers blocked.
Some providers, such as T-Mobile can identify when a call is likely a scam or spam and display the phrase, "Scam Likely" on caller ID instead of a phone number. There are also apps you can use that help block phone spam.
3. Add your mobile number to the Do Not Call Registry
You can add your home, and cell phone numbers to the National Do Not Call Registry. Most con-artists won't respect the list, but adding eligible phone numbers should help reduce the amount of unsolicited automated phone calls you receive.
4
. Report Fraudulent Activity to Google
Google My Business Support has a complaint form where you can report violations against their third-party policies.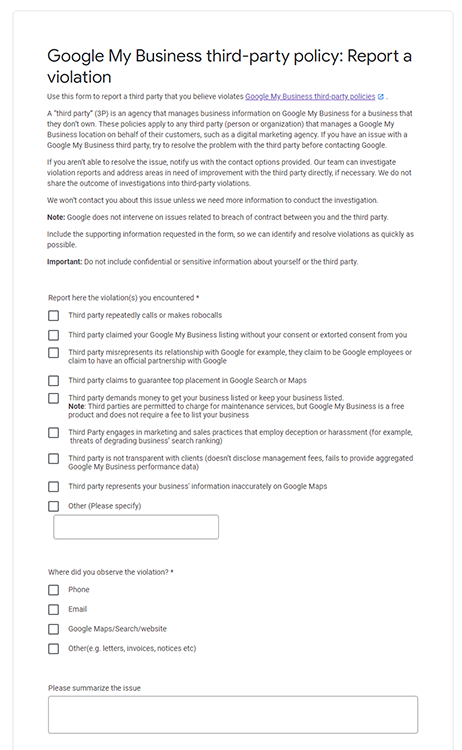 To report unwanted robocalls:
Scroll down the page to the section "Help us track down scammers."
Click on the link to the web form to report the calls
Check the first box
Check the box to indicate the violation occurred over the phone
Describe the problem in as much detail as you can.
Enter your name, email, business name, address, and phone number
Enter your relationship to your business – e.g., Owner
Provide a link to your Google Maps listing
Name of company who calls
Their website if known
The phone number they call from
Click submit
What's Google's Stance on Fake Google Telemarketing Calls?
Google is fighting back by taking legal action against marketing firms that illegally use their name.
The Google robocalls lawsuit involved companies that targeted small businesses by informing them that their listing on Google Search and Maps would disappear or show up as closed if business owners didn't return their calls.
As recently as May 17, 2019, a federal judge approved settlement agreements or default judgments involving 11 defendants who were part of the "Pointbreak Media robocall scheme" where they called businesses claiming to be Google.
Stop fake Google listings calls
Education is your biggest defense when it comes to understanding which Google calls are legitimate.
Report unwanted scam calls to Google and the FTC, add your personal numbers to the DNCR, and block the numbers you can. You won't stop every robocall, but you'll significantly reduce the number of phone calls from people claiming to be Google who are not.
Your next line of defense is to make sure you've claimed and verified your Google listing. It might not eliminate the illegal robocalls, but it will help.
Do you get unwanted calls from Google?
Tired of the fake telemarketing calls from scammers pretending to be Google? If you need assistance with your Google My Business campaigns and need a consulting ear to rely on, BizIQ can help. Contact us today and see how BizIQ can help with your local citation  management, reputation management and local search engine optimization!