Your small business might have an incredible product or service, rock-star employees, and incredible values—but without enough customers, it will struggle.

Keep reading to discover valuable tips for finding more customers by focusing on online marketing for your small business. You'll also learn answers to the following questions: What is a local online marketing package? What makes for a good online marketing campaign? And how can my business get started?
What Is Local Online Marketing?
Put simply, local online marketing works by targeting potential customers in a specific area. It has the goal of reaching the people who are most likely to be interested in your company. It also allows companies to focus their advertising budget in a concentrated geographical location.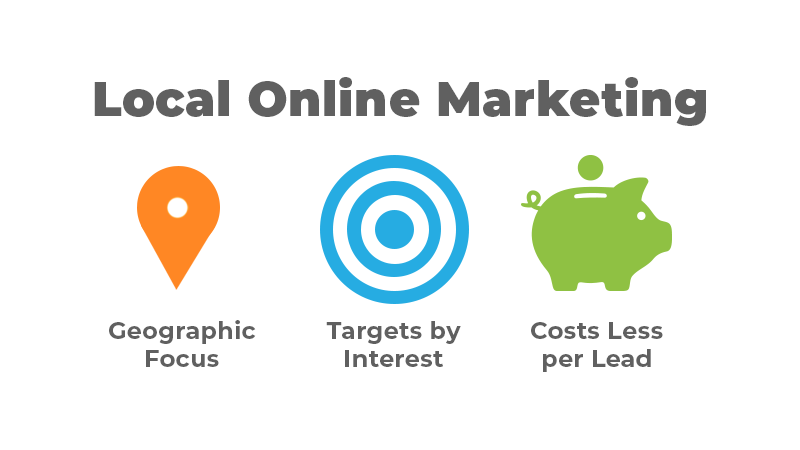 Compared with other methods of advertising, local online marketing can be more potent and cost-effective. For example, a billboard on a highway may be passed by thousands of people a day—but the vast majority of those people may not be looking for what the billboard is advertising, and even if they are, they may not be from the area the business is located. A TV commercial may air to even more viewers, but reach few people who are actually interested in or located near the business.
In contrast, the goal of local online marketing is to draw attention from people who need a business's product or service in that business's area.
What Makes a Good Online Marketing Campaign?
A good local online marketing campaign contains many key components, including the following.
Targeted content:

Perhaps the biggest advantage local online marketing has over other methods is that it allows your business to spend its budget on reaching the people most likely to purchase the products and services your small business specializes in.
That means taking into consideration specific demographics, locations, and needs of customers before blasting out efforts to reach them. It also means using search engine optimization (SEO) to make your business visible when people search for it.
For example, if a business provides plumbing in Denver, Colorado, SEO can help make that business pop up when people search for topics like "plumber in Denver" or "Denver plumbing services."
A great website:

A key goal of online marketing is to drive people to your website as well as your company, so it should look great and be useful when they arrive.
Think of your business's website as its digital storefront. In the real world, if a storefront looks vague, uninviting, or outdated, customers are less likely to walk in the door.
The same goes for a website, so it is essential to have an up-to-date website that makes it easy for your customers to find what they're looking for. Key information includes what your business does, its location, and how potential customers can get in touch.
Optimization for mobile users:

 More people than ever are likely to look up your business on their phone. That means it is essential that your website is easily readable on a mobile screen.
Even if your website looks great on a desktop computer, its mobile component may appear cramped, unusable, or frustrating. Every time a customer gives up on a lacking mobile website, the business loses potential income. Conversely, a slick, useful mobile experience can help impress and entice customers.
Multi-platform reach:

Not every potential customer is on Facebook. Not every potential customer is on Twitter. Not every potential customer is on Instagram.
These "not every potential customer…" sentences could go on and on, but the point is that to reach the greatest number of potential customers possible, you need to publish information on several platforms.
How Can My Business Get Started?
If you would like to improve your customer's ability to reach local customers, you're in the right place: BizIQ can help! BizIQ provides a wide array of services designed to help businesses reach more customers, including video marketing, website and social media management, SEO, and more. To get in touch, send a message through our contact page or give us a call at 480-685-9433.