Google seems to be slowly rolling out or testing a new Google My Business feature. At about 10 am this morning, Local Listings Specialist Team Lead, Cassidee Gregory noticed something interesting in a BizIQ client's Google My Business dashboard.
It was a button that read Services. When she clicked on it, it took her to an option for adding services or items and prices.
We decided to do a little detective work ourselves.
First, we tested the feature on a willing client's business listing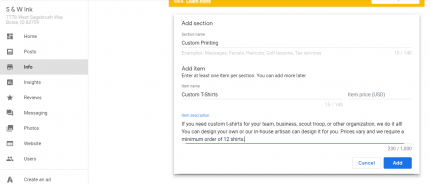 So Local Listings Specialist Manager, Danni Petersen got permission from our client, S&W Ink, a custom printing business in Boise, ID to find out where the information would show up and here's what Danni and I found when we searched on Google and Google Maps on a desktop computer as well on the mobile Google Maps app for Android and iPhone on our smartphones. Google likes to test and roll out new features on mobile first, so we found nothing when we searched with our desktop, but when I opened up Google Maps on my iPhone we discovered this: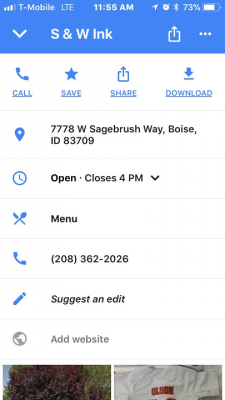 At first, it looked like the service item posts weren't displaying
Then Danni and I noticed the menu line. That seemed odd for a non-food service related business so we clicked on it and found the custom t-shirts service we'd entered on our client's Google My Business Dashboard.
It looks like Google could be adapting the menu feature it added in February for restaurants to other types of businesses.
Back in February, you may remember that Google added a feature within Google My Business which allowed restaurants to create and edit a structured menu within Google My Business that then displayed in mobile search listings. I'm pretty sure that what Google is doing is testing an adapting the feature for other types of businesses and that's why Cassidee noticed the addition for our client and why Danni and I could add a service and product description for that client as well.
What does this mean for your small business?
Google likes to roll things out very slowly. It's possible they're only testing this feature on an extremely limited number of businesses and that it won't ever be fully rolled out. Or they may officially release it everywhere next week. With anything Google does, it's almost impossible to predict.
My prediction is since the term menu, or at least the term menu with a knife & fork icon next to it won't mean much if anything to consumers searching for non-meal related services that Google is working on a new name for the feature or will call it something else in non-food service industry business listings.
But if this feature does become official it has the potential to be a powerful tool for small businesses like yours. Plus it will be an even greater incentive for business owners to make sure their Google My Business listing is up to date and fully optimized with the right type of information so potential customers can make a quick decision as well as contact your business as soon as they discover your business in a Google search.
We'll keep you posted as we learn more and as Google makes the feature available to more businesses as well as within Google searches on non-mobile devices.
We want to hear from you!
What do you think this new Google feature could mean for your business? Will you use it if it becomes available? Let us know in the comments below.