Google has been testing a Beacon program for businesses using Google Adwords (soon to be renamed Google Ads in July 2018) with a location extension.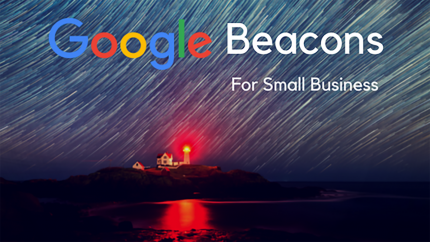 Officially your business must request a beacon, but recently Google has quietly started randomly sending beacons to businesses, including Barry Schwartz, Executive Editor of Search Engine Roundtable. So what exactly are Google Beacons and if you received one from Google, how does it work and what are the benefits for your business and for your customers?
Why did Google send me a beacon? 
If your business received a mysterious looking package from Google that contains a small light gray cylinder and some instructions, don't panic. It's one of the Google Beacons from their Project Beacon and it's part of a new program to help your small business connect with more customers. You won't be billed for the beacon and using the Google beacon won't increase your total Google advertising costs.
Google says they're sending them to some businesses who they believe will benefit from them. If your business received one, it also means that you're already advertising with Google. However, if you haven't received one from Google and would like to request one, you need to fill out and submit this online form.
What are Google Beacons?
If you're a super nerd like me, when you hear the word "beacon," you probably immediately picture the scene from Peter Jackson's film adaptation of JRR Tolkein's "Lord of The Rings" trilogy when Viggo Mortensen as Aragorn shouts, "The beacons are lit! Gondor calls for aid!" Or maybe you think of bacon because beacon sounds like bacon.
Google Beacons are low energy Bluetooth devices.
All kidding aside, Google's beacons are actually a lot like Gondor's beacons in that they send signals to your customers in a similar way that the signal beacons alerted Aragorn and the Fellowship. Beacons use low energy Bluetooth which is similar to but not the same as the Bluetooth connection you use to connect your cell phone to your car stereo but unlike that Bluetooth, your customers don't have to pair their phones to your Google beacon.
---
---
Google Beacons send a signal to your customer's phone or device.
Instead, the Google beacon is a small device that you can stick to your business' ceiling or to a shelf. The beacon uses Bluetooth to send a one-way signal to your customer's phone or another smart device. The beacon broadcasts out and doesn't collect any information or data from your customer's phone or device.
Google Beacons can improve location-based information and send it your customer's phone.
According to Google, If your customer has enabled location services on their phone and depending on the number of customers who visit your business, the Google Beacon can send an increasing variety of types of information to your customer's device such as:
Customer reviews and other content such as photos from people who've also visited your business.

Prompts for them to review your business on Google.

Your business' location on Google Maps when they're nearby.

Other information features as Google ads them.
Google Beacons improve the location insights Google provides your business.
In addition to sending information to your customers right to their mobile device when they're near your business, by using a Google Beacon at your business, Google can provide you with better insights and analytics information as part of their Locations Insights pilot program. The location insights that Google can provide you with include:
Information on when people visit your business including when your busiest times are.

Information about the length of time customers spend at your business.

Information on the frequency of customer visits and one the percentages of multiple visits by your customers.
How do I set up my beacon?
Whether you've already received a beacon or you've requested one, you'll find everything you need here to set up your Google Beacon, as well as more detailed information about the beacons themselves. The beacon isn't difficult to use or install'
Remove your Google Beacon from the box.

There's no need to turn it on, it turns on automatically as soon as you take it out.

There's no extra hardware. The beacon has its own long-life batteries and an adhesive strip to attach to any surface,

Google recommends you attach the beacon on a ceiling away from shared walls or external walls. If that's not possible, stick it under an upper display shelf or on the bottom side of a display table or next to your register.

Activate your Google Beacon here. Your activation code is on the address label on your package. If you can't find the code, Google can activate your beacon with your zip code and your business name.
How do I get help with my Google Beacon?
If you're already using Google Beacons, let us know what you think of them below.
If you're a BizIQ customer and Google sent you a beacon that you're not sure about, you can contact your account manager for help.
If you're not already a customer, you can fill out our contact form or leave a comment below and we'll get back to you as soon as possible. Google also has a dedicated email address, [email protected], but they warn that they "may not be able to reply to every message sent to this address." Again, at BizIQ we're always happy to talk to you about how we can help you with Google advertising and other local online marketing solutions, including Google Beacons, and you don't have to light anything on fire to reach us.