High-Rise Construction
The unique aspects of the high-rise construction business call for some extraordinary expertise, and this can be a very strong selling point when you're marketing your company. Having the knowledge and the experience to use all the modern technology and the most modern building methods to safely construct a towering building is a commodity that few companies possess.
When marketing your high-rise construction business, this is exactly the kind of thing that should be featured and focused on, so as to inform potential buyers of your capabilities. However, even having the best skills and the most modern technology is not enough to win the job in most cases, and it will be necessary for you to somehow inform as many prospects as possible about all those benefits your company brings to the table.
Why Market My High-Rise Construction Business Online?
There are some very good reasons for marketing just about everything online, and that includes your high-rise construction company. Most consumers nowadays will use social media and the Internet to conduct research on reputation, past projects and services before making any purchasing decisions. This makes it extremely important that you have a presence online, so as to reach all these users who are researching things they need.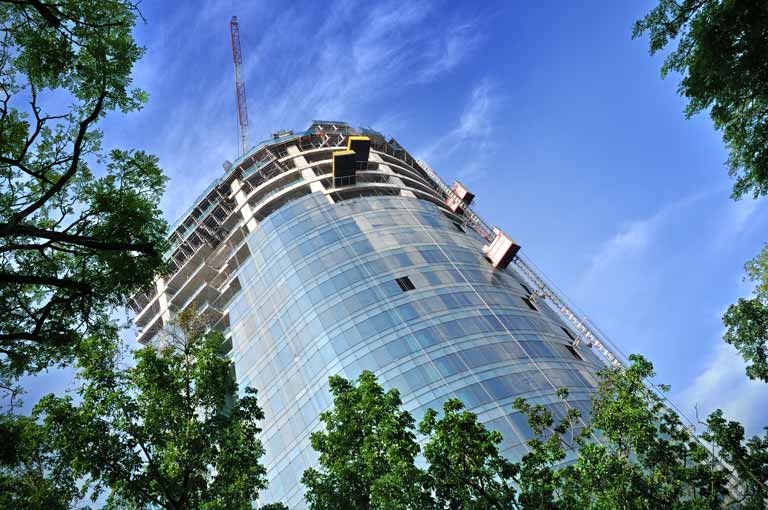 Anyone who has some kind of interest in high-rise construction will do the same thing – they will research it first on the Internet before making any kind of decisions. Apart from this, there are some other specific reasons why it is definitely to your advantage to market your high-rise construction company online.
First of all, there's the sheer convenience of having your construction company marketed online 24 hours a day, without the constraints of being subject to business hours or labor costs for employees. It's just as convenient for those who are seeking your services because they can literally be searching at any hour of the day.
The reach of the Internet is truly extraordinary because you can sell your services anywhere in the world. To account for local differences in market demands, you may have to employ localization services, so as to comply with business regulations in specific areas.
When you market your high-rise construction company online, you'll be able to personalize their online experience. It's a fairly simple matter to track web pages and when any prospects visit your website, and then you can prepare targeted offers that appeal specifically to them.
Marketing online also provides you with an opportunity to build relationships with new clients and to maintain relationships with existing clients. Once you have established a relationship, it's very easy to periodically email clients or prospects to keep them updated on new projects you're building or new companies you've partnered with.
One last reason for advertising online involves the surging significance of social media. There is a very powerful connection between social networking and revenue growth, and that makes it really important that you feature social networking in any advertising campaigns you devise.
What are My Options for Digital Marketing?
Now that you've decided to incorporate digital marketing into your overall advertising strategy, there are several different aspects of digital marketing which you should address. This will ensure that you have maximum coverage for your business and its products online so that as many potential customers as possible can be reached, and can be informed about what you have to offer.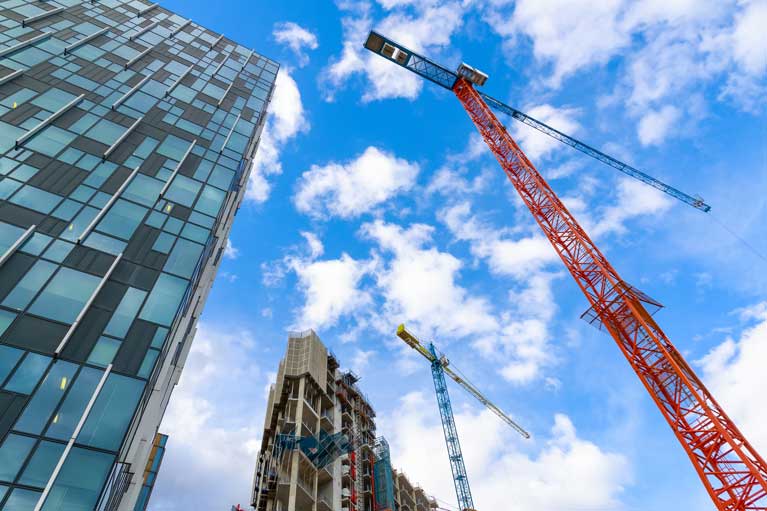 Types of High-Rise Construction Businesses We Help
We can assist you with marketing your company whether you are a high-rise design firm or a high-rise construction firm. If your company offers both services, we can certainly also help your company receive more attention and interest from prospects and customers in your specific target audience.
Whatever your involvement maybe with the high-rise construction business, we can deliver a great deal of value in promoting your business to the right individuals.
How Do I Get Started?
It's a fairly easy process to get started with an digital marketing strategy for your high-rise construction business. First of all, we can develop a complimentary website and digital strategy analysis, so as to inform you about the effectiveness of your current website and strategies.
Then, we will review our findings with you, to show you where opportunities for improvement might exist, and how we can help fill those gaps.
When you engage our services, you'll then be able to just sit back and relax, knowing that the professionals are working on your behalf, to help your high-rise construction business become more successful.