PPC Management Solutions
What if you could get connected in real time with customers actively searching for the services and products you provide, where you provide them?
That's the power of Pay-Per-Click (PPC) advertising.
PPC offers measurable, quantifiable results and a quick turnaround time. Better yet, it's extremely cost-effective. With a professionally managed Pay-Per-Click campaign, you can expect to receive more calls from customers interested in the products and services you provide, higher, more valuable traffic to your landing pages and website, and more leads.
"I love BizIQ. Our company has been using their services for a few years now and we have found them to be very responsive to our needs and they definitely know what they are doing. They provide an invaluable service to us and that service is worth every penny."
– R. Moseley
Moseley Bros, Inc.
What is Pay Per Click Advertising
Pay Per Click Marketing refers to purchasing ads from Google, Facebook, Bing, Youtube, and others. It allows businesses to gain visibility on search engine results pages for important keywords and phrases almost immediately, while only paying when a customer clicks on your business' ad. The success of a PPC campaign depends on skilled keyword research, competitive analysis, bidding strategy, and copy writing. While Pay Per Click offers business owners a high return on investment, managing it on your own, without those specialized skills can lead to wasted clicks and missed opportunities.
What Are the Benefits of PPC Marketing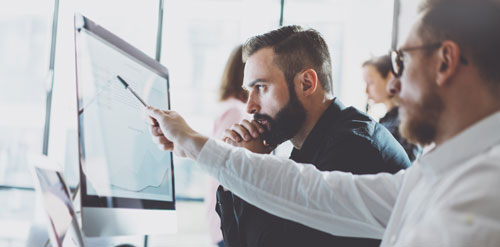 Get Page One Visibility, Right Away
Get to the top of the first page of Google search results faster with PPC advertising. PPC is the perfect accompaniment to a broader, long-term SEO strategy and provides the immediate visibility that your business needs to start seeing results right away.
Reach Just the Right Customer in Just the Right Place
With PPC, your ad will only be shown your ideal customer in the exact geographic area that you serve, right when they are searching for the product or service that you provide. This means higher value leads and a bigger return on investment.
Ongoing Optimization & Reporting
Your PPC campaigns are monitored and optimized regularly to keep them performing at their peak. We regularly evaluate and report to you on keyword and lead quality, conversion rates, cost-per-click, and other meaningful metrics, and optimize according to your needs and budget.
Complete Control of Your Budget
You set your monthly budget, and our Google Certified Pay Per Click experts will create and manage a campaign that will get you the best results possible for your desired budget.
Everything BizIQ does is geared towards making your small business the first option for local customers seeking the products & services you provide.
From the Blog: PPC Management

Have you ever Googled yourself? Be honest. Most of us have done it at least once, and if you're like most business owners, you've probably searched for your business on Google as well. How did you phrase your search? If you typed in your exact business name and location, you... View Article

As the owner of a small business, you're obviously strapped for time. If you can't keep up with all the changes and new products Google has for both users and businesses, you're not alone. Unless you live in one of the test areas, it's possible you don't know about a... View Article