Search Engine Optimization (SEO)
What is SEO?
Simply put, SEO (search engine optimization) is the process of ranking your site as high as possible on Google when terms related to your business are searched. The higher your site ranks on Google, the more traffic you can expect to see.
More traffic, more leads, more conversions, more revenue. You get the idea.
How Does SEO Work?
SEO isn't just about slapping keywords all over your site (regardless of what your nephew told you). SEO (that actually works) is about creating a site experience that Google and other search engines want to rank on page one. And that experience is made up of everything on your site: content, images, how things look and feel, and even your site's code.
What Can BizIQ Do for My Site's SEO?
SEO is changing…All. The. Time.
Google's expectations for sites are constantly shifting. Luckily, we track these changes and focus our entire approach around blending your site's goals with those expectations from Google. We build your SEO strategy using data-driven decision-making and industry expertise.
It's a long way to the top, but at BizIQ, we help get you there faster.
The World of Digital Marketing Has Changed
Today, when people want to find something, their search starts online. The question is, when local-area customers search for the products and services you offer, are they finding your business? Even if you don't think you need SEO there is just no way around it in today's digital-first world. You need to meet customers where they're searching and make sure your business is the obvious choice. Don't lose out to the competition. Read the hard truth below.


Our 4 Pillared Approach to SEO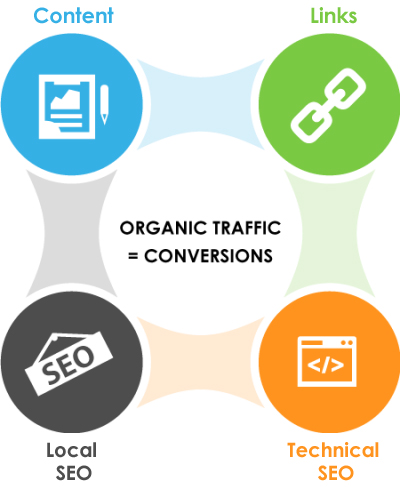 Our approach to SEO at BizIQ is simple.
No tricks. No gimmicks.
Just data-driven tactics to boost rankings and get conversions.
SEO agencies love to talk about "special connections" and "secret sauces", but our SEO people have been in the game long enough to know that's not how things work. To see real long-term success with your SEO, you need an approach that is time-tested and proven to deliver long-term, steady growth for your website.
So how do we do it?
It's all in the 4 Pillars Approach: Content, Technical SEO, Backlinks and Local SEO.

Content
Content is king, right? WRONG.
Content that answers questions and helps your customers is king.
And guess what? That's the content that Google wants to rank, and that's the type of content we create. Our content isn't just thrown together, we are strategic with every single piece of content that goes on your site from the very beginning. We look at what your potential customers and website visitors want to know about you and your industry and create content that answers those questions and builds their trust in you and your brand.
Anyone can write content. Writing content that brings in valuable traffic and helps that traffic convert is where we excel. Because we know that's what you really want.

Backlinks
No doubt if you've heard about SEO, you've heard about backlinks. The two pretty much go hand-in-hand, and we treat it that way.
But we don't just "get links." That's what those other guys do. We put a real emphasis on obtaining backlinks to build your site's authority and improve your Google rankings.
We get links that stick and provide you long-term benefits for years to come, not links on spammy sites that disappear after 6 months.

Technical SEO
Having a site that looks great is important, but usually it's what under the hood that can make or break your site's success. So in order to keep your site in shape, we make sure all the behind-the-scenes stuff is working. Metadata, internal linking, schema markup, site speed, page experience.
You know, the fun stuff!
We make sure your site's technical SEO is up to par to support all our other efforts and keep your growth nice and steady.

Local SEO
If your business services a specific area or region, listen up. Local SEO is huge. Or it at least should be. We know what your customers are searching on Google.
We see the searches for "plumber near me", "tacos near me", or "dentist near me." But you can't just be "near" in order to rank well for those searches. It takes more.
Whether you're a Local or Organic client, we work to get your business ranking locally by tailoring our approach to your area. Local search is competitive, but this is our wheelhouse.

Local SEO is the process of improving search engine visibility for local businesses, primarily those with brick-and-mortar locations. By following local SEO best practices, businesses can improve organic traffic from searches performed by customers in nearby areas.

Organic SEO is an online marketing strategy made up of smaller sub-strategies, like keyword research and link building, that help your website rank at the top of organic, unpaid search engine results pages.
Experience the BizIQ Difference
Our unique approach to digital marketing has helped over 26,000+ business owners save time, increase traffic to their website and ultimately increase revenue.
Our clients are thrilled with the results they get and our 4.8 star rating and 650+ Google verified reviews proves that.
Join the other businesses that know we don't just promise results… We Deliver them.
472,748 Real Leads Created
478,028 Reviews Generated
1,309,202 Customer Listings Created
Fill out the form for a FREE 30 minute digital marketing evaluation OR if you want to get started right now give us a call at (888) 416-9800