Social Media Management Services in Salt Lake City, UT
Businesses acknowledge that a strong social media presence is essential in helping them meet their objectives. Most of their target customers use social media, meaning the right marketing strategy can showcase their goods and services.
Building an excellent presence can be challenging. Businesses must contend with their competition. Many enterprises also lack adequate resources to support their marketing campaigns. If you have ever tried social media marketing, you know that it is not just about posting, and people will buy what you sell.
Social Media Management in Salt Lake City, UT
Social media marketing does not have to be a challenge for you. You can choose to work with BizIQ. BizIQ is the leading social media marketing services provider in Salt Lake City. Our clients leverage our digital marketing expertise to achieve their objectives.
BizIQ can take over your social-platform accounts. Our specialists will provide expert management services to accommodate any budget. Leveraging our affordable services enables you to concentrate on other essential areas.
We can help manage your accounts in various ways.
Social Media Strategy
Successful social media marketing campaigns require a strategy. BizIQ's experts will leverage their knowledge to ensure you develop a plan that yields the desired results. We will listen to your desired outcomes, define your target audience, choose the right platforms, help you reach them via your posts, and measure your performance.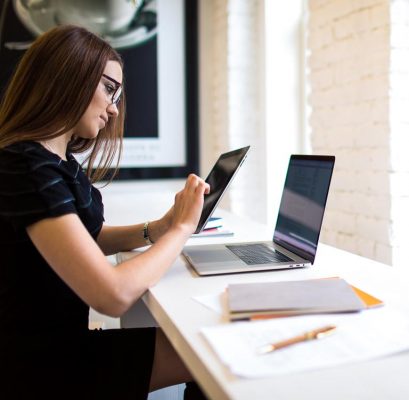 Account Management
Your business does not just need a social media account, it has to be managed to build your following online. Working with BizIQ enables you to leverage our expertise to manage your accounts. We will schedule your posts and handle engagements to ensure they help you meet your objectives.
Social Media Customer Service
You will need to manage your prospects on these platforms. This customer service involves handling issues raised by potential clients, managing reviews, and following up on clients after their purchase. BizIQ can handle this essential component of digital platform management, leaving you to focus on other areas.
Account Growth
Building a sizable following on these platforms can be challenging. You need to position your account such that you attract new followers while maintaining your current followers. BizIQ's specialists know what it takes to grow and keep a sizable following. You can leverage our expertise to help you build your audience, enabling you to meet your objectives.
Advertising
The competitive nature of advertising means businesses need to be strategic. You may spend substantial resources without getting the expected results if you are not careful with your advertising. Leverage BizIQ's expertise to ensure your marketing efforts yield results. Our social-platform managers will leverage their experience to ensure you organize your advertising to produce the desired outcomes.
Social Media Managers in Salt Lake City, UT
Many small and medium enterprises are skeptical about handing over their platforms to third-party managers. This skepticism can be because they think outsourced social-platform managers are too expensive or will not give their best to the organization's media.
BizIQ seeks to address any issues you may have regarding outsourcing management. Our services are affordable, and our platform managers give their best to ensure you succeed. We have an excellent reputation that we protect by delivering on our clients' expectations.
Working with our social media managers will benefit you in many ways.
Clearly Communicated Strategies
Having an excellent plan without proper implementation can derail you from achieving your goals. Excellent messaging is necessary to communicate your ideas or offers. BizIQ's social media managers have a lot of experience managing hundreds of marketing campaigns. You can leverage their expertise to ensure your strategies yield the expected outcomes.
Branded and Optimized Profiles
Millions of business profiles exist on various platforms. Social media users do not pay attention to a substantial amount of these accounts because of inferior branding and optimization. Your competitors want to attract the same clients you target, meaning you need an excellent profile to get noticed.
BizIQ can brand and optimize your accounts on different platforms. We will identify the platforms used by your target clients and optimize your profiles to excel in them.
Meaningful and Impactful Posts
Social media users come across thousands of posts every day. They give posts attention if they capture their attention quickly. You need to have meaningful, impactful, and well-crafted posts to capture their attention. BizIQ's managers will help you create meaningful and impactful posts.
We have plenty of experience managing these accounts, meaning we know what various customer segments want to see. Our platform managers will leverage their expertise, multimedia content, and well-written messages to ensure your posts are meaningful and impactful. These shares enable you to build your audience, communicate with them, and get adequate engagement to help you achieve your objectives.
Regular Follow-ups
Building your brand requires an exceptional focus on your clients. You should follow up on their requests, questions, or complaints. Your clients will have a memorable experience if you keep following up on their issues. This exercise can be time-consuming, but BizIQ can take it off your plate.
Helpful Resources in Salt Lake City, UT
Managing a small or medium enterprise in Salt Lake City can be challenging. You are likely to need all the help you can get. There are a few offices and programs that can help you manage your business. We can help you leverage these resources to achieve your objectives.
SBA — Salt Lake City
The U.S. Small Business Administration supports American businesses via loans, counseling sessions, contracts, and loan guarantees. They can help you start and build your business.
SBA supports small businesses in many ways.
They advocate for legislation that aligns with the interests of small enterprises.
They provide affordable training and free counseling to small and upcoming enterprises.
They offer different financing options to small enterprises.
SCORE — Salt Lake City
SCORE guides entrepreneurs on what it takes to run a business. It comprises experts and experienced businesspersons who guide small businesses on various issues involved in running a business. You can participate in their business checkups, one-on-one counseling, and cost-effective seminars. With their help, you can improve your business plan, secure funding, and improve your marketing proficiency.
Salt Lake City Vendor Registration
You can register on the SciQuest/Jaggaer Utah Supplier Portal to get notifications regarding City solicitations, including RFPs and bids. The City publishes solicitations to the Utah Public Procurement Place (UPPP). You can find current proposals and bids in the UPPP. Register to get future bid notifications.
Are You in Need of Social Media Management
Services in Salt Lake City, UT?
Partnering with BizIQ will ensure you attain your marketing targets. We offer affordable, expert management services to help you succeed. Our team of experts will handle management while you concentrate on other crucial areas.
Social Media Management FAQs
Clients often ask BizIQ questions about this form of marketing. They appreciate that our expertise makes us the right organization to address their marketing concerns and give clarifications. Here are some of the common questions we get.
How Many People Are on Social Media?
Over half of the world's population is on at least one platform. About 3.5 billion people use these platforms every day. You can leverage their usage to convert a considerable portion of these users to be your clients.
How Long Will My Contract Be For?
At BizIQ, we do not require our clients to sign any contract. We believe our customers should stick with us because we offer value to them. You will be free to walk away if you feel we are not helping you — clients remain with us because we help them meet their objectives.
How is Pricing Determined?
We have three pricing tiers. You are free to choose the tier that offers the best value for you. The only charges from us will be the ones we share with you upfront — no hidden costs.
How Much Will Social Media Management cost?
Our services are affordable. We acknowledge that for small and medium businesses, resources can be hard to find. Our team strives to offer the best value at the lowest cost. Any resources you set aside for us will yield visible results. We can ensure your social media marketing is a success at affordable prices.
[the_ad id="15385″]