The BizIQ team recently returned from the 2020 NAHB International Builders Show in Las Vegas, and one thing was abundantly clear – marketing is a major concern for builders and construction companies this year.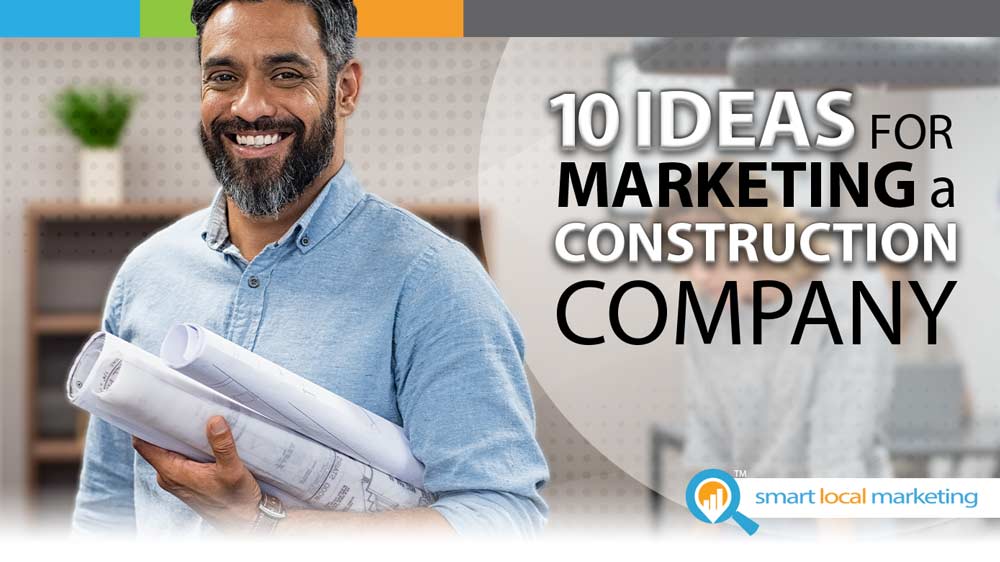 The construction industry has been growing by the day, presenting numerous opportunities for companies in this sector.
However, construction business at any scale involves a lot of paperwork, legal proceedings, purchases, financial management, and other tasks. With the stiff competition in the market, there is little time left for planning marketing strategies. To achieve success, you need to plan and execute online and offline marketing strategies that will make your construction company a success. Effective strategies will allow you to reach your target audience, achieve high customer involvement, boost your brand image, and win new business.
Here are a few ideas for marketing your construction company.
Bring your business online
Although traditional marketing mediums are still relevant, digital marketing is gaining traction. As much as the construction business is largely an offline business, you will have to take into account the fact that potential customers are spending a good part of their time online. If you want to attract new customers and make it easy for your clients to get in touch with you, you should consider bringing your business online. There are different techniques that you can use when it comes to online marketing, including pay-per-click advertising, affiliate marketing, and email marketing.
As you work on bringing your business online, it is important to remember that a website is at the center of any serious online marketing campaign. Perhaps the first step should be to design and build a professional website that will help you make a good first impression among your customers. The website should be updated regularly to ensure that content remains fresh, relevant, and of value to visitors. In addition, you will need to take advantage of Search Engine Optimization as a way of increasing your online visibility. Part of building your brand online will involve listing your business on online directories to make it easy for customers to find you online.  

Build a strong brand identity
Today, businesses around the world are dealing with customers who are more informed and discerning than ever. The modern customer is likely to do business with a brand that they recognize and comes across as professional and reliable, making it essential for construction companies to prioritize strategies that will help to increase brand awareness and build a strong brand identity. For a successful marketing campaign, it is necessary to build a brand identity both online and offline. In this way, your company will be in a position to reach a wider customer base.
Creating strong visibility will ensure that prospective customers remember your brand and are proud to be associated with it. Some of the techniques you may want to use include getting a brand logo that will be the face of your business, advertising your brand through a moving vehicle, using banners to advertise during social gatherings, putting up billboards on busy roads, and using business cards. Regardless of the branding methods you choose, you must ensure that your brand image is consistent across all platforms. A good image will not only boost your visibility but help you project the image of a consistent business.
Take advantage of social media
Social media has greatly transformed the marketing world. The sites are no longer just channels through which people share information with their loved ones but also platforms that customers use to engage and interact with their favorite brands. With an increasingly high number of people accessing these social networks through their hand-held devices, construction companies cannot afford to ignore the impact of social media. However, businesses have to use the right strategies to boost their presence on social media. Consistent and regular communication with customers through social media will help you to take advantage of the numerous opportunities that the platforms present.
In the same way, that big billboards help to attract people to your office, social media directs users to your website. With the numerous social media platforms available, you have to identify the ones you are going to use during your marketing campaign. The decision you make will depend on your target audience, your marketing goals, the type of marketing message you want to spread as well as your knowledge of the platforms. Regardless of the social media outlet you choose, remember that customers will keep coming back to you if you are a resource to them. Always post exciting content to keep them interested.
Reach customers with industry partnerships
Collaborative marketing is a popular and effective strategy that can help you explore new opportunities and take your business to the next level. When you are keen on reaching new customers, you should consider partnering with other construction companies to execute joint projects. Such a move may not only cost you less money but will also produce amazing results, effectively delivering high returns on investment. A healthy relationship with your sub-contractors will help you build credibility and can earn you referrals that may end up turning into actual business.
Some of the projects that construction companies can collaborate include webinars, promotional giveaways, and other special events. Through such projects, your company will have access to a completely new group of potential customers. You will also get more notice when you partner with other businesses during the projects, a factor that could help to increase brand awareness. Joining an industry association is one of the best ways to gain traction in your marketing efforts. Make sure you get quality connections and develop strong relationships with architects, trade contractors, and general contractors.
Get involved in the community
Another inexpensive way for construction companies to market and promote their services is by getting involved in the community. You can either help in fixing up a home or volunteer at certain events in the surrounding community. Regardless of the activity, you decide to take part in, make sure you wear branded items and interact with people in a friendly way. This involvement will go a long way in demonstrating that you care for the community while at the same time helping you to gain exposure. You should also post about your community activities on social media to reach a bigger audience. In the end, the community will see you as a company that cares about much more than profits.
When it comes to getting involved in the community, there are numerous ideas that you can explore. Teaming up with a charity, partnering with a local school, or sponsoring a local sports team or event will help you gain the exposure you need. Such events will not only be good press but will also inspire young minds to join the industry. It would be important to take time and identify issues that you can take part in. Taking part in events that mean a lot to the community will present better opportunities for promoting your business and interacting with potential customers.

Publish fresh content, videos, and photos
Your website is the first point of contact for your business. When used correctly, your website can be your number one salesperson. Websites are designed to sell for you even when you are away from work, making it critical to have a professional website. However, for customers to visit your website and keep coming back, you have to offer something that is of value to them. Great and fresh content will help to drive traffic to your site and get prospective customers to do business with you. As a construction company, you will want to come across as a leading company with industry knowledge. As such, you should make sure that your blog content is intriguing and educational. For instance, you can blog about the latest trends in the industry.
Not sure what to blog about? Check out this list of blog topic inspiration resources as well as 5 topics you should start off with. 
Other tactics you can rely on include the use of video content and photos. When marketing your business, you have a short period to capture the attention of your target audience. Visual content can help to get prospective customers interested in what you offer. Include videos and photos that showcase your projects and brand on your website to grow your audience and let people know the quality of work you do.
Customer reviews and referrals
Construction projects tend to be huge investments that take a considerable amount of time. Customers will always want to deal with reliable construction companies that promise value for money. Word of mouth is a powerful tool that construction companies can use to get prospective customers to be less doubtful when hiring them to handle their projects. Customer reviews and referrals can reach thousands of potential customers, making them a great way to drive sales.
You can solicit reviews from your existing customers to help you promote your business. While positive reviews will be a major driver of business, you should also be ready to handle the negative ones. Part of marketing the business will involve responding to negative reviews in good time and in a manner that addresses concerns and disputes. Timely responses are a great way to show that your company is committed to customers' needs and is committed to ensuring satisfaction. You can also develop a customer referral program through which clients earn rewards when they refer friends and family.
Responding to reviews – especially negative reviews – can be hard. Here are 25 review response templates to help you respond to every type of review. 
Utilize multichannel marketing
There are other different ways for construction companies to market their business and interact with clients. Customers can shift from one marketing channel to another in a very short time. For instance, a customer who sees your post on Facebook can either visit your website to learn more or call your office using their mobile phone. In order to ensure that customers can find and reach you easily, you need to be present on several channels. This will go a long way in helping you to take advantage of the numerous opportunities available.
To utilize multichannel marketing, you have to be aware of the options available. Some effective ways of reaching your customers include SMS marketing, outdoor advertising, and printing brochures and flyers. You can also use technology to create immersive and interactive experiences. Adopting a mobile-first marketing strategy where you have a mobile-friendly website and use app marketing will help to promote your business.
Give away some free products
Most customers will be interested in proposals to get something for free. They are also likely to identify with brands that give freebies and maybe do business with the brands. Depending on how you choose to execute this marketing strategy, it will increase brand awareness and help you to get noticed.
As a construction expert, you can decide to impart some knowledge for free. Make some simple YouTube videos that guide clients on how to solve common problems with their structures. Another option is to get your site visitors to sign up for a newsletter that offers useful information. An informative newsletter will build their confidence in you and increase the likelihood of them coming to you when they need something big to be done. You can also offer bottled water to passersby on a hot day, give free branded bike seat covers to bike owners in a given location, or donate extra materials left over after a project. These are great ways to get on the local news and find content to market your business on social media.

Make it personal
While this may seem like a no brainer, many construction companies fail to get personal in their marketing campaigns. Today, people are more interested in dealing with other people as opposed to businesses. As such, showing a personal side to your business will give your current and future customers a clear picture of your team and the culture of your company. When you move away from acting like a business and start acting like a real person, the digital marketing strategies you use will deliver tremendous results.
One of the best ways of providing your customers with a more personal experience is to show pictures of your team when they are outside the office. This will give the impression that you are personable and approachable. In addition, you will need to build and maintain healthy relationships with your customers. Email marketing and social media engagement make for great ways to maintain relationships with your clients.
Final Thoughts on Marketing Your Construction Business
Marketing is not a quick fix to turn around the fortunes of your construction company and achieve instant success. It is a journey that requires a long-term view, consistency, and sustained effort. You will need to create a marketing plan and stick to the strategy to achieve your goals. Working with marketing experts will ensure you come up with the right market strategies to help you take your business to the next level. The experts will also assist you in measuring progress and finding out what is working and what is not. In this way, you will know whether you are on the right track and identify areas that need to be changed or adjusted. At BizIQ, we offer effective and affordable marketing solutions so your business can grab the opportunities available in the construction industry. Contact us today to learn more or request our services.