Everyone tells small business owners they need to add a blog to their website and create content. That's great, but if you're not a professional content writer, how do you know what to write about, or what topics to order content about from your online marketing agency?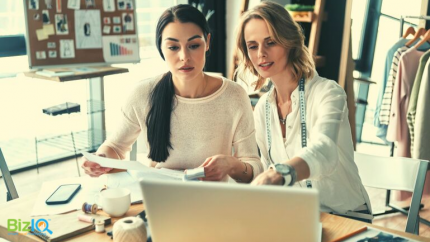 What exactly should your business blog about? The answer is to go to your customers and find out what they want to know, then create content about that.
But how can you find what customers need to know?
Keep reading to discover the answer, and for actionable tips for creating articles for your organization's website that drive traffic to your site, engage more customers, and help you appear on the first page of Google search results.
What you'll learn about
Where to find blog ideas for your business.
What types of blog posts your company should publish
How long your content should be
What to do if you think your industry is highly technical or a niche industry
Where can you get blog ideas for your business?
When I look for topics for clients or the BizIQ blog, I have several tools at hand that I can use to come up with compelling blog content. Even when your budget is low, there are free to low cost tools to get ideas. Here are the ones I like:
Google Search
Type in common question words and terms related to your industry or problems customers come to you for solutions right into the search bar and see what Google suggests. You'll find plenty of ideas!Price: Free
Google Trends
Google Trends is a free tool where you can find what topics related to anything are trending on Google. Enter a subject or keywords, into the search bar to see what people search for, the number of searches for it, and the top search locations. You can even create subscriptions to specific searches so that you can track them.Price: Free
BuzzSumo
Want to find out what blog content is trending by engagement to get ideas? Then, BuzzSumo is a great site to visit to get great ideas for content. Type a topic or keyword into the search bar to get a list of articles and information about engagement on social media and forums like Reddit. There's a limit to your number of free queries, but choosing one of their plans might be worth it for the detailed information you receive, especially if you produce a larger volume of content.Price: Plans start at $99/month and go beyond $499/month for custom plans
Answer the Public
I love Answer the Public for sorting topic ideas by questions and answers! Plus, the design of their site, plus the grumpy guy waiting for your query, always makes me smile. That's extremely helpful when you're feeling stuck. Like the others type your keywords in the search bar, click enter, and the site will generate the top questions people asked about your keywords. You can have the questions displayed as a thought map or as lists.Price: Free for Starter and $99 for the Pro version
SEO topic and keyword tools
Besides the four tools above, if you have the budget, you can also use SEO tools like Moz, SEMRush, and Ahrefs. I use all three of them to see things like search volume and traffic estimates for specific topics. They provide a lot of detailed metrics, so it's easy to get lost if you don't know how to interpret the data, but if you're ready for advanced topic research, they're invaluable. When you hire an internet marketing service or SEO company, you want to look for an agency that understands and uses at least one of them or a similar research tool.Price: Varies by company and subscription
What types of blog posts should my company publish?
There are many types of blogs. The following are some of the most common formats that help position your business as experts in your industry and provide essential information for people searching for solutions and answers to common questions and problems.
Questions and Answers
Topics related to your products and services
Announcements – about new products or service, or a promotion
Topics of interest to your customers
Industry news
Best lists
Average Costs
Explain a key industry concept
Results of an industry or company study
Expert roundup
There are other types of blogs you can write, and we'll cover everything about blog formats in a later post, but the list above will inspire you with how to format your own company's blog posts.
How long should your content be?
When you search for an answer to this question, you will get a variety of responses from SEOs and content strategists. Some people will say over 1,000 words, and others will say even longer. Hubspot says it should be over 2250 words. So which is it?
I'm a big fan of longer content. I like to write and to ensure I've covered a topic. But sometimes you can answer a question in just 500 words, or 100 words, or even a few. The most important things to consider are the quality and your audience. A long, lousy article isn't going to make your business look good, or make your customers trust you. Also, if your customers will only read a short article that they can skim in no more than a minute or two, then a 2500 words blog post that they need 10 minutes to digest isn't the best idea.
Is my business or industry too dull for a blog?
The last thing I want to cover is niche industries. You know who you are. Often what you do is highly technical, very industry-specific, and your customer base is businesses where engineers are responsible for purchasing your products and services. Why do you need a blog? And anyway, you might think most internet searchers will think my company is boring.
But guess what? Those engineers and other managers in your industry are people who search for information on the internet. And to them, what you do, and the questions you can answer for them are far from dry or boring.
Get Help With Your Small Business Content and SEO
It's ok if you're still not sure about what content you need to add to your site to drive business and dominate your local rankings on Google. BizIQ has helped thousands of companies just like yours. Click on the bubble, or drop us an email to chat with a Content Marketing or SEO service expert.