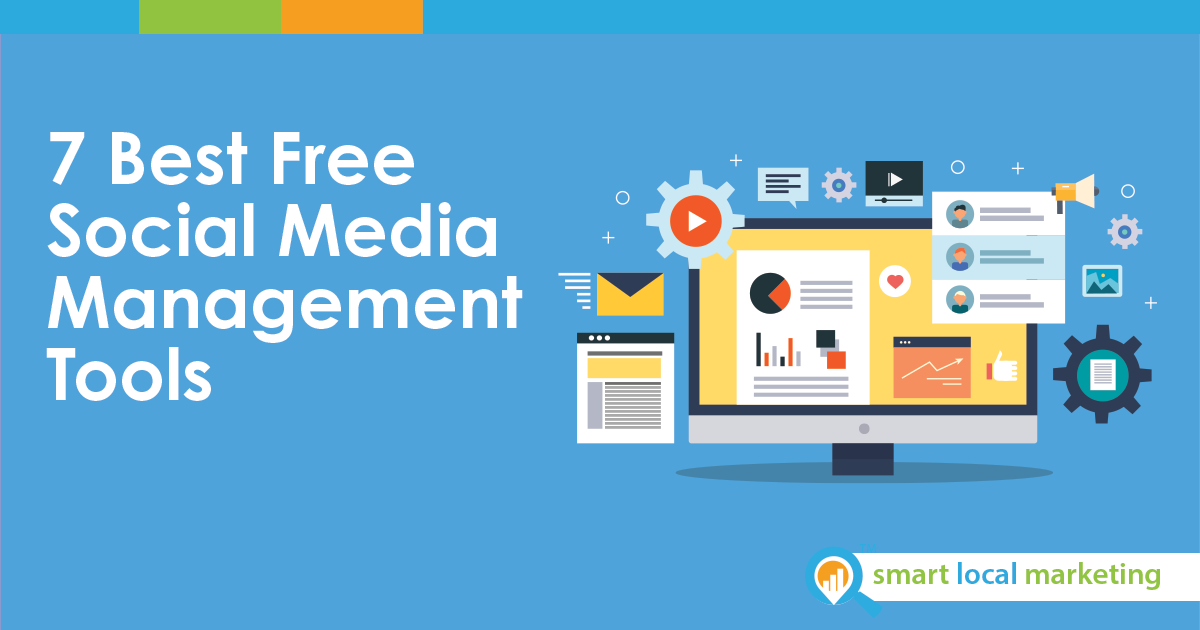 What Is a Social Media Management Tool?
A social media management tool is a software interface that lets you manage one or more accounts. You can take actions such as publish content across multiple platforms with a single click, respond to customer comments, or message them. Moreover, teams can easily use these tools to coordinate the management of social media channels. 
There are tools that let you manage most or all of the networks. Examples include Hootsuite or Buffer. On the other hand, there are those tools that let you manage only one network. Some examples include Facebook Page Manager, which enables you to manage your Facebook page, and Tweet Deck, which only lets you manage your Twitter account. 
What Are the Benefits of Social Media Management Tools to My Business?
These management tools generally offer the following benefits to your business:
Keep up your business'engagement.

Manage multiple accounts or networks.

Manage customer relationships.

Monitor keywords.
How Do You Choose the Right Social Media Management Tool for Your Business?
There are various factors you need to consider before you select a particular tool. The basic considerations are easy to use, affordable, and should offer the features you need to manage your networks. 
You can use the following questions to help you select a management tool:
Does the Tool Publish on Multiple Social Media Networks?
It is tedious to log in and out of various networks to publish content, communicate, or monitor progress. A tool that publishes on multiple platforms also gives your business a wider audience. If your target market is on only one platform, then you can use a tool that manages a single or particular platform. 
Does the Tool Let Me Respond to Activity and Keep Up with Trends?
Quick customer response is significant for high levels of customer satisfaction. Furthermore, you need a tool that lets you keep up with trends to source new ideas, solve problems as they arise, and generally stay relevant. 
How Long Can I Use the Tool?
Some tools offer free trials either for a week, a couple of weeks, or a month. You should also check its functionality to know if you can use it every day. 
Does the Tool Provide the Reports I Need?
Reports are necessary to make strategic decisions to optimize your marketing activities. Some of the data available in reports include the number of posts, audience size, visibility, and engagement. It would help to use a tool that includes audience demographics, click rate, and the best time of the day to post. 
Moreover, you should check the frequency of the reports, for example, monthly reports. 
Does the Tool Support Collaboration and Ease of Integration?
In case you have an agency, you need to select a tool that is easy to integrate with other marketing tools like Canva, Dropbox, Google Analytics, and more. 
Does the Tool Offer Technical Support?
You should know that these tools are quite small and may lack 24-hour support. It would help to know when support is available to address a question or a bug. 
What Is the Cost of the Tool?
It is sensible and obvious to consider the price factor in a tool like this. However, you could miss out on so many more features and greater return on investment if you put your focus solely on the price. It is essential to look at the tool's value and try to maximize it.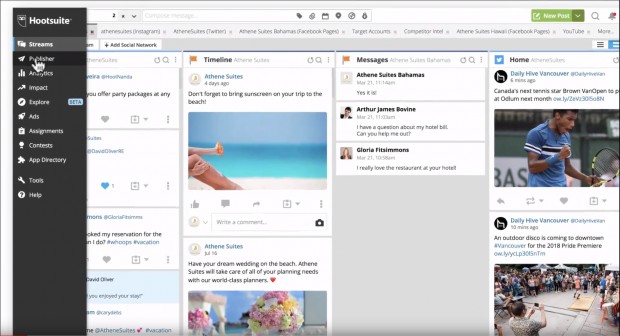 The 7 Best Free Social Media Management Tools
We will cover some of the best free management tools and what they offer. You should note that some of these tools also have paid plans. We will also mention them to help you compare in case you have potential or plans to scale your business. 
1. Hootsuite
Hootsuite is an app that facilitates social network publishing. You can also get listening features from Hootsuite Insights, but you will have to buy it separately. 
The main app has a free plan that offers the following features:
One user.

Three accounts.

Schedule publishing of up to 30 posts.

Basic analytics to know help track leads.

Content and growth statistics.
You can schedule an unlimited number of posts and access other upgraded features in the professional plan. It costs $29 per month. Moreover, it offers 2 RSS feed integrations. 
2. Buffer
Buffer is a tool that offers numerous useful features. Its free plan is called Buffer Publishing. The plan offers the following features:
Manage up to 3 profiles

Schedule a maximum of 10 posts

Create content with image creator or GIF/Video uploader

Browser extensions to let you schedule content as you browse 

Mobile apps for iOS and Android devices

Shorten and track links 
In case you feel you need more features; you can utilize Buffer Reply to respond to conversations and inquiries. You can also use Buffer Analyze to get reports and analyze the performance of your content. However, you will need separate prescriptions for each. 
3. Social Oomph
Social Oomph is a management tool that facilitates scheduled posting. The platform has been around since 2008. Social Oomph's free account offers numerous features that give it an advantage over most of its competitors. They include:
Schedule Unlimited posts in a single account. However, the posts are limited to three an hour

Publish your posts by Scheduling or queueing

Begin your posts from scratch

Import posts in bulk

Manage and schedule your blog posts

Track keywords

Shorten URLs

Manage 5 Twitter accounts

Analytics 
You can access more sophisticated features if you upgrade to the paid plan.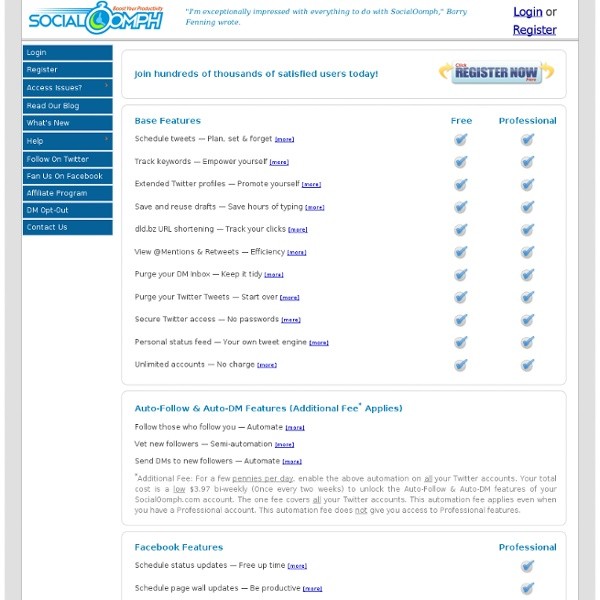 4. Later
Later is a tool that mainly focuses on Instagram but also lets you manage your Facebook, Twitter, and Pinterest accounts. Its free plan offers the following features for a single account on each platform:
30 Instagram posts.

30 Pinterest posts.

30 Facebook posts.

50 Twitter posts.

Upload unlimited photos or images to your Later Media Library.

You can also schedule the upload and publishing of these photos.
Most platforms let you create a message first and then add an image. However, later lets you add an image first and attach an image later. Later also offers four paid plans and the cheapest plan costs $9 per month. The paid plans offer features like multi-photo posts, videos, Instagram stories, and more. 
5. TweetDeck
TweetDeck is a platform that lets you manage multiple Twitter accounts. It lets you:
Use custom timelines.

Add team accounts.

Create lists.

Manage searches.
TweetDeck is ideal if most of your audience is on Twitter. It also helps you to engage in various conversations with various customers on your timeline.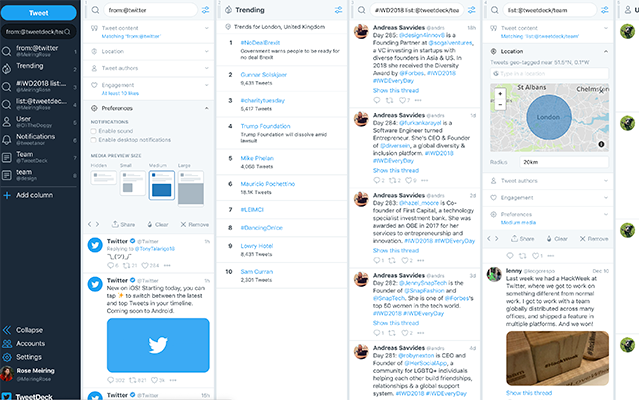 6. Friends+Me
Friends+Me is a platform that launched to focus on Google+ features. Google+ discontinued, but Friends+Me is still useful. It lets you manage other platforms like Facebook, LinkedIn, Twitter, Tumblr, Instagram, and Pinterest. The free plan offers the following features:
Manage Facebook, LinkedIn, Twitter, and Tumblr.

Schedule 5 posts.

Standard support services.

Browser extension.

Zapier integration.
If you wish to integrate Instagram and Pinterest, you will need to upgrade to a paid membership. The paid membership starts at $9 per month. 
7. Google Alerts
Google Alerts is a free and handy tool to help you monitor and optimize your online brand presence. The internet itself is a social platform. Google alerts offers:
Email updates of the latest mentions.

Keyword monitoring on sources accessible to Google like YouTube.
You will also determine the frequency at which Google Alerts sends its email reports. Moreover, it also has multiple filters for the updates you will receive. Examples include Language, sources, region, and more. 
Get Professional Help and Guidance
These management tools offer a variety of benefits to your business, including managing customer engagement, managing multiple pages, publishing, monitoring keywords, and more. Therefore, it is important to select an ideal tool for your business needs, for example, number of publications, availability of analytics, and more.  
There are many platforms with free-trials or free plans, and it would help you experiment to choose which one is ideal for you. Alternatively, you can get a professional to manage your platforms as you focus on your business's core activities. It will save you time to choose a platform, set up a campaign, and the cost of management.
BizIQ is a team of professionals that offer social media management, content management, local brand management, SEO, paid media management, website design and development, and design & branding services. We have worked with over 26,000 small businesses across the United States. Our team is ready to create a local marketing campaign to help your business succeed. Contact us now at (888)323-5687 to get a quote for any of our services or make an inquiry.