As you learn more about digital marketing for your small business, you are likely to become curious about this seemingly magical world known as search engine optimization (SEO), particularly about the differences between black hat and white hat SEO techniques.
Some marketers promise amazing results overnight, while others insist that effective SEO takes time and must be done in an exact way to avoid shipwrecking your entire website.
Keep reading to discover the differences between both types of search engine optimization strategy. You'll learn why you should never, ever engage in black hat SEO tactics and how to learn white hat SEO best practices that will help – and not hurt – your search rankings over time.
What is white hat SEO?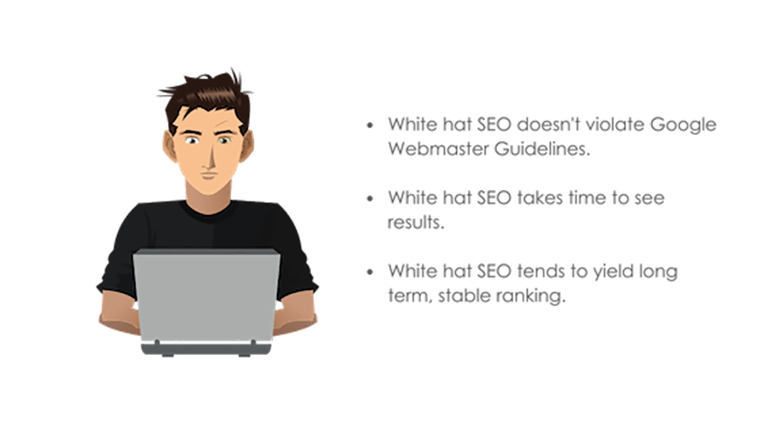 White hat SEO refers to strategies that will help your website gain traction in the search results over time without getting penalized or buried by Google's search algorithms.
These practices generally take more time to achieve results than black hat SEO tactics, but the results are more likely to be permanent.
Examples of white hat SEO
These should be on authoritative blogs in your industry.
◆  Long-tail keywords
Make sure to choose keywords relevant to your niche and target market.
◆  Consistent local SEO citations
Your online citations geo-target potential customers in your area
◆  Simplified website layouts and intuitive navigation links
User experience – UX, while not a huge ranking factor, according to Google, it does matter,
also according to Google.
◆  Mobile responsive site design
Your website content needs to adjust to fit the screen size of visitors.
◆  Optimized landing pages
Your landing pages should all be optimized for high page load speed.
◆  SSL Encryption
Your website needs industry-recognized SSL certificates to increase browser and customer trust.
What is black hat SEO?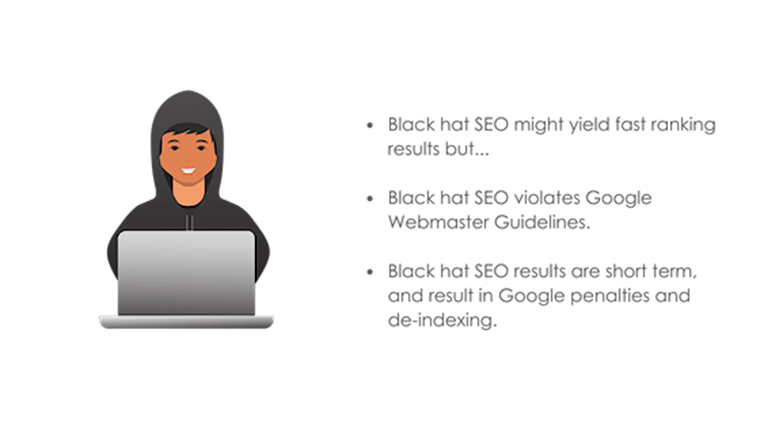 Black hat SEO includes tactics that violate webmaster guidelines from Google and other search engines in an attempt to get tons of free organic traffic to your website as quickly as possible.
While it might seem tempting to try this SEO strategy, these tactics are spammy, annoying to your readers, are often automated and done at a massive scale, and they almost always lead to dramatic losses in traffic overnight – once the search engines recognize that you tried to game the system.
Examples of black hat SEO
◆  Spambots
Using spambots to leave thousands of comments on blogs, forums, and videos will not help you rank better in Google search results.
◆  Low-quality content
Thin, spun or low-quality blog content – often scraped or copied from other websites will only hurt your SEO.
◆  Keyword stuffing
Excessive use of a particular keyword or keywords, or keywords awkwardly stuffed into content, making the text nearly unreadable is not a good idea and will wind up getting you penalized.
◆  Bad links
Tactics like automated link building and paid links to boost page rank will usually result in a penalty from Google, or worse – your site removed from the Google index.
Hiding keywords or links in website copy or behind images is a big no-no as far as Google, and most search engines are concerned.
Doing things like sending search engines to one page and users to another is against Google Webmaster Guidelines.
◆  
Attempts to install spyware, malware or adware on visitors' devices
You probably already know that installing any kind of spyware on website visitors' computers or phones is a bad idea, but it's also something that can happen if your website gets hacked.
Google's fight against spam and black hat SEO
Google and other search engines want to deliver high-quality content to their visitors, so they are very serious about eliminating spam and penalizing websites that use black hat methods to push low-quality content higher in the search rankings.
They use a variety of automated systems – such as the so-called Panda and Penguin algorithm updates – to spot spammy content and artificial backlinks. But they also use real people to manually inspect websites every day.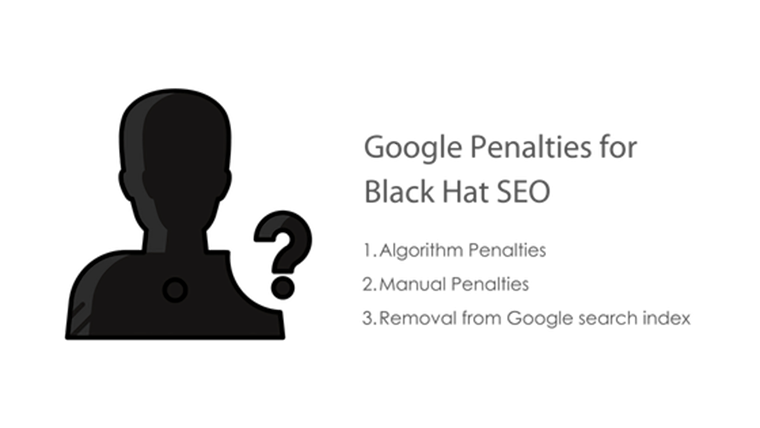 Algorithm penalties vs. Manual penalties
When an algorithm detects black hat SEO methods that violate webmaster guidelines, it automatically reduces the amount of organic search traffic sent to that site.
Reversing this drop in traffic is simply a matter of eliminating the spammy methods used and waiting for the next algorithm update to refresh its results. Then, if the algorithm likes what it sees on your site, traffic will begin to pick up again.
Manual penalties are a bit different.
These occur when your site fails a human inspection. Getting the penalty lifted is then a matter of correcting and removing the violating content or links and requesting another manual inspection. It generally takes a long time, and many sites that get slapped with manual penalties never fully recover.
Then there's getting deindexed by Google
The most severe penalty for practicing black hat SEO is having Google remove your website from their search results. Google has 90% of the search volume.
Disappear from Google search results pages and nobody can find you online.
So the bottom line is that the short-term gains that you might see from black hat SEO are just not worth it in the long run. Stick with white hat SEO if you want to build a sustainable flow of traffic to your site and protect your brand reputation on the internet.
How to learn SEO
Learning white hat SEO techniques can be more complicated than you might think. But while advanced SEO strategies should be left to the professionals, many of the basics are not too technical.
For instance, writing high-quality posts for your blog and earning backlinks on authority sites in your industry requires strong writing ability and excellent people skills.
Researching keywords using the Google Keyword Planner is also reasonably straightforward.
You can learn a lot about white hat SEO just by reading through our blog archives and watching some current Youtube videos.
Good SEO requires patience
As we have stated in the past, SEO is a journey, not a destination. When done right, white hat SEO will produce favorable results that you can take to the bank. However, it takes some real effort to figure out how it all works, and it also takes time before the results start showing up in your traffic and sales stats.
Need SEO help?
Ready to power up your website with affordable SEO services from the top-rated local online marketing company in the United States? Get in touch with us today to schedule your free marketing analysis.