Goodbye Adwords. Hello Google Ads.
This past week, Google announced something major. I know. I know. I know. Google is always announcing something. Often what they're communicating is important. Sometimes the latest thing becomes last week's over and done with. But this time, it's for real!
After nearly two decades, Google is rebranding its advertising offerings, including Adwords and DoubleClick into three new brands, Google Ads, Google Marketing Platform, and Google Ad Manager. As a small business owner, what are you supposed to do?
What does it all mean?
You may be saying to yourself why doesn't Google love me anymore? I'm done with all this online advertising and PPC jargon nonsense and going back to paying my nephew to stand on the corner in a mascot costume in the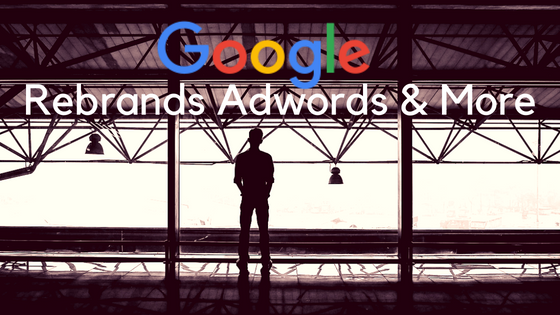 summer heat to bring in new customers.
Don't panic! Google decided to overhaul and rebrand their advertising products to help small businesses just like yours by making advertising on all Google's paid advertising channels simpler and hopefully less confusing. Plus they've created something called Smart Campaigns in Google Ads specifically to help small business owners.
What is Google Ads?
Basically, Google Adwords is now Google Ads. Not too different sounding really. Just remove the word, "word" from Adwords and that's what you get. In fact, you might already be calling it Google Ads. It makes sense right? If you want to advertise on Google, you want to pay for some Google Ads.
According to Sridhar Ramaswamy, Google's Senior Vice President of Ads & Commerce, Google Ads will be the way you access all of its advertising products including on Google.com, Google's other online products like YouTube and Google Maps, as well as on Google's partner sites and apps.
Google Ads is not going to be too different from the old Google Adwords, at least at first. How you use Google Ads isn't going to be different from how your business or how BizIQ manages your Google Ads if you're a client than with Google Adwords.
What are Google's new Smart Campaigns?
Within the new Google Ads, Google is also introducing a new ad campaign type called Google Smart Campaigns that is designed specifically for small businesses. This new campaign option is based on Adwords Express and its now the default ad campaign type for new Google Ads users. Oh, and it's almost completely automated. And I mean completely from creative through to delivery. So we're talking HAL from 2001 a Space Odyssey level automated (ok so I exaggerate a little).
This level of automation might be good or it might be bad or it might depend on your business and your goals, and your keywords and a whole host of other factors. In fact since it's based on Adwords Express, Google Smart Platforms at least at this point in time might have some of the same issues as Adwords Express, issues that can make it easy for you to end up wasting money on the wrong things without knowing it because it's tempting to just "set it and forget it."
It's not clear yet how effective Google Smart Campaigns is and if so which types of businesses and which goals it could be good for as well as how often it needs to be monitored by a human. BizIQ is always studying how different Google campaign options perform so look for more reports based on what we discover in the coming months.
What is Google Marketing Platform?
At this point, you might be wondering what's happening with Google's DoubleClick and Google Analytics. Afterall, as business owners and marketers, we need all our data and ability to analyze all the data. Well, Google is taking DoubleClick Digital Marketing and Google Analytics and combining them under one umbrella and calling it Google Marketing Platform.
By integrating the two platforms into one, they've hopefully made it easier for agencies and small businesses alike when it comes to targeting the right audiences for your ads as well as analyzing the results of your advertising efforts.
The new Google Marketing Platform includes enterprise-level solutions like
It also includes less advanced and more automated versions of these solutions specifically for small businesses. However, as with Google Smart Campaigns, if you try to manage all aspects of advertising and marketing yourself, instead of investing in a little help from a business that specializes in and is experienced in navigating through all of Google's options, you could wind up wasting money on things you may or may not need, or that may or may not work for your business.
What is Google Ad Manager?
I know I said that DoubleClick was getting integrated into Google Marketing Platform, but that's just DoubleClick Marketing. DoubleClick Ad Exchange (AdX), and DoubleClick for Publishers (DFP) are now united as Google Ad Manager.
According to Google, Google Ad Manager is "a complete ad platform." Google Ad Manager promises to give you more solutions when it comes to all types of ad experiences on all their channels including video ads, native ads, and custom ad formats. Google says the new Ad Manager will mean more efficiency and more earning power as well as greater transparency of how it collects and uses people's data as well as added control and choice in the ads they see.
Conclusion
If your head is spinning from all the changes Google is making to its advertising platforms and products, don't worry. For the most part, right now, it's mostly just name changes and combining old platforms into solutions that fit together so things are less confusing for everyone in the long run.
Ultimately, the advertising products and platforms that Google offers all work the same as they did under their old names. If you're a BizIQ PPC customer, then your account manager still knows how to design and create the most effective Google advertising campaign for your business goals no matter what they are. And as Google ads new solutions, we continue to stay on top of them.
If you're new to PPC and Online advertising, we've still got you covered. Stick around and explore. We have lots of resources on Paid Media and PPC, all still relevant to Google Ads, Google Marketing Platform, and Google Ad Manager. A great place to start is with our free PPC webinar, How to Get More Leads for Less with PPC. And if you have questions about Google Adwords and DoubleClick rebranding or PPC, click on the chat bubble below and we'll gladly answer them.