Your online marketing efforts need to attract more customers to your business and drive an increase in revenue. Furthermore, your digital advertising budget must yield an effective return on investment.
Enter the new Google Site Kit. It's a free open-source WordPress plugin that brings you essential data and key insights from four different Google products.
Google Product Manager, Mariya  Moeva announced the new beta version of Google Site Kit on Thursday, December 2, 2018. Google hasn't released the tool yet, but will open it up to beta testers in "early 2019." However, if you're willing to tell Google what you think, you can request early access as well as product updates.
What is Google Site Kit?
Google's new Site Kit is a WordPress plugin that provides actionable and authoritative recommendations and insights from Google for your WordPress website. It will also provide deep links into Google products to bring you advanced reports and product configuration capabilities where that information would be helpful.
The first version of the Google Site Kit plugin for WordPress sites integrates four essential Google products and tools, allowing you to view easily understandable information about your small business' revenue and website visitors in one place. Additionally, if you already use a third-party Google Analytics WordPress plugin, Google Site Kit will still work.
What Google tools does Site Kit include?
Right now Google Site Kit integrates 4 Google tools and products into its new WordPress website plugin. Google says it's possible they will add other Google products to Site Kit later on. Right now it includes the following:
1. Google Search Console
Google Search Console or GSC used to be called Google Webmaster Tools. It allows you to monitor how Google finds and renders your website. You can use information from GSC to make improvements on your small business website to improve where it ranks in organic search results. Google Search Console allows you to see things like
Which domains – other websites – refer back to your site
How your site performs in mobile search results
See which search queries and pages result in the highest traffic
2. Google Analytics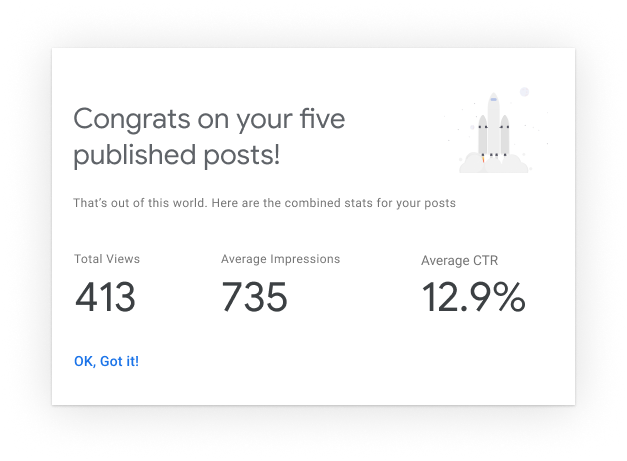 Google Analytics is one of the most well-known web analytics tools. It's an extremely valuable tool in the arsenal of every online marketing team and a key piece of any digital marketing stack for tracking goals you have designated as conversions. By placing a tracking code on your website, Google Analytics collects data about who visits your small business website, as well as how they interact with your site. It does this by placing a cookie in your visitors' browsers. Google Analytics can track interactions on your website such as
When a website visitor loads a page
When and what video a user views on your website
When a customer clicks on a link, or a button, or fills out a contact form on your small business site
When a customer purchases a product or service on your website.
And more, including information on social media likes and shares
3. Google AdSense
Is the Google a cost-per-click (CPC) advertising tool that allows anybody with a website to put Google advertising on their website, and earn money. By placing a small amount of HTML code into your website, Google will place advertising on your site that's relevant to your content and target market. Google pays you a cut of the money they make when people click on an ad that's displayed your website. AdSense also includes access to things like
Reports to help you track your earnings
Data on which ad placements are working
AdSense Experiments, a tool that makes it easy to set up, run, and analyze A/B tests to compare different ad settings.
4. Google PageSpeed Insights
Google PageSpeed Insights (PSI) is a set of tools that provide information to website developers on how a webpage performs on both mobile and desktop devices. In addition, PSI also offers suggestions for how a page can be improved. It's not really a single tool, but a group of reports and data from several tools. It gives you insight into webpage performance through two types of data.
Lab Data: This type of data is what developers use to troubleshoot page performance issues on your website.
Field Data: This type of data is a limited set of metrics that provides crucial information for web developers and marketers about real-world user experience on a particular webpage on your site.
A lot of the information Google PageSpeed Insights provides requires a website developer or professional SEO specialist to understand and apply necessary changes to pages on your website.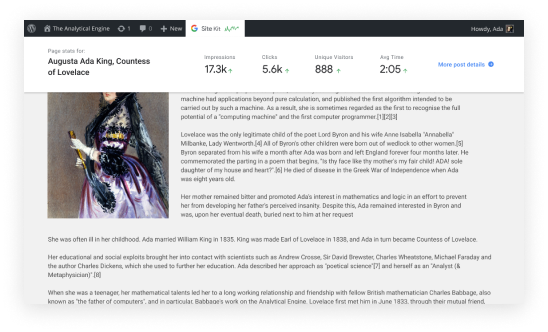 Does the new Google WordPress plugin mean I can fire my small business marketing company?
Probably not. Although Google Site Kit plugin allows you to access several Google tools in one place as well as integrate them all on your WordPress website, the reports and data provided take an advanced level of knowledge and experience to analyze and apply.
And while the Google Site Kit WordPress plugin won't replace the expertise and experience of a smart local online marketing company, it may help you have a more informed conversation with your marketing and advertising professionals.
Conversely, it could confuse you even more than you already are. That doesn't mean it won't have the potential to be a valuable tool for SEO's, digital marketers, and website developers. Right now, it's too soon to know for sure.
See also:
How to make a phone number click-to-call