Today, it's mandatory for your business to have an online presence.
Research shows that close to 90% of consumers research online
 before making a purchase, making it essential for you to add your business to Google Maps to increase online visibility as well as search engine ratings.
Here's what you need to know before you can add your business to Google maps.
Five steps to add your business to Google maps
New businesses can manage and track their online presence by adding it to Google maps.
Below are the 5 basic steps for setting up your listing.
1. Go to Google My Business
The first step is to go to Google My Business and click the button.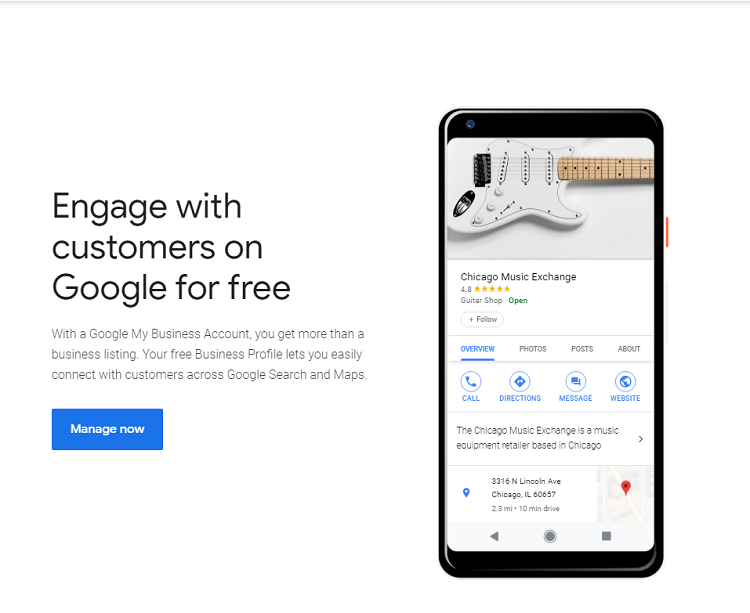 2. Enter business details
Next, you will be required to enter business details such as the business name, business address, and business phone number in the search box.
3. Select or add your business
Once you complete this step, you can click on your business listing from among the selected matches. In case it is not selected, you should click "Add your Business" to provide the information needed. Make sure you provide specific and accurate information, then select the category that best describes your business.
4. Verify your business
The next step will be to verify the location of your business. Google will usually provide you with a PIN either through a postcard, text message, or automated phone call. The text message and phone calls are generally faster options. These are not the only options for verification, and depending on your business and Google, they might require you to verify your business listing manually.
5. Confirm your business
Setting up a Google My Business page will not only ensure you confirm your business but will also help with Local Search Optimization. After that, you can download the Google My Business app to help manage your business Google account and conveniently complete your business profile.
How different free Google services for business work together
There are several free Google services that your business can use to improve your online visibility.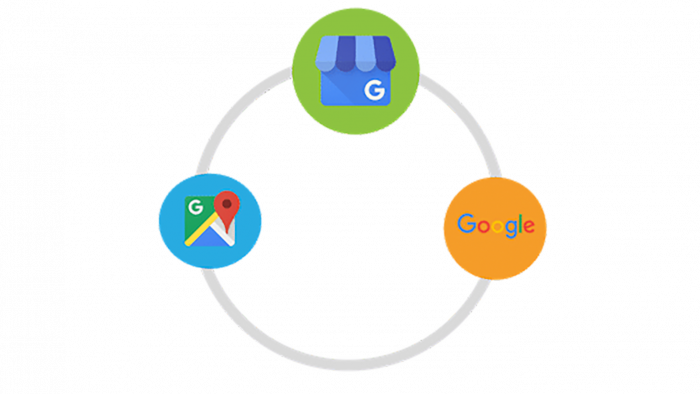 Keep reading to discover how all of these services are connected.
◆  
Google Maps
Google Maps is a web mapping service that provides detailed information on sites and geographical regions around the world. The maps also offer satellite and aerial views of places, as well as navigation via its mobile app.
The information on your Maps listing comes from your Google My Business listing.
◆  
Google My Business – GMB
GMB is an internet-based service that gives business owners control over what shows up on search engines when online users search for their business name.
Your local Google listing appears in Google Maps as well as on the side of Google search results as the knowledge panel.
Your listing also includes many features that allow you to interact with potential customers, answer questions, respond to reviews, and post updates and specials, photos, and even videos.
◆  
Google Local Listings
Your Google local listing, sometimes called a business listing, appears on the search results page of Google when online users search for a given keyword alongside a specific city.
The information comes from your GMB account.
◆  
Google Knowledge Panel
Information that appears on the right side of search results when someone searches for your business. The panel contains information about the searched topic and helps customers discover and reach specific companies.
Again, the information that customers see in the knowledge panel comes from your Google listing.
◆  
Local SEO
Local SEO
 is a strategy to optimize your business website so that it ranks better for a local audience in search results, including on Google search platforms.
Local Search Engine Optimization helps to promote products and services to local customers.
◆  
Local marketing
Also known as neighborhood marketing or local store marketing, Local marketing is a marketing strategy that targets the nearby audience.
All the above aspects interact in unique ways to ensure a successful marketing campaign.
Combining these strategies produces excellent results.
The advantages of having your business listing appear on multiple Google platforms
Once you claim and verify your Google listing, visibility will improve on Google Maps, Google search results, and Google local search.
Your listing helps make your business stand out from the competition because your listed business will usually rank higher than your competitors.
As a result, customers are more likely to learn about your business and may end up purchasing the products you offer.
Need more help understanding how Google Maps and GMB listings work?
If you still have questions or want more help understanding Google Maps and adding your business to Google search, or any other aspect of local online marketing, fill out the contact form, drop your question in the comments below, or chat with a marketing expert by clicking on the chat window below.