Every business, whether it's a small family run store or a large national organization with multiple locations, has to find the right marketing and sales strategies to attract customers and guide them towards purchase.
Hopefully, your company will have a significant number of new customers become repeat customers. So, what tactics do you use to take your clients from attraction to retention?
In this post, we reveal proven marketing strategies that will help your business to attract and retain more customers, including how to use content marketing, content mapping, and the marketing funnel to guide your clients along their purchasing journeys.
What is the m
arketing funnel?
An effective marketing campaign has to be backed up by a solid strategy. One of the tools that many companies use today is called the marketing funnel.
A marketing funnel is a tool that allows you to visualize the buyer journey. It's the path that a prospect travels as they become familiar with your company, right from the introduction to conversion and beyond.
While the tool was initially funnel-shaped, the design has changed as businesses focus on customer retention to include two parts – the acquisition pre-purchase funnel and the retention post-purchase funnel.  Furthermore, the stages on the funnel have expanded from an initial three to five, and some marketers include a total of eight stages.
What are the five stages of the marketing funnel?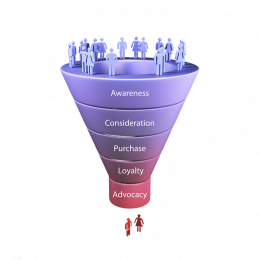 1. Awareness
This stage involves building trust and positioning your brand as a source of information and experts in your industry. Educational content that includes blog posts and explainer videos are types of content that customers seek out during this stage.
2. Consideration
During this stage, you have the opportunity to deepen your relationship with the subscriber. You should deliver product specific content as you introduce subscribers to the product.
3. Conversion or Purchase
At some point, you will want to convince the subscriber to purchase the product. During the purchase stage, you explain the benefits the product will offer customers. Find a way to compel them to buy right away.
Sometimes this stage gets called the conversion stage, but the term conversion can also refer to any specific desired action a potential customer or website visitor takes. For example, a visitor to your website might fill out a form and convert to a lead for your sales team to call.
4. Loyalty
Once you obtain customers, you will need to ensure retention through superior service and relevant content. Share helpful information to keep customers engaged.
5. Advocacy
This stage involves getting loyal customers to become fans who refer you to others and talk about your company. In addition to providing helpful content, you will also have to collect feedback.
What is content mapping?
For any content marketing message to have an impact, the right message has to reach the target audience at the right time.
Content mapping that aligns to your customer journey and where they are in the sales and marketing funnels puts you in a position to know when and where to deliver your message, whether it's through email, social media, a blog post, a video, or a combination of multiple marketing tactics.
How does content marketing help?
Every small business has to understand how to create content for every stage of their buyers' journeys.
Companies can use paid ads, social media outlets, citations, and other channels for content marketing. But how does content marketing help your business attract and retain customers?
Content marketing improves customer service by providing resources for both prospective and existing customers. By educating leads and customers, content marketing helps to improve conversions.
Through content marketing, companies can showcase their subject matter expertise. Content marketing improves brand reputation, helping to build trust.
1. Understand your customer
Creating buyer personas will help you to understand the demographics and preferences of your target audience. Knowing and understanding your target customer will allow you to create content that resonates with them.
2. Get the most out of your content
For online marketing focused on the entire buyer's journey to bear results, it's essential to make the most of your content. To get the most out of your content efforts, you must:
⯁ Analyze content.
⯁ Perform regular content audits.
⯁ Create and publish new content.
⯁ Update old content.
⯁ Map content to relevant phases of the customer journey.
3. Guide customers through the purchase funnel
Businesses will have to take customers through the purchase funnel to influence their actions. By focusing on specific customer life cycle stages, you can tailor content in such a way that it resonates with particular segments of your audience.
Content Marketing Is Key to Attracting and Retaining Customers
By understanding your customer and the journeys they take from awareness to purchase to brand loyalty, you will be in an ideal position to deliver the right content at the right time and on the right marketing platform.
Using tools like buyer personas, content marketing, email marketing, social media, advertising, and more, you guide new customers through the sales funnel and help more of them travel through the retention funnel to become loyal clients and brand advocates.
How does your business attract and retain customers?
Whether it's old fashioned referrals and word-of-mouth or social media and PPC advertising, we want to know how you bring new customers to your business. Let us know in the comments section below.
And don't forget to enter your email and subscribe to our blog for more tips on how your small business can market smarter delivered straight to your inbox!