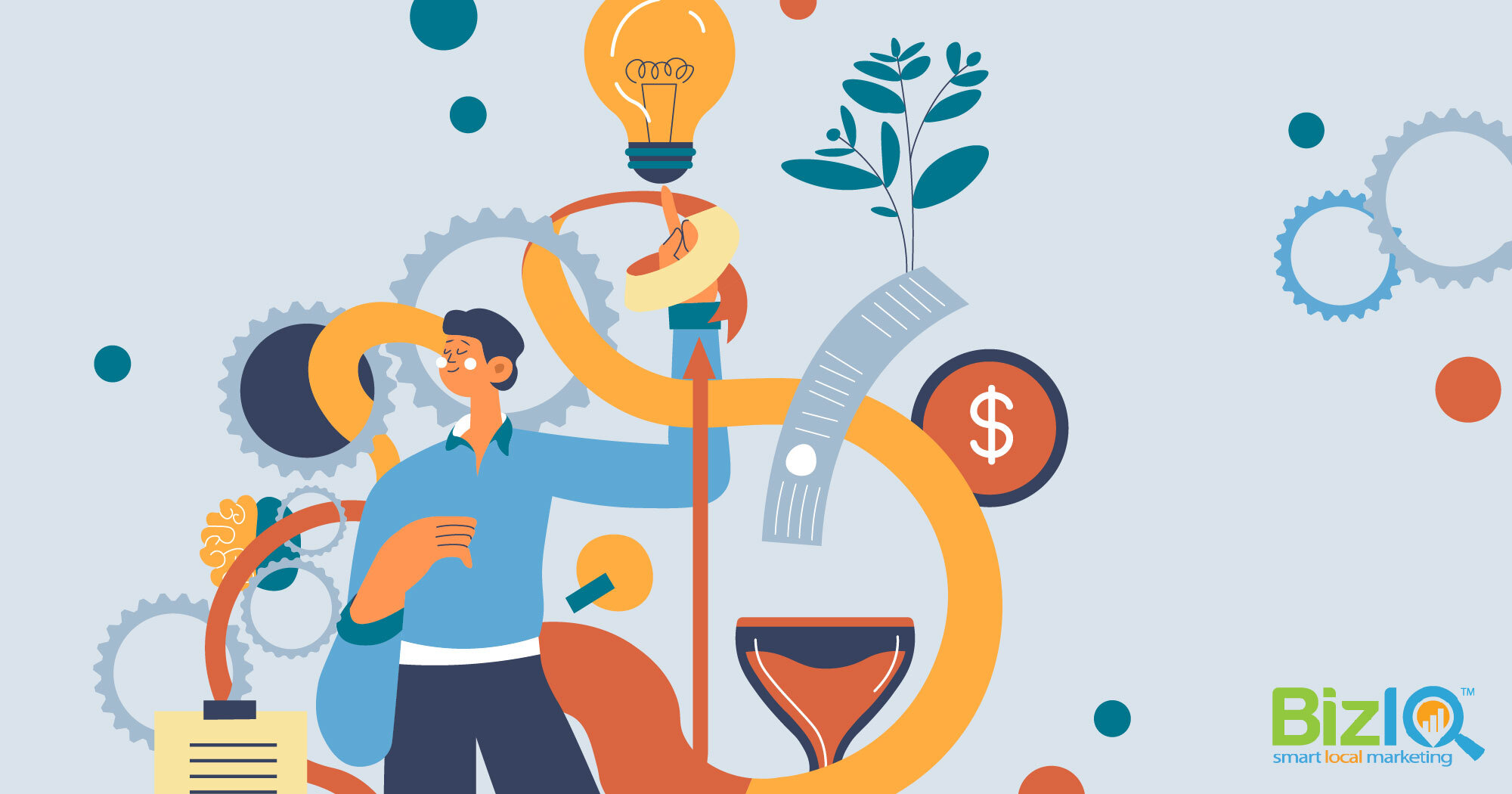 In today's digital age, having an online presence is crucial for the success of any small business. With millions of websites vying for attention, how can small businesses increase their visibility and attract potential customers? The answer lies in effective keyword research. That is, choosing the right keywords for your small business. By understanding the keywords that are relevant to your business and incorporating them strategically into your website content, you can improve your online visibility and attract targeted traffic.
The Importance of Keyword Research for Small Businesses
Choosing keywords for SEO is an essential part of any successful digital marketing strategy. It involves identifying the words and phrases your target audience uses to search for products or services similar to what you offer. By optimizing your website content with these keywords, you increase your chances of appearing in search engine results pages (SERPs) when potential customers are looking for information related to your business.
1. Start with Keyword Goals, Always
Before diving into keyword research, it is crucial to determine your goals. Are you aiming to increase local visibility, provide informational content, or target customers at the mid or bottom of the sales funnel? Understanding your goals will help you tailor your keyword research process accordingly.
After working with tens and thousands of small businesses, we know that the goal is most often lead generation (clicks-to-call, form submissions, e-commerce sales, etc). This means we often prioritize keywords that are transactional or commercial in intent. One of our favorite keyword research tools, Semrush, does an excellent job at identifying the intent of each keyword. This makes the keyword research a little easier, although the intent is usually rather obvious.
For example, if you're selecting keywords for a small house painting business, you might consider the following keywords:

"Cost to paint exterior of house" is obviously informational. The user is looking for information but they are not quite ready to hire a house painter. We would consider this more mid-funnel (more on that in a bit).
"House painting" is considered commercial in intent, as the user is likely looking for a company that provides "house painting" services. Other service-related variations (e.g. "house painting services," "exterior house painting services") would also be commercial in intent.
"House painting near me" is consider transactional. When someone modifies their search with "near me," they are signaling that they're ready to talk to a local business. This keyword is a money maker. This is the keyword that will actually generate leads.
2. Capture Your Local Market with Local Keywords
Implementing local SEO strategies is essential for small businesses that primarily serve a specific geographic area. Local search keywords typically include location-specific terms such as city names, neighborhoods, ZIP codes, or even landmarks.
Let's pretend you run a house cleaning company that services the greater Dallas-Fort Worth area. It's advantageous to think small. You don't just service Dallas-Fort Worth; you service all of the suburbs and neighborhoods between, too.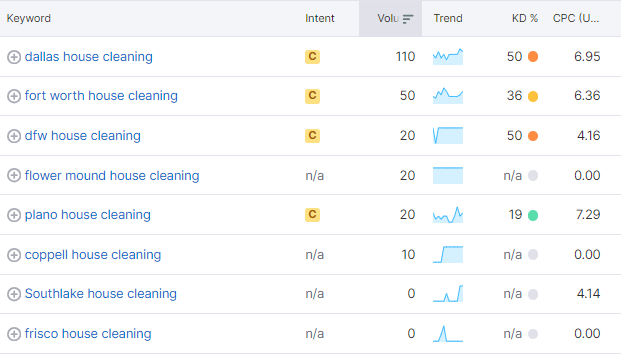 In many cases, the sum of the smaller areas exceeds the search volume for the major metro. The keyword difficulty (KD) also tends to drop as you get more granular. For many small businesses with smallish websites, this is the way to go.
3. Establish Topical Authority with Informational Keywords
Providing valuable and informative content is an effective way to build trust with potential customers and demonstrate to Google that your business is an authority on everything related to the services you provide. In the SEO world, we call this "topical authority." By establishing topical authority, you'll rank more easily for all keywords related to your services. We essentially publish informational content in order to build rank for the commercial and transactional keywords.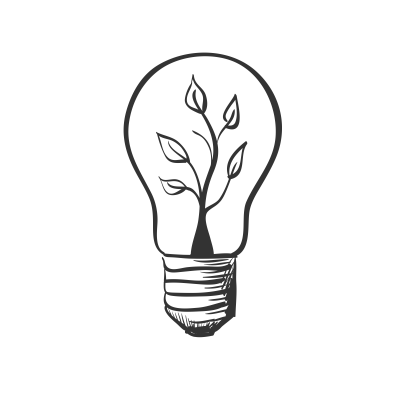 Informational search keywords often start with phrases like "how to," "what is," or "tips for." By identifying the informational queries related to your industry, you can create content that answers those queries and positions your small business as a knowledgeable resource.
For example, suppose you run a landscaping business. In that case, you might target keywords such as "how to maintain a beautiful lawn," "what are the best plants for shady areas," or "tips for designing an outdoor space." By incorporating these keywords into your blog posts or articles, you can attract people seeking information related to landscaping, establish your expertise, and potentially convert them into customers.
4. Convert Leads to Customers with Mid/Bottom-Funnel Keywords
When potential customers are further along the sales funnel, they may be looking for specific products or services. These mid/bottom-funnel searches indicate a higher intent to make a purchase. Conducting keyword research to capture customers closer to the buying stage is essential for small businesses.
To identify these keywords, put yourself in the customer's shoes. Consider the terms they would use when actively searching for a product or service. For instance, if you own an e-commerce store selling outdoor camping gear, you may want to target keywords such as "best sleeping bags for camping," "highest-rated camping tents," or "affordable camping equipment." By optimizing your product pages and using these keywords, you can increase your chances of appearing in relevant search results and converting leads into customers.
Another way to identify mid- and bottom-funnel keywords is by looking for specifics. Once again, think about the user journey.
I need a house cleaner – "house cleaning"
… but for my apartment – "apartment cleaning"
How much does that cost anyway? – "apartment cleaning cost"
Is there someone in my area?  – "apartment cleaning San Antonio"
But I only want the best – "best apartment cleaning Alamo Heights"
Then is becomes a matter of ensuring you have pages and/or content on your website for each step along the way.
Cleaning Services > Apartment Cleaning > San Antonio > Alamo Heights
Your folder structure may follow a similar pattern:
/our-services/
/our-services/apartment-cleaning/
/our-services/apartment-cleaning/pricing/
/areas-we-serve/san-antonio/
/areas-we-serve/san-antonio/alamo-heights/
💡 SEO is all about finding a keyword for your customers' need states, and then finding a home for that keyword on your website.
The Importance of Goal Tracking
Keyword research is not a one-time task. As small business owners, you need to continuously evaluate the effectiveness of your chosen keywords and track your goals' progress. Google Analytics helps us measure and refine our keywords targets. At BizIQ, we install Google Analytics on all of our websites. For website conversions, we track all clicks-to-call and form submits (plus other meaningful actions). This gives us plenty of data to analyze.
But here's the thing with SEO: You can't directly attribute a conversions to a keyword. Google Analytics attributes conversions to landing pages. And that's where our journey really begins.
Let's say we're analyzing the performance of our blog. Yes, we want organic traffic (brand awareness). But wouldn't it be nice if those blogs also brought in some new business? We found that a handful of blogs actually are getting some conversions. Woohoo!

This tell us that the blog is ranking for some valuable keywords. But Google Analytics doesn't show a majority of keyword data (thanks, Not Set). For this information, we have to open Google Search Console or one of your other favorite keyword research tools.
Inside of Google Search Console, we zoomed in on the How to Make a Phone Number Click to Call. It's ranking for quite a few keywords, but the only keyword generating any clicks is "which snippet of html when clicked makes a phone call." Now, the data may never match up perfectly, but it gives you a hot clue. We just validated our keyword target. We can now optimize the blog to ensure there's a section that carries this header and provides the information. We'll also throw it an internal link with that exact anchor text (see what we did there?).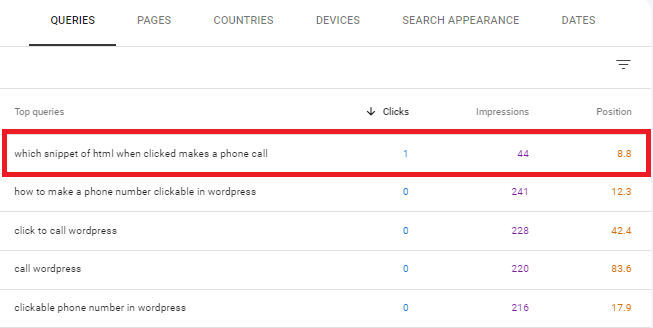 This process of data analysis and keyword refinement is crucial for all campaign, especially local. Tools like Google Analytics and Google Search Console make this possible. In addition to conversion data, you can can monitor user behavior like engagement rate and avg. session duration. These are all clues that help you target keywords that best align with your goals.
Knowledge is power. What we just illustrated is exactly what separates the professional SEOs from the amateurs.
Check out our local SEO case studies for small businesses for more proof that this works.
In addition to goal tracking, make sure your website has clear, well-defined call-to-actions (CTAs) that encourage visitors to take desired actions, such as making a purchase, requesting a quote, or subscribing to your newsletter. By monitoring and analyzing the performance of these CTAs, you can gain insights into how well your keywords attract and convert potential customers.
Tools Mentioned in This Article
The good news is they're all free or have a free version that will work just fine.
Unlock Your Online Visibility with BizIQ
Findings the right keywords for small business is a process. It starts with understanding the need states of your customer and becomes an ongoing process of analyzing keyword performance and refining content accordingly. It takes time and expertise.
This is where BizIQ can help. BizIQ offers comprehensive local SEO for small businesses, including in-depth keyword research tailored to your goals. From local search optimization to content creation and strategy, BizIQ's team of experts can help your small business appear in front of your target audience, increase traffic, and generate valuable leads. Ask for a local SEO proposal today.