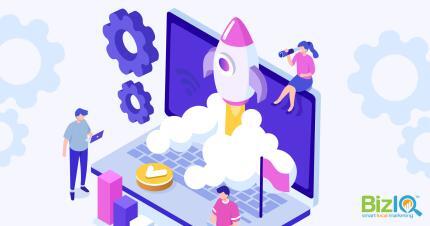 Starting a new business is an exciting and challenging endeavor. As a new entrepreneur, you have enough on your plate with operational tasks, staffing, and managing finances. However, building a strong brand and effectively marketing it online is also crucial to the success of your business. It may be tempting to handle marketing in-house or put it on the back burner until you have more time. However, this approach can lead to missed opportunities and a disjointed marketing strategy.
Comprehensive Marketing Strategies to Boost Your Business
Starting a small business requires a carefully planned marketing strategy to attract customers and establish a strong presence in the market. A comprehensive marketing package offers a range of essential services, such as website development, search engine optimization (SEO), social media management, content creation, local citation management, and paid advertising. These strategies work together to enhance your online visibility, drive traffic to your website, and convert leads into customers. With all these services seamlessly integrated, you can confidently launch your business, knowing you have a comprehensive marketing plan to boost your brand.
The 'Complete' Marketing Package for Small Business Startups
One of our most popular startup marketing packages is the Complete Solution. This package covers all the bases — website, local SEO, local citations, Google Business Profile optimization and reputation management. The Complete Solution is an affordable marketing package, starting with an initial setup of $2,699 and monthly payments of $599. Many small business owners pay up to $5,000 for the website alone, and they'd be hard pressed to find professional SEO, local citation management and reputation management for less than $599 a month.
BizIQ offers the Big Impact and Get Noticed packages, which include many of the same features but at a more affordable price.
All of the local marketing packages start with building a new website or re-platforming an existing website. After launching the website, the BizIQ team provides monthly optimize the website and the Google Business profile to achieve higher keyword rankings and more organic leads. Business owners are provided with a reporting dashboard and monthly reports to they always have a pulse on how their brand is getting found online.
The Complete Solution includes:
Fully Optimized 9-Page Website
Semi-Custom Site Design
Custom Domain Name
Local Keyword Research
Lead Capture Forms
Social Media Integration
Client Review Page
Professionally Written Content
Local Listings Management
Local Maps Optimization
Local Competitive Analysis
Online Reputation Manager (ORM)
BackOffice Reporting Dashboard
Google Analytics Setup
Web Hosting
Detailed Progress Reports
WordPress Blog Integration
(2) Monthly Blog Posts
Fully Optimized Review Page
Dedicated Project Manager
Many startup business owners add social media management and Facebook advertising.
Wondering what this all looks like? Check out some Complete Solution website examples.
All-in-One Solution for Small Business Startup Owners
As a small business owner, wearing multiple hats is inevitable. You must manage operations, finances, and customer relations, among other responsibilities. Adding marketing to your list can become overwhelming and may result in neglecting crucial tasks or underperforming in certain areas. A marketing package provides an all-in-one solution, allowing you to hand over the marketing responsibilities to digital marketing professionals. This relieves you of the burdensome task of juggling marketing alongside other essential business functions, giving you peace of mind and the ability to focus on what you do best.
The Power of Consistency: Building a Strong Brand Identity
Consistency is key when it comes to marketing your business. A marketing package ensures that your brand messaging, visual identity, and tone of voice remain consistent across all platforms. A cohesive brand identity is vital from your website to your social media profiles and other marketing channels. With professionals handling your marketing, they can create a unified brand image that aligns with your business goals and resonates with your target audience. Consistency builds trust, credibility, and brand recognition, ultimately boosting the success of your business.
Making the Most of Your Small Business Startup Marketing Budget
Budgeting is a crucial aspect of any business, especially for startups. Allocating the right resources to the different areas of your business is essential. You can make the most of your marketing budget with a comprehensive marketing package. Instead of paying for individual services with separate agencies, a marketing package offers bundled services at a more cost-effective rate. This allows you to access a range of marketing initiatives without breaking the bank. Streamlining your marketing expenses allows you to allocate your budget more efficiently, ensuring maximum return on investment.
Unlocking the Secrets of Effective Digital Marketing
Digital marketing is constantly evolving, with new strategies and trends emerging regularly. Keeping up with the latest techniques and staying informed can be challenging for small business owners. However, with a marketing package, you gain access to a team of experts who are well-versed in the intricacies of digital marketing. They stay up to date with industry trends, algorithm changes, and best practices, ensuring that your marketing strategies are effective and in line with the latest standards. By leveraging their expertise, you can unlock the secrets of effective digital marketing and stay ahead of your competitors.
Time is Money: Let the Experts Handle Your Marketing
Time is a precious resource for small business owners and every minute counts. Entrusting your marketing to professionals frees up your time to focus on core business activities, such as product development, customer service, and day-to-day operations. With a marketing package, you have peace of mind knowing that professionals are handling your marketing initiatives effectively and efficiently. By allowing experts to manage your marketing efforts, you can optimize your time, improve productivity, and drive your business forward.
Reasons to Opt for a Marketing Package
Working with multiple vendors to handle different marketing initiatives can be overwhelming and time-consuming. Each vendor may provide their own metrics and insights, leaving you juggling multiple reports and meetings throughout the month. It's worth considering a comprehensive marketing package designed specifically for small businesses to simplify your marketing efforts and streamline the process.
Here are some compelling reasons why new businesses should opt for a marketing package that handles all vital marketing initiatives:
Simplified Vendor Management: Rather than dealing with a myriad of vendors, a comprehensive marketing package allows you to have a single point of contact for all your marketing needs. This eliminates the burden of managing multiple relationships, allowing you to focus on other aspects of your business.
Consistent Branding: With a dedicated marketing package, you can ensure consistent branding across all channels. From your website and social media profiles to email marketing and advertising, a professional team will create a cohesive brand identity that resonates with your target audience.
Cost-Effective Solution: While outsourcing marketing may seem like an added expense, a comprehensive marketing package offers excellent value for money. By bundling essential marketing services, you can often access a range of services at a more affordable price compared to hiring individual agencies or freelancers.
Expertise and Experience: Marketing is a specialized field. Partnering with a marketing package provider means gaining access to a team of experts who understand the nuances of digital marketing. They possess the knowledge and experience necessary to create effective marketing strategies tailored to your specific industry and target audience.
Time-Saving: Time is a valuable resource for small business startups. By entrusting your marketing to professionals, you can free up your time to focus on what you do best – providing excellent service to your customers and growing your business. You can rest assured that your marketing is in capable hands, allowing you to confidently move forward with your business goals.
Small Business Startup Marketing Package
In the fast-paced world of business, simplicity is key. A comprehensive marketing package simplifies your marketing efforts by providing all-in-one solutions for your business needs. The package covers all the essential marketing initiatives, from website development and search engine optimization to social media management and content creation.
By embracing digital marketing packages for small business, you can confidently launch your business with a strong marketing foundation. With experts like those at BizIQ taking care of your marketing, you have the peace of mind to focus on delivering exceptional products or services to your customers. Remember, simplicity is smart marketing  let — us handle your marketing so you can focus on providing excellent service.