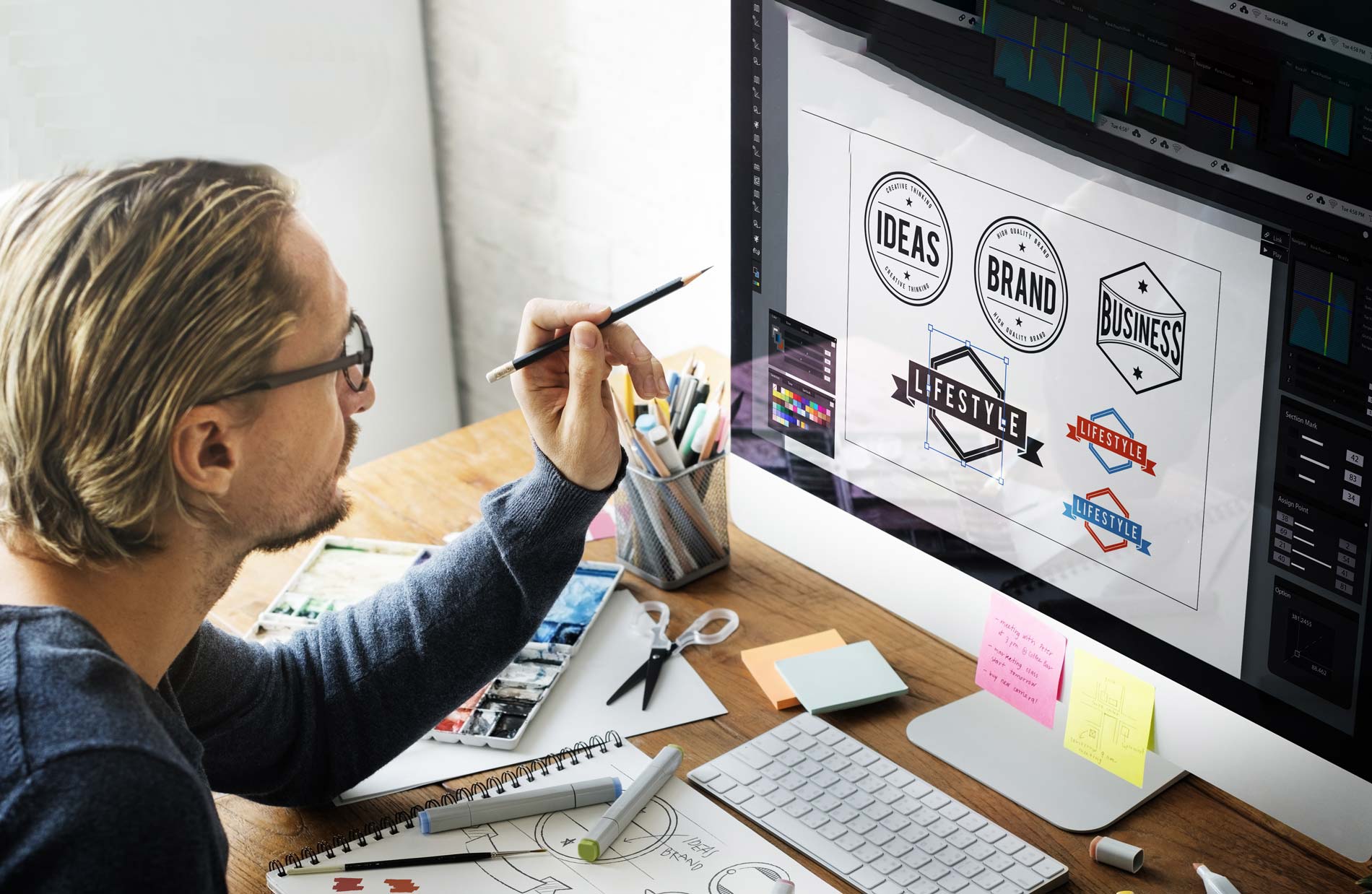 Logo Design Services for Small Businesses
As an entrepreneur, you spend a lot of time & money crafting a unique product or service you care about. You're passionate about growing your business, so why have a logo that people forget?
When you think of some of your favorite brands, like Starbucks, McDonald's, Nike, Chevy, or Walmart, you probably don't picture their products or services. No. You think of their logo. That's because the human brain is designed to recognize and understand images. In fact, according to scientists, we can interpret the meaning of an image in as little as 13 milliseconds!
Your small business' logo is the first impression your customers have of your website and everything that represents your business from products to letterhead to business cards, and more. So what happens if your logo is lackluster or completely forgettable?
Deciding to skip the logo or a poorly designed logo could actually mean you're missing out on potential customers.
The secret is, a good logo design will make your business stand out from your competitors and ensure that current and potential customers will remember you and what you do as soon as they hear your name. An image that resonates with people means your customers will always know your business and your brand.
With logo design services from BizIQ that were created specifically for small businesses just like yours, your customers, old and new, will immediately recognize your business from the unique logo we create. The difference is, unlike other small business logo services out there, we don't just give you a set choice of logo design templates. Instead, we design a logo that's unique to your small business. But enough talk, take a look at some of the logos we've designed for our customers and see for yourself what a logo can do for your business.
How Much Does Small Business Logo Design Cost?
Professionally – Designed
$599 Logo
Includes:
3 Variations to Choose From
2 Revisions
Full Resolution Source Files
When you're a small business owner, especially one who is first starting out, it can be difficult to know which strategies you should budget for and which ones you can wait on tackling or just do yourself. Deciding on a logo for your small business is often a key marketing strategy and powerful branding piece that you might be tempted to ignore.
Add to that the fact that like most things in online marketing, how much a logo should cost isn't exactly the easiest piece of information to find. Some digital marketing companies might include logo design or even offer it as a stand-alone service, but not explicitly state that fact. Alternatively, you might be on your own when it comes to your logo and think a professionally designed logo for your small business is completely out of reach and only something a larger business can afford.
At BizIQ, we believe your small business deserves more. In fact, we take pride in providing our small business clients with the same high-quality online marketing services as large corporations at a fraction of the cost. Our commitment to your small business includes pricing that's completely transparent. That's why our small business logo design service prices are listed right here on our website. Plus like all our other digital marketing solutions, there are no hidden fees or contracts to sign.
Do Logos Really Work For Small Businesses?
Absolutely! People remember a well-designed logo and will think of it as soon as they hear the name of your business. Test it out for yourself. What do you think of when you read the name, Jack In the Box? Did you see a red box, or even Jack, their familiar clown mascot? What about Nike? You pictured their familiar swoop, didn't you?Of course, those are huge corporations, but we bet you can think of some local businesses in your town that have familiar logos whether it's that mom & pop greasy spoon you and your family like to have breakfast at on a Sunday, or the pool guy who comes to clean your swimming pool every week. And just like their logos, a professionally designed logo for your small business can keep your products and services in the minds of your customers too.
Still not sure if a logo will work for your small business? What if we told you that we designed the BizIQ logo using the same design principles the large companies use. Our own logo in conjunction with all the other online marketing techniques we provide are what enabled BizIQ's impressive and rapid growth and they can help your small business attract customers as well.
Is a Professionally Designed Logo Right for My Small Business?
Of course! But by thinking you can save money by designing a logo yourself, choosing a stock logo, or just putting your small business's logo off until your business grows is one of the biggest mistakes you can make. Sure, there are websites where you can choose a pre-designed logo, enter your business name and generate a logo instantly, but your logo won't really be unique. Today's consumers are savvier than ever and will notice if your logo is like one or more other businesses.Another option is to order up a logo from a website that claims to give you access to thousands of designers. You just give them the name of your business, the industry you're in, and a few details, and wait for a batch of logos to come back so you can choose one. It might sound great, but do you really have time to look at a pile of different logo designs? Would you know which design has what it takes to attract new customers?
Here at BizIQ, that's not how our small business logo design works. We know you didn't build your business with a cookie cutter which is why we don't create your logo with one either. Rather than using a template or making you sift through a bunch of different logos, our experienced designers and your account manager work with you to create a unique logo that both new and existing customers will remember and associate with your name whenever they hear it.
Why Does My Small Business Need a Logo?
You've most likely heard the popular business adage that people do business with people they know, like, and trust, but as a new or small business, how can you attract customers if they don't even know who you are yet? A well-designed logo is one of the first steps to telling potential customers who you are and more.When your small business's logo looks professional and attractive, people will like your business, remember it, and trust you as well. A poorly designed logo or no logo can make people who find your business online think you don't know what you're doing or that you might not be trustworthy. In fact, your logo might just be what people remember the most about your business. That's because your customers are able to remember and interpret visual information a lot faster than they can the name of your small business. Do you really want them associating you with an ugly logo or completely forgetting your business because you don't have one?
The good news is that with small business logo design services from BizIQ, your business can have a logo that your customers will remember for all the right reasons. Our designers will create a logo for your small business that reflects who you are and that will make your website and your business one that people feel they can trust.
How to Get Started With Small Business Logo Design?
We can talk to you about logos and why your small business needs one. In reality, though, all it takes to get on your way to a new logo for your business is a phone call, or even just entering your information into a contact form if you're busy. We'll set you up with a free, one-on-one digital marketing evaluation and competitive analysis with one of our experienced digital marketing consultants. During your evaluation, we'll answer all your questions about our small business logo design and other online marketing services as well as go over pricing and even outline a strategy for your small business's success. No pressure. Just smart advice on your small business logo design.